Halloween Drinks For Kids
I think I enjoy Halloween just as much as the kids do. I have a bit of a sweet tooth, and Halloween seems to make for the perfect excuse to indulge a little. I love making creepy little treats and snacks, but have never really thought about the refreshments. I went on a little hunt to see if I could find some easy Halloween drinks for kids and have found quite a few recipes that are worth giving a try.
Candy Corn Cooler
Candy corn is my favorite Halloween treat! It fills up my candy dish every year. My kids also love them and that's why I got so excited when I found this Candy Corn Cooler Recipe. It's made with orange syrup, whip cream, and lemonade or orange juice. It's a lot easier than it looks because the orange syrup naturally sinks to the bottom.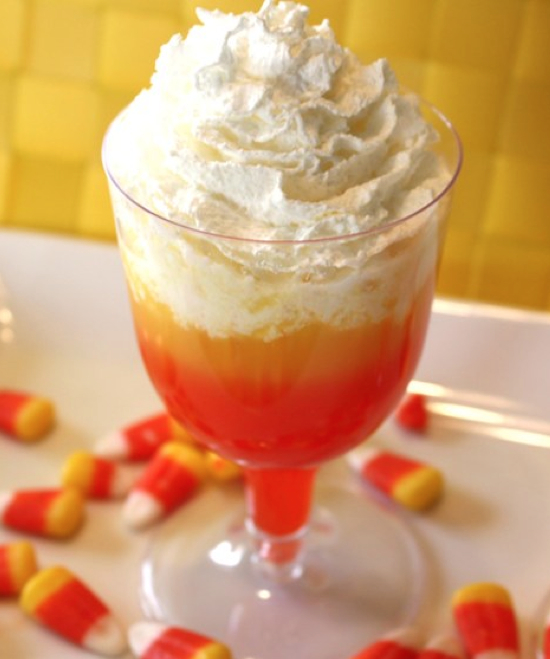 Bug Juice
It's amazing how a little bit of food coloring can turn an ordinary punch into something fun. Use labels and other decorations to make a Halloween drink that the kids will never forget; bug juice, vampire blood, witch's brew, octopus punch, or swamp water. All you will need is a creepy name to add to the excitement.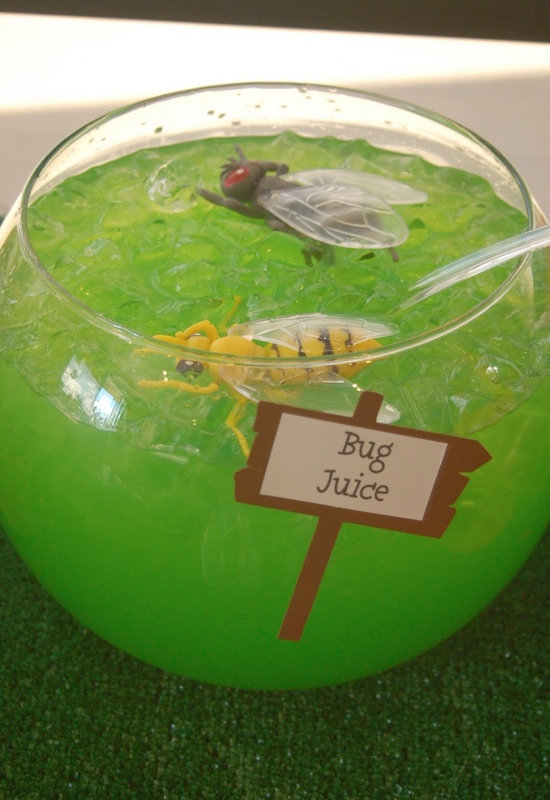 Pumpkin Pop
Orange soda pop brings back memories from my childhood. It was a rare treat, but one I enjoyed tremendously! Remove the labels from orange Crush bottles (available in glass and plastic) and use a Sharpie or dry erase marker to draw cute little jack-o-lanterns. You can also embellish the rims with green ribbon to resemble to stem.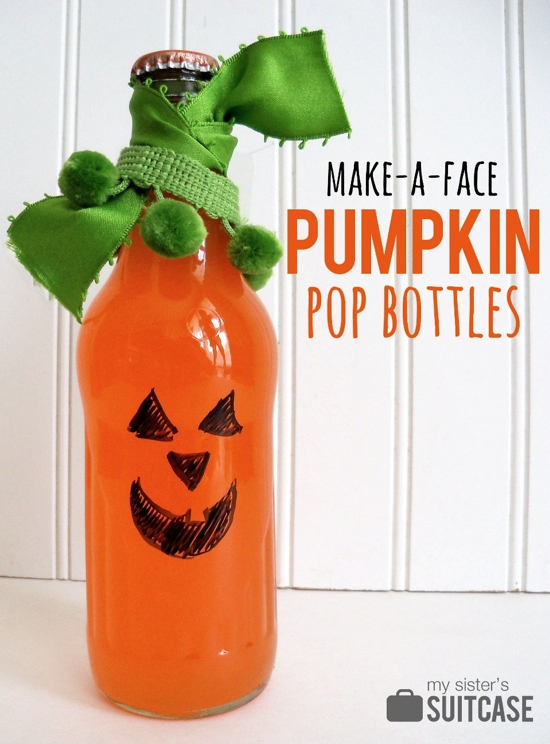 Cemetery Slime Punch
This Cemetery Slime Punch is just a huge root beer float with gummy worms! It's made with chocolate and vanilla ice cream, root beer, and gummy worms. The root beer and ice cream combined create the ghastly foam effect. Yum! You could also add a few crumbled Oreos on top to look like dirt.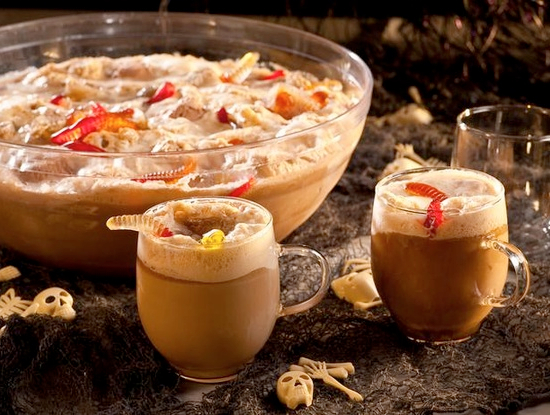 Spooky Milk Shooters
The perfect pairing for your holiday cookies; milk shooters! These are adorable. Draw little faces on your mini glasses, rim them with Nutella, and then dip them in Halloween sprinkles. You could even line these up at a party buffet next to the cookies and brownies.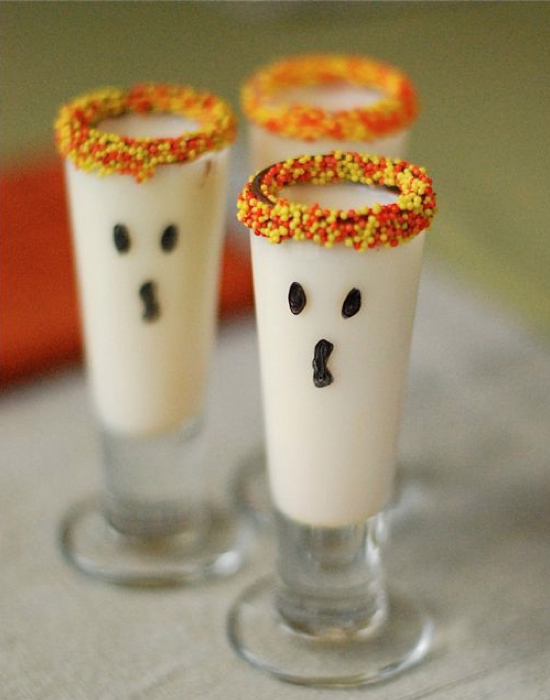 Swamp Juice
Mmmmm, swamp juice. It's made with lemonade, seltzer water, and food coloring. This kid's drink looks like it came strait from Shrek's kitchen. For a party, consider a punch bowl surrounded by dry ice. Get the recipe here.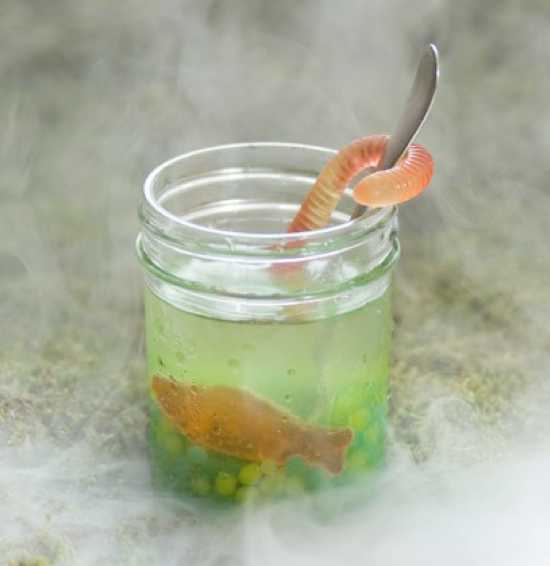 Boo-Nilla Milkshakes
These milkshakes are so fun! Use melted chocolate to paint faces inside of your glass, and then fill with your favorite vanilla milkshake recipe. Martha Stewart also has an easy recipe.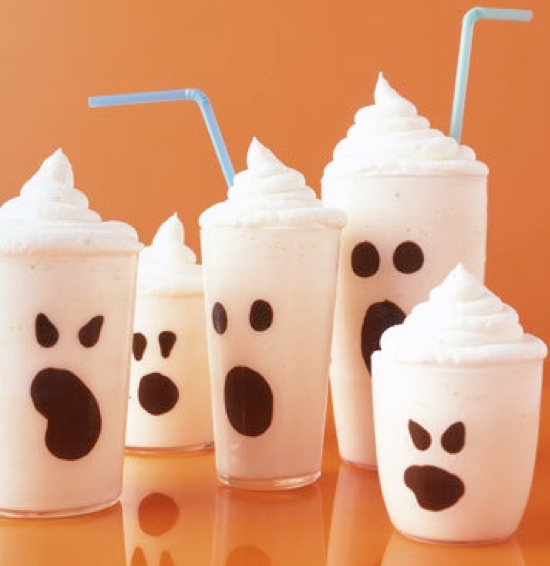 Mummy Juice Boxes
Adhesive-backed googly eyes and white streamers or electrical tape make for scary little juice box sippers. Try to avoid covering the hole where the straw is suppose to poke through. This would be a cute surprise for their school lunch box.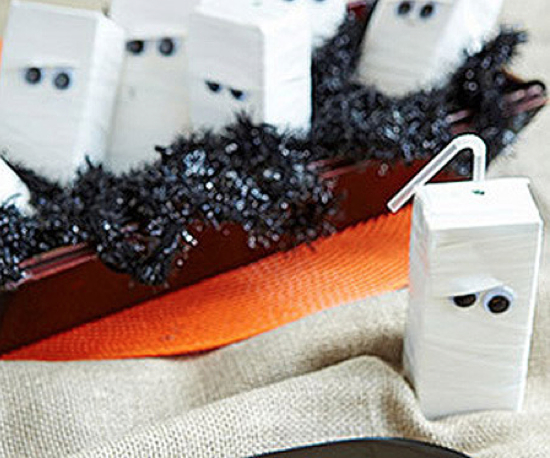 Halloween Bottle Labels
Halloween bottle labels make it easy to decorate and add little bit of excitement to any Halloween party. Many of the links below provide free printable Halloween bottle labels. There is also a large variety available on Amazon. Slap them on your 2 liters of soda, water bottles, or individual drink bottles. For adults, you can also find them in custom sizes for beer and wine bottles. They make for great gifts, too!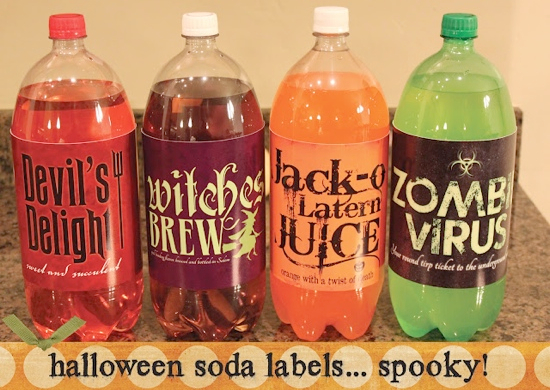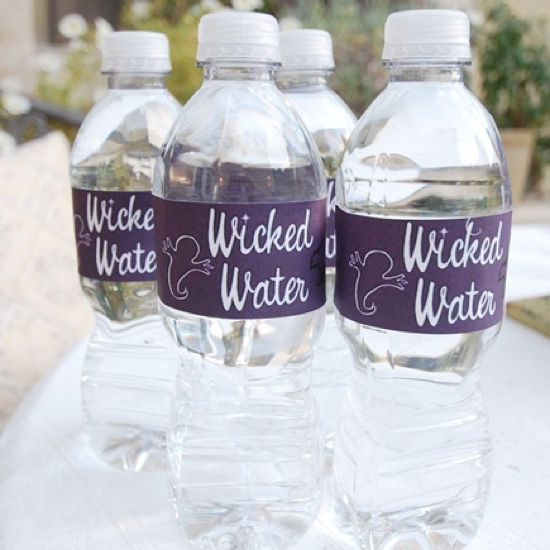 Eyeball Tableware
This is AWESOME. Print out eyeballs and enlarge or reduce in size to fit your glassware. Use decoupage glue (or watered down regular Elmer's glue) to apply them to the bottom of your glass plates, cups, and pitchers for this creepy eyeball effect. They wash off with a little warm water and soap when you're done.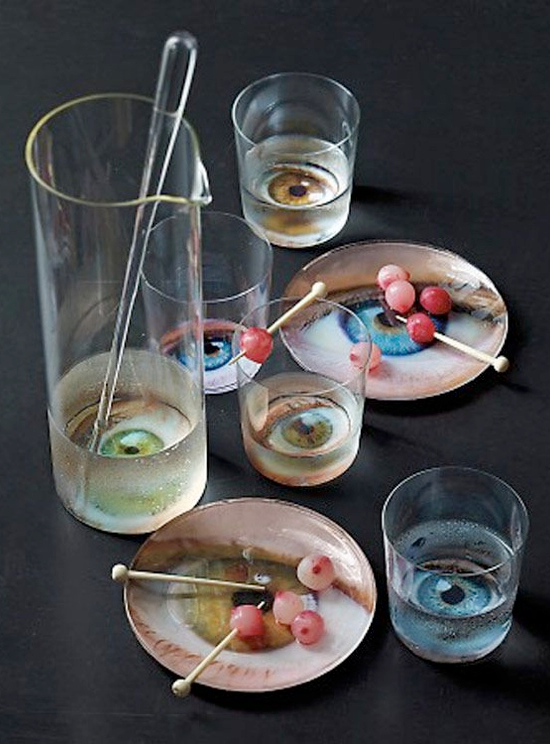 Creepy Floaters
For creepy floaters, fill ice cube trays with plastic spiders, bugs, or gummy worms, and then freeze with water. It will take any ordinary drink and turn it into a repulsive refreshment.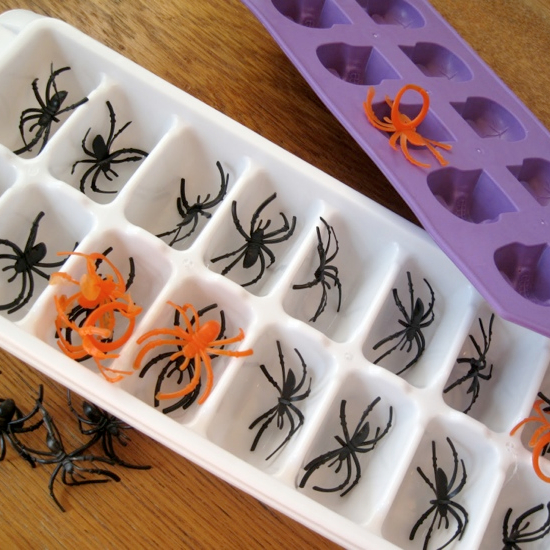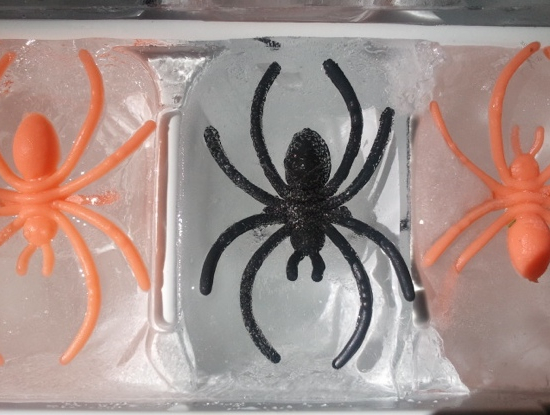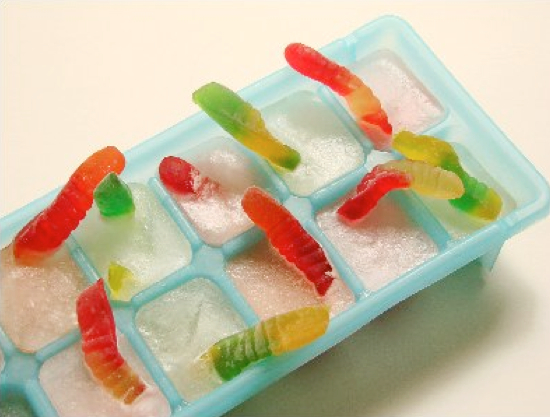 DIY Halloween Party Cups
Make easy Halloween cups with the use of plastic eyes, Sharpies, and white paper streamers. This is a fun project for the kids. Use a hot glue gun to hold your googly eyes and streamer in place to create fun little mummy cups. Don't have the supplies on hand? The Sharpie comes in handy, once again! Decorate your cups with jack-o-lantern faces, Frankenstein heads, wicked witches, or any other Halloween character.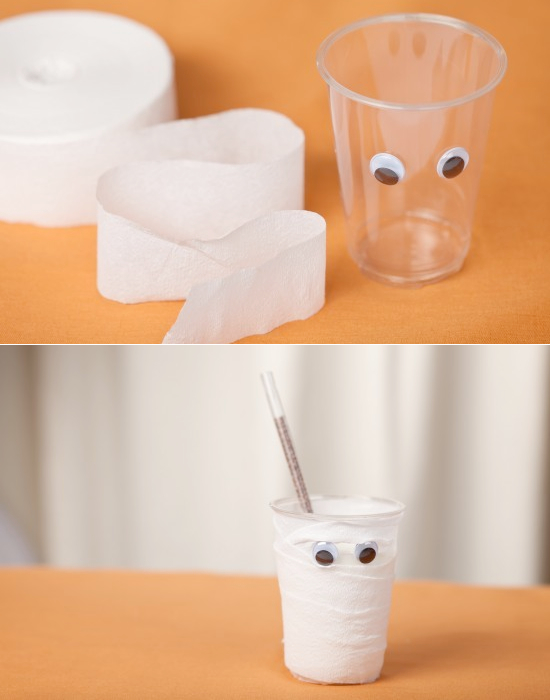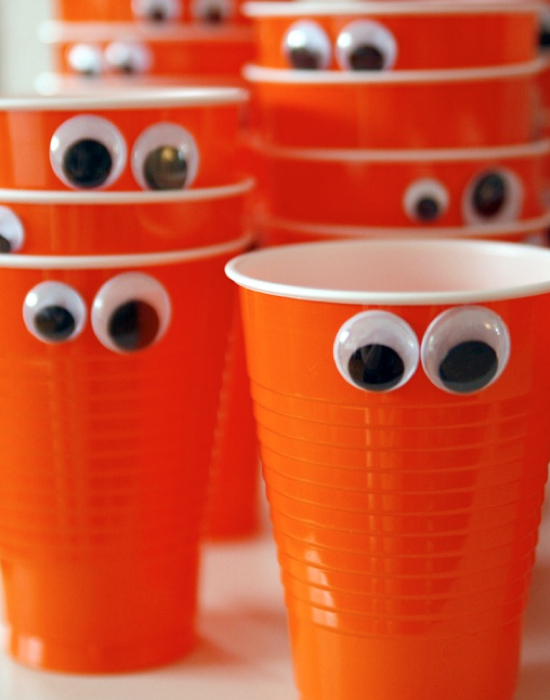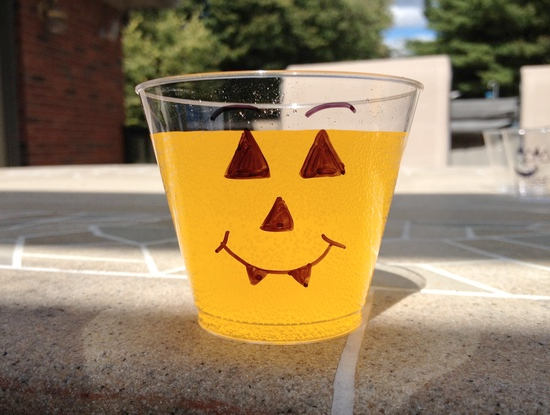 Halloween Straw Toppers
This is another easy Halloween drink idea that the kids will love! For some reason, a straw makes a drink so much more fun. My daughter will drink anything with a bendable straw. Have the kids make their own Halloween straw toppers, or check out Amazon for a variety of custom made straws for Halloween.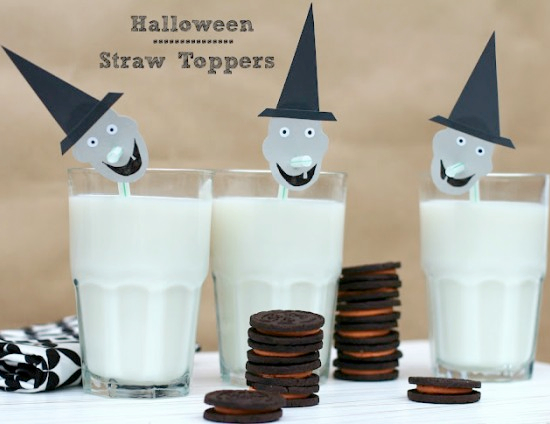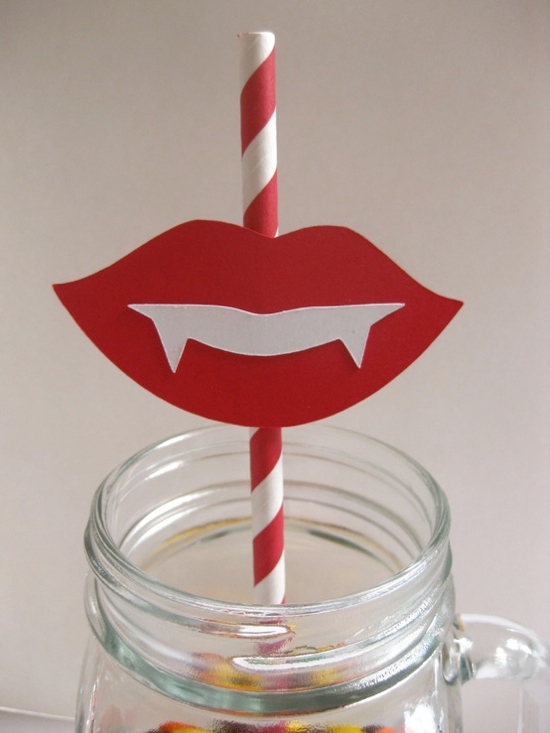 These cute little bat straw toppers are made with just black ribbon, small googly eyes and a metallic sharpie to write party guest names.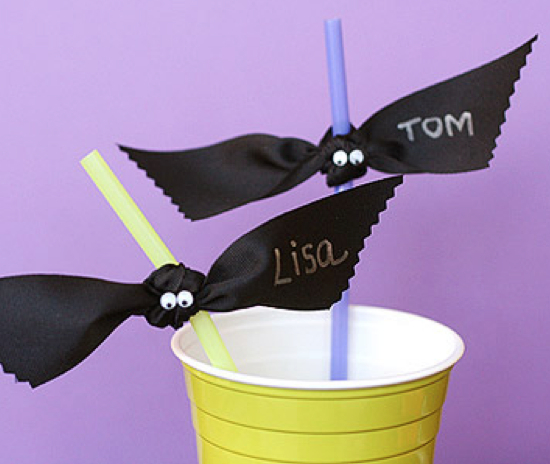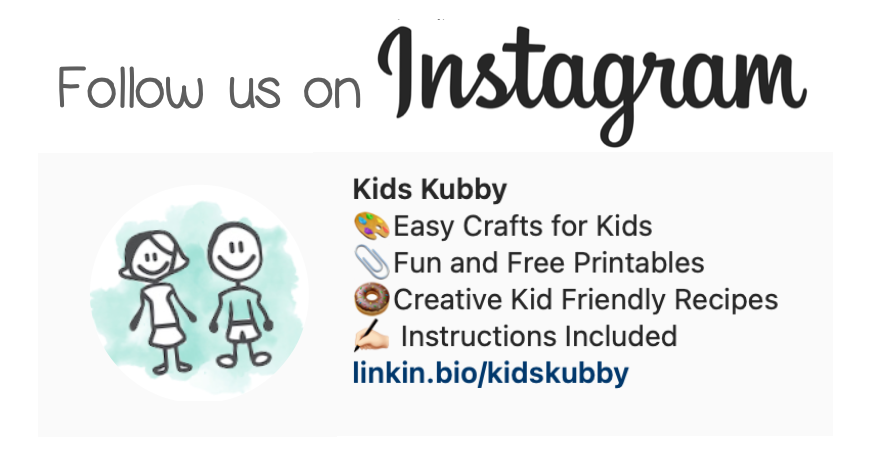 Leave a comment...