Easy and fun color sorting caterpillar sensory bag for toddlers!
Are you looking for an easy activity to keep your busy toddler entertained. Sensory bags are my go to activity for toddlers and preschoolers because they are fun, mess free, and super simple to make. Sensory play is so important for kids. It helps to stimulate and grow their little brains. Plus who doesn't love squishing, patting, and squeezing bags full of gooey hair gel without getting messy?! This color sorting sensory bag is the perfect way to teach toddlers and preschoolers their colors while they have fun!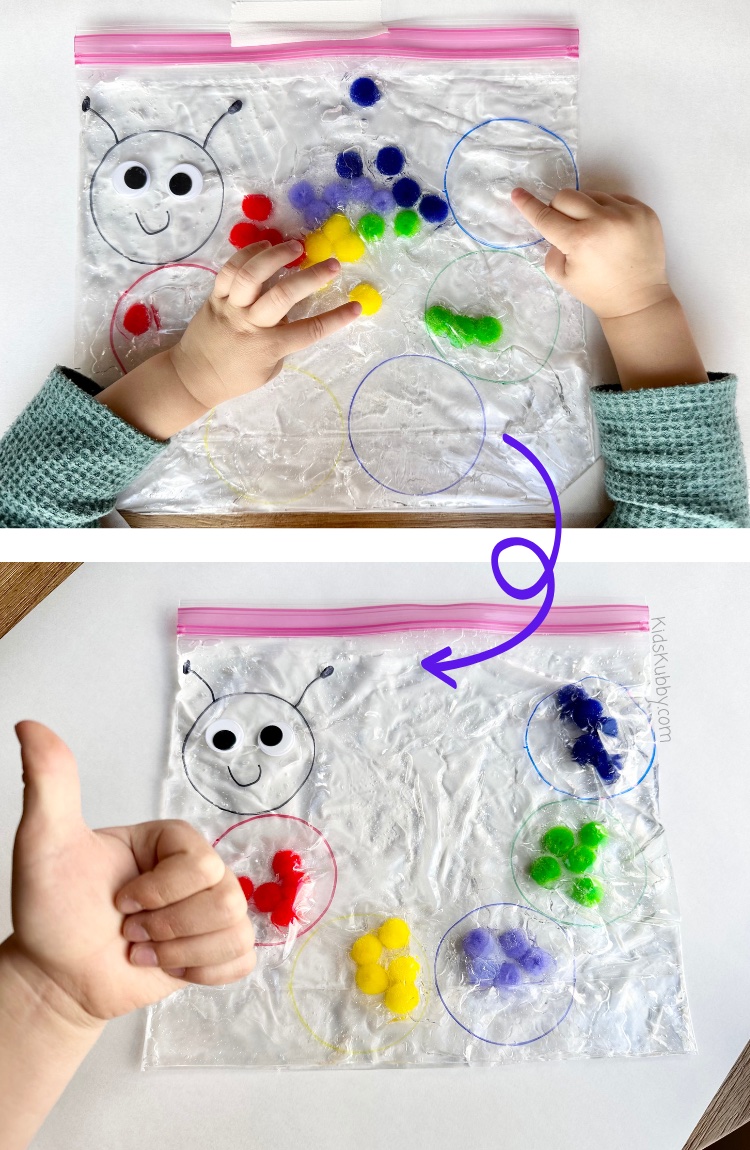 I honestly loved making this Caterpillar Sensory Bag for my toddler. I think I had even more fun playing with it than my kids did. This colorful caterpillar activity is a great way for toddler and preschoolers to learn their colors. It would even be a great calming exercise for kids and adults. Your toddler will love pushing the pom-poms around this sensory bag to the correct colored circle. This color sorting sensory bag took less then 5 minutes to make, and my kids played with it for an hour straight!
Simple and affordable color matching activity for kids
Supplies Needed For This Color Sorting Activity
Large Ziplock Bag
Colorful Sharpies
Clear Hair Gel
2 Googly Eyes
Colorful Pom-poms
Rubbing Alcohol and Cotton Ball
Lid or Small Circle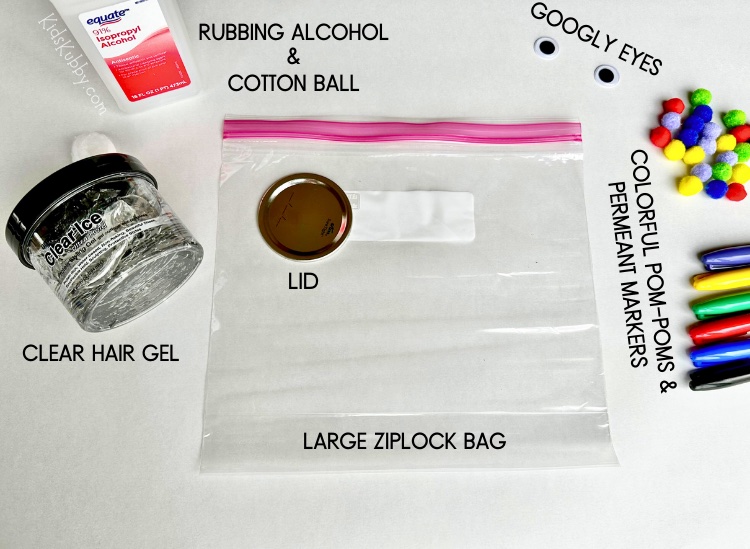 How To Make A Caterpillar Sensory Bag
1 If your ziplock bag has a little white label box on it, we need to remove it! The simplest way to do this is to use rubbing alcohol on a cotton ball and gently rub the label to remove it! It should come off very easily!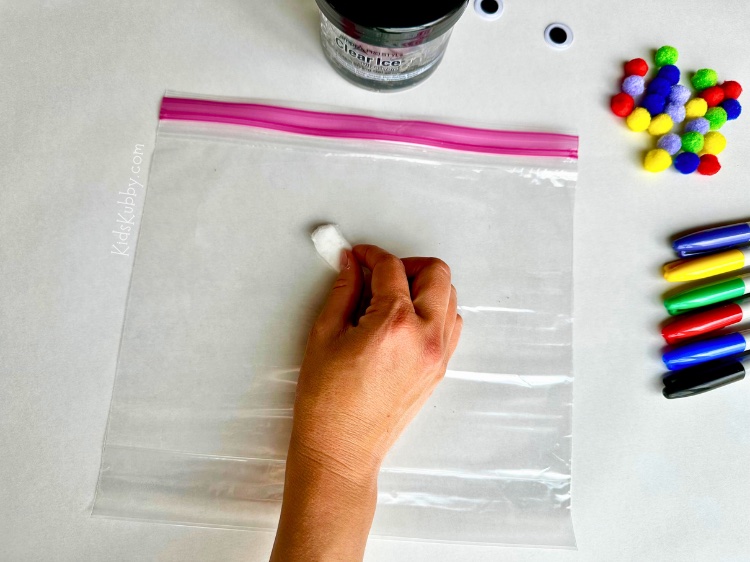 2 Use a small lid or circle, trace 6 circles in the shape of a caterpillar. Each circle should be a different color. I used black for the head of the caterpillar and red, blue, yellow, purple, and green for the body circles!
3 Next, draw a couple of simple antennas and add gloogy eyes to the head of your caterpillar. Try using self adhesive googly eyes to make thing easier. If you don't have sticky googly eyes, you can always glue them on with a bit of craft or Elmers glue.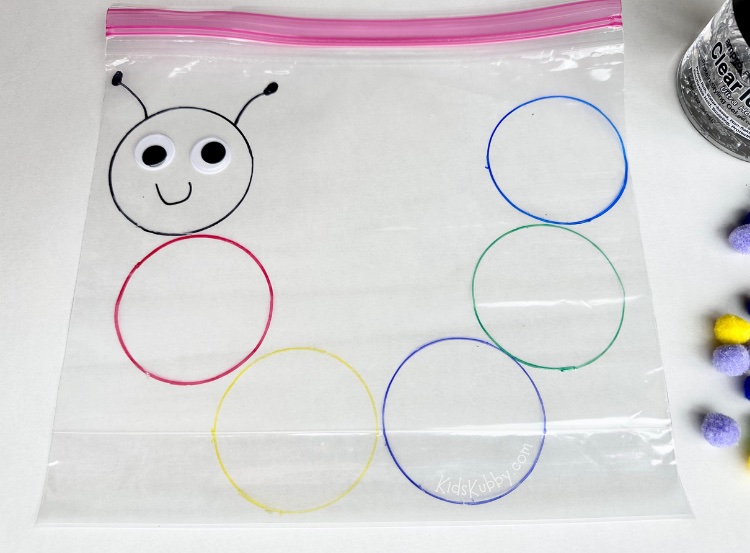 4 Open the ziplock bag and add colorful pom-poms and about 8 oz of clear hair gel. Remember the color of the pom-poms should match the colors you used to make the circles for your caterpillar. Zip the bag closed making sure to get as much air out as possible.
Your Caterpillar Color Sorting Sensory Bag is now ready to use! Have your kids sort the pom-poms by color by pushing them around the bag into the matching colored circle.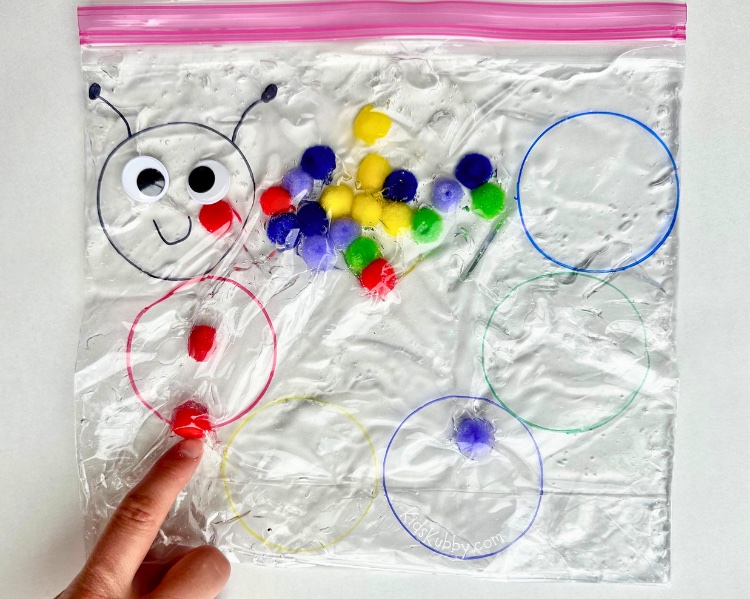 Helpful Tips
Caterpillar Color Sorting Sensory Bag
Always use clear hair gel with this sensory bag activity. The dollar store is a great place to find cheap supplies!
If the pom-poms aren't sliding easily when you push them, add more hair gel to the bag.
This activity works best when the bag is taped to a table or wall. Use painters tape to tape all 4 side of the ziplock bag to keep it from sliding all around when your kids are playing. This will also prevent the ziplock from opening accidentally.
This color sorting sensory bag is also fun to tape to a window or glass door at your kids eye level.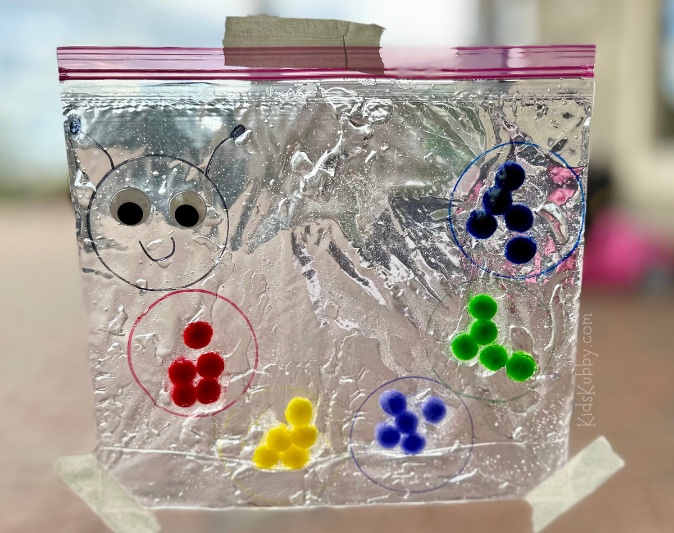 Sensory bags are such a great activity for kids in so many ways. This caterpillar color sorting sensory bag is a fun activity to practice color matching and fine motor skills. With a few simple supplies you may already have at home, you can make a sensory activity that will keep your little ones entertained and learning at the same time. Check out these other color sorting activities for kids for even more fun ideas!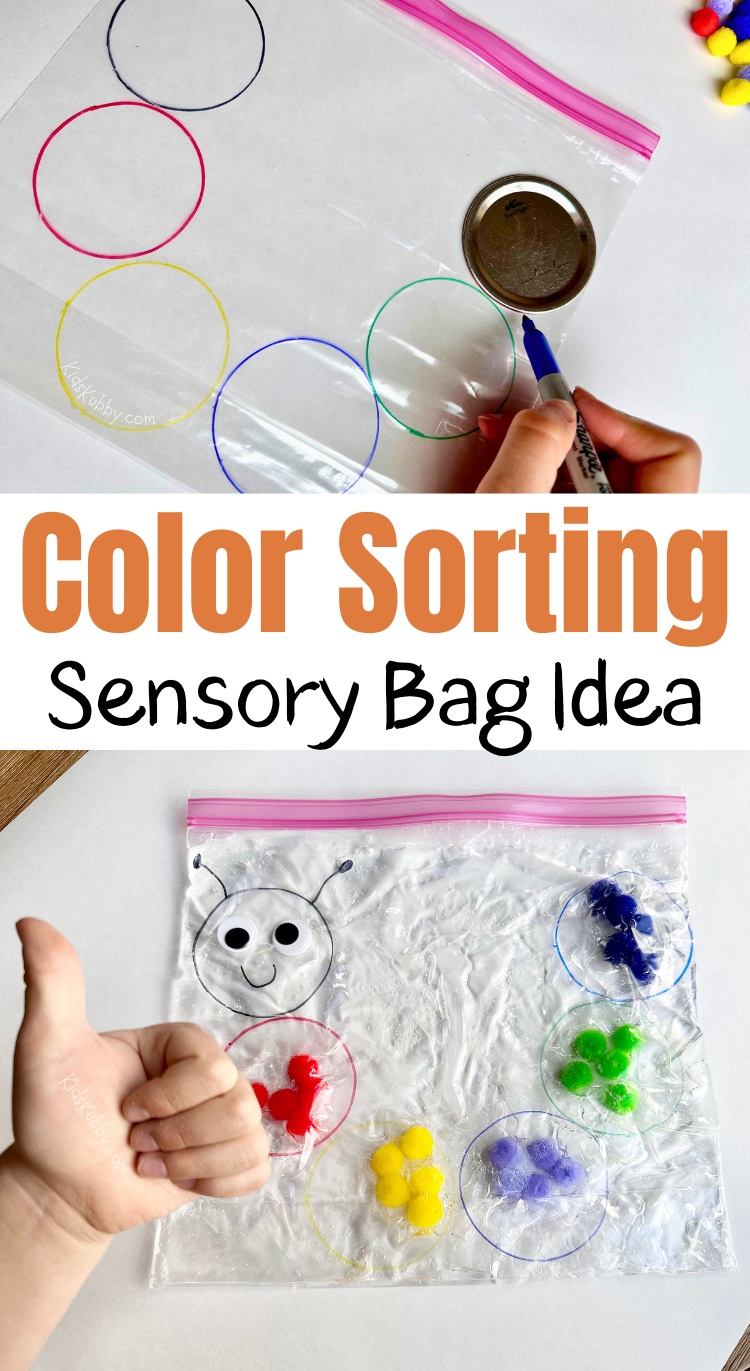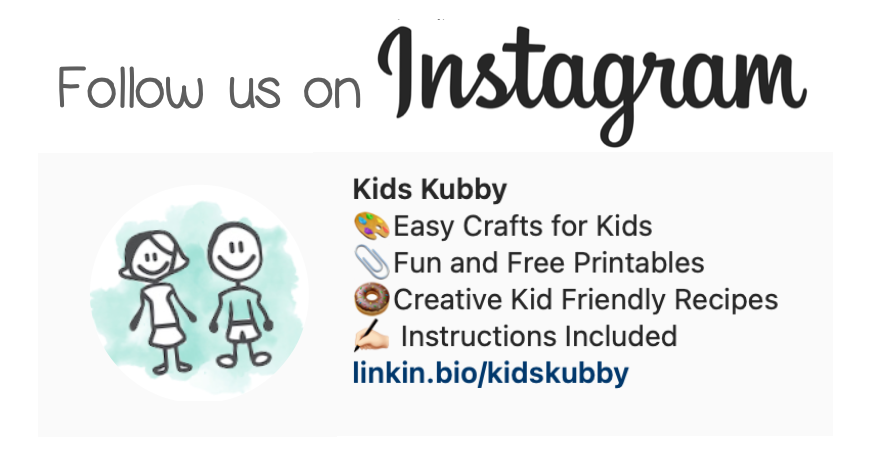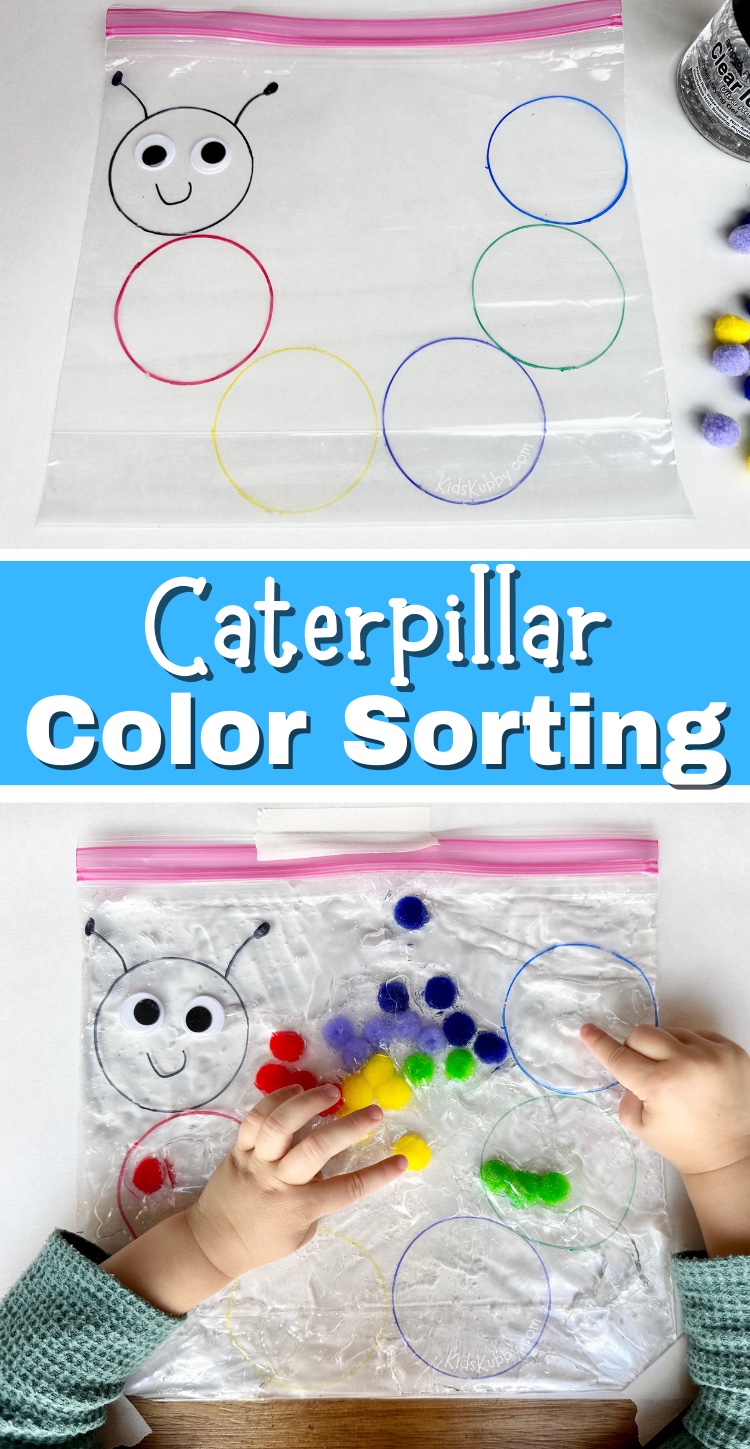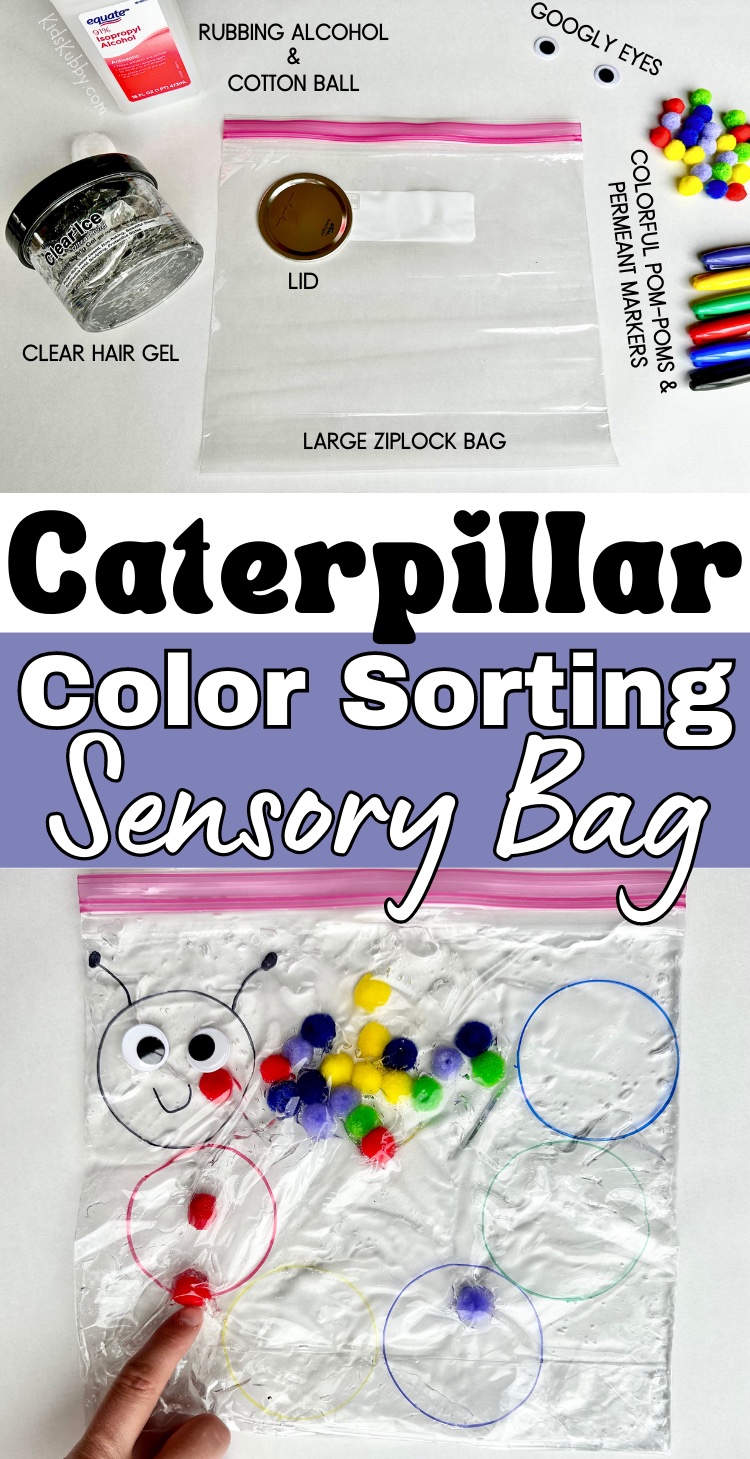 Leave a comment...