This is how you turn yogurt into finger food!
Frozen yogurt bites are a healthy and delicious snack idea for kids that can be made in just a few minutes using only yogurt and some optional toppings like fresh fruit, mini chocolate chips, or colorful sprinkles. These frozen treats are a great way to get kids to eat more dairy and fruit, while also satisfying their sweet tooth. This is also a fun activity that parents and children can do together!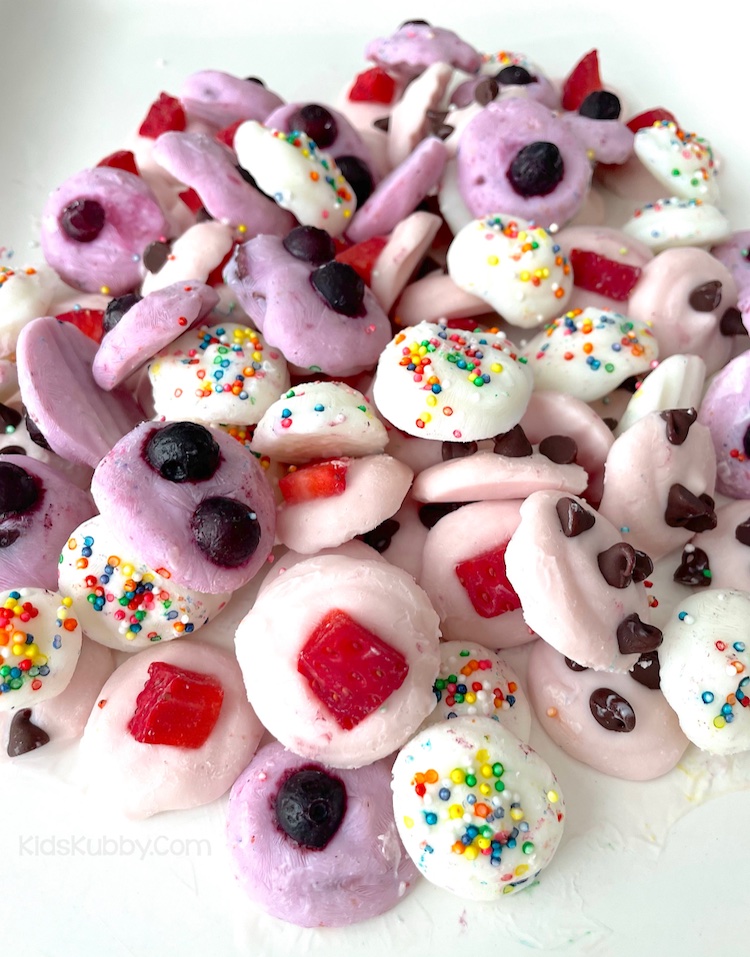 These frozen yogurt melts can be enjoyed at any time of day, especially in the summer when you're looking for cold treats to eat. They make a great after-school snack or even fun dessert after dinner. Plus, since they are made with yogurt, they are a good source of protein and calcium, which are important nutrients for growing kids. I usually eat a handful myself. Adults can eat fun food, too! 🙂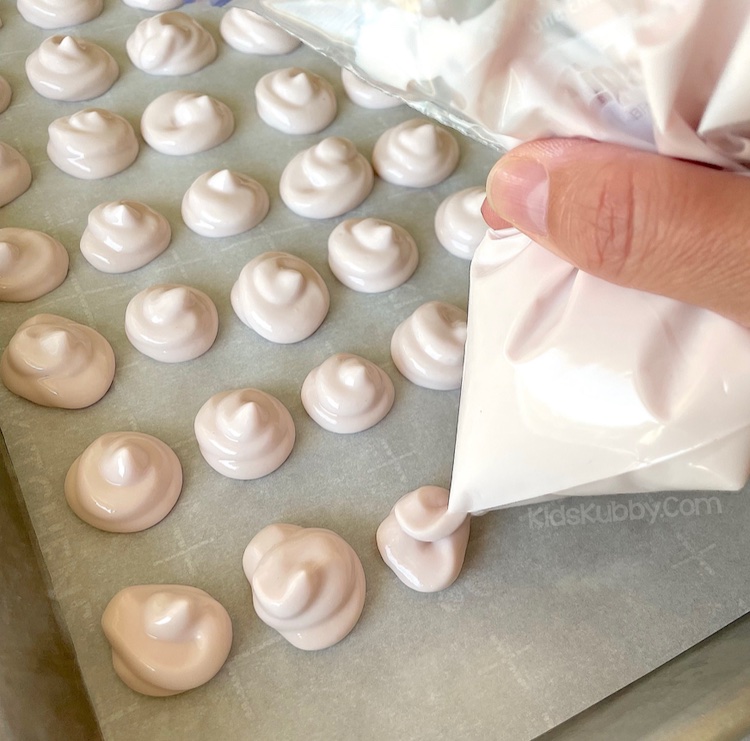 Ingredients & Supplies Needed
Any flavor of yogurt
A small sheet pan or tray for the freezer
parchment paper
plastic bag for piping
optional toppings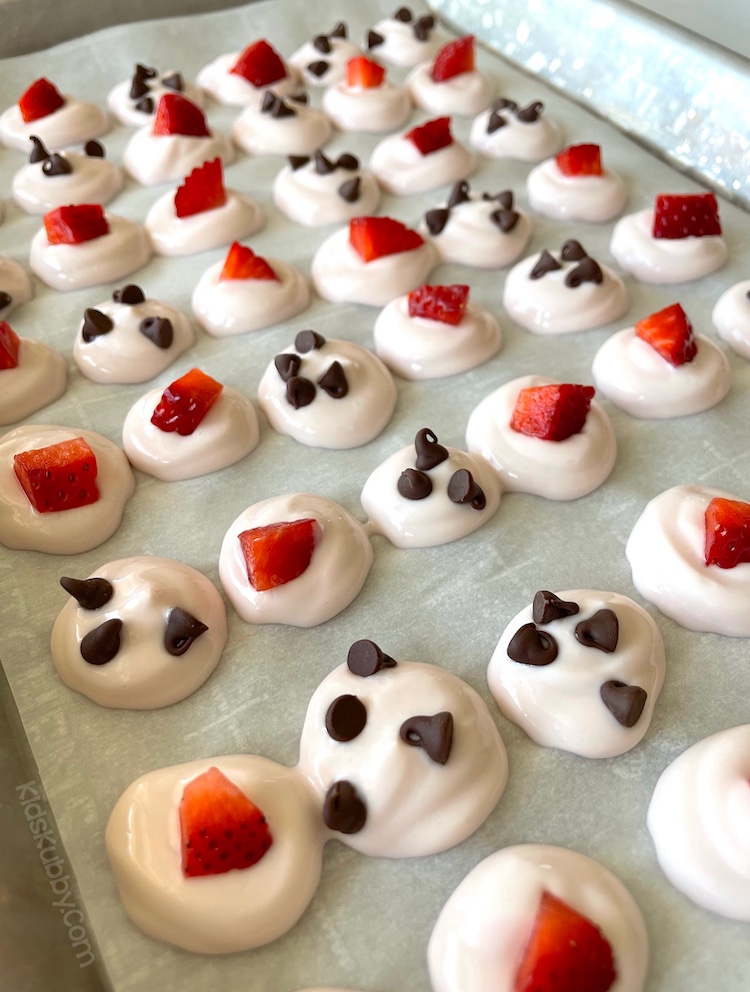 How To Make Frozen Yogurt Bites
Line a small sheet pan or tray with parchment paper. Make sure the tray you choose will fit in your freezer!
Next, fill a piping bag or plastic sandwich bag with yogurt and cut a small hole in one corner.
Pipe bite-size blobs of yogurt onto your lined pan. Keep in mind that they do flatten out a bit by the time they make it to the freezer, so try to give a little space in-between.
Top the yogurt with optional toppings to make them colorful and fun such as diced strawberries, small blueberries, sprinkles, mini chocolate chips, etc.
Place the pan or tray in your freezer for 2-3 hours, or overnight. I've never covered mine, and they turn out just fine. If you do, be careful with plastic wrap because it's real easy for it to fall right on top of the yogurt. I'd tent the pan with foil instead.
Once frozen, use a spatula or your hands to remove the yogurt bites from the parchment paper. Store them in a freezer safe bag or container or until ready to eat.
Helpful Tips
Frozen Yogurt Bites
Keep your child's age in mind when piping the yogurt. Babies and toddlers may need smaller bites to make them easier to eat and to prevent choking.
I think they are better once they've sat at room temperature for about 2 minutes. They just melt in your mouth!
You can also mix in some pureed fruit or even baby cereal to make them more nutritious for babies and toddlers. You could even mix plain greek yogurt with a bit of honey to keep the sugar down.
The Yoplait Go-Gurts make this snack even easier! Instead of ripping the bag at the tear line, cut a small hole in one of the corners.
The toppings are completely optional, in fact, young children may be better off without any toppings.
You can also make yummy frozen treats like this with apple sauce!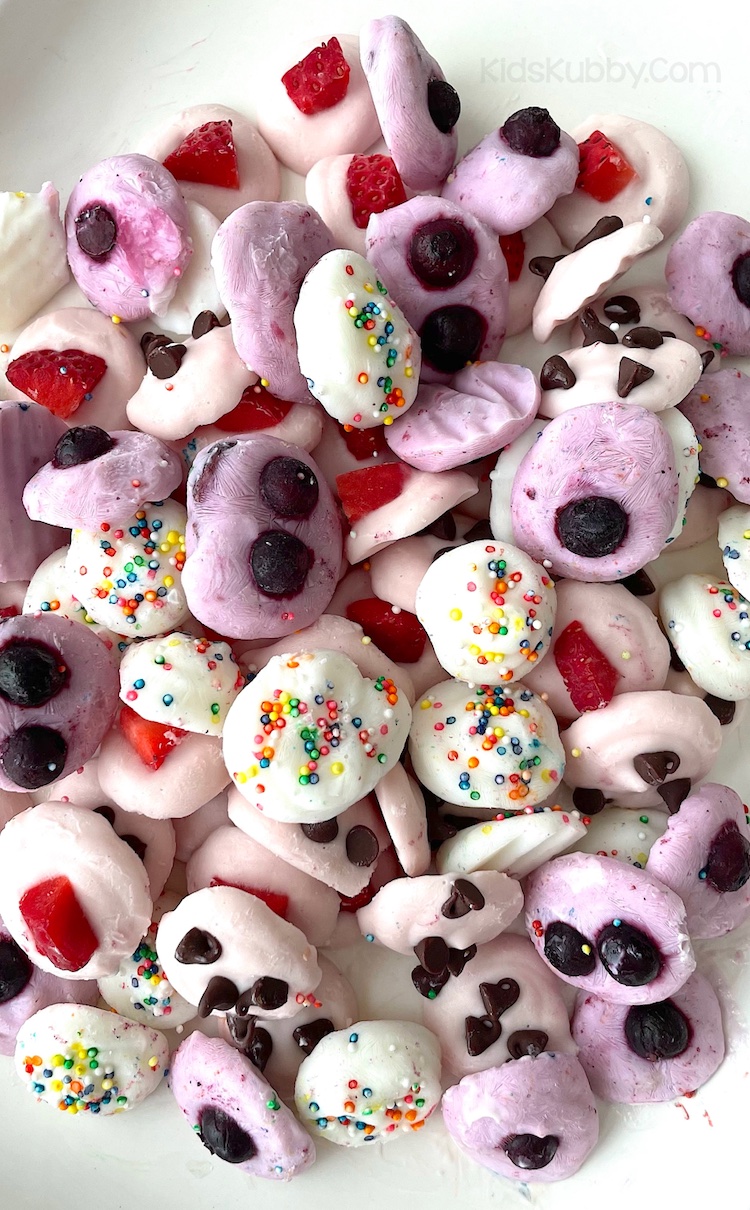 These easy little yogurt snacks are simple enough for older kids to make by themselves. My daughter asked if I could buy a bag of mini M&Ms to top the vanilla bites with next. I think they are a really fun food idea for kids of all ages! I have a feeling I'm going to have trays of yogurt in my freezer all summer long.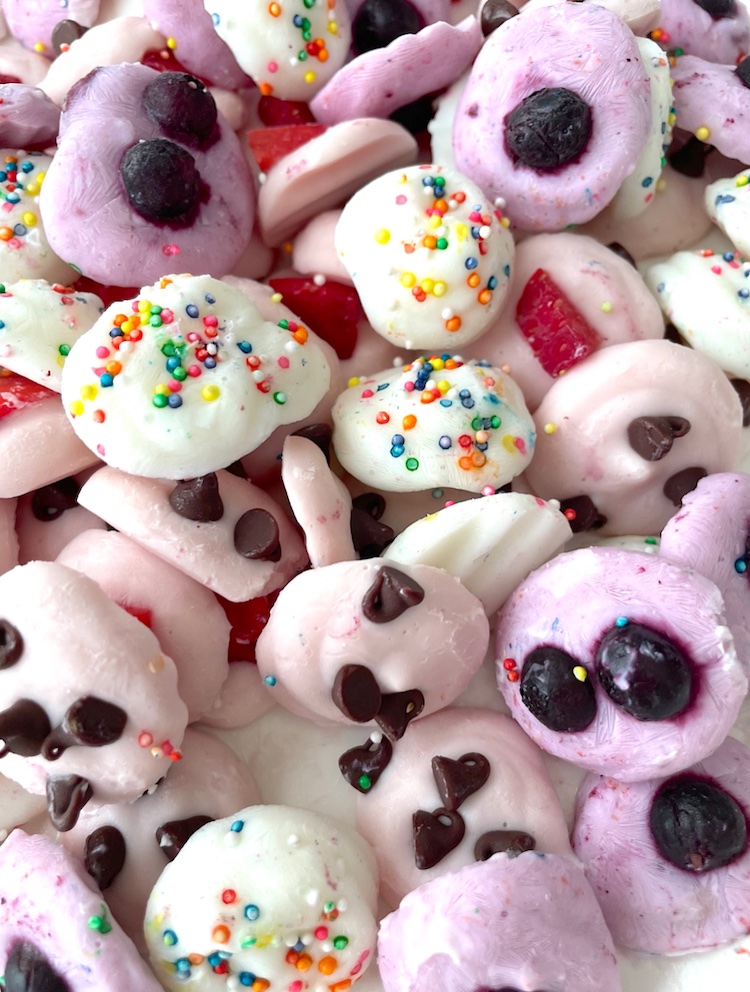 If you like this healthy snack idea, your kids will also enjoy these Apple Slice Cookies and Chunky Monkey Bites!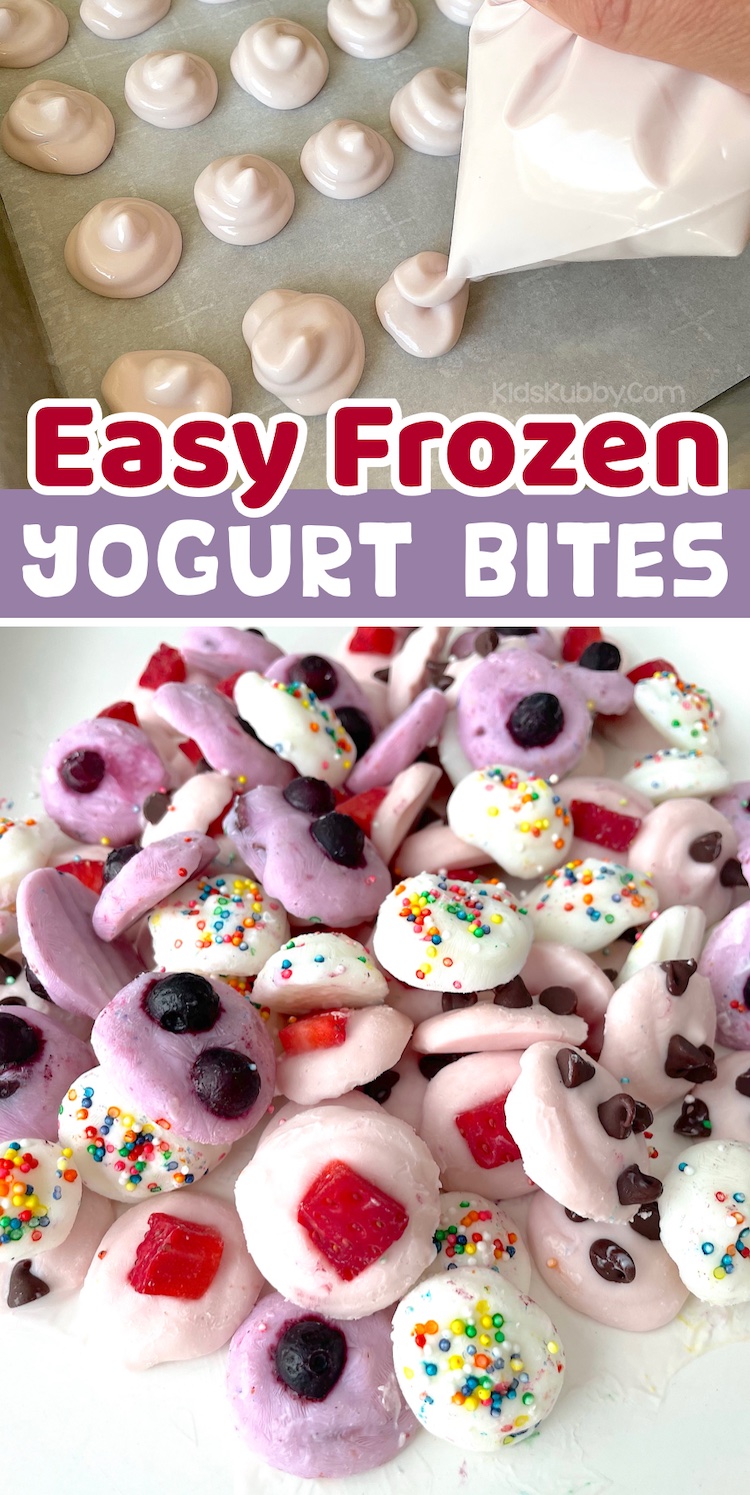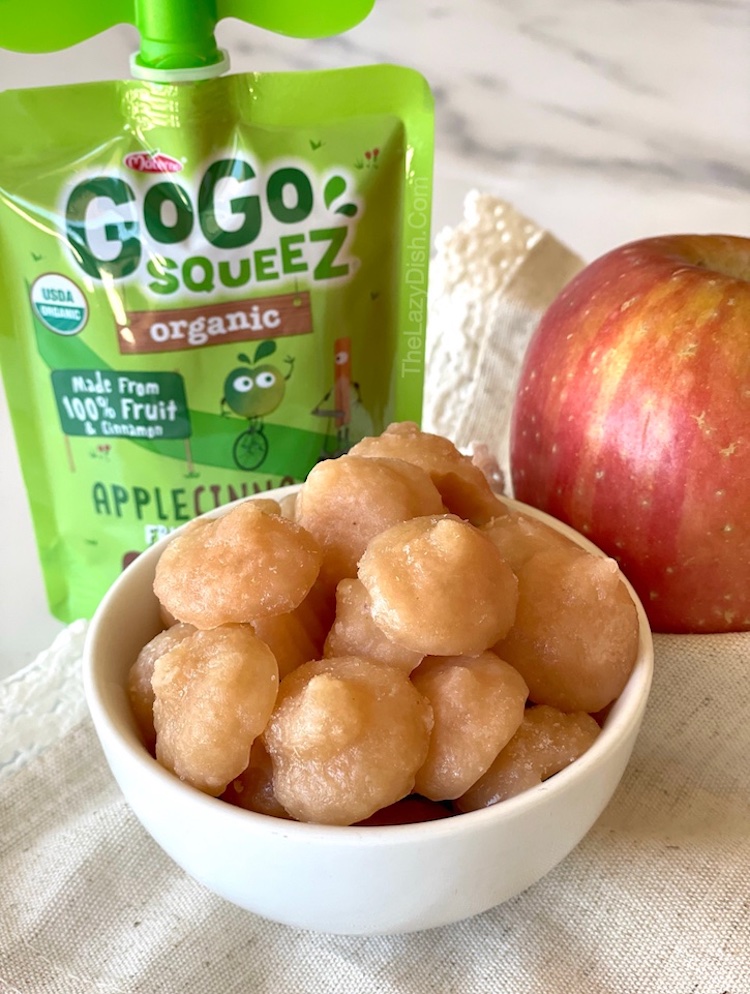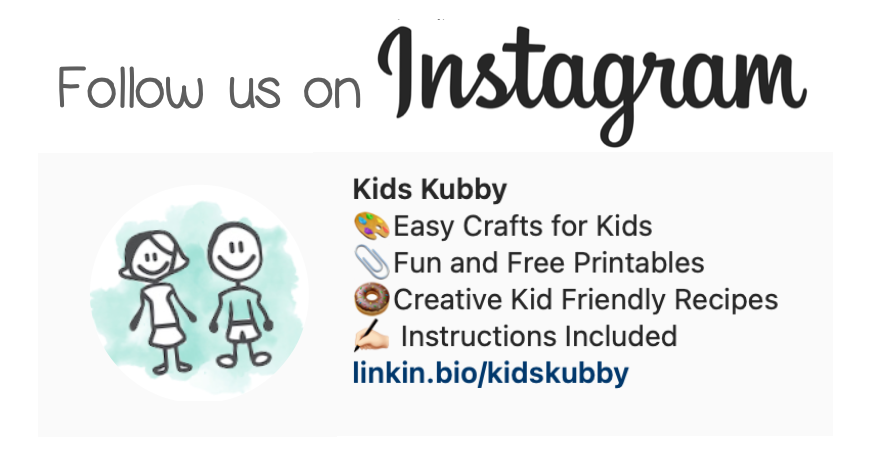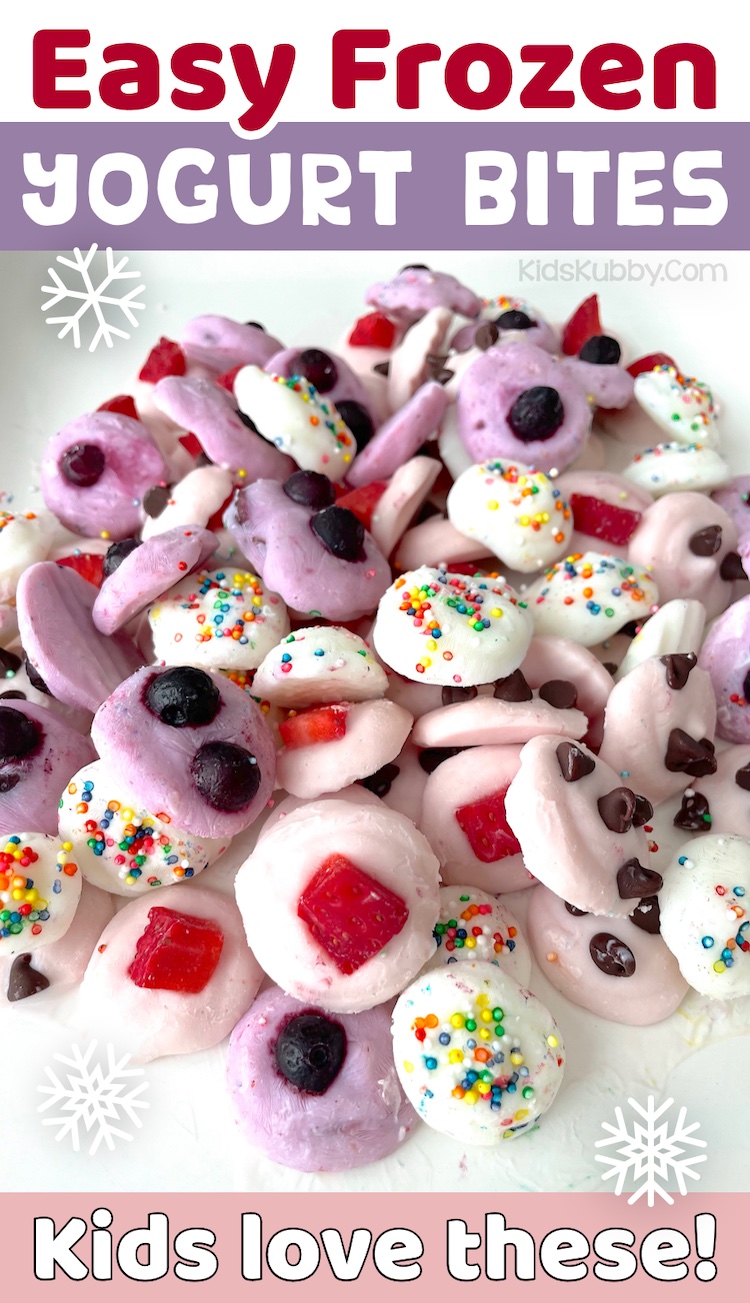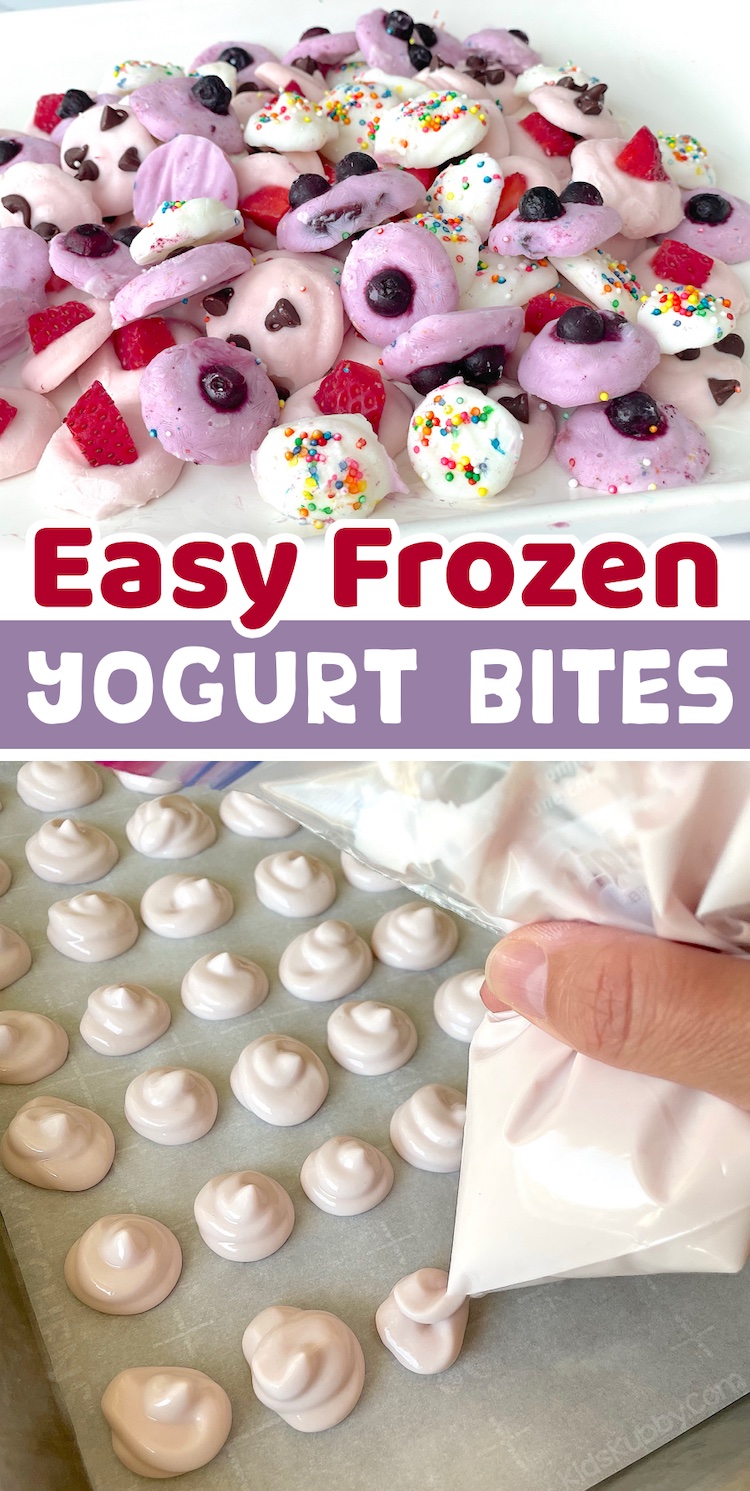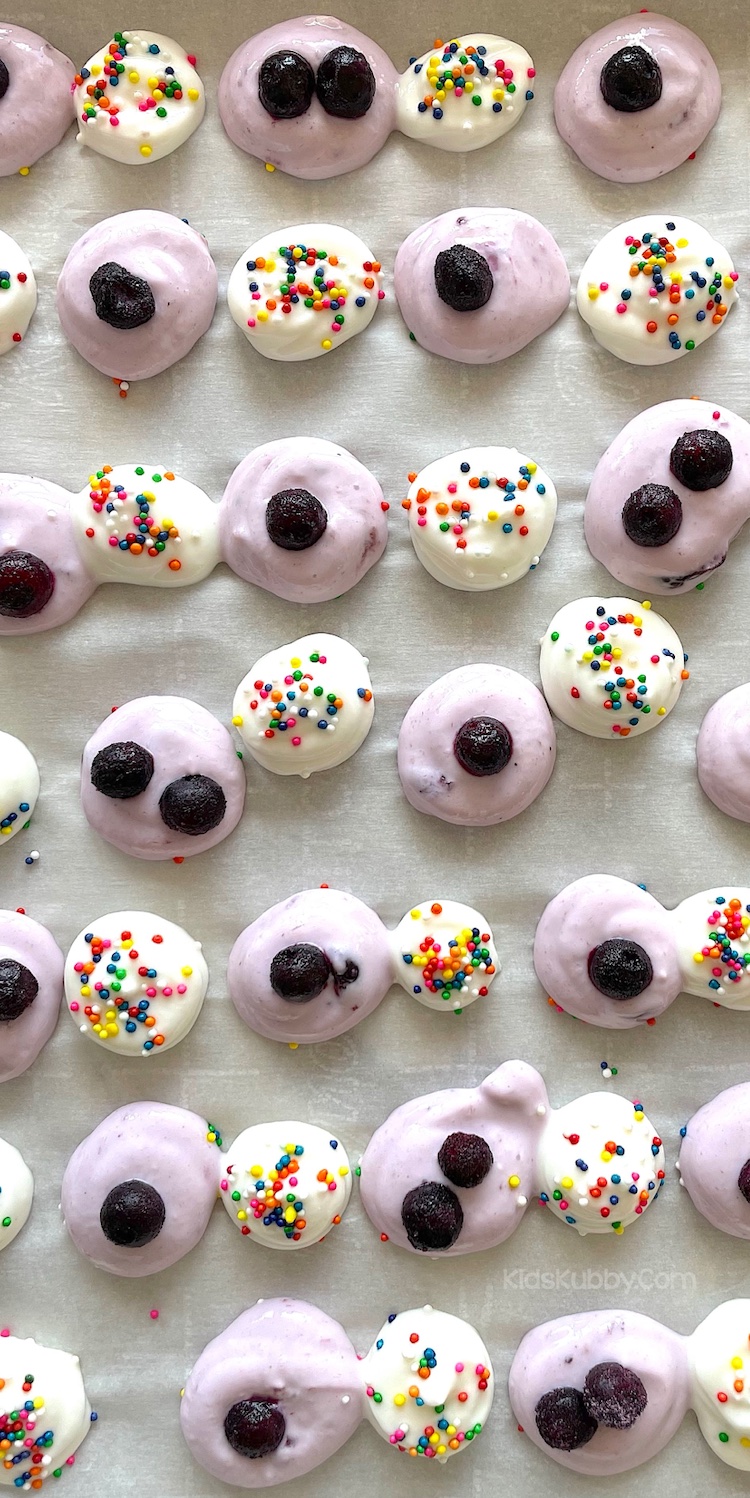 Leave a comment...