To make these awesome sunglasses, we simply used letter beads, large colorful pony beads, plastic rhinestones and a hot glue gun to make creative words and cool designs. They're super fun to make for gifts, selfies, summer party props, costumes and more.
I think this easy project would also be a unique activity for a small birthday party or sleepover, just keep in mind, you would probably need more than one hot glue gun to keep the kids busy. Heck, these are probably cool enough to make and sell! You could easily theme them for a sporting event, special occasion or holiday.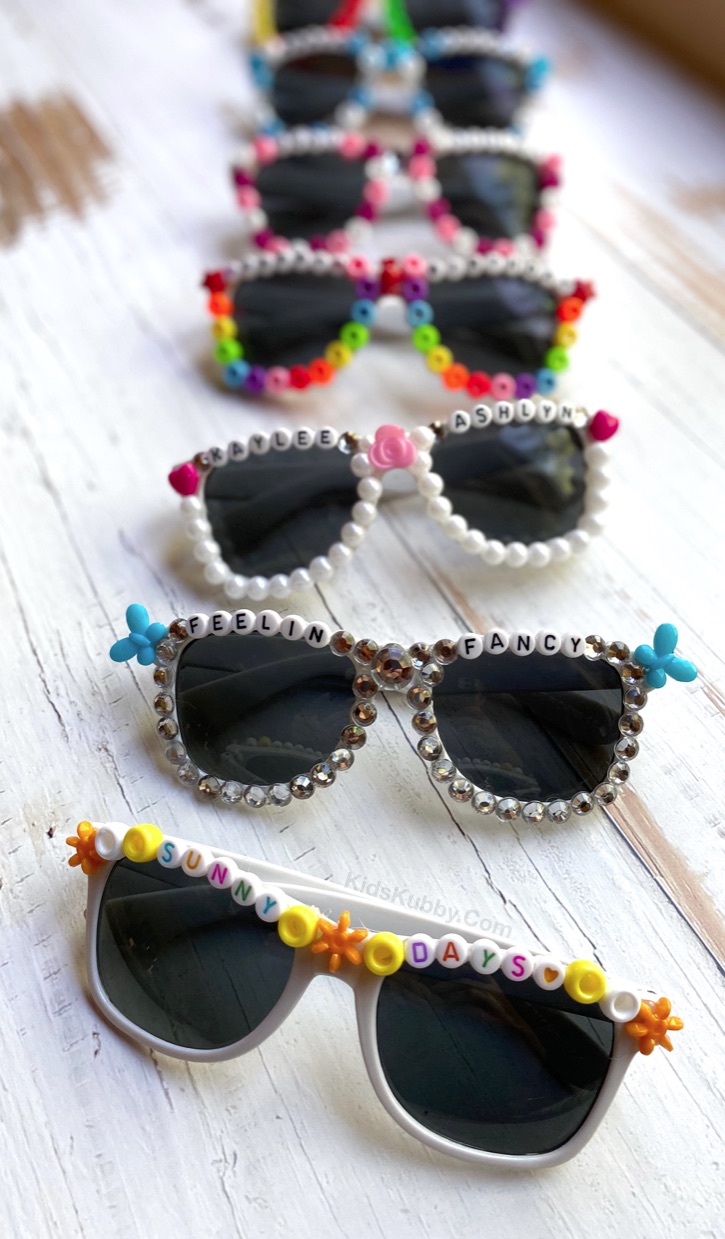 Where To Get The Supplies
My daughter found this 24 pack of sunglasses on Amazon for just $22, and the quality is way better than expected. They are advertised as party favors so I was expecting cheap, flimsy plastic, but they seem to be just right for this project. They're also the perfect size for older kids, teens and adults.
You can find large plastic beads at most crafts stores like Hobby Lobby and Michaels. I recommend the Pony Beads that you find in the kids section (not in the bead section).
Alphabet Beads are also a must for creating fun words and names!
I'd also recommend a variety pack of large shaped beads likes hearts, stars and butterflies. These fruit beads are super cute, too.
We happened to already have a pack of the little plastic rhinestones, so we used those to add a little sparkle and glam.
Get creative! Anything small can be glued to the edge of the glasses like buttons, small pompoms or even something silly like googly eyes.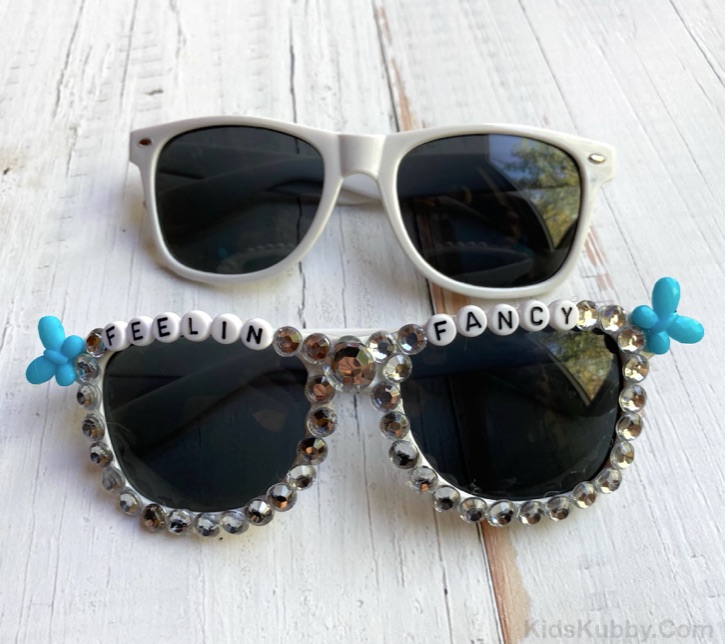 How To Make DIY Beaded Sunglasses
Once you have your supplies, simply use a hot glue gun to adhere a variety of large beads to the rim of the glasses. Here are a few tips that I'd recommend after creating several of them with my daughter:
Make sure the glasses that you use have a wide enough rim to hold the beads in place well (we used these).
Plan your entire design out first before getting glue happy. We laid and moved the beads around on the counter in the general shape of the glasses until we were happy with our arrangement.
It helps to start in the top center of the glasses when gluing, and then move out towards the corners. There really aren't any rules, but that seemed to help make sure the center bead was right in the middle.
You can choose to cover the entire rim of the glasses, or even just the top.
The plastic rhinestones are quite sharp on the edges, so it's best to make sure they don't hang over the sides of the glasses especially where they would rest on your nose. Keep this in mind for sharp or pointy beads, too.
A little bit of glue goes a long way! If you use too much you'll end up with a stringy mess.

Beaded Sunglasses Word Ideas
Best Sister, Be Happy, Beach Babe or Beach Bum, Sunny Days, Pool Party, Make Waves, Party Mode, Wild Child, Trippy Hippy, Shady Lady, Super Star, The Boss, Be Colorful, Chill Out, Dream Big, Fairy Dust, How Lovely, Just Sayin, Let Go, Oh Snap, Shine On, Stay True, Trust Me, Keep Calm, etc.
You could also write names, favorite sports teams (with matching team colors), make holiday themes for Halloween or Christmas, or anything else creative you can think of. They are fun for any time you would dress up like parties, parades, sporting events and school functions.
A fun and easy craft for kids and teens to make at home when bored! 🙂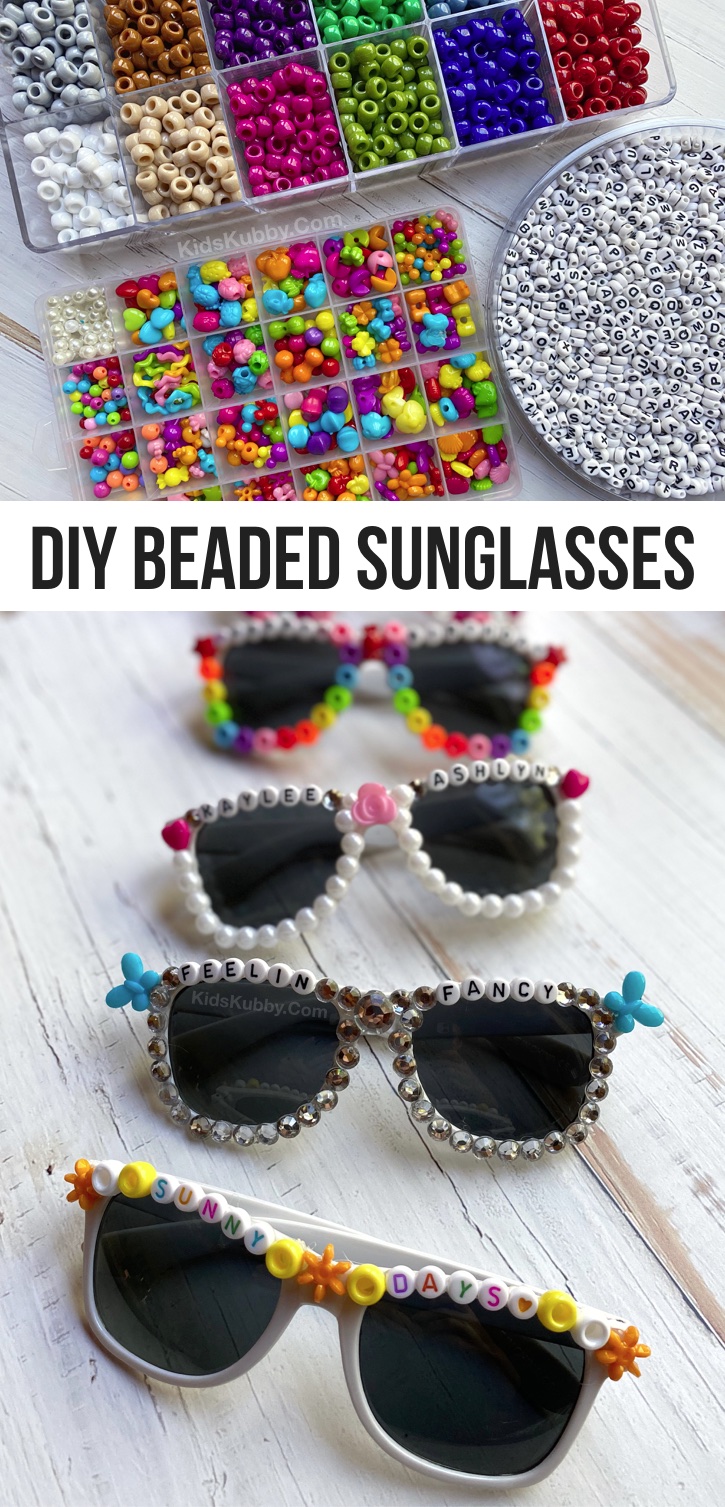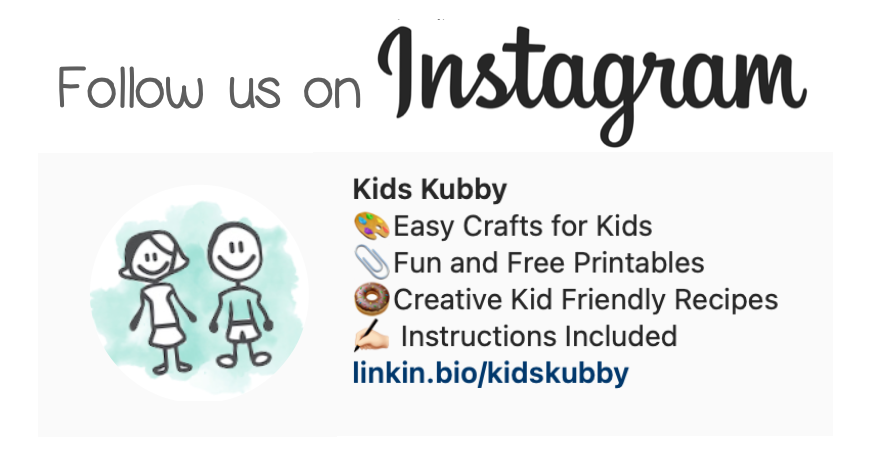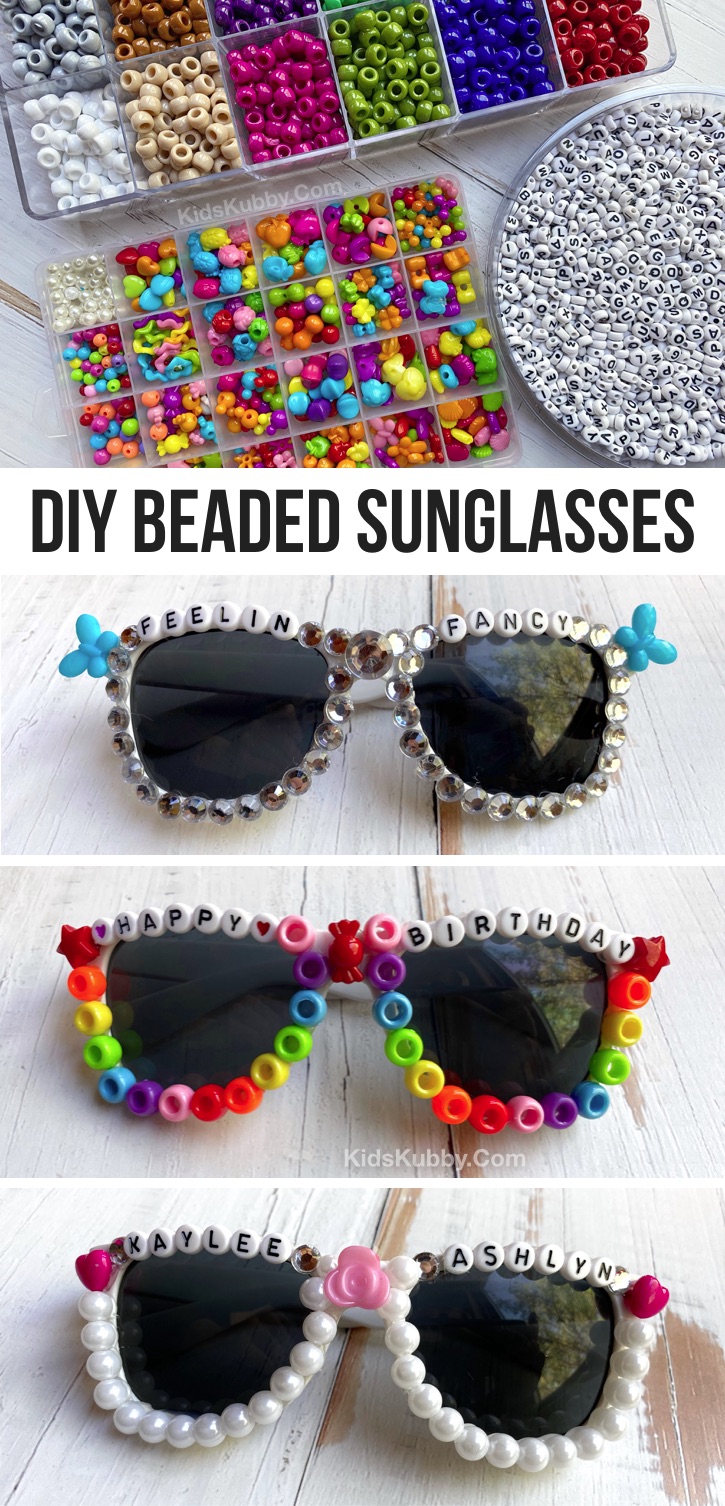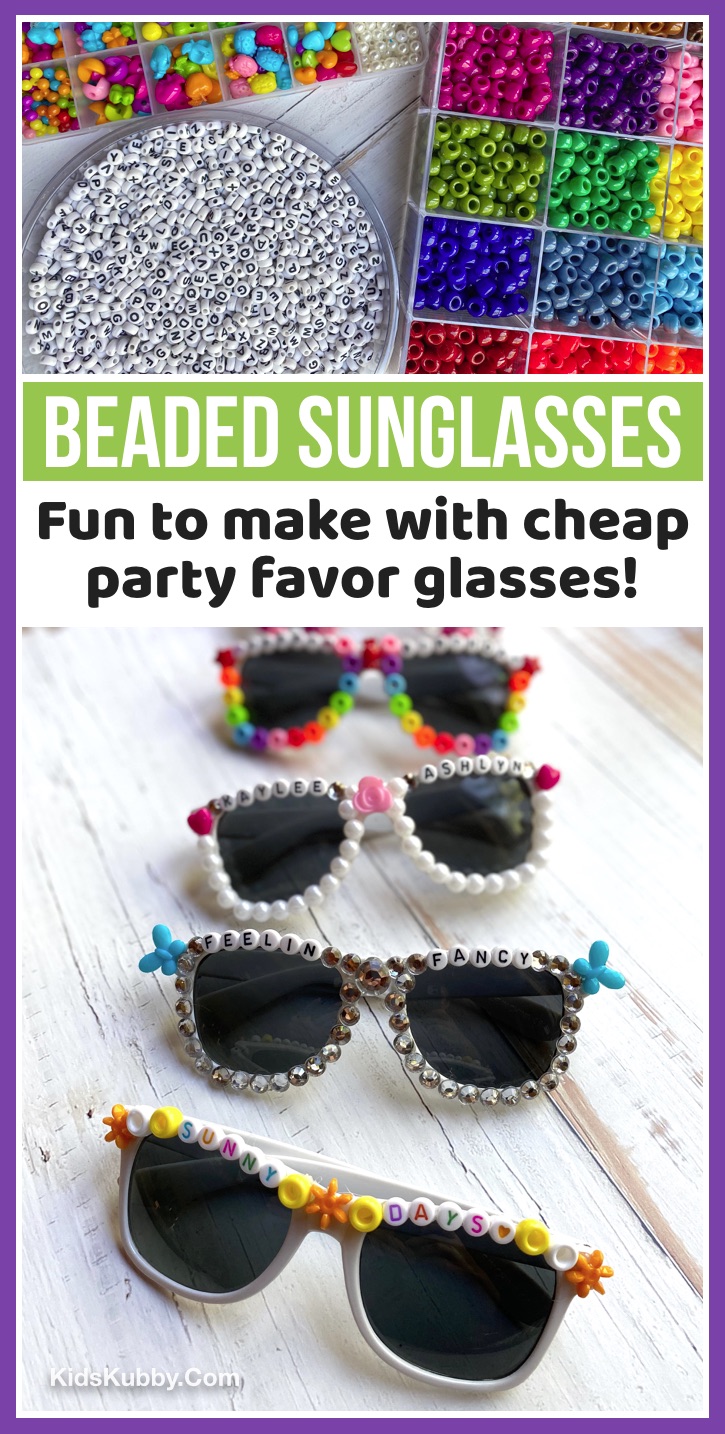 Leave a comment...