Simple and Cheap Ways to Build Color Recognition in Kids!
Here are 10 simple and affordable activities to help kids learn their color! These color sorting games are perfect for preschoolers and toddlers because they are easy, fun and most activities only take 5-10 minutes so your kids don't get bored! These low prep activities are perfect for teaching colors, but they also have a few other hidden benefits. Our #1 goal with each of these sorting activities is color recognition but most, if not all 10 of the below matching games will provide opportunity to practice counting, increase fine motor skills, and strengthen hand muscles!
RED | ORANGE | YELLOW | GREEN | BLUE | INDIGO | VIOLET
Color recognition is so important for toddlers and preschoolers so needless to say, I try to work on it early and often with my kids! I like to start teaching colors with ROYGBIV (Anyone else remember this acronym for the colors of the rainbow from elementary school??) That's why I created this list of color sorting and color matching activities to help toddlers and preschoolers with color recognition!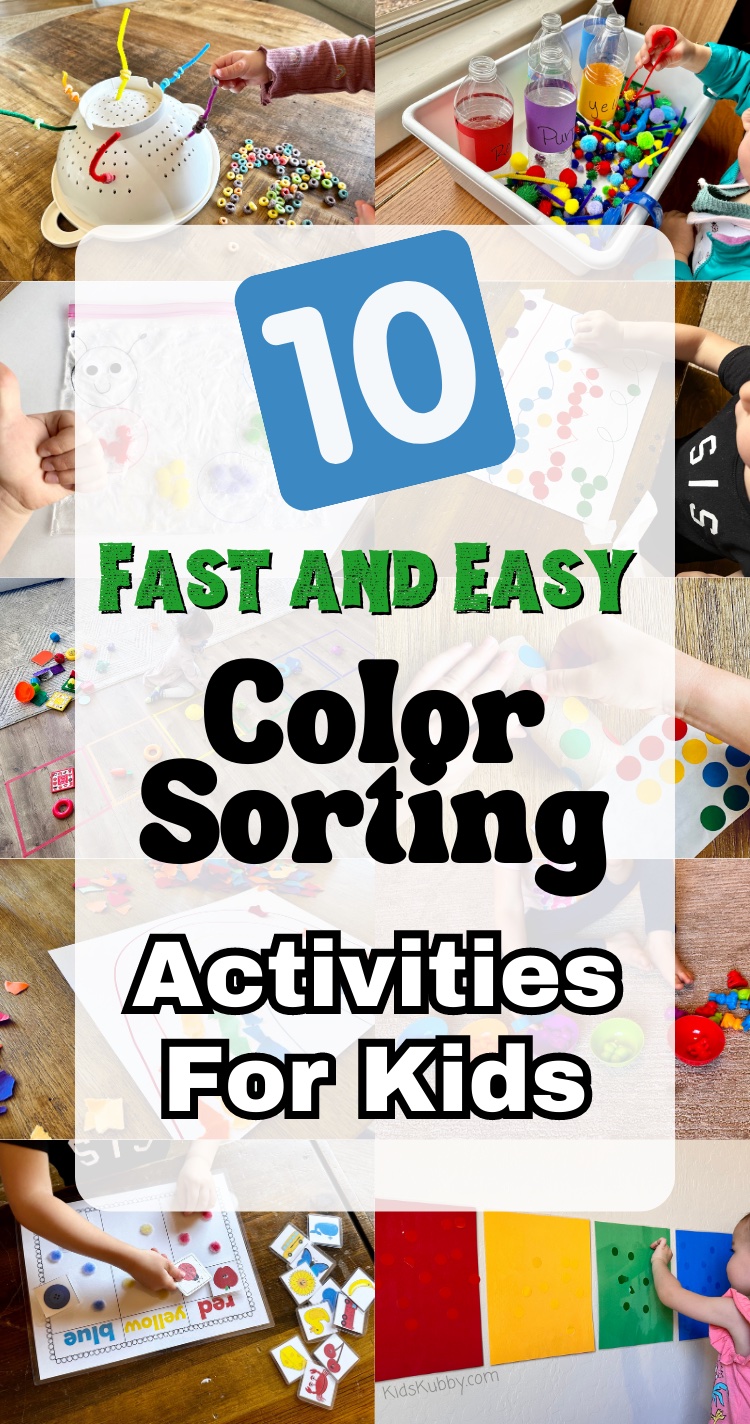 Remember ROYGBIV (red, orange, yellow, green, blue, indigo, violet) when putting together your Color Sorting Activities
✦ ✦ ✦ ✦ ✦ ✦
1. Sticker Color Sorting
Supplies: Colored Construction Paper, Dot Stickers, Optional Laminator

This extremely easy color sorting activity for preschoolers only takes 5 minutes to set up and is so much fun for kids! Simply take various colors of construction paper, tape them to the wall, and let your kids match the dot sticker to the color of the paper. This simple activity for kids not only builds color recognition but is also a great fine motor activity to increase hand strength! Who doesn't love a 2 for 1 deal. I laminated the paper thinking it would make it easier to scrape the stickers off later in order to reuse the paper. Well, it didn't! These dot stickers are crazy sticky but that's ok. Laminating your construction paper is completely optional but will keep the paper from tearing if your kids are rough with their activities!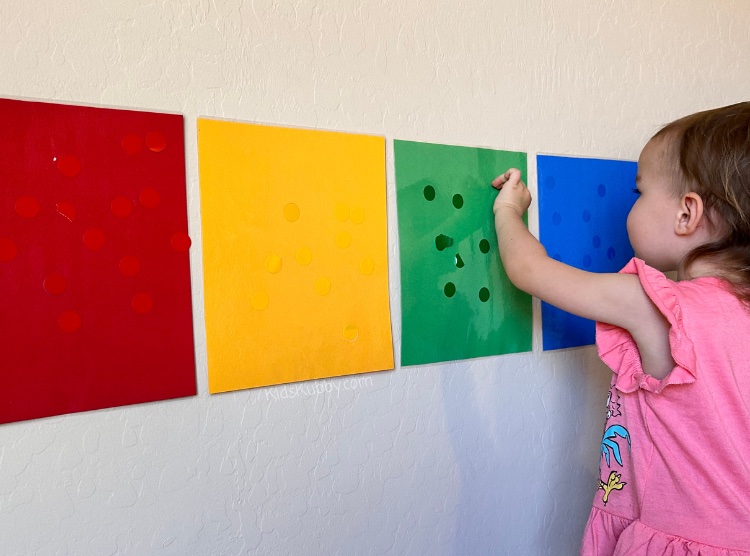 2. Pom Pom Color Sorting Sensory Bin
Supplies: Empty/Dry Water Bottles, Pom-poms in Various Colors, Construction Paper, Tape, Bin/Tray, Optional: Tongs/Kid's Tweezers, Pipe Cleaners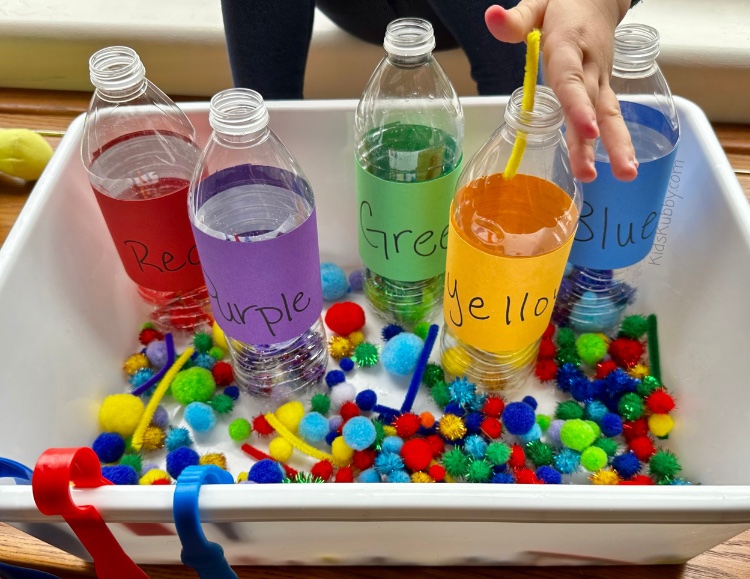 Who doesn't love a good sensory bin!? This pom-pom color sorting sensory bin is so easy to put together and my kids played with it for days! Grab some empty and dry water bottles (you can also use bowls or cups, it's up to you!) Cut strips of colored construction paper, write the name of the color on the paper (optional), and tape the construction paper around the water bottle. Fill your sensory bin with pom poms corresponding to the colors you used for your water bottles. I put a small piece of tape on the bottom of each bottle, so they didn't fall over in the bin. Now have your kids sort the pom poms into the correct water bottle! They can use their fingers or tongs! This is a great fine motor activity for kids!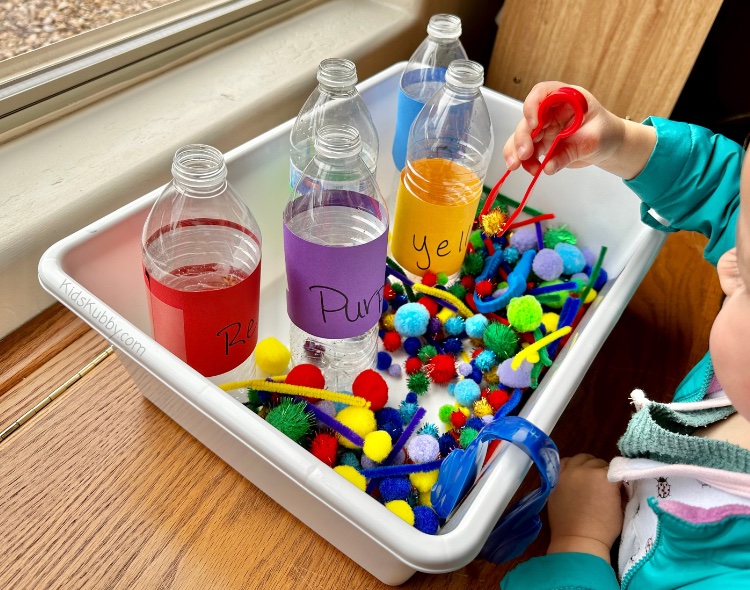 3. Color Sorting Caterpillar Sensory Bag
Supplies: Ziploc Bag, Colored Sharpies, Clear Hair Gel, Googly Eyes, Pom-poms, Rubbing Alcohol and Cotton Ball, Small Lid or Other Round Object to Trace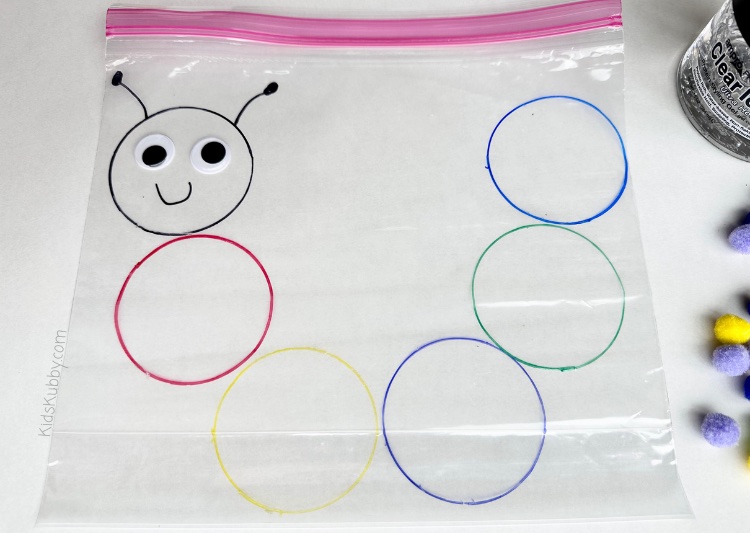 I absolutely LOVE this Caterpillar Sensory Bag! I think I had more fun playing with it than the kids did. With a few simple supplies you probably already have, you can create a budget friendly sensory bag that's perfect for toddlers and preschoolers. Kids can work on color matching and fine motor skills all while having fun! This color sorting activity would even be a great calming exercise for kids and adults. Your kids will love pushing the pom-poms around the bag to the correct colored circle! This color sorting sensory bag took less then 5 minutes to make, and my kids played with it for an hour straight! Find the full tutorial here.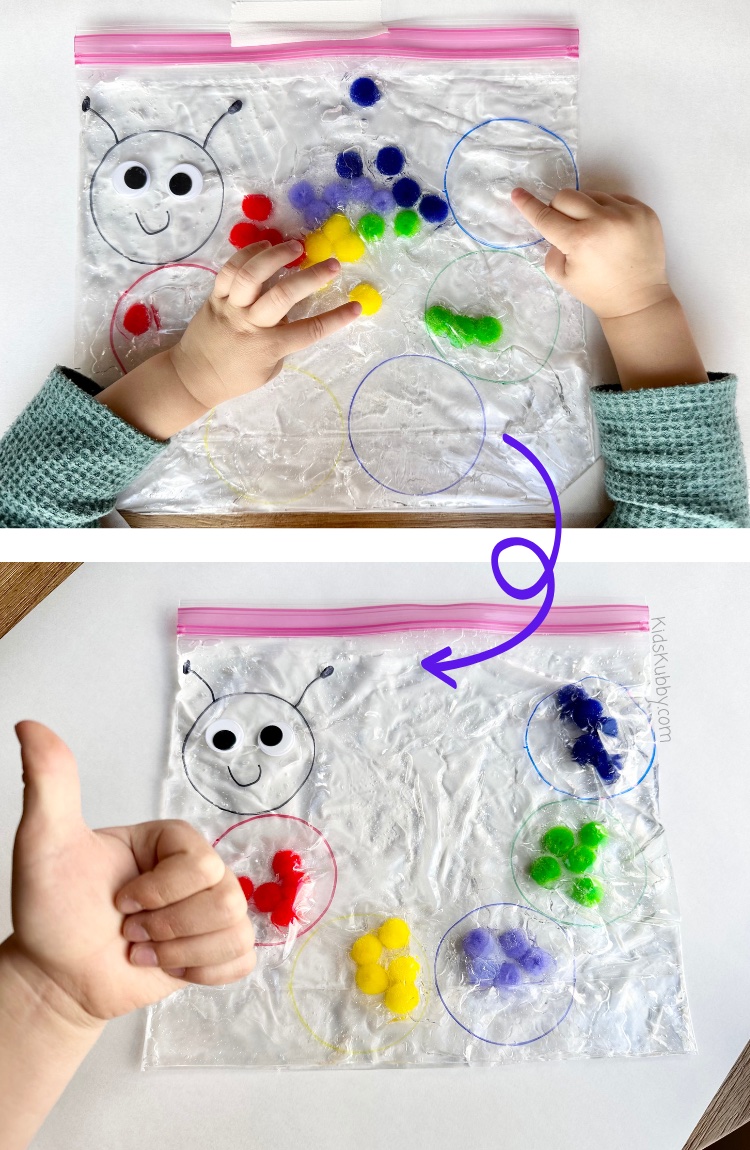 4. Rainbow Toy Sorting Game – With Items From Around Your House
Supplies: Colored Masking Tape, Toys/Items in Various Colors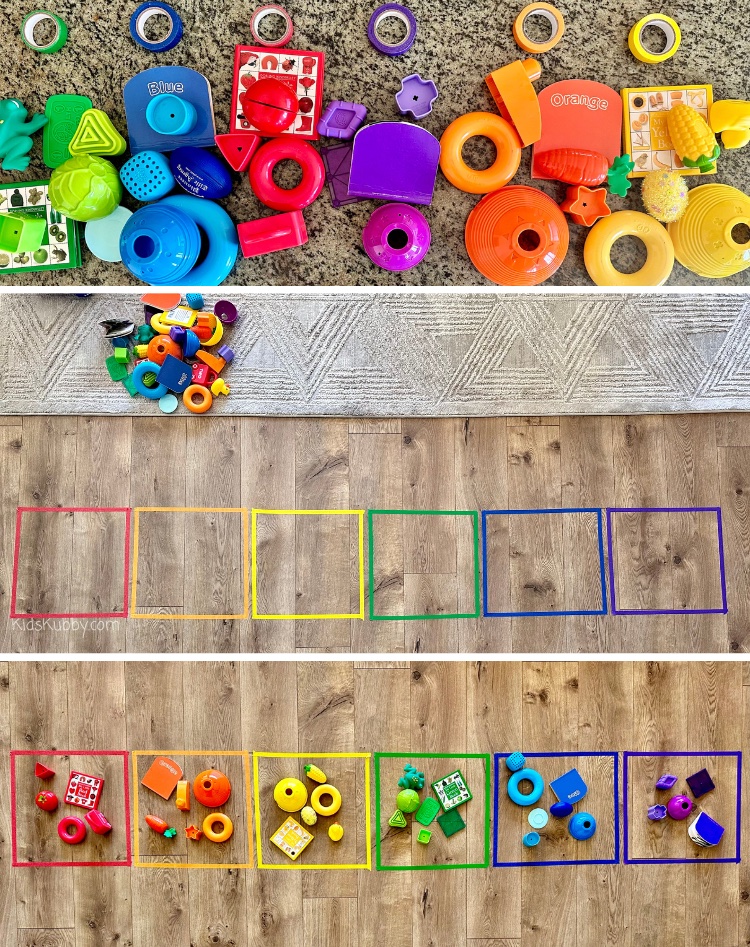 My kids really enjoyed this color sorting game! Simply use colored masking tape (I found mine on Amazon) to make squares on your floor, table, or counter. Then find toys or items around your house in the various colors of your tape squares. Have your kids sort the toys into the matching-colored tape box. BAM that's all folks! Set up takes less than 5 minute for this easy game for kids!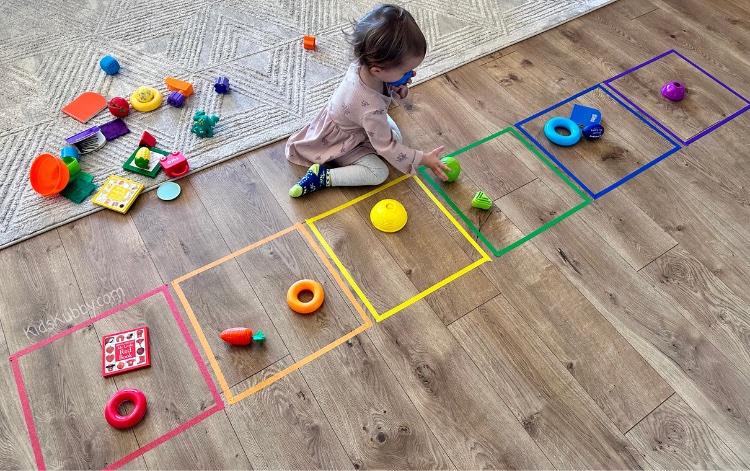 5. Toilet Paper Roll Color Match
Supplies: Empty Toilet Paper Roll, Colored Markers, Dot Stickers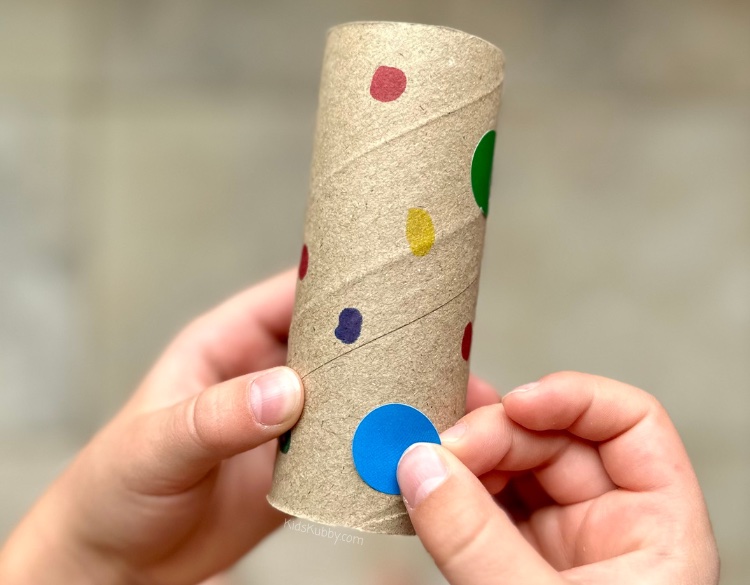 Toilet paper roll color sorting is a fun and easy way for kids to match colors. I love this color matching activity because it packs quite a learning punch. It takes about 3 minutes to set up and gives kids not only color matching practice but also fine motor skill and hand eye coordination practice as well! Set up is easy as 1-2-3. Take an empty toilet paper roll and make colored circles all over with markers, give your kids some dot stickers, and watch as they match the dot stickers with your marker circles on the toilet paper roll! This dot sticker color sorting activity is great to take along to restaurants, on road trips, or as air plane entertainment for your toddler!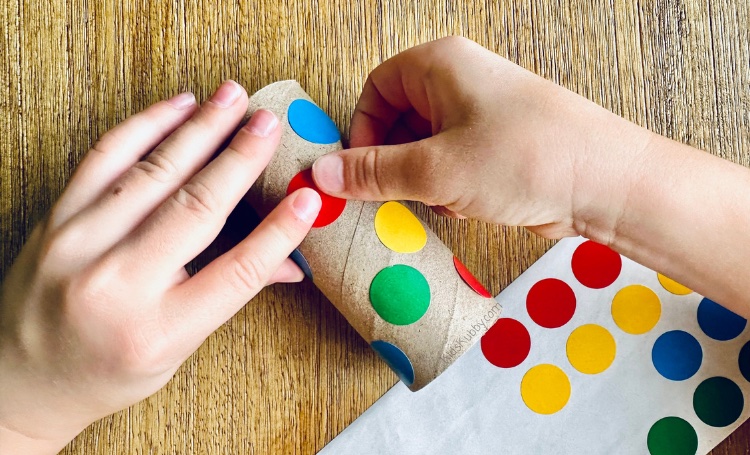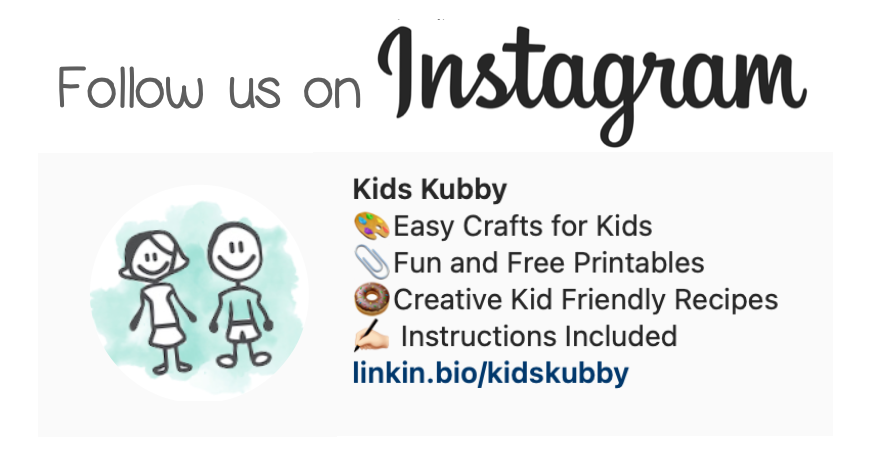 6. Color Sorting Mats – Free Printables
Supplies: Free Sorting Print Outs (Download Here), Optional: Velcro Stickers, Laminator, Markers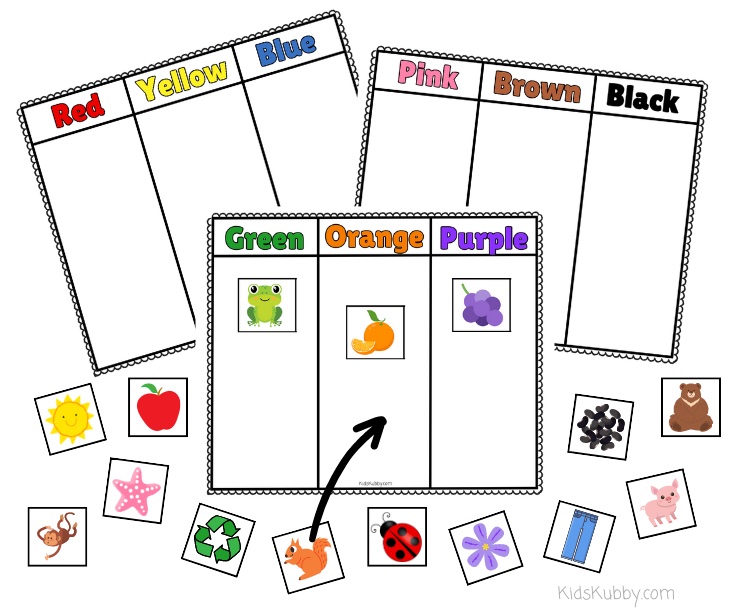 Color sorting printouts are so convenient and fun to use. I love adding some Velcro stickers to help toddlers know exactly where to sort each colored item. Simply print these FREE color sorting mats, cut out the cute colored items and have your kids sort each item into the correct color column! You can laminate all the pages to make these printouts sturdier as well! Get your free Color Sorting Printables HERE!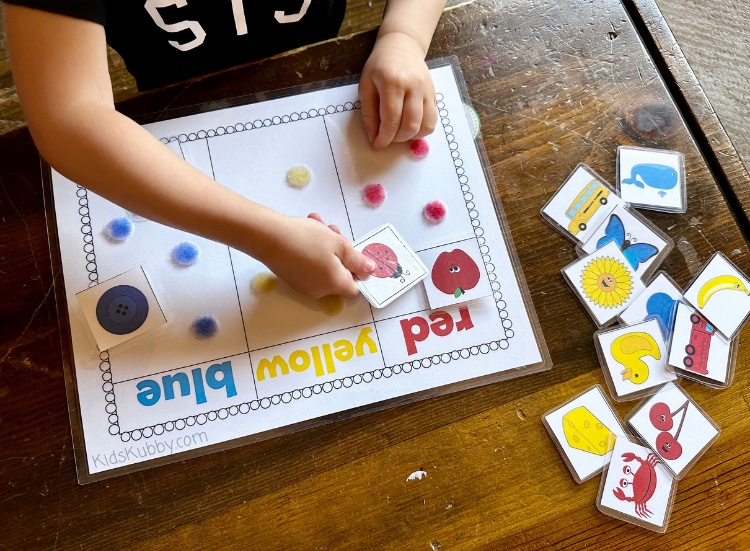 7. Fruit Loop Pipe Cleaner Color Sorting
Supplies: Fruit Loops, Colander, Pipe Cleaners
A fun and yummy color sorting game for kids! I think this may be my daughter's favorite color sorting activity ever! Who doesn't love snacking on fruit loops while learning? Grab a colander, some pipe cleaners, and a small bag of fruit loops and watch your kids have fun sorting the fruit loops on the correct colored pipe cleaner! I love this cereal pipe cleaner sorting activity because it not only teaches colors but also strengthens little hands.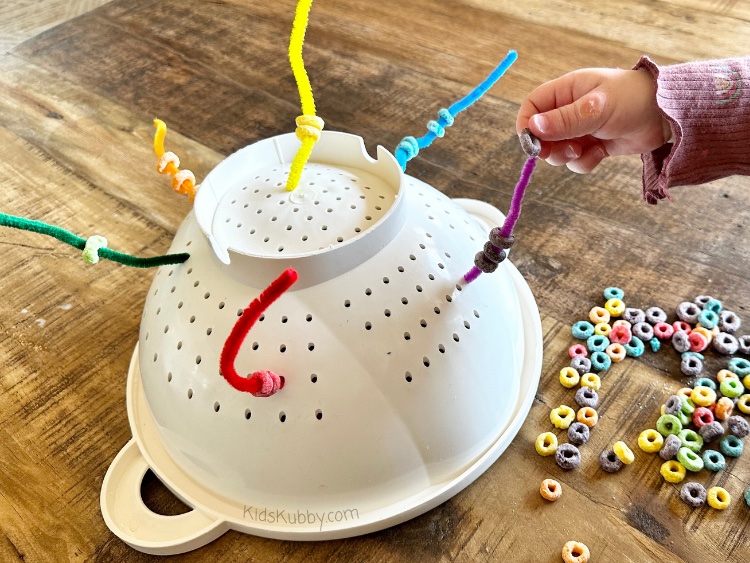 8. Torn Paper Rainbow Craft
Supplies: White Paper, Colored Construction Paper (Torn Into Small Pieces), Glue, Markers

Make your own rainbow indoors. This rainbow tear paper craft is perfect for a fun indoor art project that also helps kids learn their colors! This easy construction paper craft is great for preschoolers on a rainy day. Find the full instructions here! So easy and this craft comes out super beautiful every single time. Torn paper crafts are so fun because they aren't perfect or symmetrical. Each rainbow will be as unique as your child!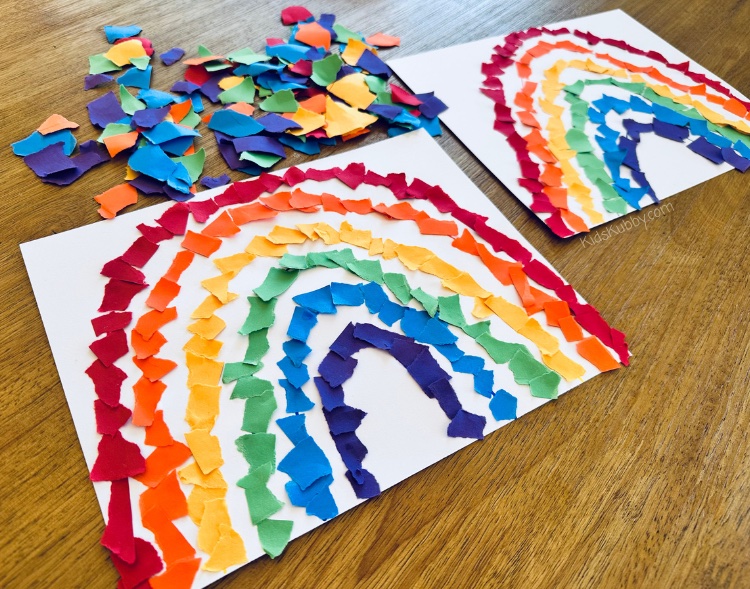 9. Fine Motor Color Sorting Bowls
Supplies: Color Sorting Animal Game With Bowls (Less Than $10 on Amazon at the Time of Publication!)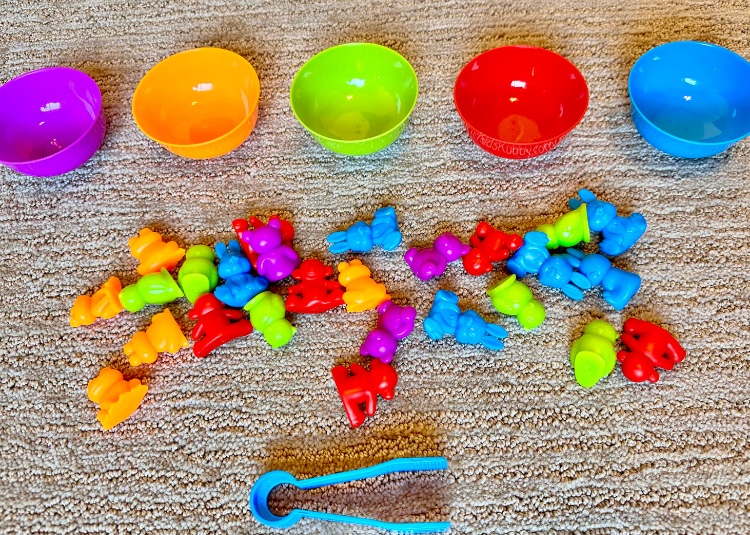 I love finding simple games like this one on Amazon that are cheap and can be used in multiple ways. Basically, kids sort these cute little colored animals into the corresponding-colored bowl. They can use their hands or make it more challenging by using the tongs provided in this set. I really like that you can use this game to learn colors, practice counting, and increase hand strength by using the tongs to pick up and sort the animals. The perfect fine motor game in disguise!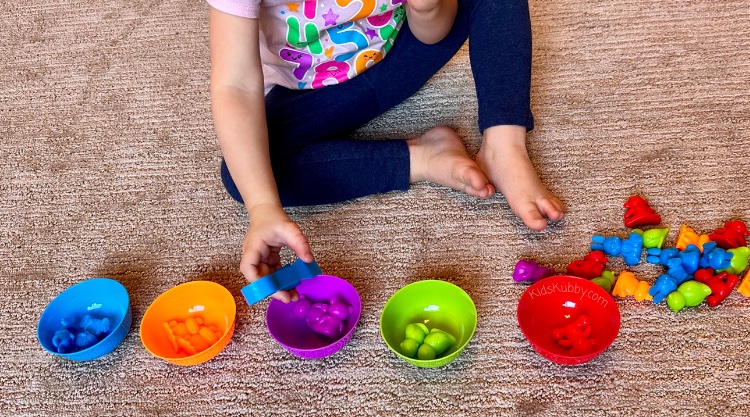 10. Color Sorting Sticker Lines
Supplies: White Paper, Colored Markers, Dot Stickers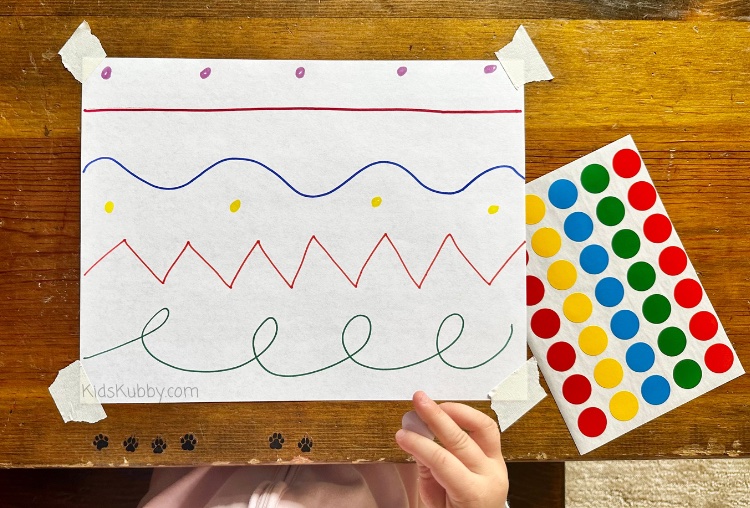 Sticker Line-Ups are one of my favorite fine motor activities. Basically, you draw a line and your kids fill the line with dot stickers. This fun and simple activity really helps with hand strength in toddlers. Make this a color recognition game by drawing lines in different colors and have your kids use dot stickers to fill the lines in the matching color. For instance, draw red, blue, and yellow lines and ask your kids to match the stickers to the same-colored lines. Easy Peasy but so beneficial to young kids!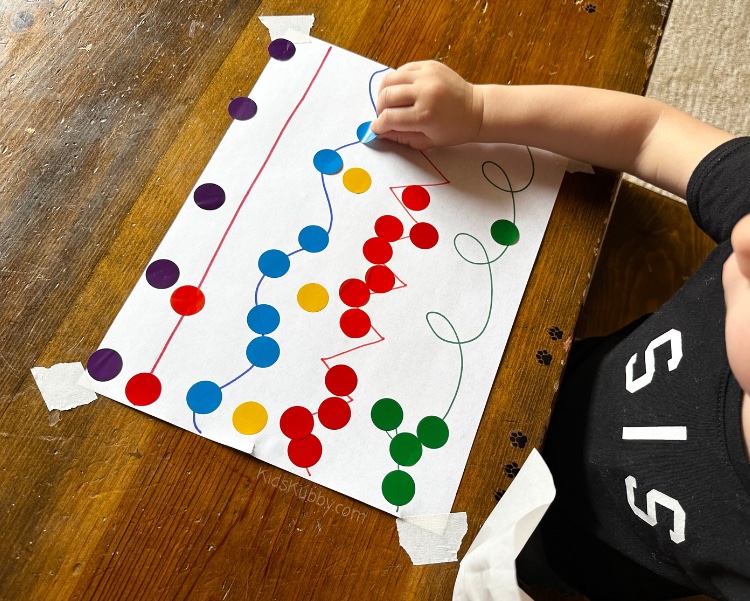 Helpful Tips
Color Sorting Activities for Kids
Pick a couple of the above activities to work on this month otherwise your kids may get tired of color sorting and not want to participate. I had my daughter do all 10 activities so I could get pictures and by the end she was SO over color sorting games!
Most if not all supplies can be found at the dollar store! Think CHEAP when buying materials for these crafts.
Make sure you are using distinctly different colors in all your activities. If your orange and red or blue and purple are too similar younger kids will get confused!
Color sorting sensory bins and bags can be left out in your playroom for your kids to use whenever they want. You'll be surprised at how often you'll find them sorting colors on their own.
You can always practice color recognition with your kids wherever you go. If you keep asking, they will learn all the colors of the rainbow incredible fast!
Try These Other Fun Activities From Kids Kubby

Sticker Lines | DIY Bird Feeders | Painting with Marbles | Easy Tape Activities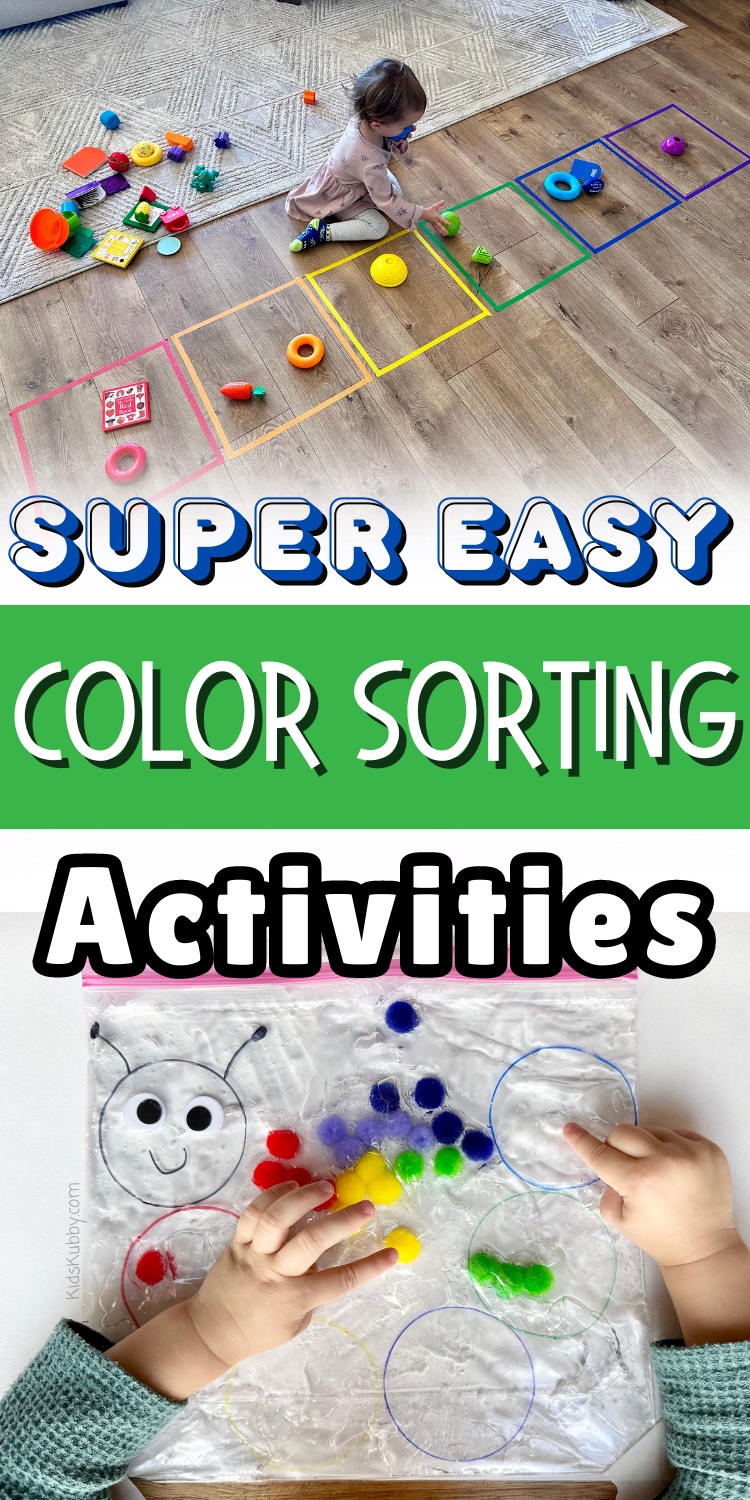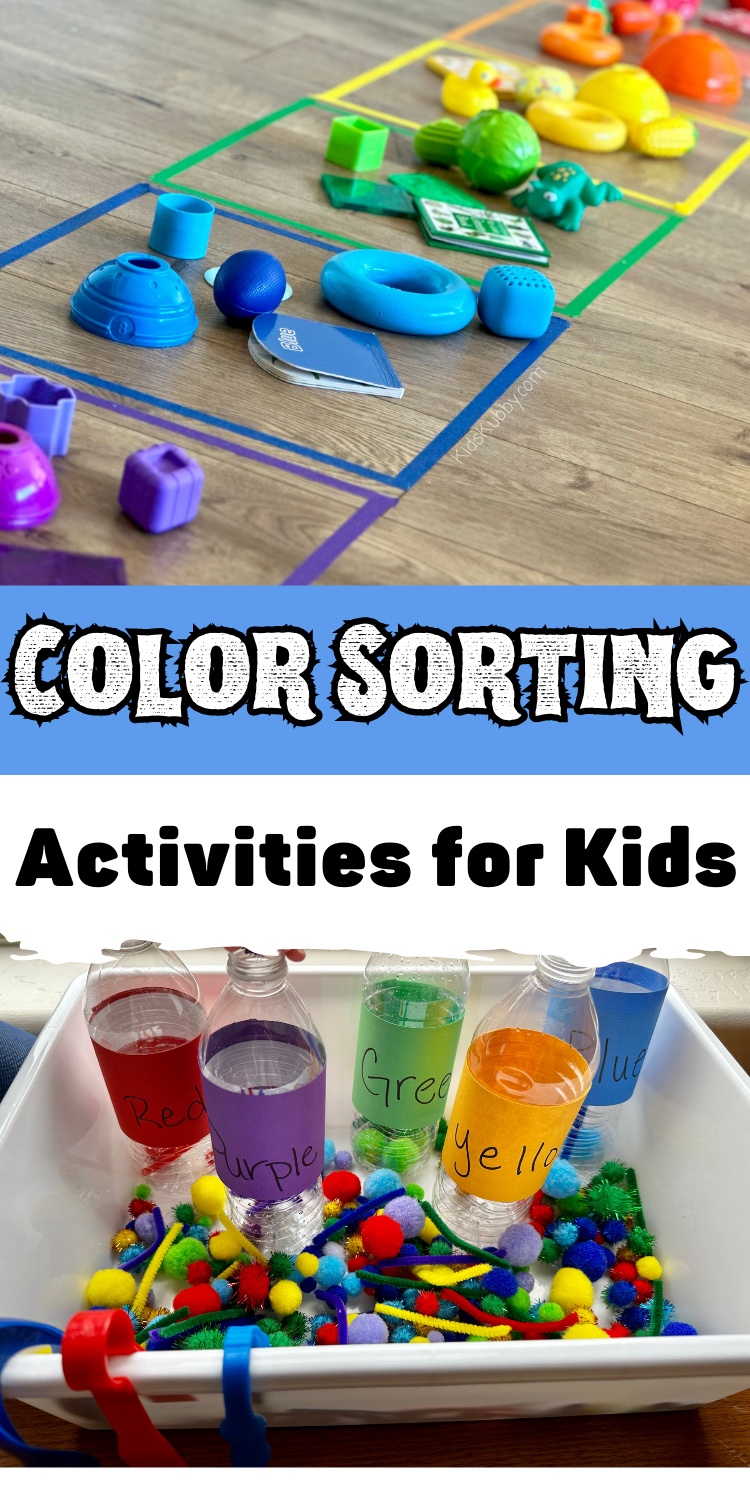 Leave a comment...