Super Simple to Make Halloween Cookies
It's SPOOKY season again! The best time of the year in my opinion and I love to celebrate Halloween with sweet treats. These Halloween Monster Cookies are so simple to make, and your kids are going to love to help. This recipe has 3 ingredients- Chocolate Chip cookie dough, candy eyeballs, and M&Ms. That's it!! You can even customize the recipe to make it oat and peanut-free.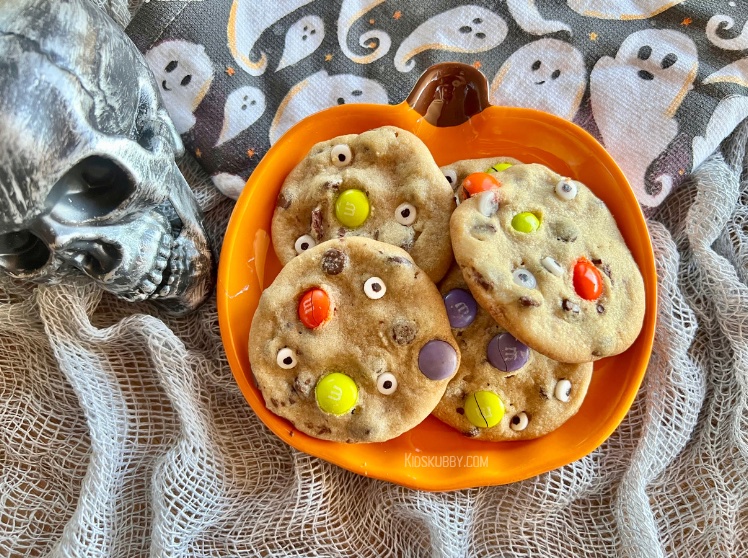 How to Make Halloween Monster Cookies
Gather Ingredients:
I used chocolate chip cookie dough but you can use any type of dough you'd like. You can even do this with multiple types of cookie dough to make it super special! This time of year it's also easy to find Halloween M&Ms at all major grocery stores and online. And last but certainly not least you'll need candy eyeballs (I found these on the baking aisle at my local grocery store). That's all you need to make the best Halloween Monster Cookies!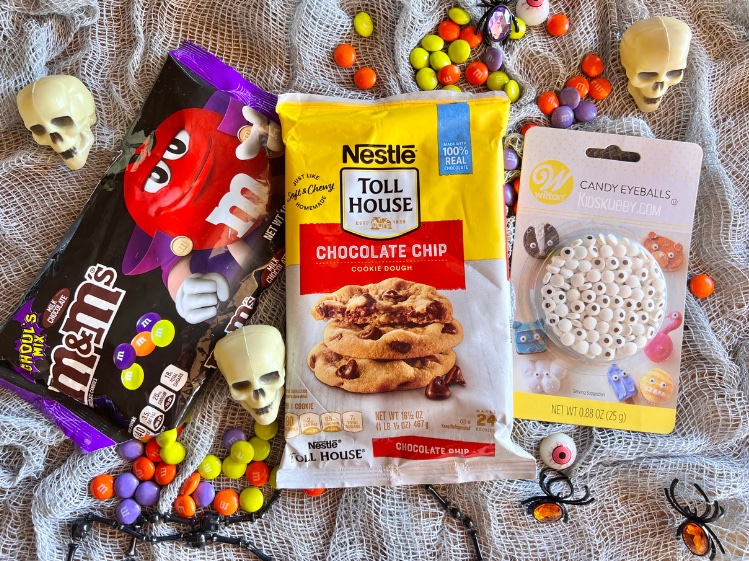 Decorate with Halloween M&Ms and Candy Googly Eyeballs:
Separate cookie dough into 24 even pieces and roll into balls. Flatten each ball slightly and decorate with googly eyes and M&Ms. This is where the kids have fun. Let them create as many unique Halloween Monster Cookies as they wish!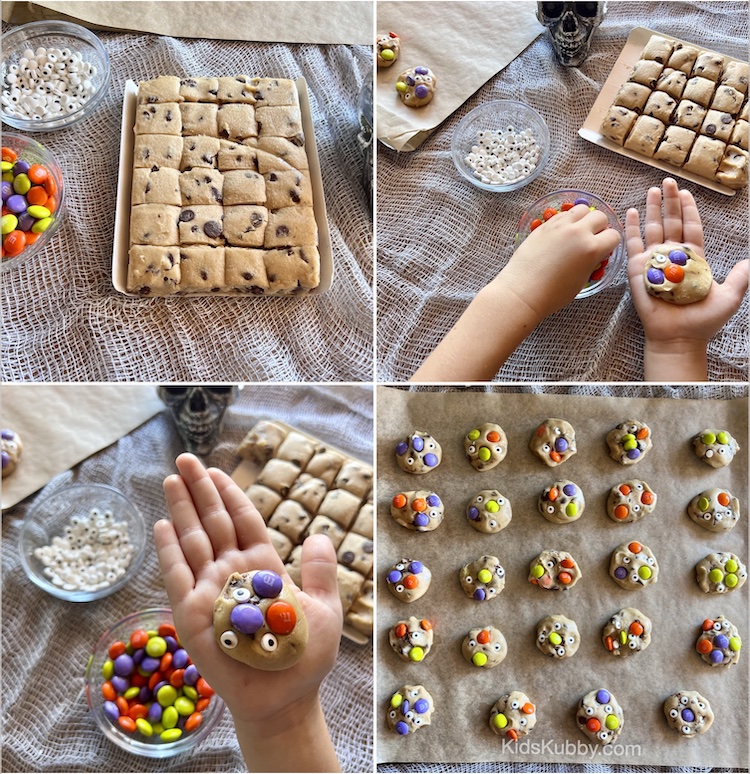 Chill and Bake:
Once the cookies are decorated, let the dough chill in the refrigerator for about 15 minutes before baking. The cookie dough tends to get a bit soft during the decorating process, especially if you have little hands helping out. Bake according to the cookie dough package directions. I baked my Halloween Monster Cookies at 350 degrees for 12 minutes and they were PERFECT!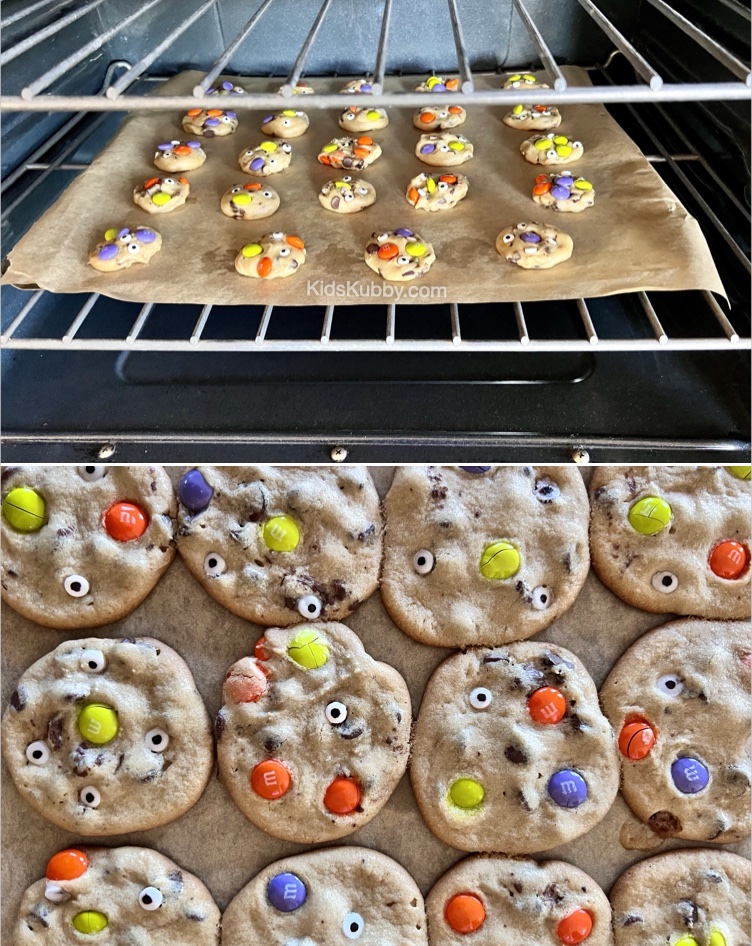 ENJOY!
My son loved making these so much. It's a super easy way to spend some quality time with your little ones and it brings a smile to both of your faces. I hope you enjoy these Halloween Monster Cookies as much as we did!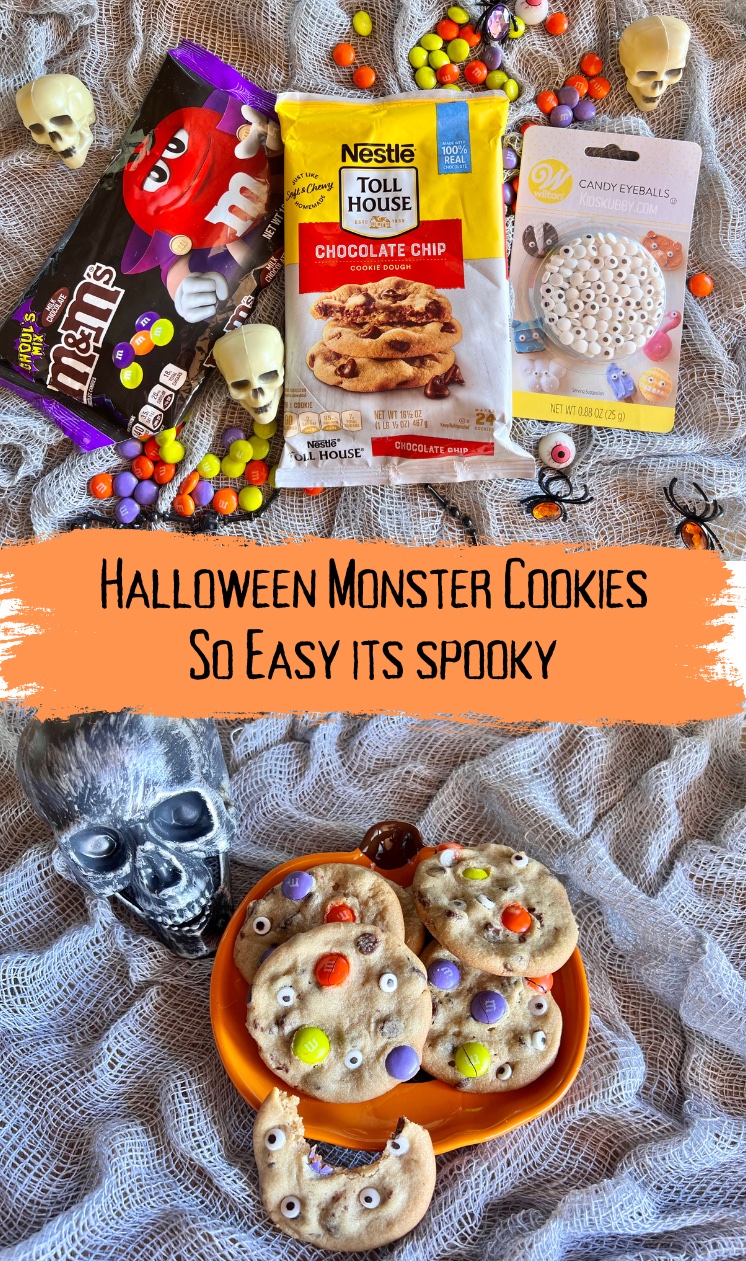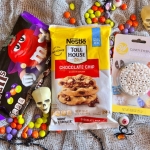 Print Recipe
Halloween Monster Cookie Recipe
Are you looking for a tasty treat that is so simple to make with your kids- This Halloween Monster cookie recipe is for you. Your kids will have a blast creating spooky cookies this Halloween and you only need a few simple ingredients!
Ingredients
1

Package

Cookie Dough (24 count)

1

Package

Edible Candy Eyeballs

1

Bag

Halloween M&Ms
Instructions
Preheat oven to 350 degrees and line a baking sheet with parchment paper

Open package of cookie dough and separate into individual squares. If you are using a roll of cookie dough, cut roll into 24 equal pieces.

Roll each cookie dough piece into a ball and flatten slightly with the palm of your hand.

Let you kids decorate each piece of cookie dough with candy eyeballs and M&Ms any way they want! Place the decorated cookie dough on your baking sheet 2 inches apart.

Chill dough in the refrigerator for 15 minutes.

Bake at 350 degrees for 12 minutes or until the cookie edges are browned slightly. Let cool for 10 minutes and ENJOY!
Notes
The dough will get soft from your kids handling it. Make sure to chill the dough for at least 15 minutes or your cookies will spread and be very thin. 
👻 Happy Halloween 🎃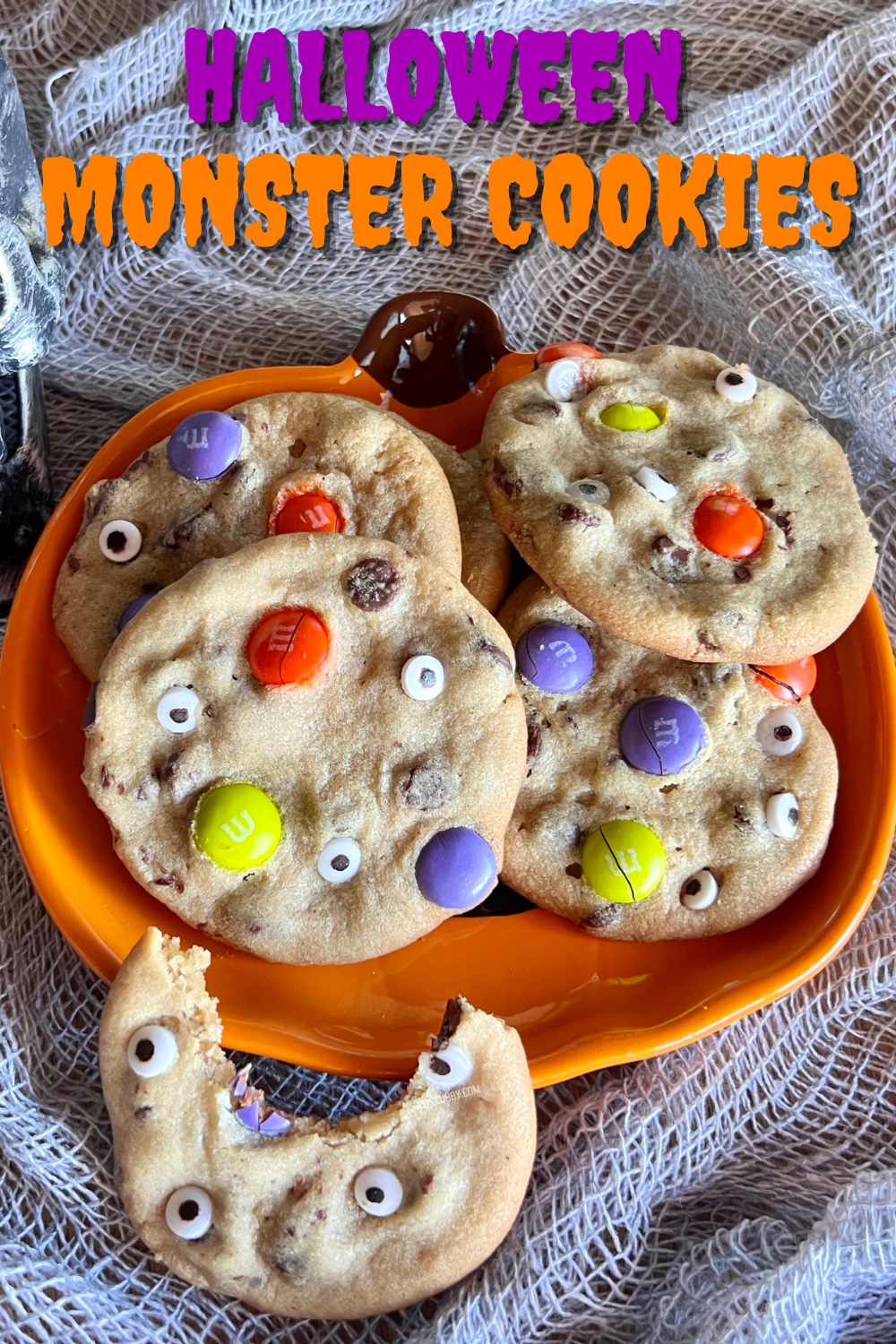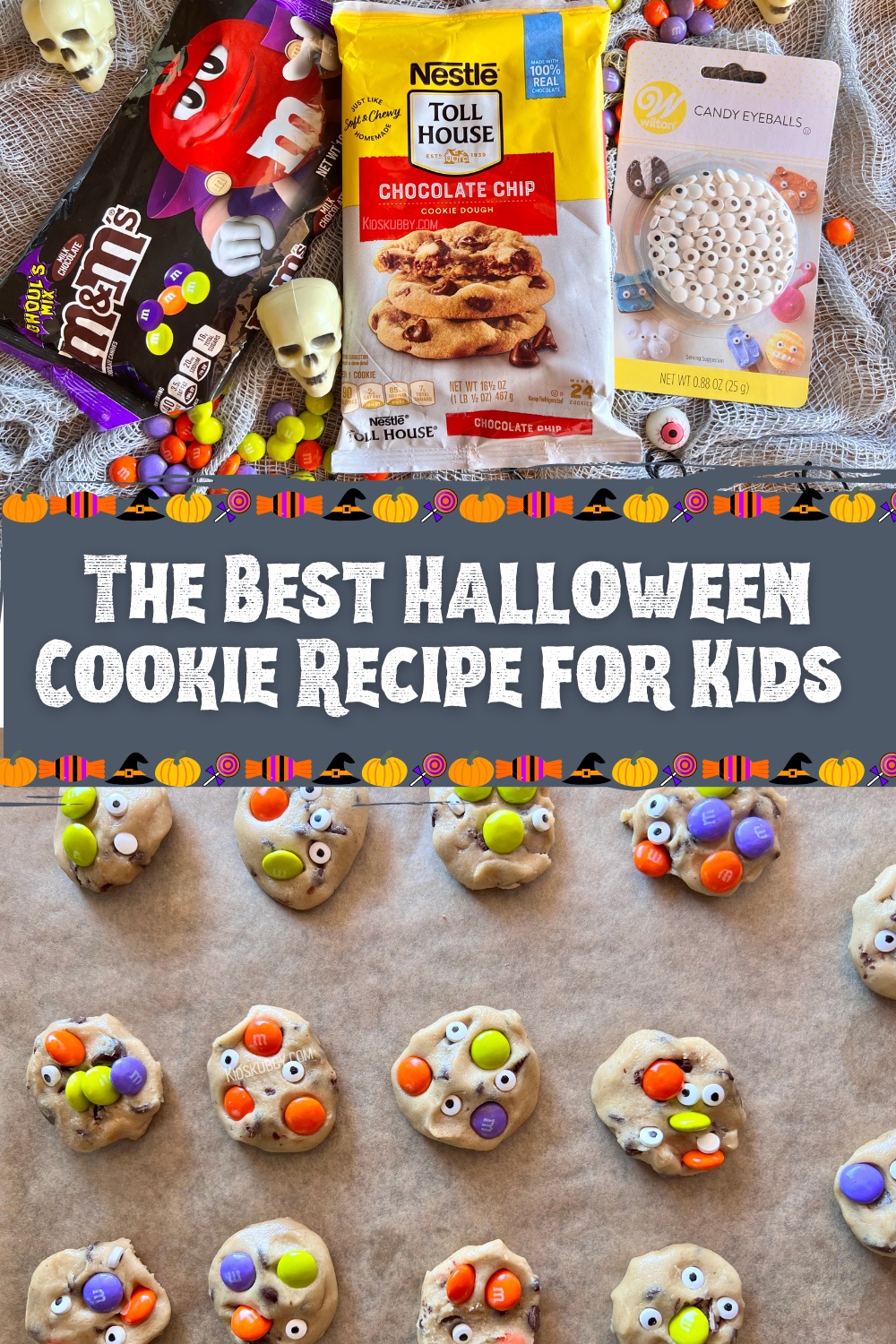 Leave a comment...