If you're looking for a fun and easy science experiment to try with your kids, DIY Borax Crystals are perfect!
These homemade crystals are so simple to make with just pipe cleaners, water, and borax. Thats's it! With these 3 simple supplies, you can make beautiful homemade crystals that are surprisingly sturdy and make great ornaments! The crystals take a few hours to form but the actual prep time only takes about 15 minutes. How COOL is that?!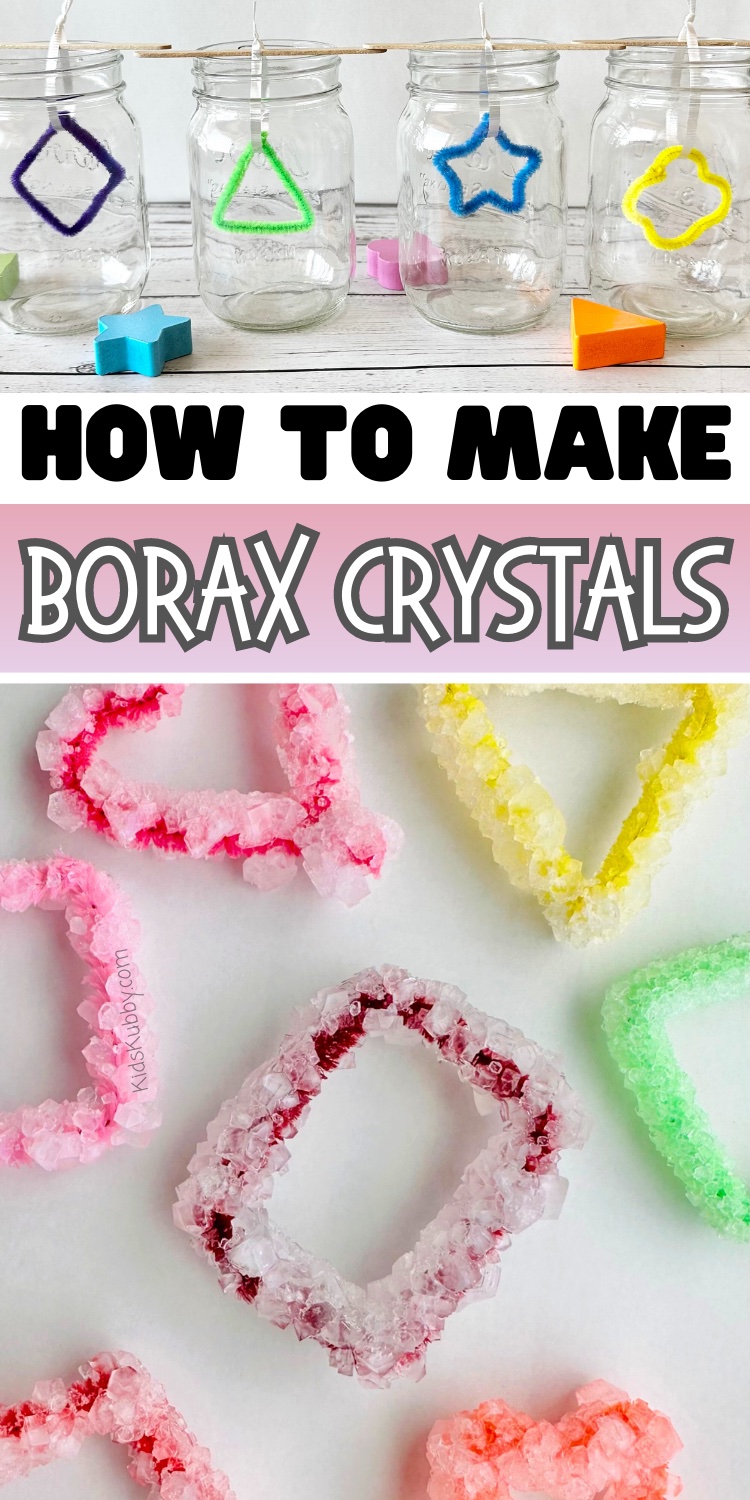 I seriously love this fun little science experiment using borax to make crystals. My kids found this absolutely fascinating and to be honest I did too. How is it possible to make such intricate crystal formations with a little powder dissolved in water and in a relatively short amount of time too? Well stick around and I'll show you exactly how to make these amazing DIY borax crystals.
Check out these other fun pipe cleaner crafts for kids!

Beaded Pipe Cleaner Dragonflies | Adorable Pipe Cleaner Animal Pencil Toppers
SO, What Do You Need To Make Pipe Cleaner Borax Crystals??
Boiling Water
Borax
Pipe Cleaners
Small Shapes (think puzzle pieces, cookie cutters, small toys)
Popsicle Sticks (or something to suspend a string from over the glass jar)
Mason Jar (I used 16 oz jars)
Thin String or Fishing Line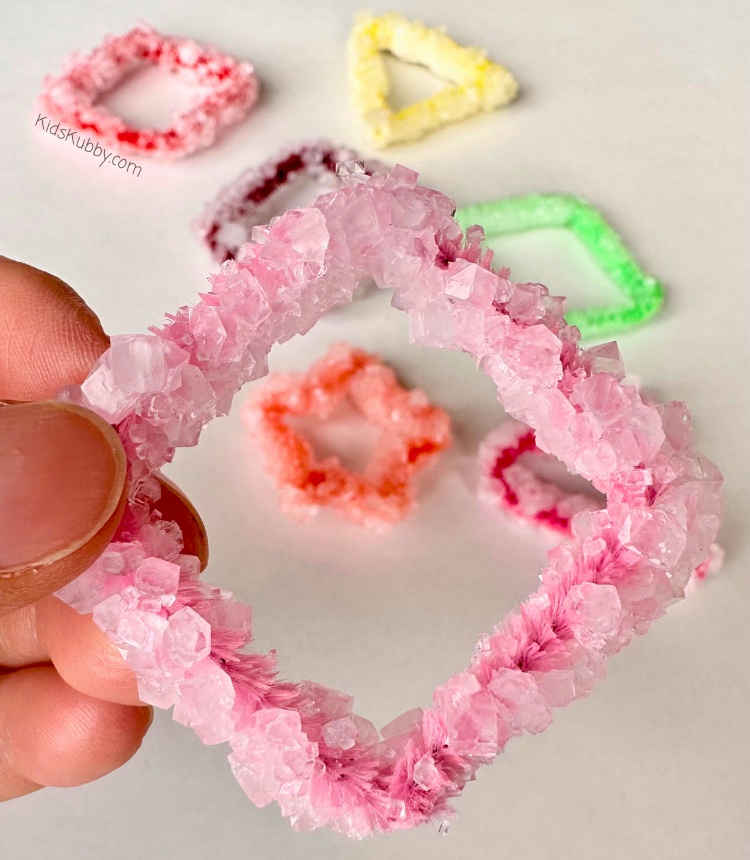 How to Make DIY Borax Crystals
Step 1. Gather all of your material
For this fun DIY crystal project you will need a few simple supplies. Borax can be found in the laundry section at your local grocery store, Target, or Walmart. I purchased this one on Amazon. Next, grab some different colored pipe cleaners, string, popsicle sticks and a few mason jars. You'll want to go on a hunt for small shapes throughout your house. These could be puzzle pieces (like I used), cookie cutters, or small toys. You can even free hand your shapes if you'd like! Just make sure that they fit easily through the mouth of the mason jar.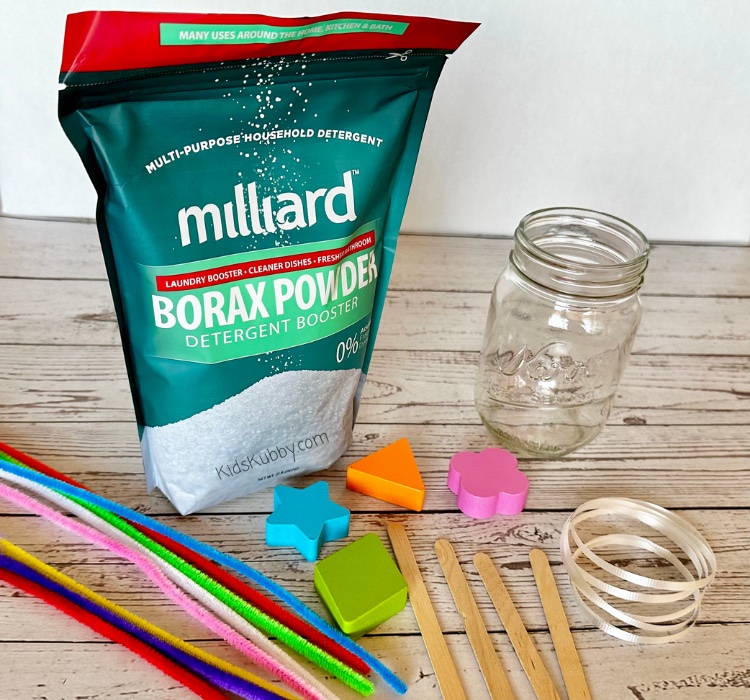 Step 2. Make the pipe cleaner shapes
Wrap each pipe cleaner around your shape, twist the ends together securely and snip off any extra pipe cleaner length. Then tie a piece of thin ribbon, string or fishing line to each shape like an ornament.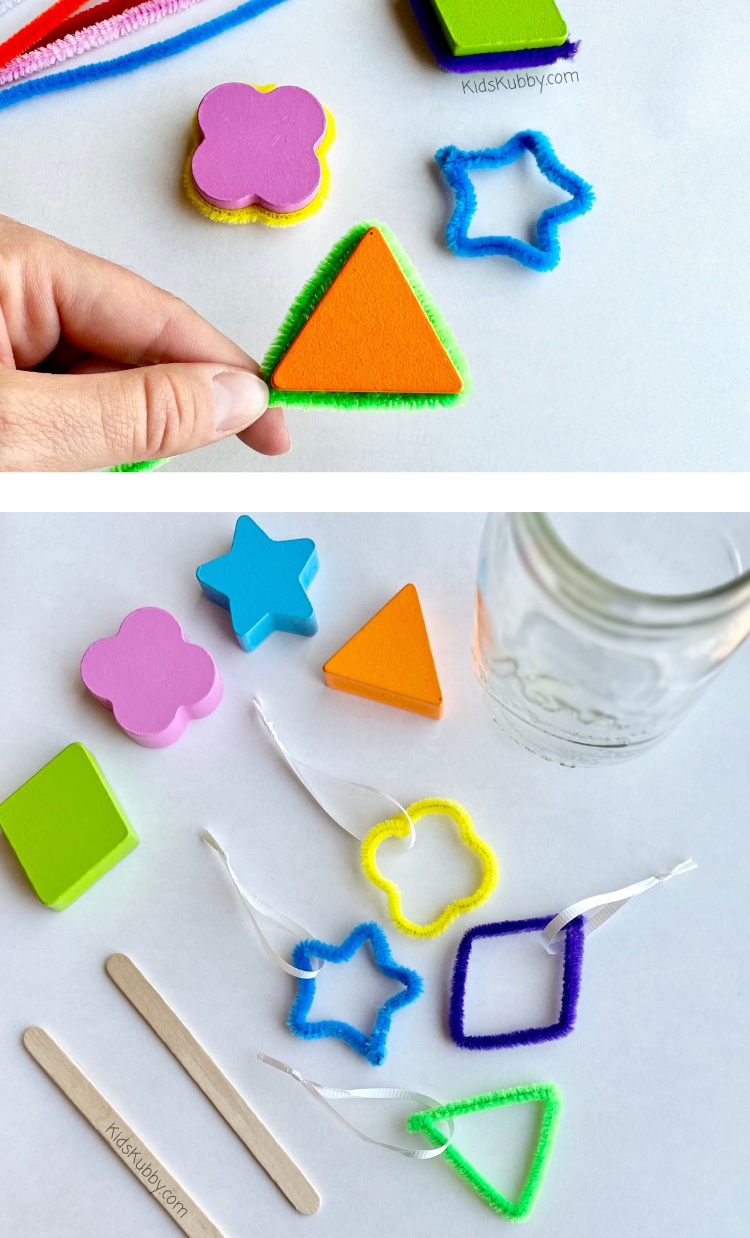 Suspend one shape using a popsicle stick over each mason jar. Make sure that your pipe cleaner is not touching the side/bottom of your jar.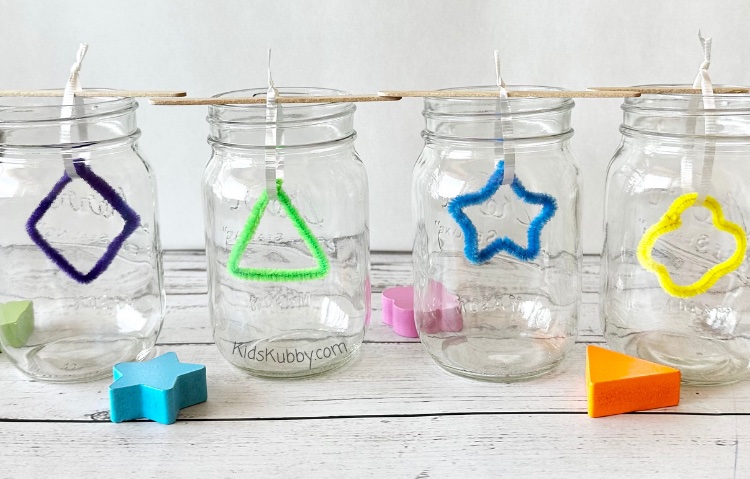 Step 3. Prepare the borax solution
Mix together 2 cups of boiling water and 1/2 cup of borax. This will be enough solution for 2 crystals! Make sure to mix the solution until it is completely dissolved. Sometimes the water cools a bit and the borax doesn't dissolve completely. If this happens, pop your borax solution into the microwave for 1 minute and then stir to combine. Just be careful because the water will be HOT! 🔥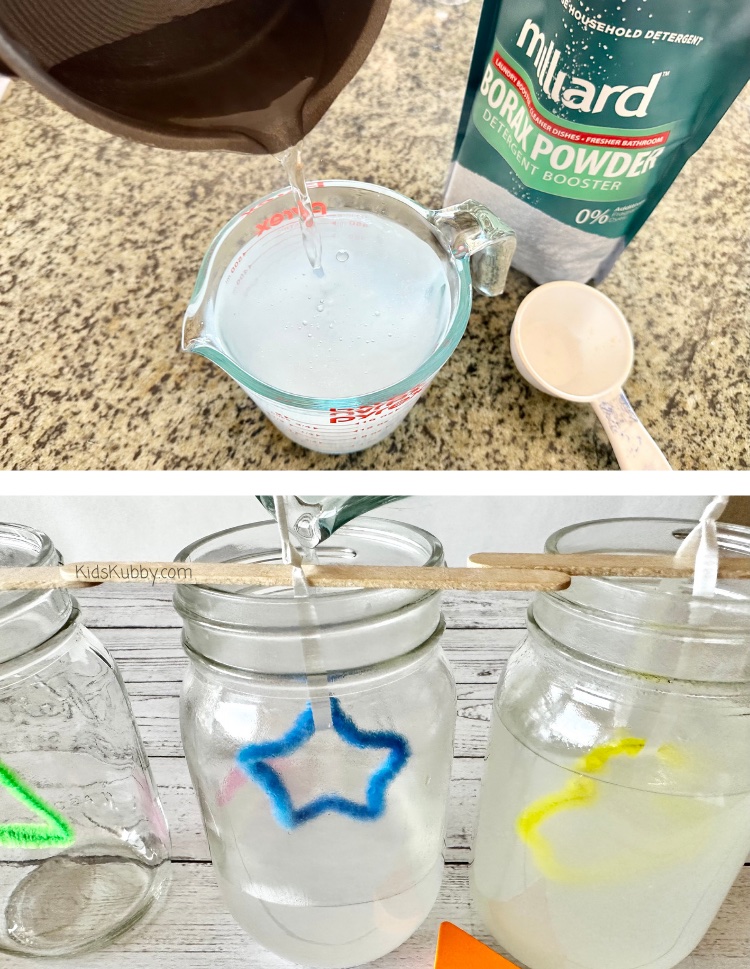 If you're planning to do more pipe cleaner crystals, double or triple this recipe. For instance:
4 Crystal Shapes: 4 cups boiling water and 1 cup borax
6 Crystal Shapes: 6 cups boiling water and 1 1/2 cups borax
8 Crystal Shapes: 8 cups boiling water and 2 cups borax
Step 4. Pour and wait!
Now that your borax solution is nice and dissolved, pour it into the mason jar to the top of your pipe cleaner shape. The water level should be right at the top of your pipe cleaner. Any higher and borax crystals will form on the string.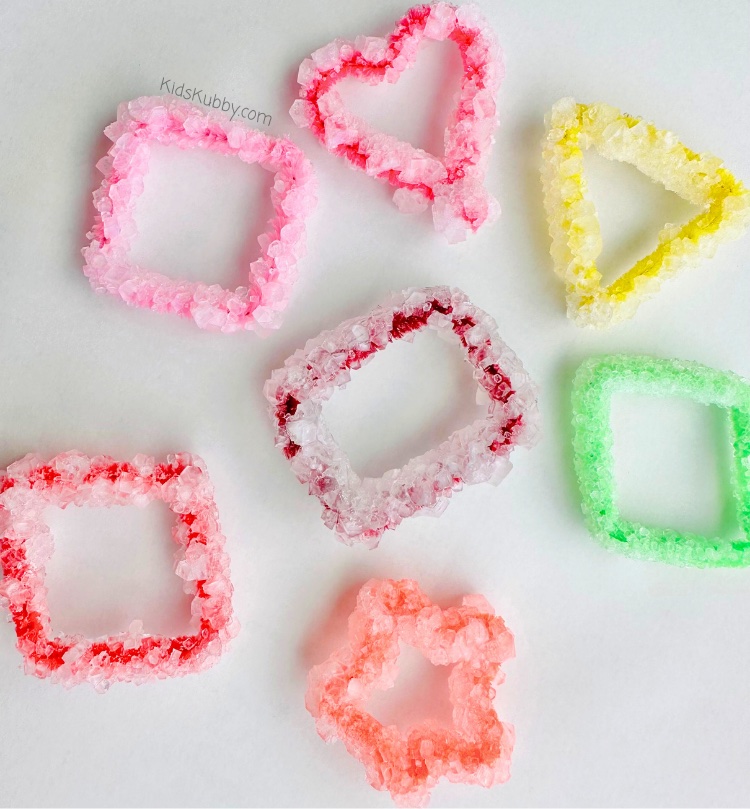 Let your crystal pipe cleaners sit in the borax solution for a few hours. Ours set for 5-6 hours and formed very pretty prism like crystals! Once crystals have formed on your pipe cleaners, you can remove them from the solution and let them dry on a paper towel. Once dry, these DIY Borax Crystals are pretty strong!
Seriously, how cool are these crystals! Who knew you could make homemade crystals out of borax!
But Can You Soak Your DIY Crystals Longer?
Check out these crazy homemade crystals! I soaked these for over 24 hours. I sort of like the overgrown bulky crystal look. It seems more real than the pretty uniform crystals you'll get in 5-6 hours of soaking your borax crystals. So, the point of all this is to say that you can make your crystals look pretty and delicate or over grown and crazy depending on how long you choose to soak your pipe cleaners in the borax solution.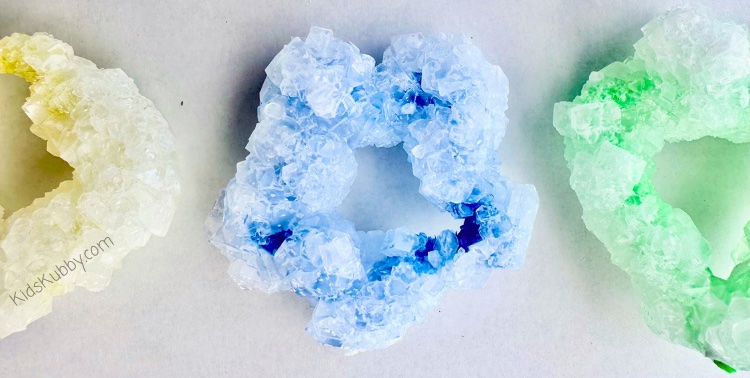 These homemade pipe cleaner crystal shapes are so fun! I would highly recommend this easy science experiment for kids of all ages! Make them at home or in the classroom. Depending on the season, you could even make these beautiful crystals into homemade Christmas ornaments!
Helpful Tips
Homemade Borax Crystal Recipe
You don't necessarily have to use a mason jar. A disposable cup would work as long as it is heat proof.
Be sure to wipe up any spills quickly or you'll have tiny crystals on your counters!
Your shapes should be smaller then the opening of your jar as they will grow as the crystals form. If you make your pipe cleaner shapes too big, you may not be able to get your borax crystals out of the mason jar.
Crystals will form on the bottom of your mason jar. For clean up, simply microwave the borax/water solution in the mason jar for 1 minute or until the borax crystals begin to dissolve. Feel free to use this borax water in your laundry. Borax is a cleaning agent after all!
Adding a few drops of food coloring to your borax solution will make the crystals even more vibrant. Give this a try and let me know how it works!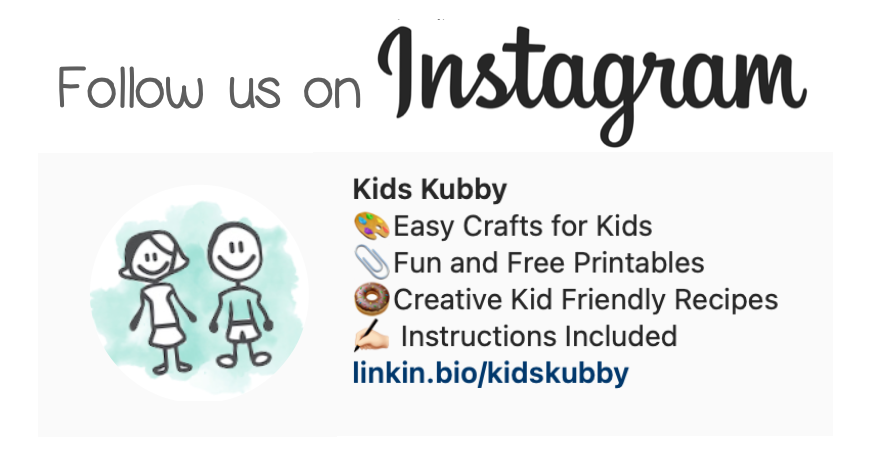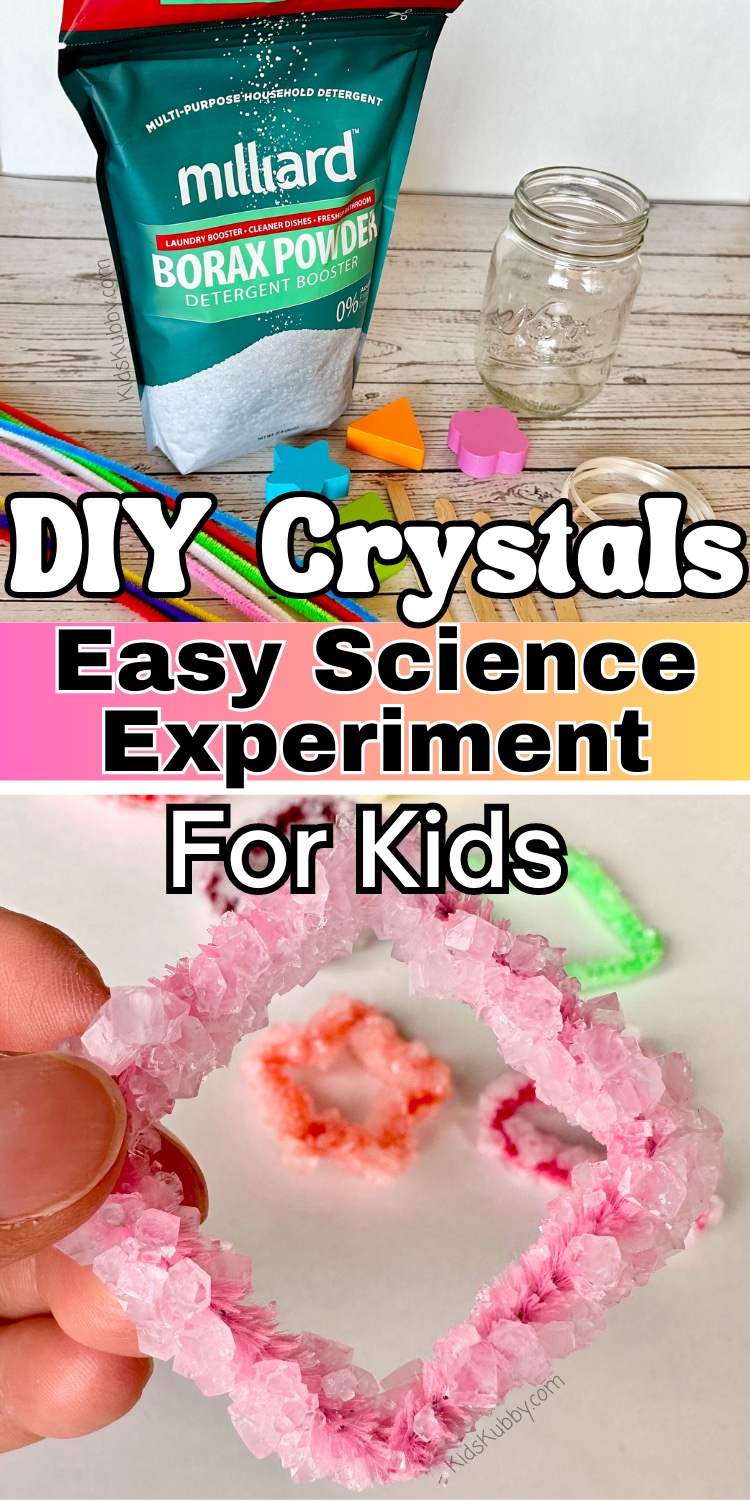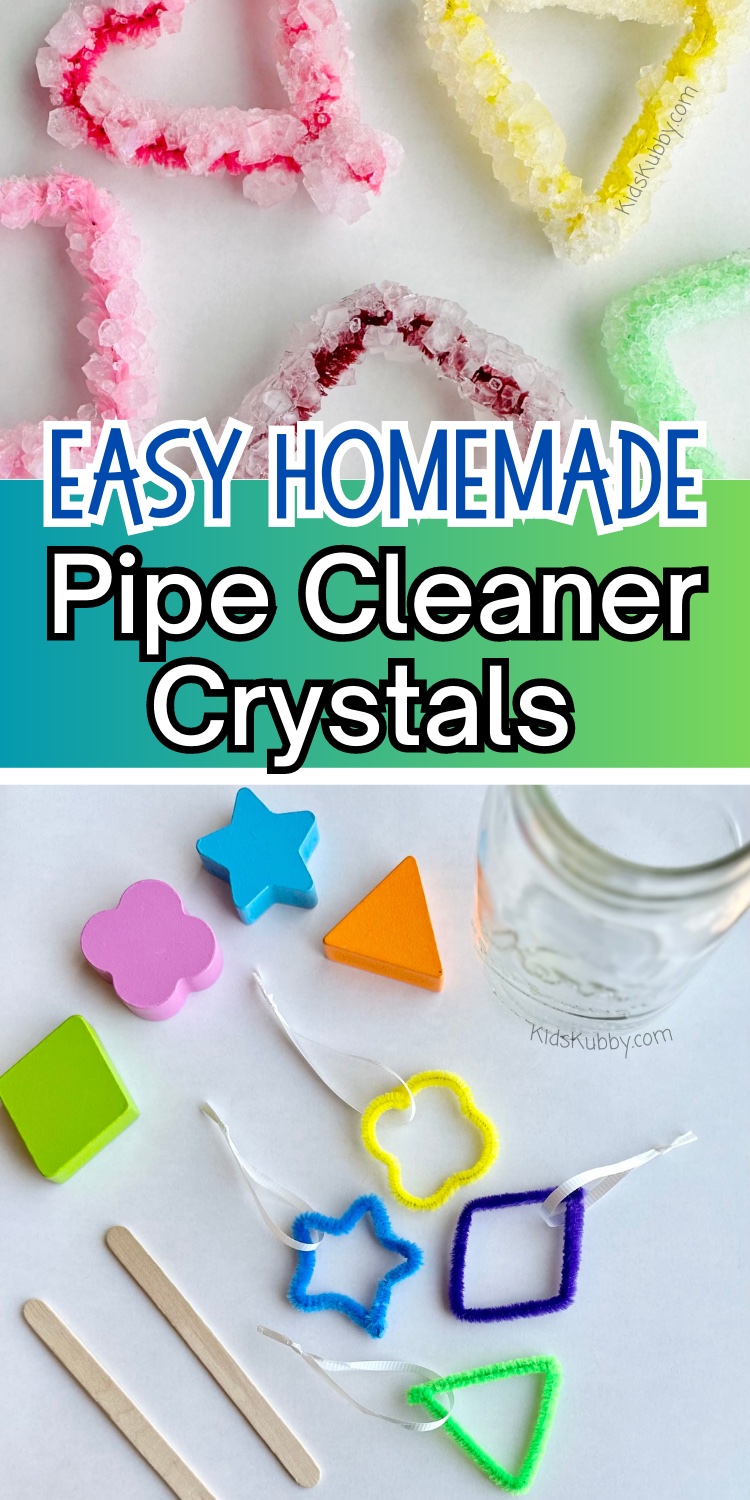 Leave a comment...