With their varying shapes and lovely hues of orange, pumpkins have always been the biggest symbol of fall. Jack-o-lanterns are a popular tradition, but it's not only messy, but sometimes not very kid friendly! My kids like to dig the guts out, but the actual carving is always left up to the adults. If you want to try something a little different, there are so many cool pumpkin ideas without carving to spruce up your home and yard; everything from painting to accessorizing!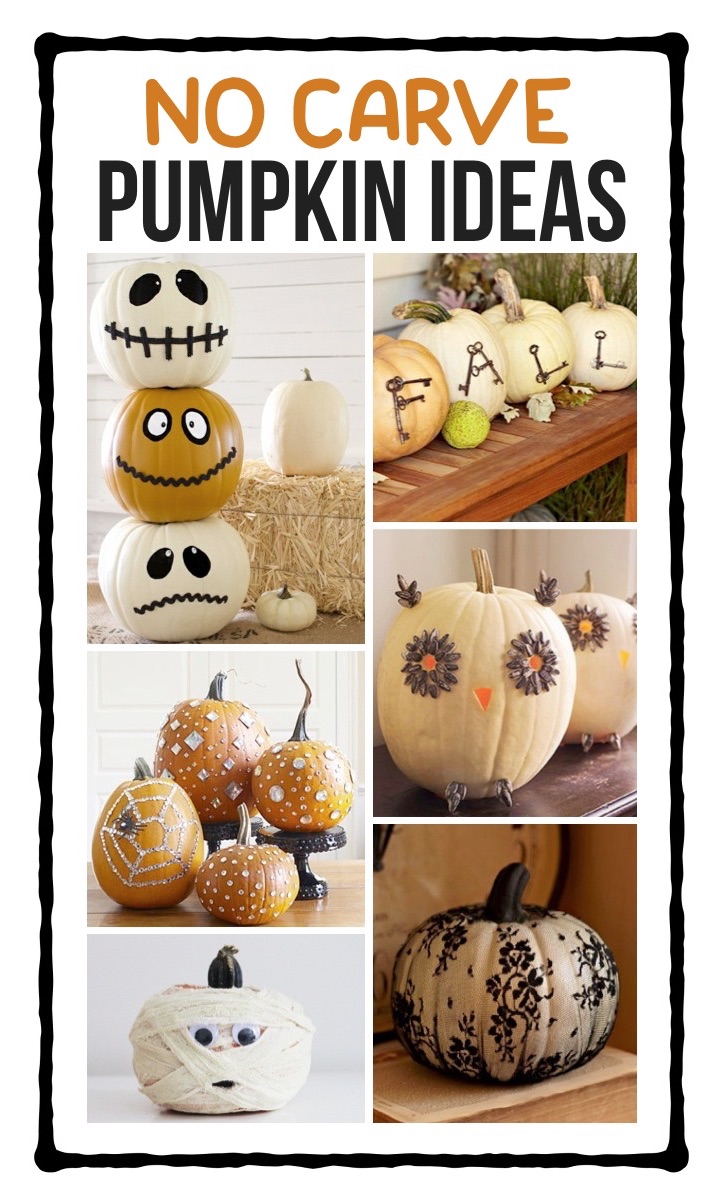 1. Pumpkin Painting
Probably the easiest and most dramatic of all pumpkin decorating ideas – Paint! Acrylic paints work best, especially if you apply a sealer or varnish first to help the paint stick, but if you have other paint that needs to be put to good use, test it out on the bottom of your pumpkin first. It may work just fine for indoor use, although beware that ONLY acrylic paint will stick if your pumpkins get wet or weathered outside.
Acrylic spray paints work great when using stencils or less intricate designs, such as the candy corn pumpkin shown below. Break out that paint brush and get creative! This one is a fun pumpkin decorating idea for kids of all ages.
P.S. You can also use permanent markers! The ultimate lazy way to decorate a pumpkin.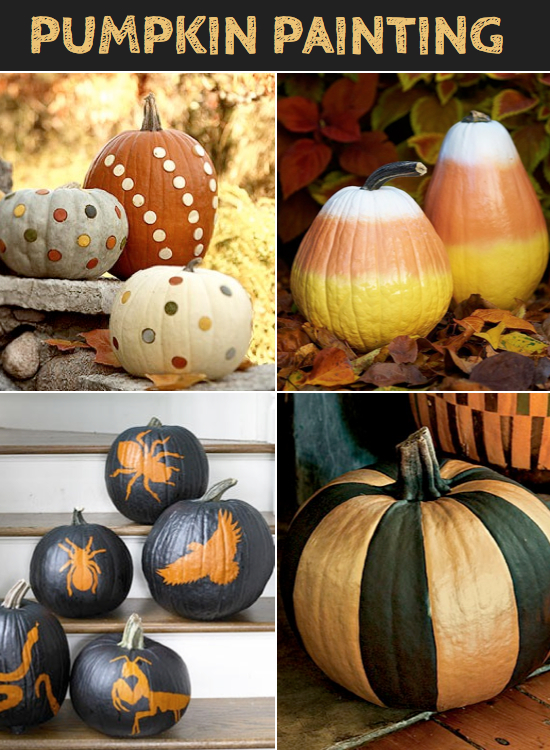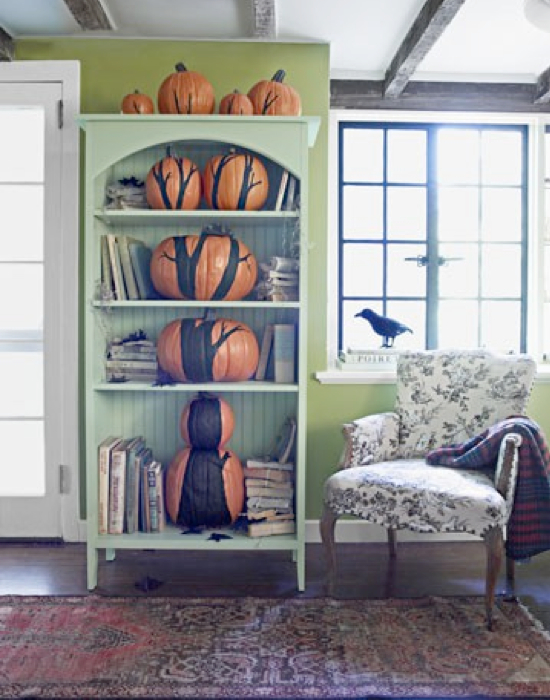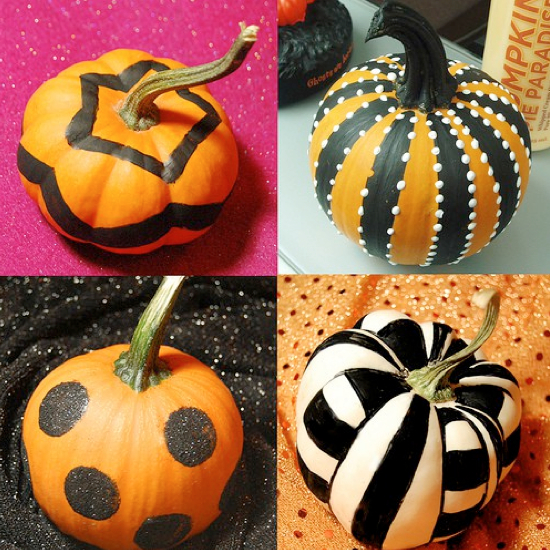 2. Pumpkin Men
This is Fall's alternative to the snowman, only it will last much longer! Oblong shaped pumpkins with a relatively flat surface on the top and bottom are the key to a successful pumpkin man. Simply stack them and decorate! You could even create an entire family of pumpkin scare crows. Use things from nature, such as sticks, twigs, leaves, acorns, and berries for adornment. Toothpicks come in quite handy to keep the pumpkins and embellishments attached.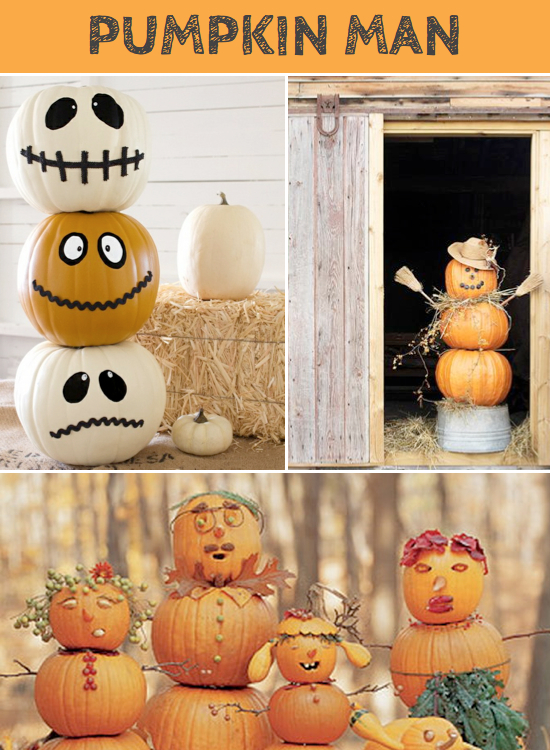 3. Spider Pumpkins
Add a little spook to your Halloween pumpkins with spider legs. For an easy little craft with the kids, use mini pumpkins, pipe cleaners and plastic eyes to create a scary little spider. I've also found the cutest spider pumpkin holders on Amazon. So easy! Place your pumpkins on the stand and you've got an instant front porch Halloween decoration.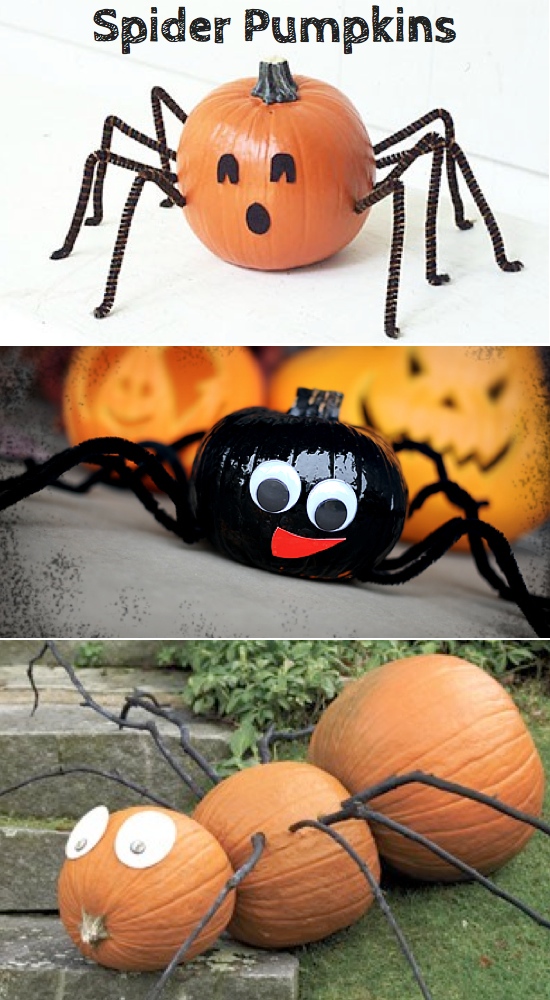 4. Accessorized Pumpkins
Ribbons, felt, fabric, and more! Dress up your pumpkins in style with anything you can imagine. Although pumpkin accessories are available for purchase (just like the Mr. Potato Head attachments), you can make your own adornments to dress them up, too.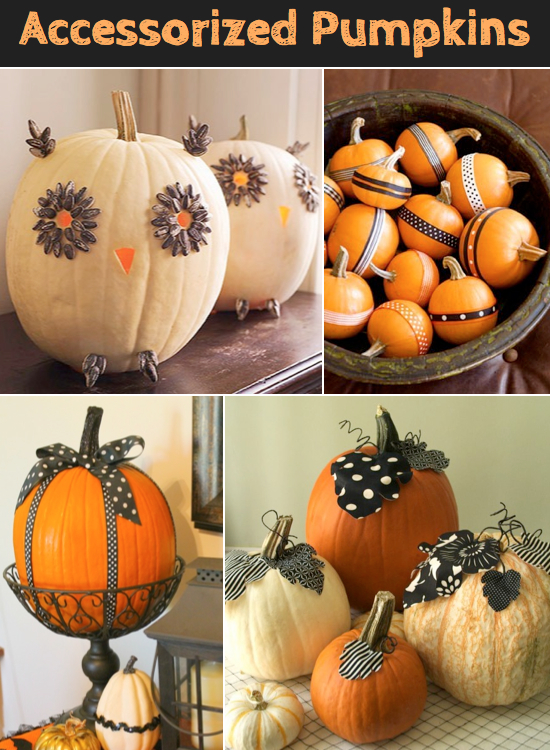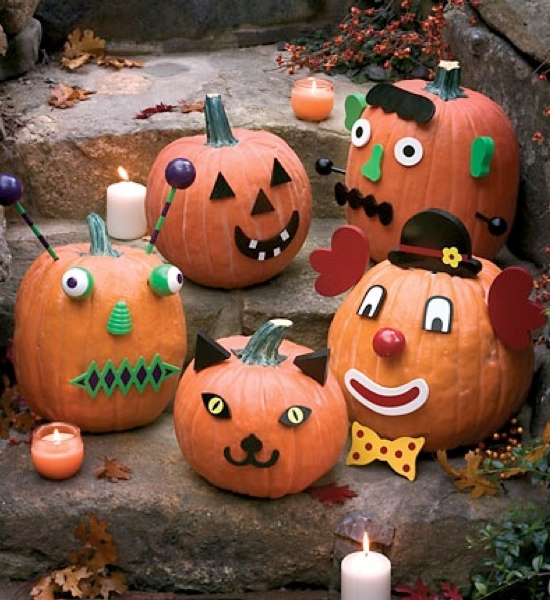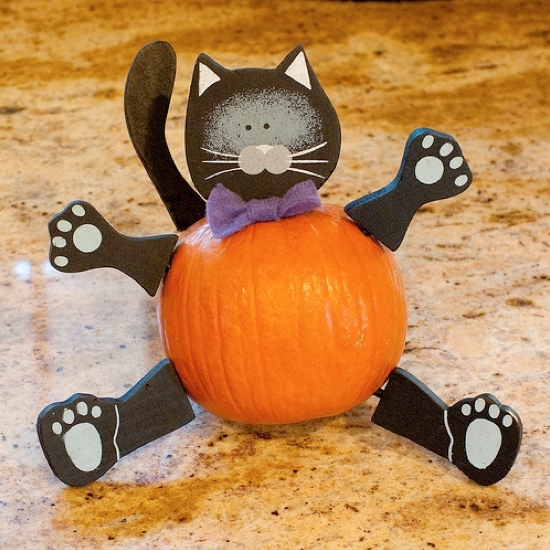 5. Glamour Pumpkins
Looking for an elegant way to showcase your pumpkin arrangements? Lace, rhinestones and glitter will do the trick! Stuff a pumpkin in a lace stocking, trim the excess, and tie it off with a rubber band or elastic tie at the stem for the most elegant of pumpkins. For sparkling pumpkins, use a hot glue gun to attach rhinestones or pearls. You can even find rhinestone stickers in a variety of sizes at your local crafts store. No glue required! Another pretty idea, spray your pumpkins with adhesive spray and then cover them in glitter.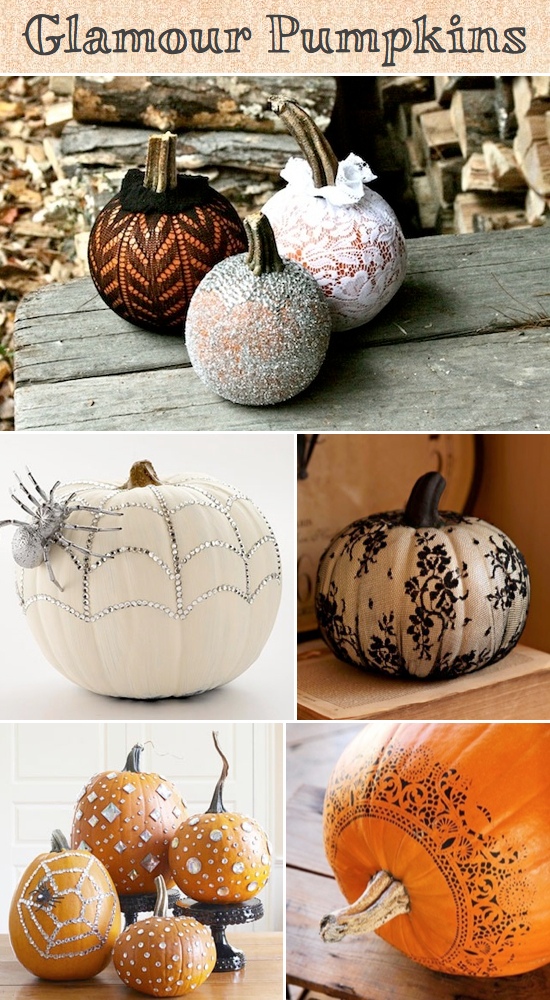 6. Phrasing Pumpkins
Write a short phrase, word, or message on your pumpkins using paint, permanent markers, stencil cut-outs or other materials such as buttons. Monogrammed pumpkins are inviting on the porch using the initial of the family's last name.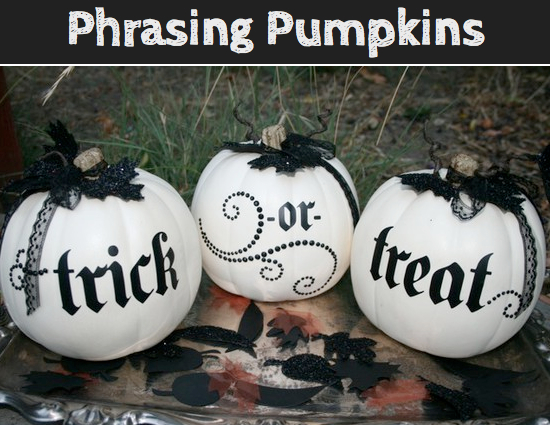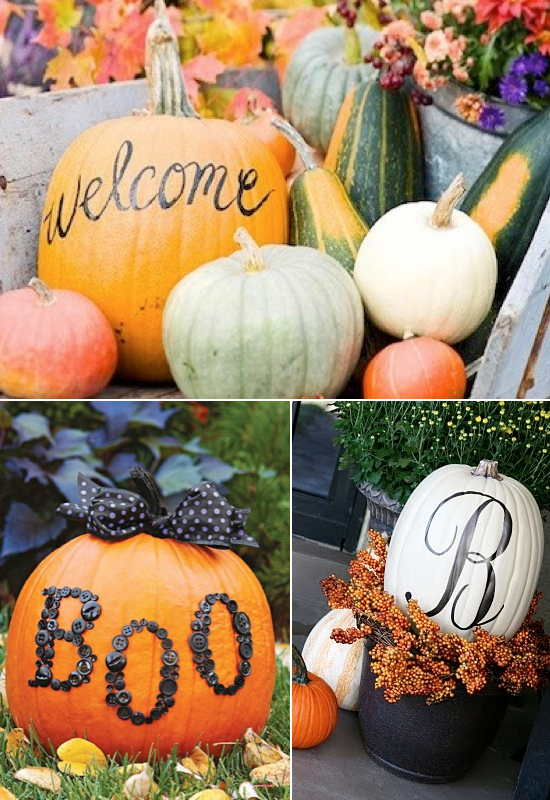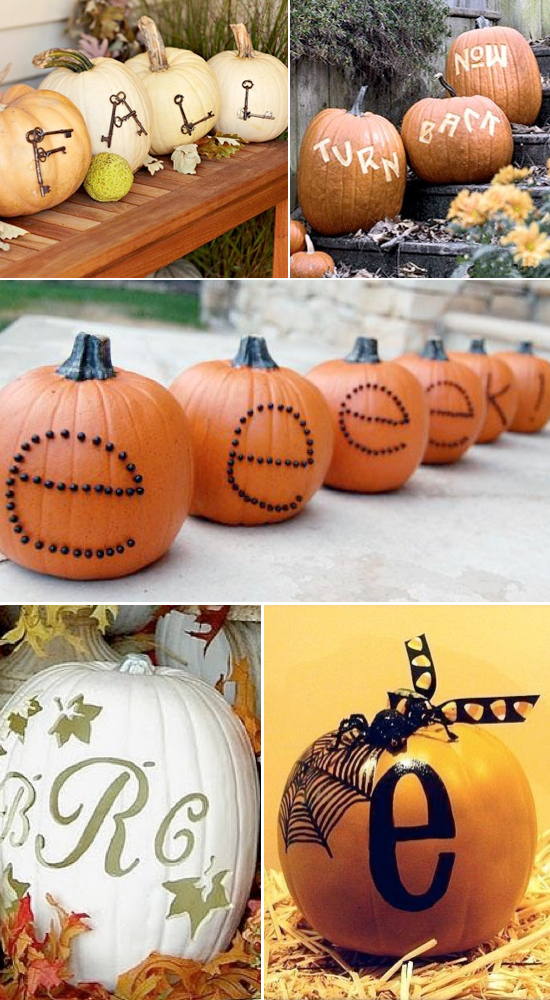 7. Masked Pumpkins
Whether you buy them or make them, masks are an easy way to dress up your pumpkins. I especially like the idea of using eye masks and then drawing a face using permanent markers. You can also consider using things like old hats, wigs, or pipe cleaners for hair. Foam paper and elastic string is perfect for creating your own pumpkin eye masks.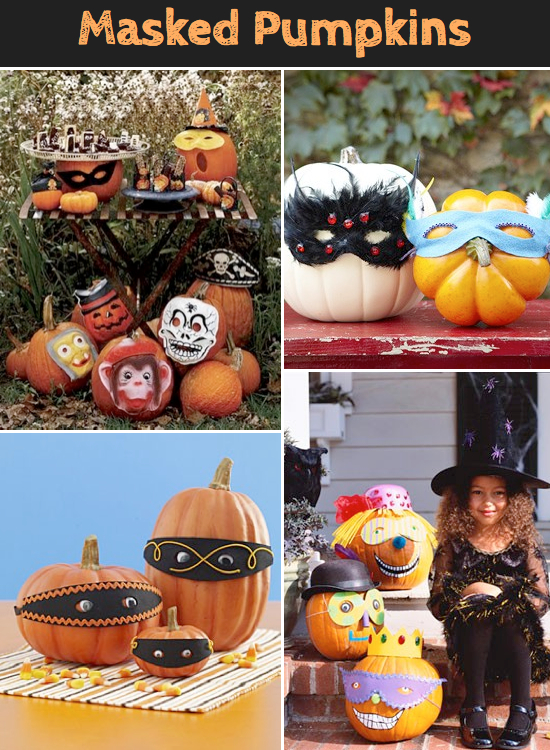 8. Mummy Pumpkins
Halloween pumpkins call for something a little more creepy. Wrap gauze or white tissue paper around your pumpkins and secure with double sided tape or hot glue for an easy pumpkin costume. Use plastic eyes for the finishing touch. For the mouth, tape black construction paper on the pumpkin where the mouth is located before wrapping. After you cut out a section of the gauze where the mouth should be, it will give the effect of an open mouthed mummy. Spooky!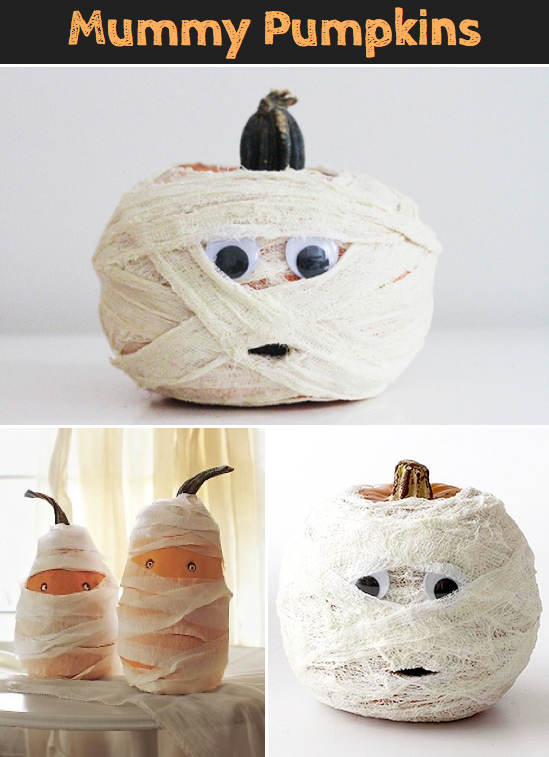 Leave a comment...