There seems to be an endless array of fun and creative toilet paper roll crafts and other ideas. Who knew! I'm excited about the ease and low cost of these cute and clever toilet paper roll art projects. No more tossing them in the trash at my house! I'm saving them for a rainy day.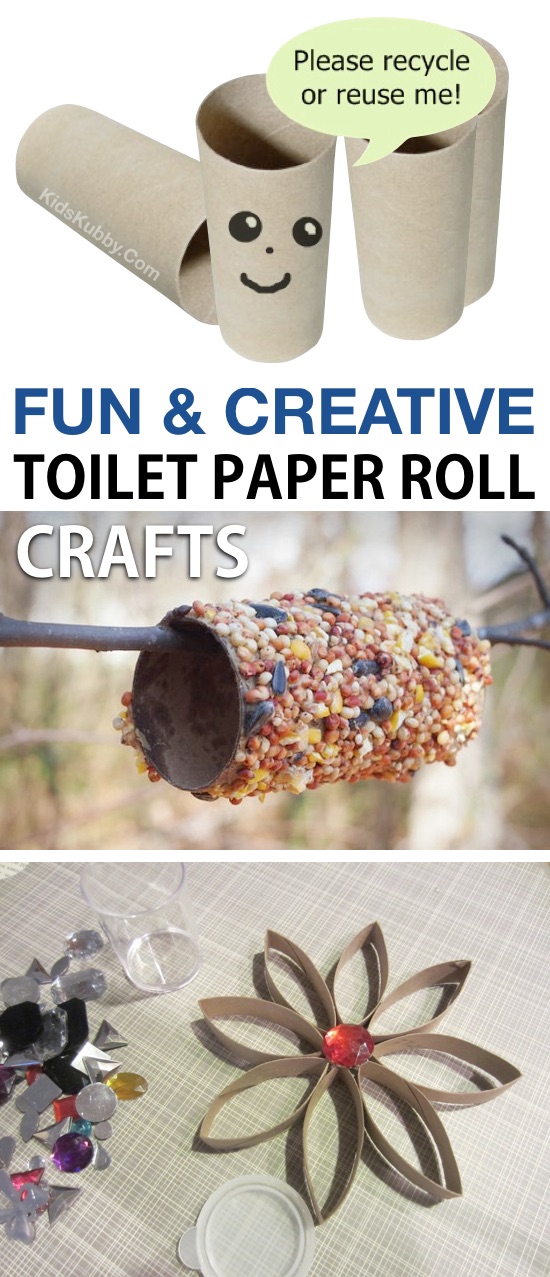 Toilet Paper Roll Bird Feeder
This is such a great idea! I've already got the supplies on hand. Spread peanut butter on toilet paper rolls, roll them in bird seeds, and then hang them from a tree branch for the birds to enjoy. Now I just need to find a spot where the squirrels won't gobble it up in one sitting. This one comes from Go Graham Go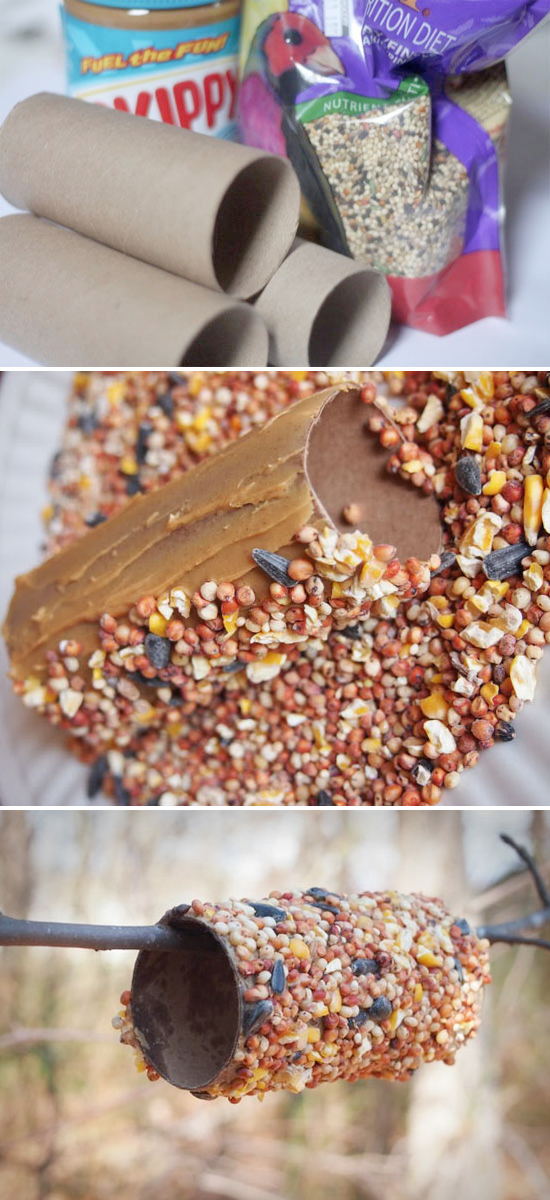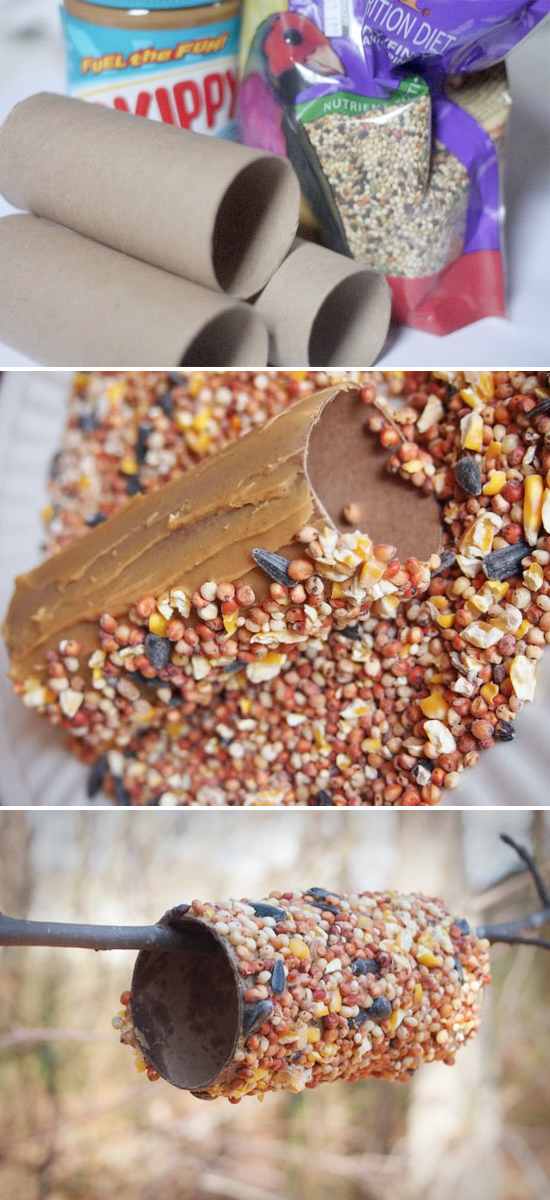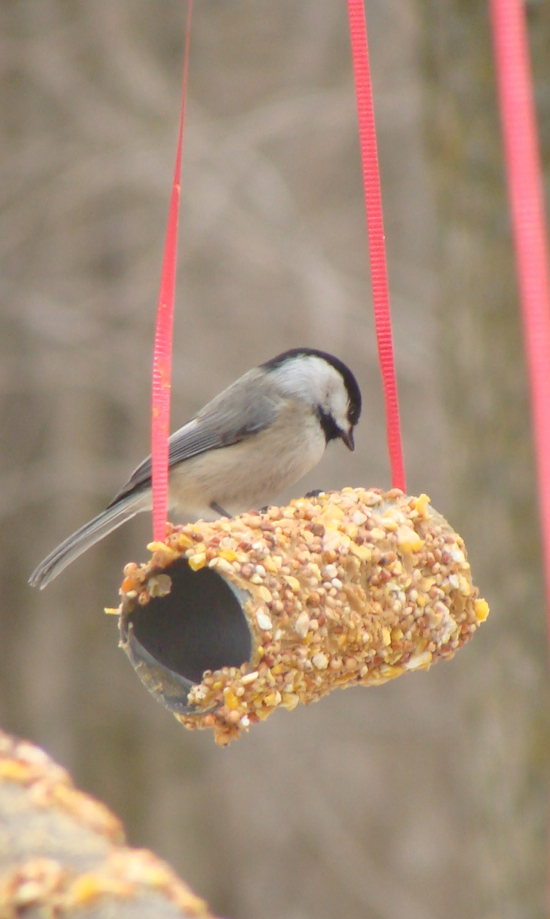 Toilet Paper Roll Storage
This ingenious idea is so simple and yet so useful. Create a pen caddy with toilet paper rolls! What a great way to keep your pens, markers and pencils organized without spending any money. You can find the full instructions for this project over at Instructables.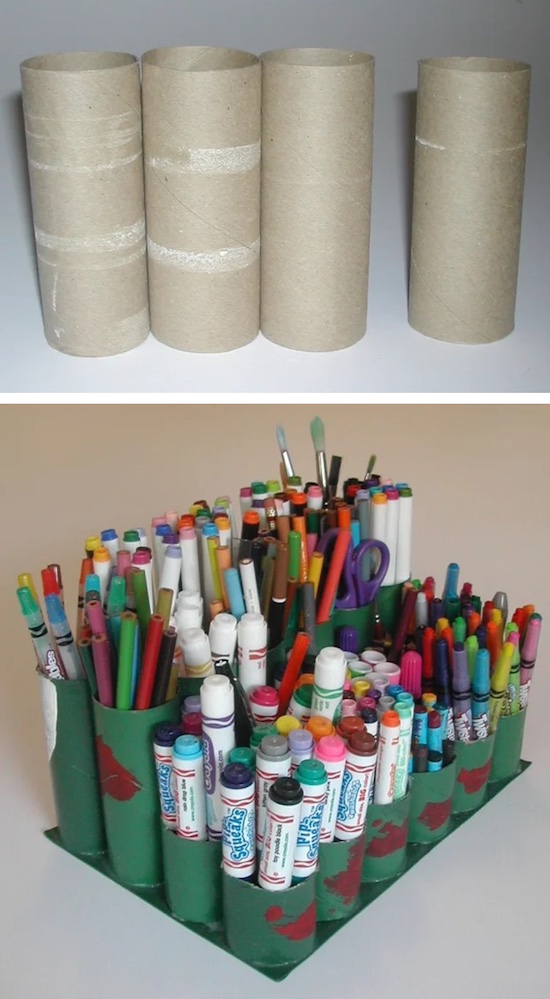 Cord Organization
If you have drawers full of tangled cords, try keeping them organized with toilet paper rolls. You can even make them fancy with adhesive paper. Check out the details over at Apartment Therapy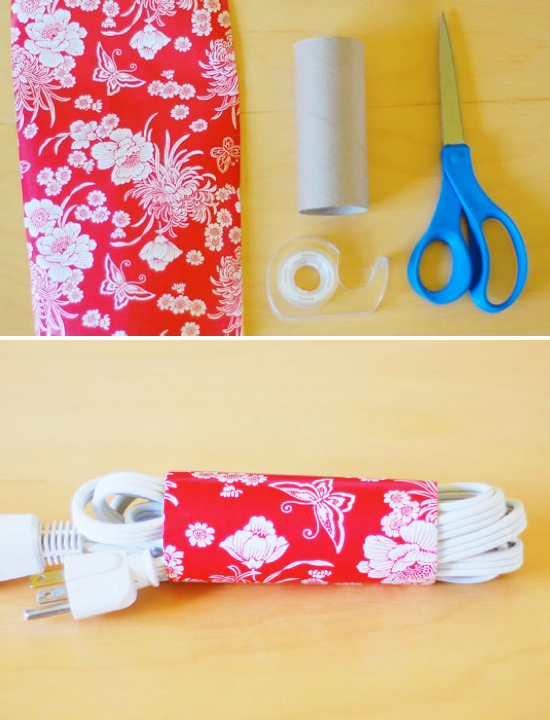 Toilet Paper Roll Color Match
How about a fun learning activity for kids! Check out this color match game using toilet paper rolls as well as a bunch of other easy color sorting games. So many fun and clever ideas!
Toilet Paper Roll Crafts
You can create just about any kind of craft out of toilet paper rolls. Kids love turning them into cute little animals and toys. Get creative with paint, stickers, pipe cleaners, googly eyes, pom poms, felt, cotton balls, markers, and tissue paper.
Binoculars
Kids of all ages will have fun making these toilet paper roll binoculars! Let them go wild with whatever decorating supplies you happen to have on hand.
Whimsical Owls
Owls are easy to create by simply folding the top of the toilet paper rolls together, creating what looks like little ears.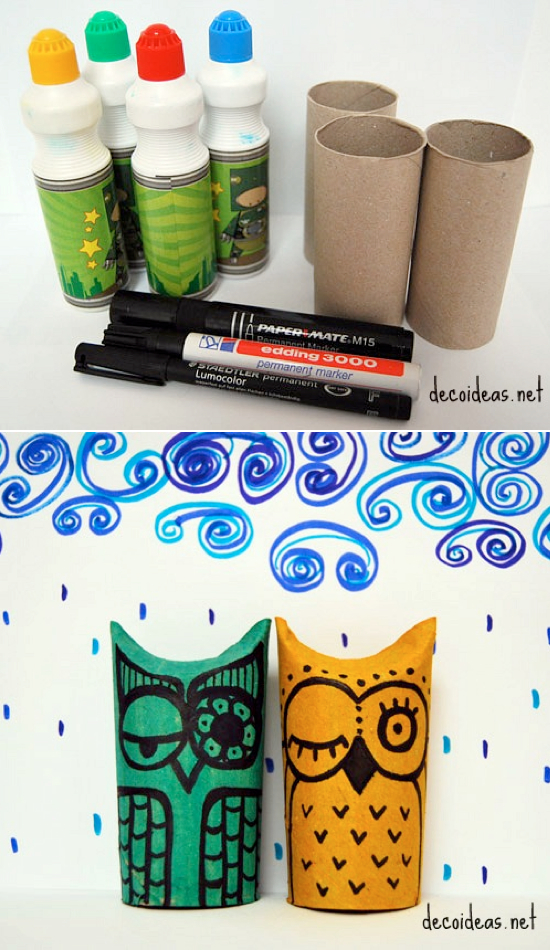 Photo Below from: Creative Jewish Mom & A Bird & A Bean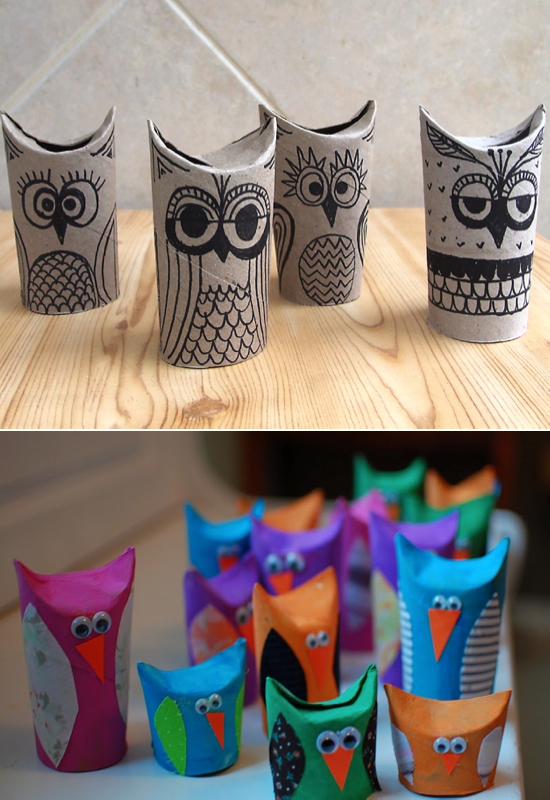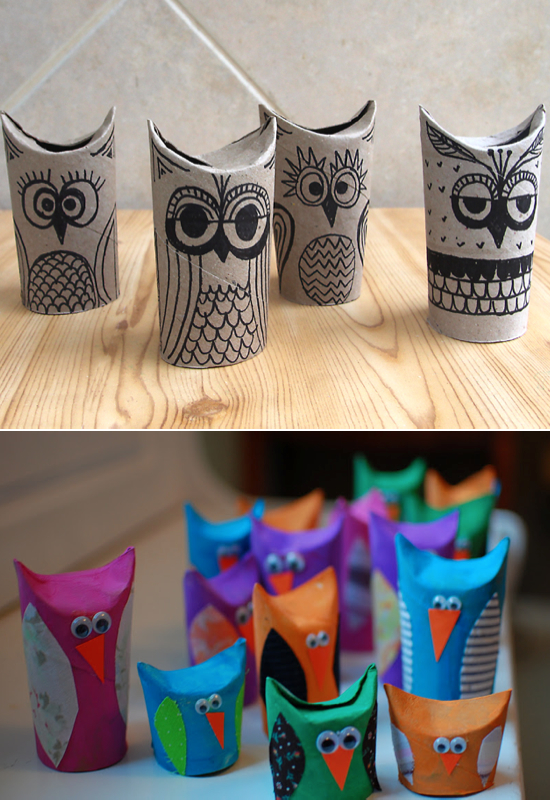 I was unable to find the source for the photo below, but I absolutely love the little toilet paper family! Simply paint on a face, add some felt hair, and then dress with scraps of fabric and buttons.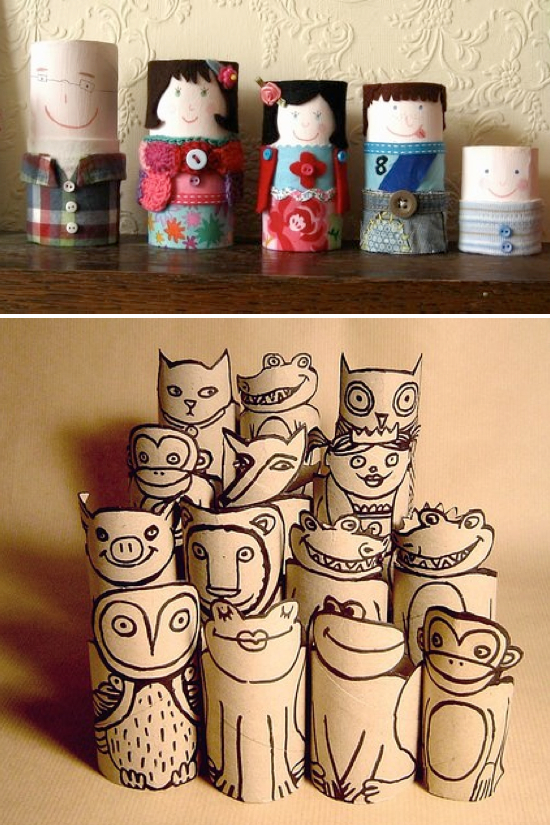 Toilet Paper Roll Puppy
Try cutting the rolls into strips to create cute little animals! Add a felt tongue and pom pom nose for the finishing touch. You can find the full step-by-step instructions over at Child Made Tutorials

Toilet Paper Roll Animals
You can easily create just about any kind of animal out of toilet paper rolls. These are fun and easy projects for kids to make for just about any season or holiday. You can find the tutorial for the pink bunny below over at Sweet & Lovely Crafts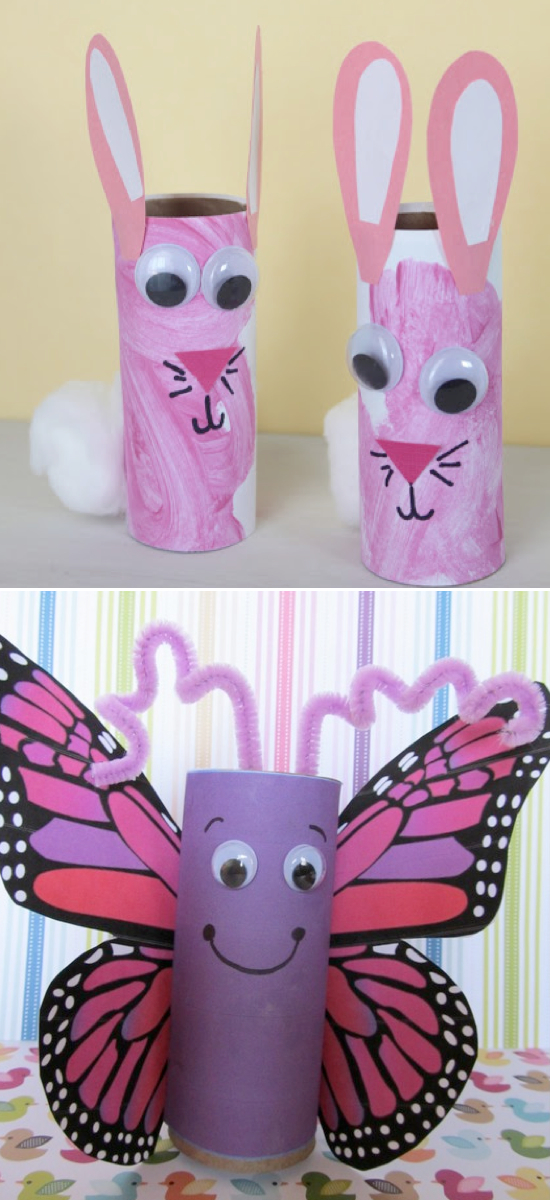 The elephant below makes me laugh! Such a cute idea. The blog for this is no longer there, but It looks like they used craft foam to create the ears, trunk and hair.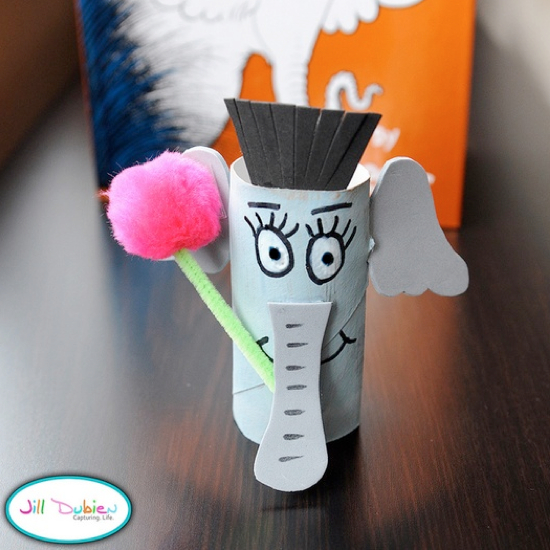 This adorable little penguin has also been created using craft foam and googly eyes. Check out all the details over at Momstown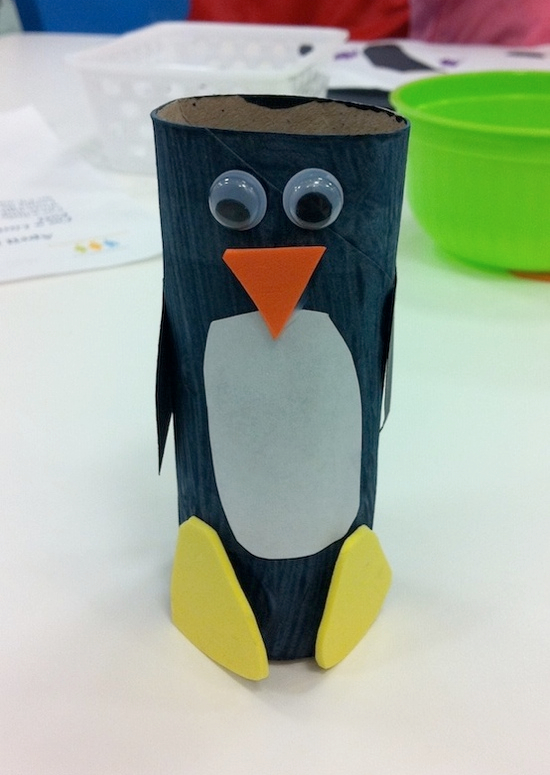 Gobble Gobble! This creative little turkey is a wonderful Thanksgiving craft for kids to make. I really like how they used book pages or newspaper for the feathers.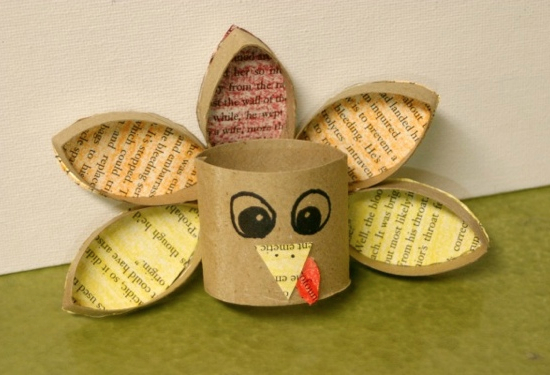 Toilet Paper Roll Cars
These little economical toy cars are made completely out of toilet paper rolls, cardboard, paint, and brads. Not only fun to make, but fun to play with over and over again. Check out the details and instructions over at Kifli

Toilet Paper Roll Christmas Crafts
It's the time of year when we are filling our home with Christmas decorations and homemade crafts. The kids love adding their own personal touch, and toilet paper rolls make it easy and affordable to create the most adorable Christmas themed crafts; little santa pouches, carolers, a fleet of reindeer, or an angel with hand wings.
These happy little angels are made with handprint wings and gold or silver pipe cleaners. These would be nice hanging in the Christmas tree.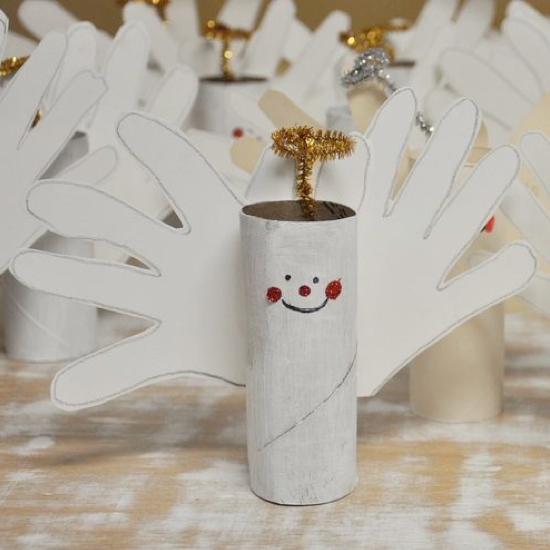 Ho Ho Ho! Santa is coming to town. These little paper roll Santas would be great adorning a gift or hanging on the tree. I wonder if you could even stuff them with some candy? Get the full tutorial over at Krokotak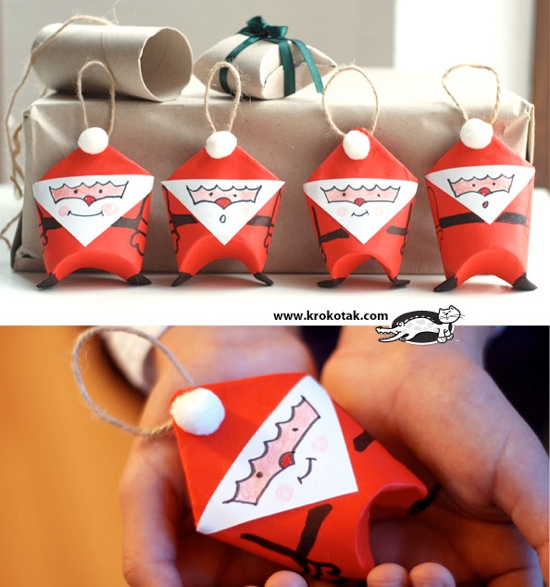 We watch Elf about a dozen times every December, so I'm absolutely in love with these fuzzy little guys! With the felt, you can barely even tell there's a toilet paper roll under there. Get the full details and instructions over at Kitchen Counter Chronicles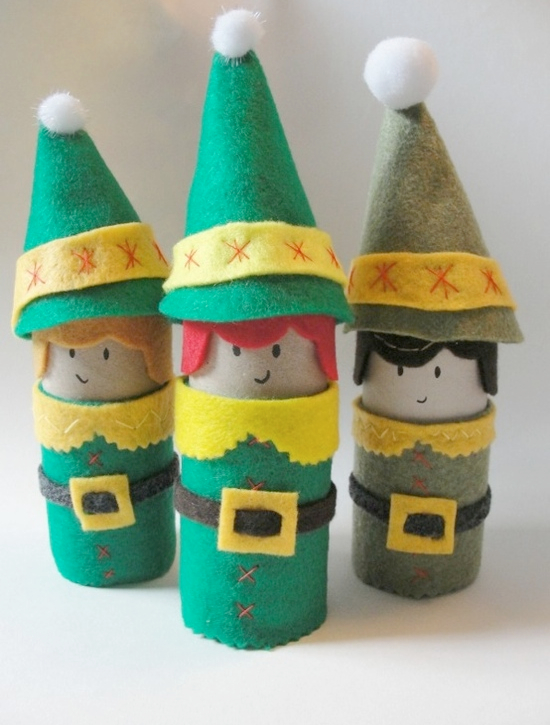 This is probably one of the most detailed toilet paper roll crafts I've seen. The reindeer antlers are made with pieces of Christmas tree! Go check it out over at The Ramblings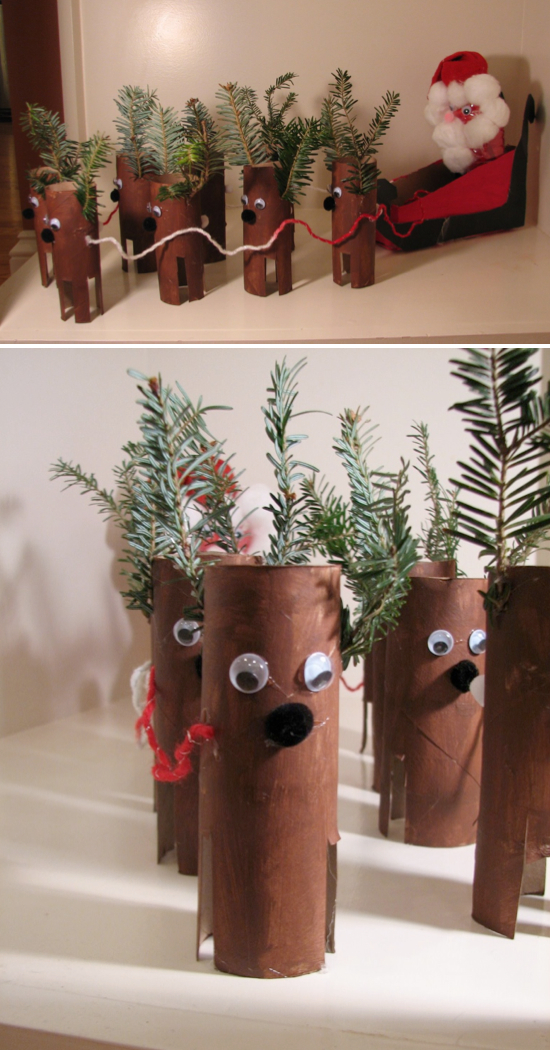 Toilet Paper Roll Snowflakes
You would never guess that these handmade snowflakes were made out of toilet paper rolls! With a little bit of glue, glitter, and paint you can actually make something quite pretty out of recycled materials. Sources for these toilet paper roll crafts. 1. Night Owl 2. Crafty Sisters 3.Dee Dee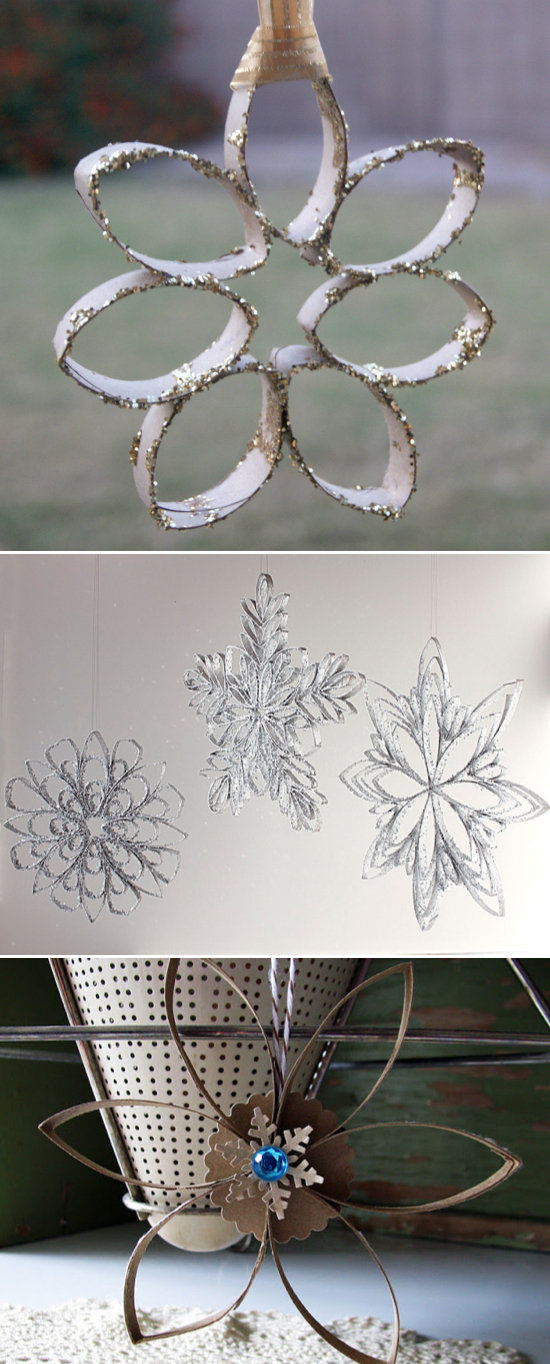 I really like how DIY Inspired used a large rhinestone for the middle.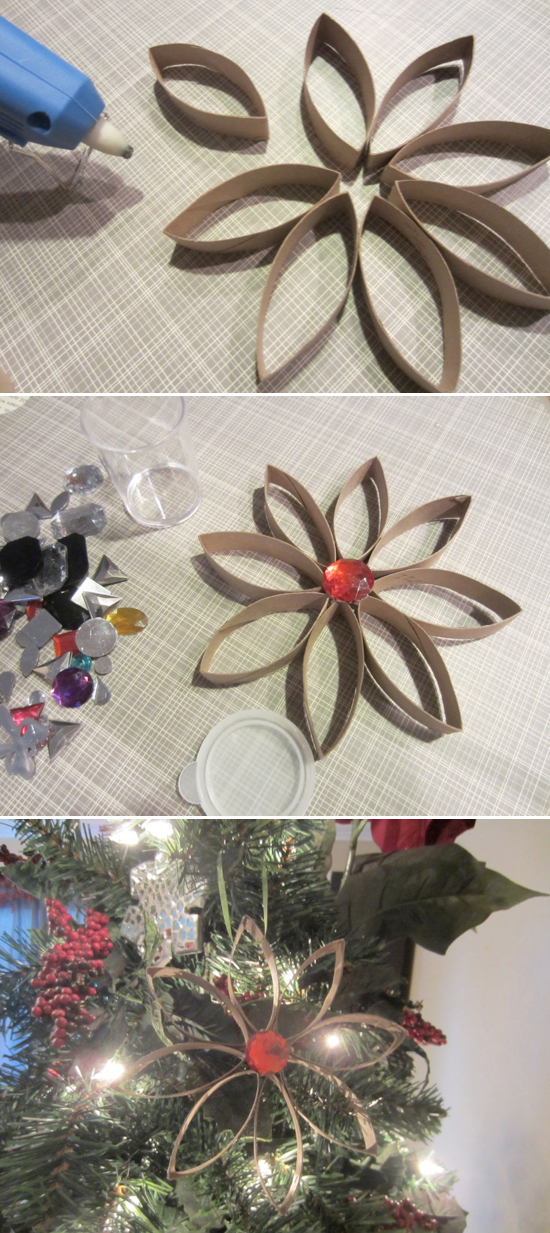 Toilet Paper Roll Advent Calendar
Made out of cardboard and toilet paper rolls, this advent calendar allows you to fill each day with a miniature gift. My kids would love this! Let them poke open a new day every morning as they get closer and closer to Christmas.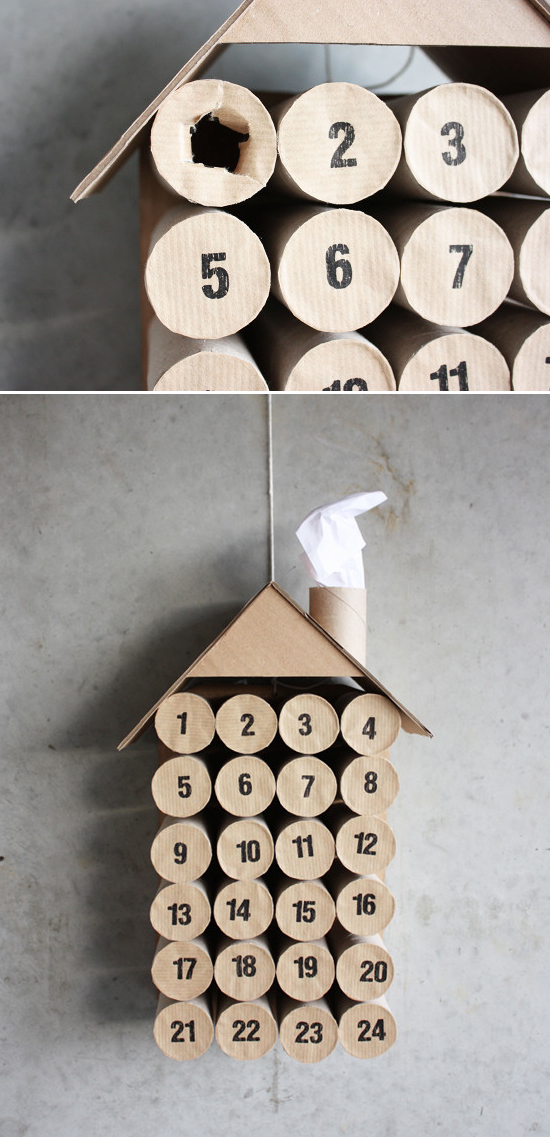 Toilet Paper Roll Wreath
It's rustic meets shabby chic with these adorable wreaths made out of paper rolls. Finish them off with ribbon, paper flowers, ornaments, or anything else that adds a little pizzaz. Source: Kifli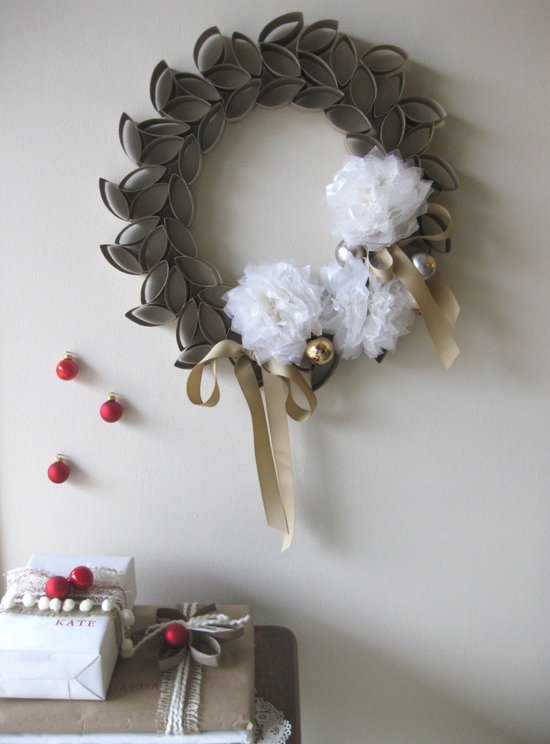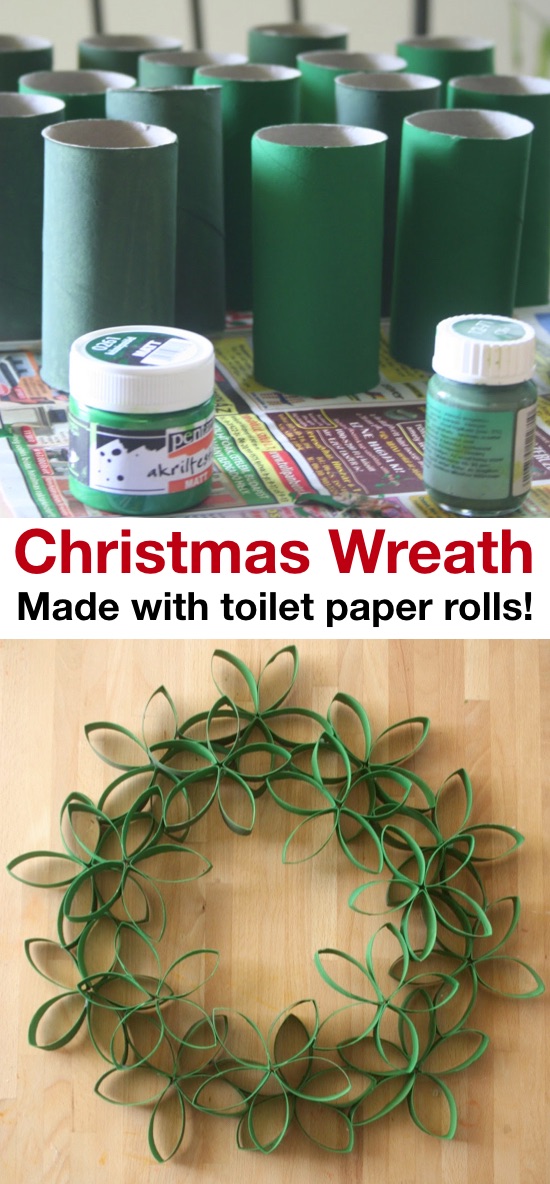 Toilet Paper Roll Glass Filler
For large glass containers, use a toilet paper roll in the center to fill in the empty space. This allows you to completely fill a jar with half the amount of adornments. Brilliant idea from Dandelions & Dust Bunnies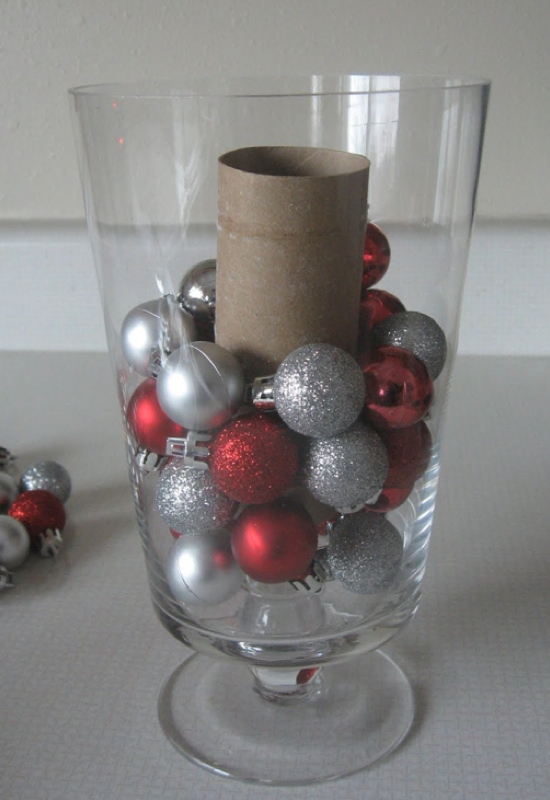 Toilet Paper Roll Seed Starters
Use toilet paper rolls to start your plant seeds. When they are ready for planting, stick the whole roll in the ground and they will decompose! You can get more info about these seed starters over at The Spruce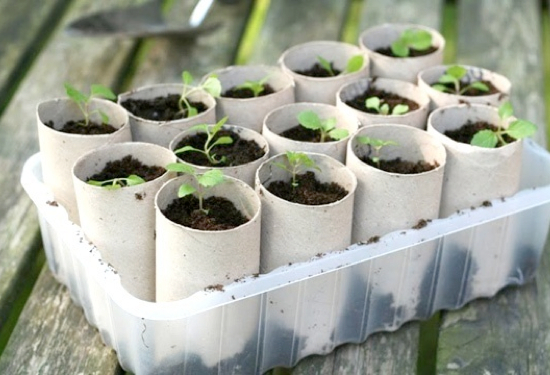 Toilet Paper Roll Crowns & Hats
These would be fun for any kind of party. Simply cut and decorate them to your liking, and then add elastic string! They would make for sweet little photo props, too. Source: Creative Jewish Mom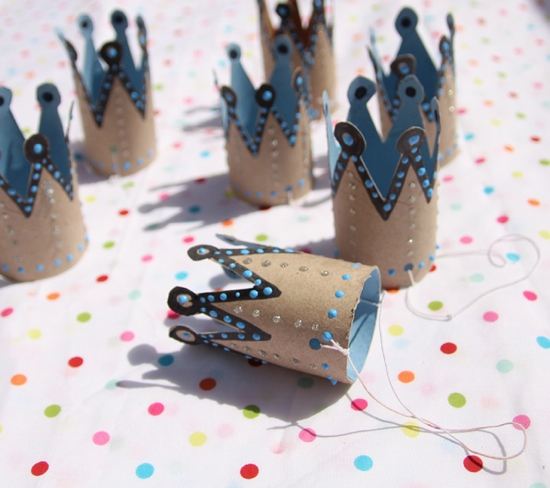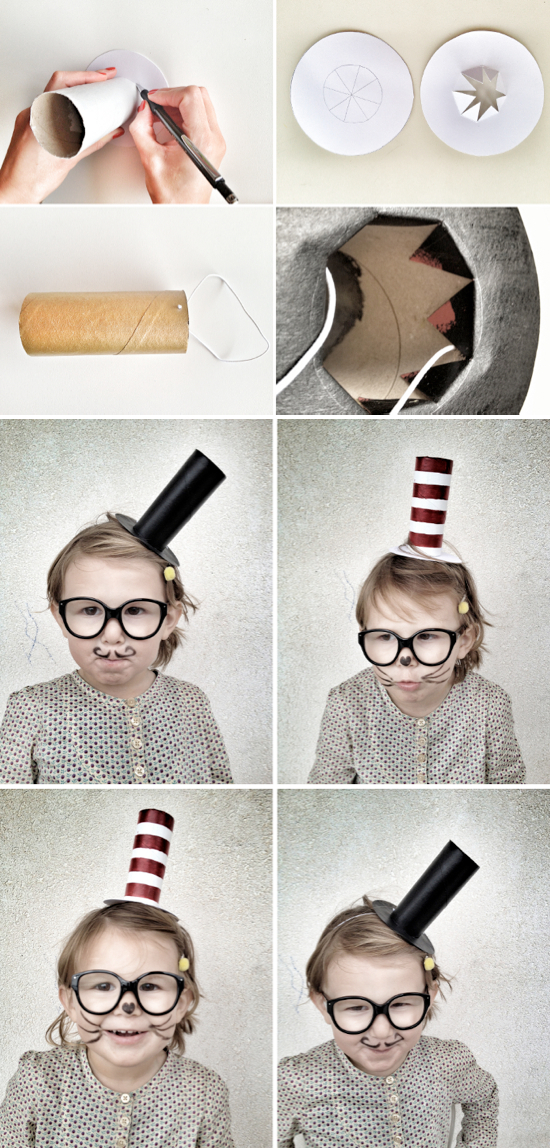 Toilet Paper Roll Marble Run
For this fun activity, you'll be using both toilet paper rolls and paper towel rolls in varying sizes. Make window cut-outs with a craft knife, and then paint and/or decorate them. Place magnet strips to the backs to create this fun little marble run. Let the kids experiment and rearrange the tubes to see how many different ways they can get it to work.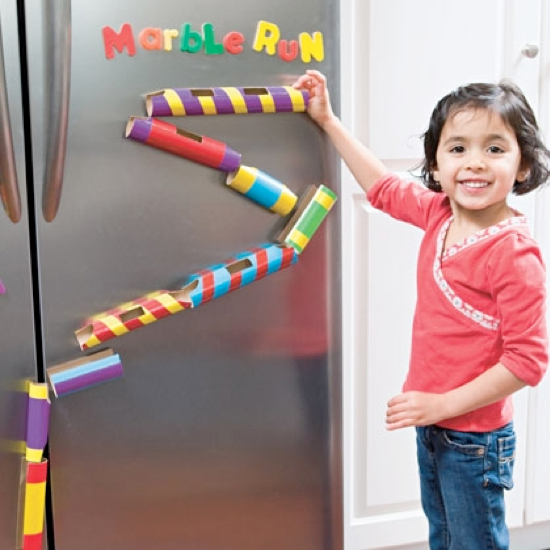 Toilet Paper Roll Stamps
Dip the edges of toilet paper rolls in paint for a quick and easy stamp. Let the kids go crazy with different colors and shapes. These would make for great holiday cards, even for the little ones!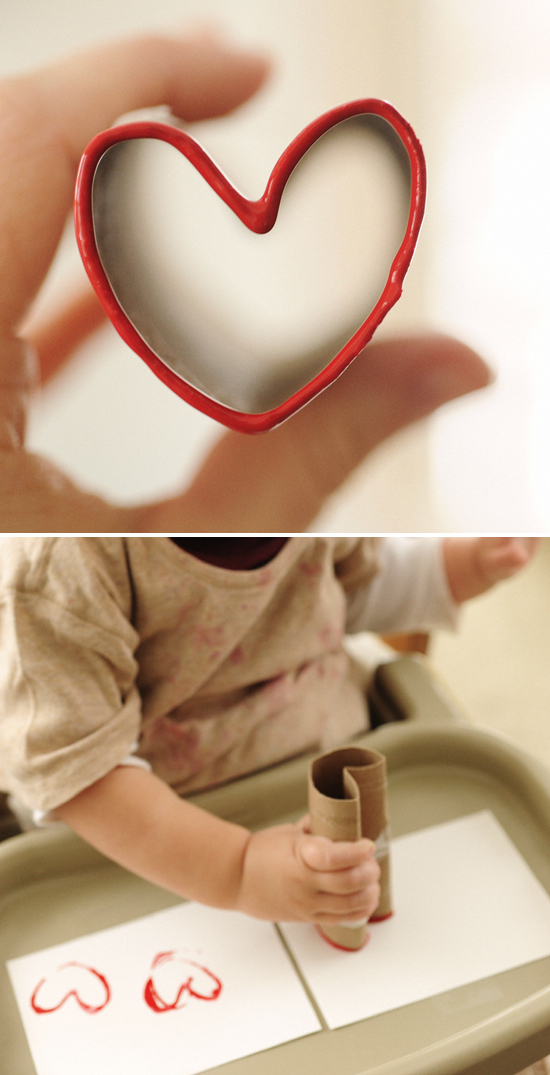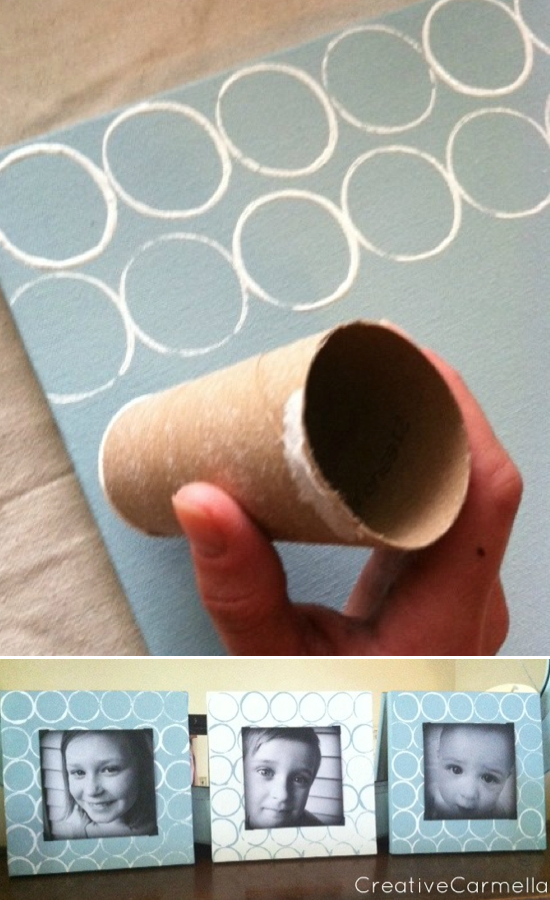 Toilet Paper Roll Wall Art
It's just amazing to me how many creative ways you can manipulate a toilet paper roll into a piece of artwork. Cut them, bend them, and then glue them together for unique wall art. You can either leave them their natural color, or use paint to add a splash of color.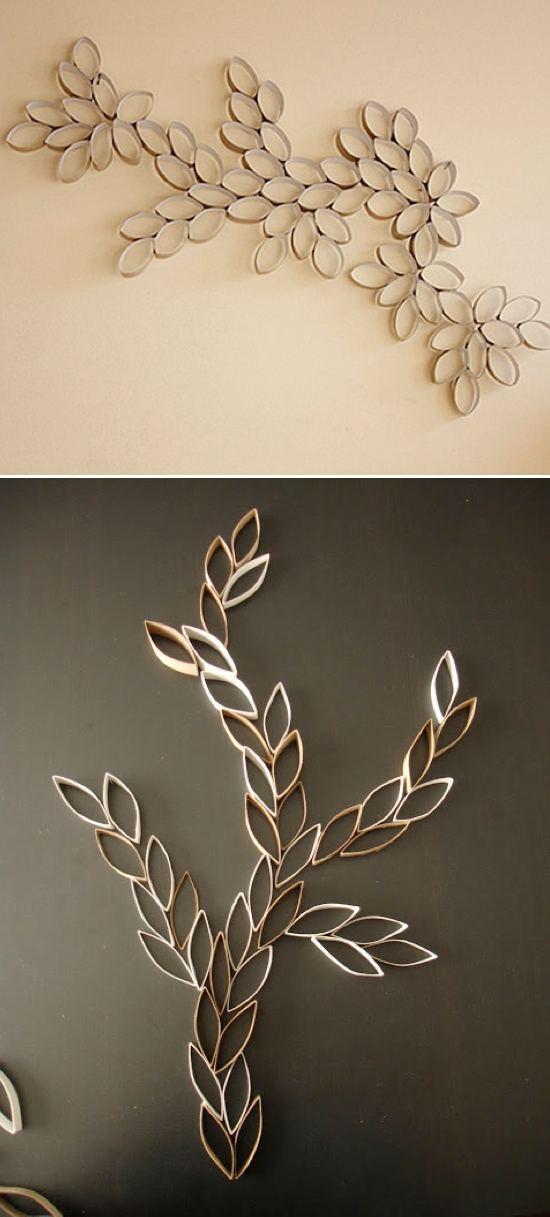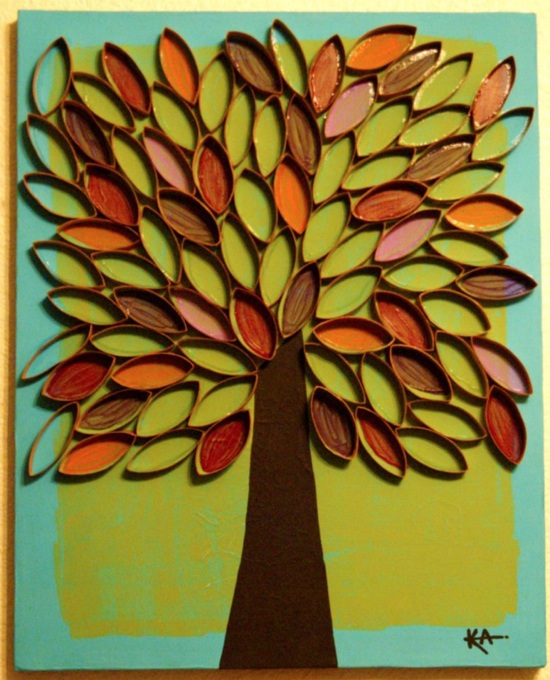 This clever wall art was made with a frame and toilet paper rolls cut into floral shapes. Source: Crescent & Old Lace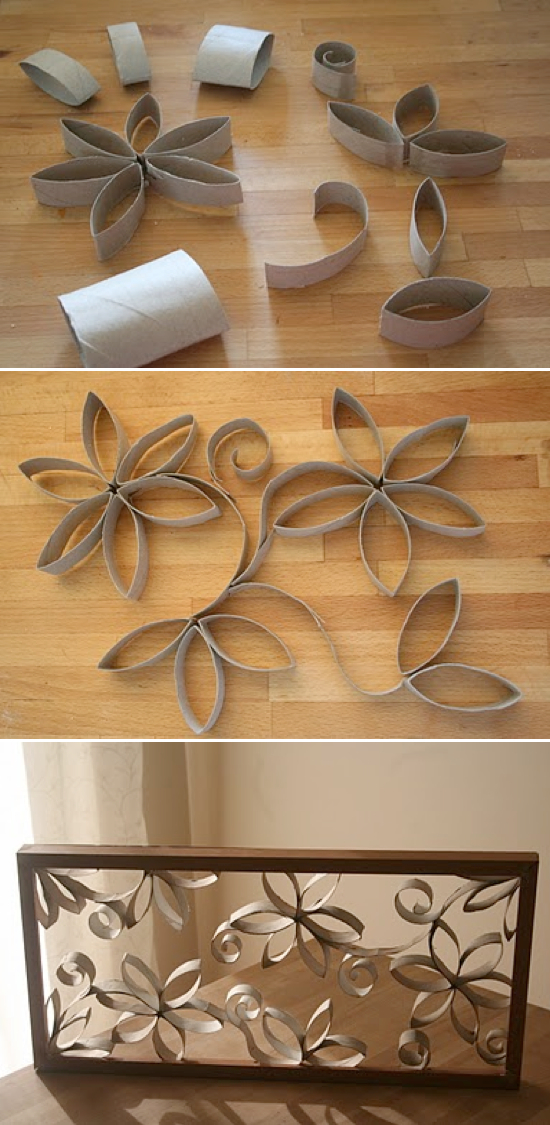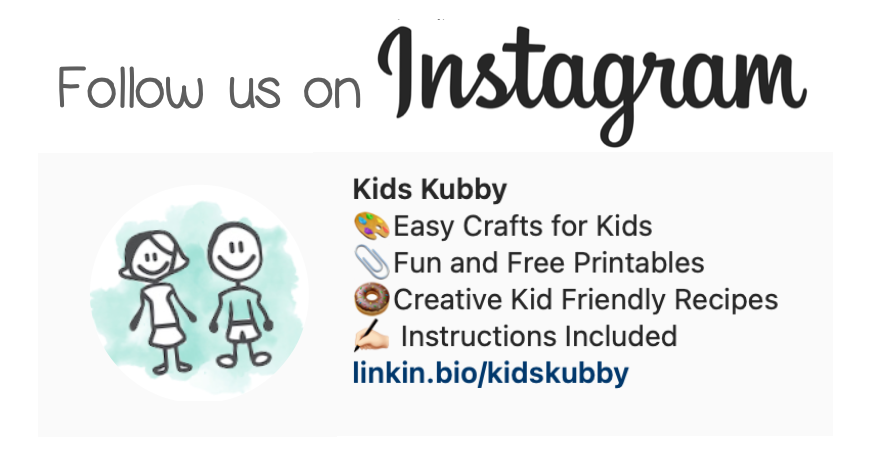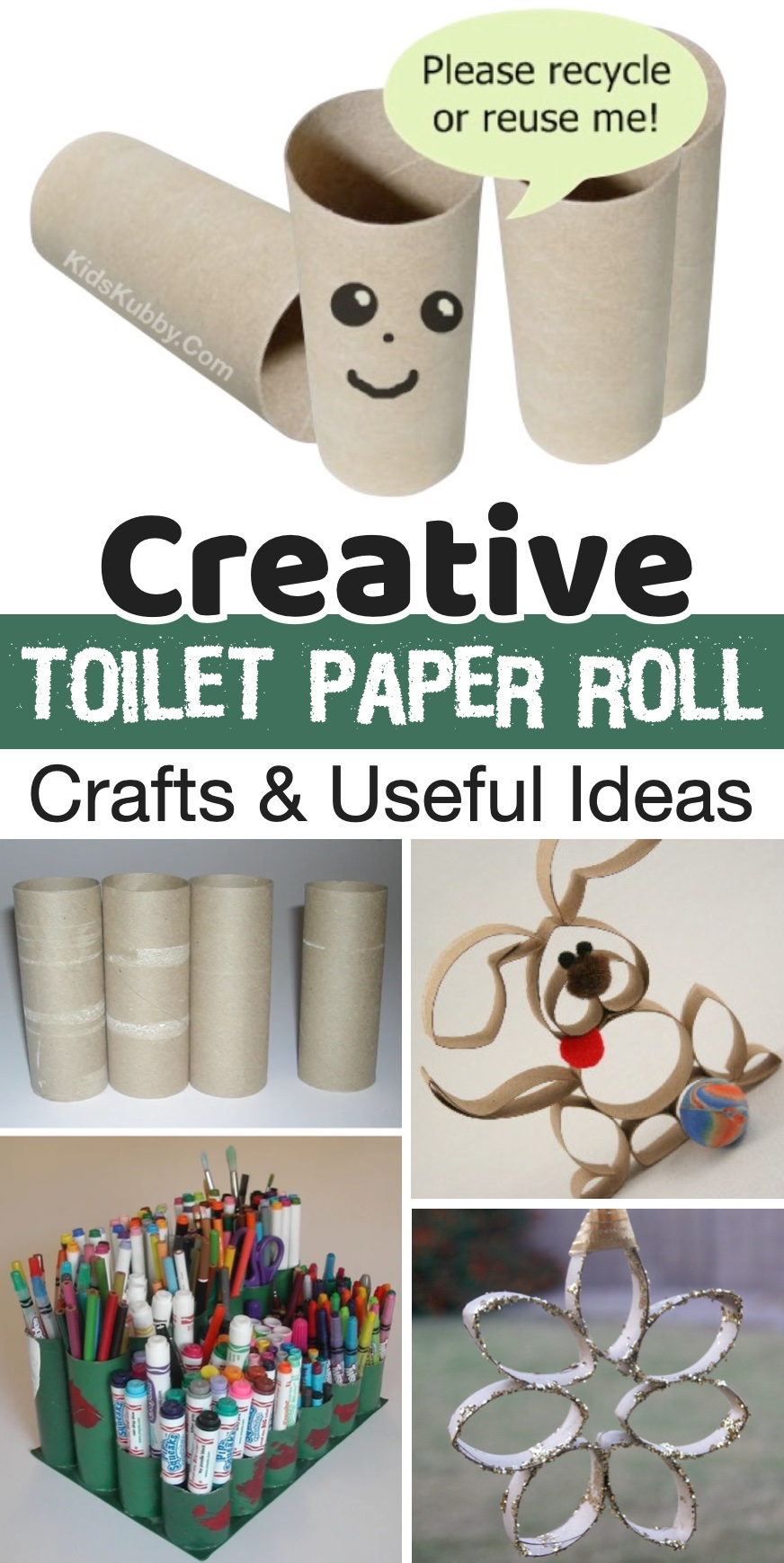 Leave a comment...