Easy and fast activity to help kids with fine motor skills!
Are you looking to jumpstart your kids' fine motor skills – This incredibly simple sticker line activity for kids is one of my favorite activities to do. I started making sticker lineups when my son was a toddler and just haven't stopped. This activity is so simple to set up but the benefits for little kids are countless. Sticker Lines are the perfect fine motor skill activity for kids!!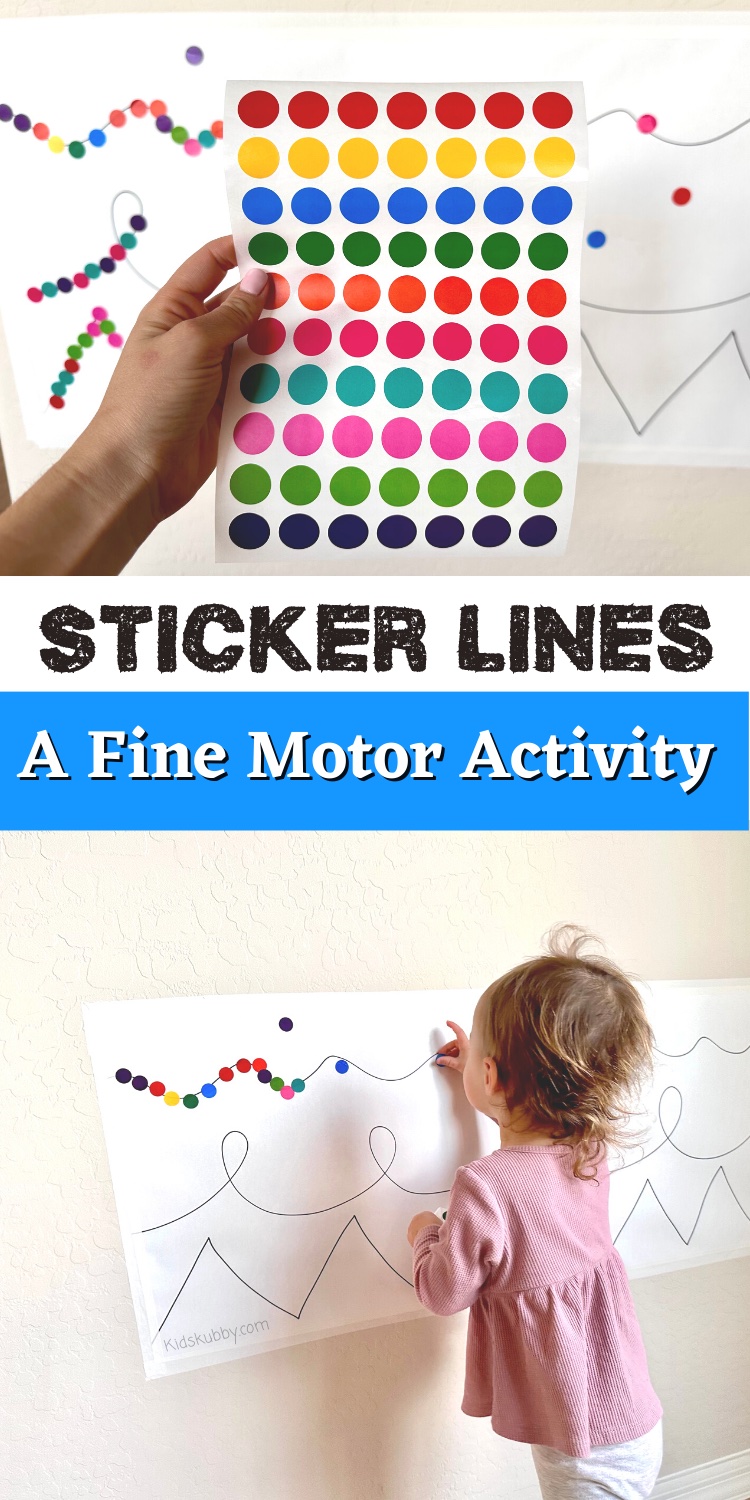 Why are fine motor skills so important you might ask?!
When our kids are little, we are told how important fine motor skills are and that we should find activities to increase these skills… BUT WHY?? Fine motor skills strengthen little hands so that our kids can perform everyday tasks like writing, grasping objects, using scissors, and feeding themselves. I try to find easy activities that help with both fine and gross motor skill every day. This is especially important for toddlers and preschoolers as they begin their journey into school time learning.
Supplies for the Sticker Line Activity:
White butcher paper
Dot stickers
Painters or masking tape
Sharpie to draw the lines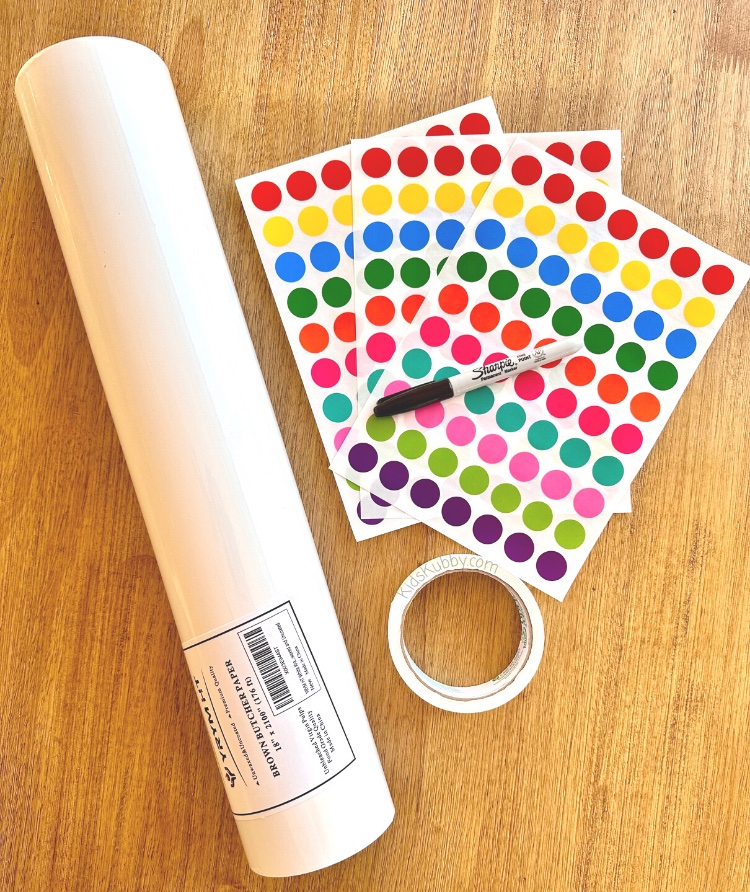 Amazing Mom Hack – My Trick with Stickers
Have you ever noticed how hard it is for kids to find the edge of the stickers? As kids get older, figuring out how to get the stickers off the sheet is great for their brain development. But when toddlers try and try to get a sticker and end up frustrated, it can have the opposite effect. I'm going to let you in on this amazing mom hack. Simply peel the outer part surrounding the stickers away. Now you're left with only the stickers on the page. This makes it WAY easier for young kids to find the edge of the sticker and peel it up!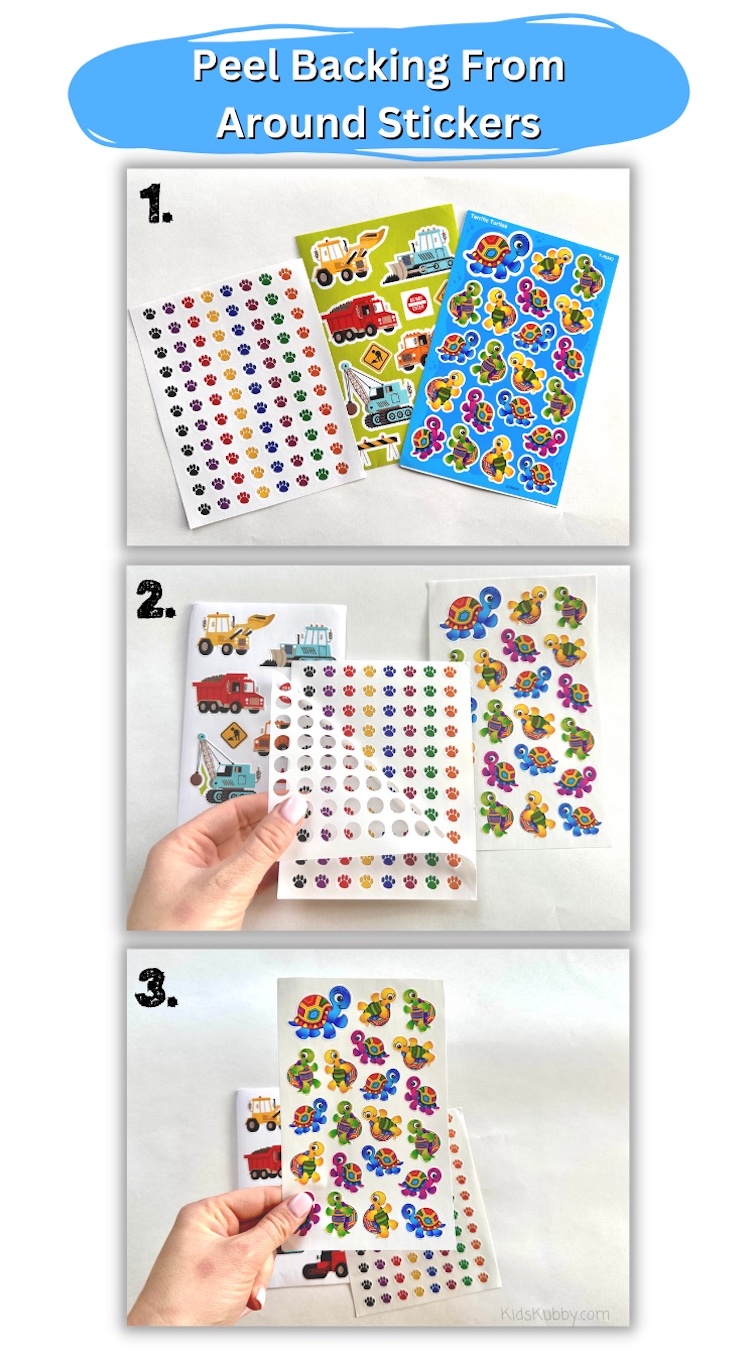 How to Use Sticker Lines
Cut a piece of butcher paper to fit on a wall in your house. I like to put my sticker line-up on the wall because I think kids get more benefit from standing up with this fine motor skill activity then if they are laying on the floor.
Draw different forms of lines across your butcher paper. Think waves, zigzags, loops, etc.
Tape all 4 sides of the paper to the wall using painters or masking tape.
Prepare your stickers with my awesome mom hack above.
Have your kids cover the lines with stickers! That's it! Set up take 5 minutes.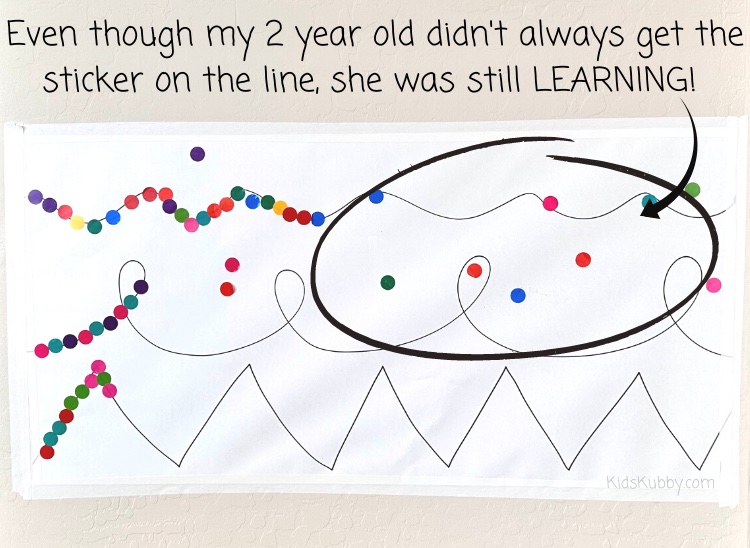 Don't worry if younger kids miss the lines. It only matters that they are peeling and placing the stickers on the paper by themselves!
So What's the Point of a Sticker Line-up?
This is the perfect quiet time activity that promotes independence, helps with fine motor skills, hand strengthening and hand eye coordination. You want your kids to peel the stickers and put them on the lines. It's such a simple activity for kids but the benefits are numerous. This activity doesn't need to be done all at once. My daughter focused on this sticker activity for a few minutes through out the day. Younger toddlers might not always put the sticker on the line and that OK!! The point is that they are improving their hand eye coordination and hand strength with every sticker.
Older preschoolers can get creative with this activity by making patterns with the sticker. Leave it up to your kids so that they have fun with this activity. Sticker lines truly are the perfect fine motor skills activity for kids!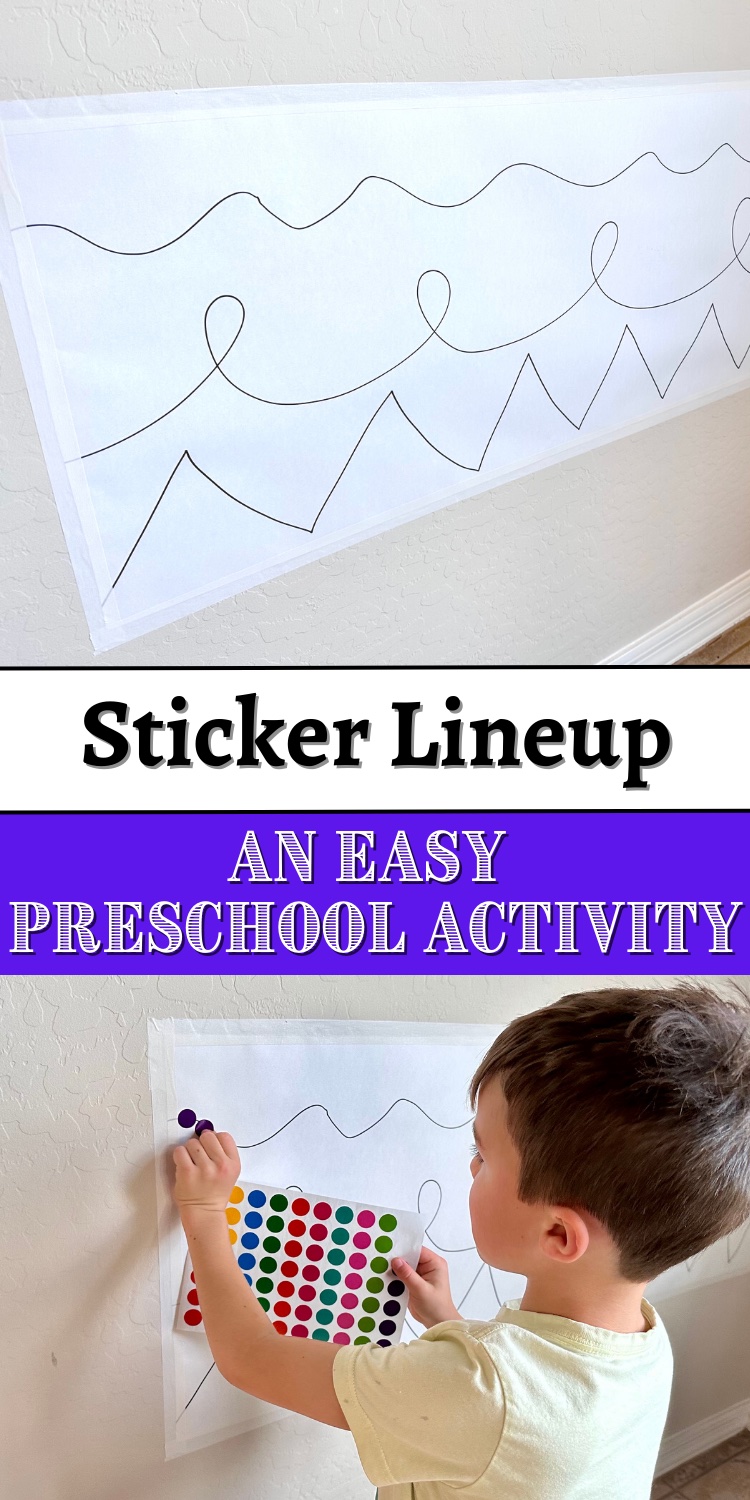 Sticker Line Activity Tips and Tricks
I used 18-inch-wide butcher paper and cut a length of 36 inches for this activity. Basically, this is the length of paper that would fit on my wall. It's also long enough to keep my kids' attention for several days but not too long that my kids would get frustrated or bored with the Sticker Lineup.
Tape all 4 sides of the paper to the wall so it doesn't fall while your kids are playing!
For Toddlers- you may need to give little prompts while they are playing with the sticker lines. A simple "Find the line", or "Point to the line and put the sticker on it" should keep your toddler from putting dot stickers all over your house 😅
You can make this even more challenging by using colored sharpies to draw your lines, then give the instruction to match the dot sticker color to the lines!
Try This Sticker Line Activity Today!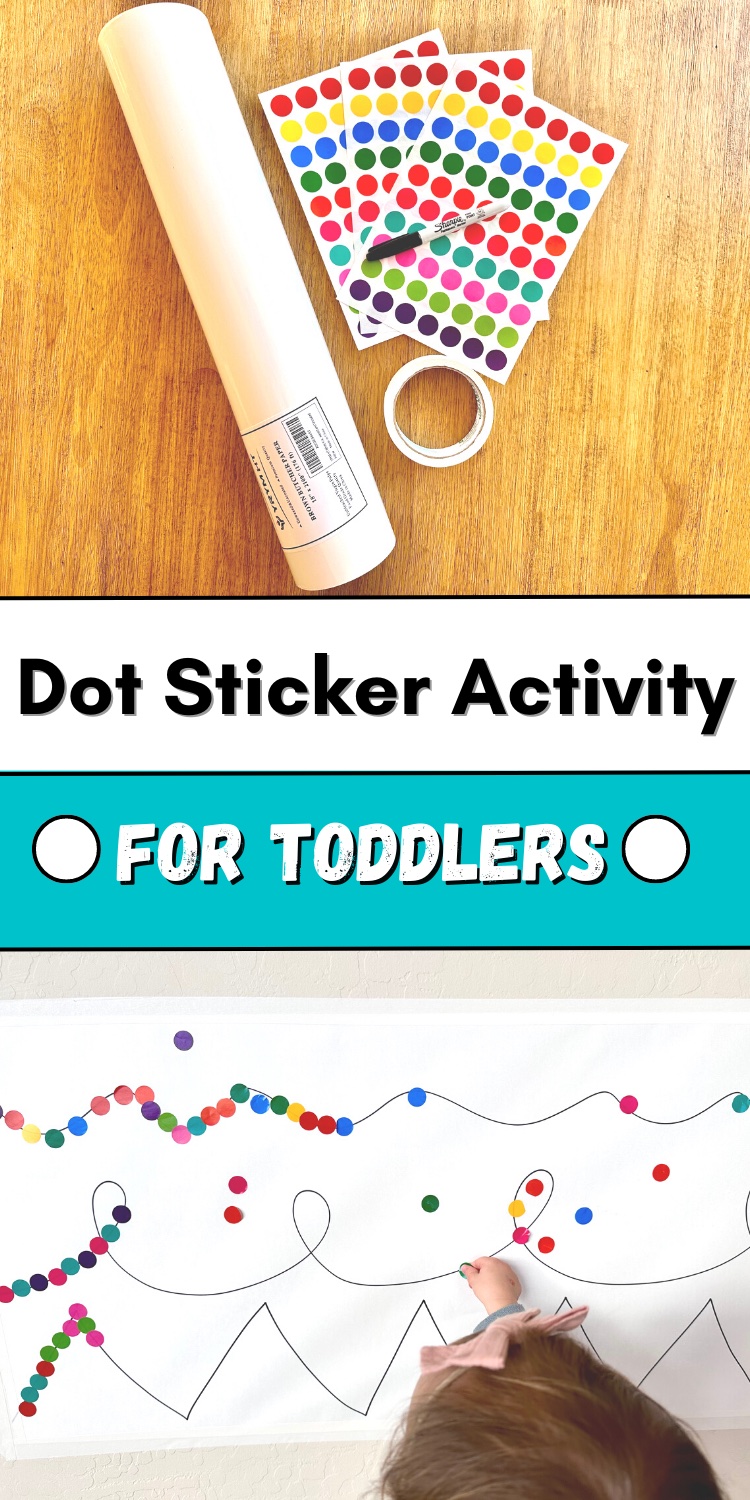 Leave a comment...