The Silliest Breakfast Or Snack You'll Ever Make!
Are you looking for a healthy and cheap breakfast idea for your kids? Silly Animal Toast will get just about any kid excited for breakfast time. With a few simple ingredients you probably already have like bread, Nutella/nut butter/cream cheese, and sliced fruit you can make a truly fun and delicious breakfast for kids. I mean who doesn't want to eat a puppy or bunny for breakfast! I love that silly animal toast is easy to make with simple and healthy ingredients.
Try these cute animal faces on pancakes, waffles, and oatmeal too!
How To Make Silly Animal Toast
To make silly animal toast, simply spread your favorite nut butter, Nutella, or cream cheese on a piece of toast and use fruit slices to make funny faces. My kids love bananas, blueberries, and strawberries which are all perfect for making eyes and ears of your animal faces. Apple slices also make great mouths!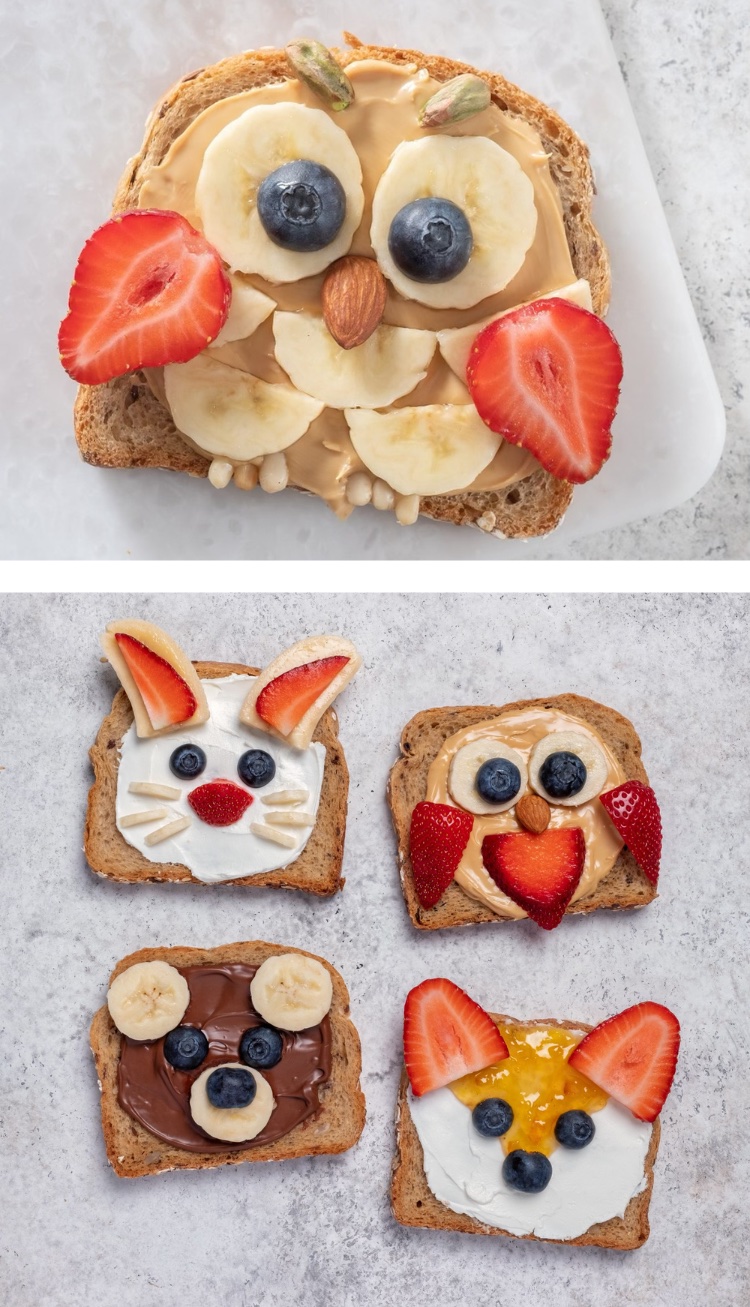 Try involving your kids in this fun breakfast recipe. Kids love putting together this easy and creative food idea themselves! And I always say, if kids help make the food, they are more likely to actually eat it! I can think of 2 kids in particular (mine) that can't wait for breakfast when they know we're having silly animal toast.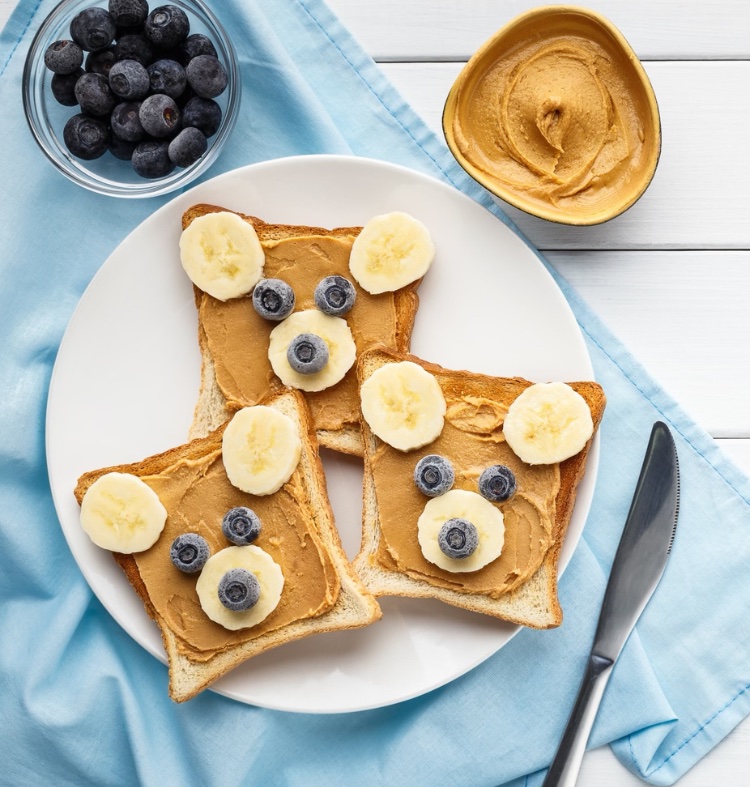 Looking For A More Savory Breakfast?
Try using scrambled eggs in place of the peanut butter or Nutella. I mean look at this adorable little chick on toast. This silly animal toast is almost too cute to eat… almost! I know that some people just don't like sweet treats in the morning, so using scrambled eggs is the prefect way to still create this silly breakfast recipe and also have a yummy protein filled start to the day.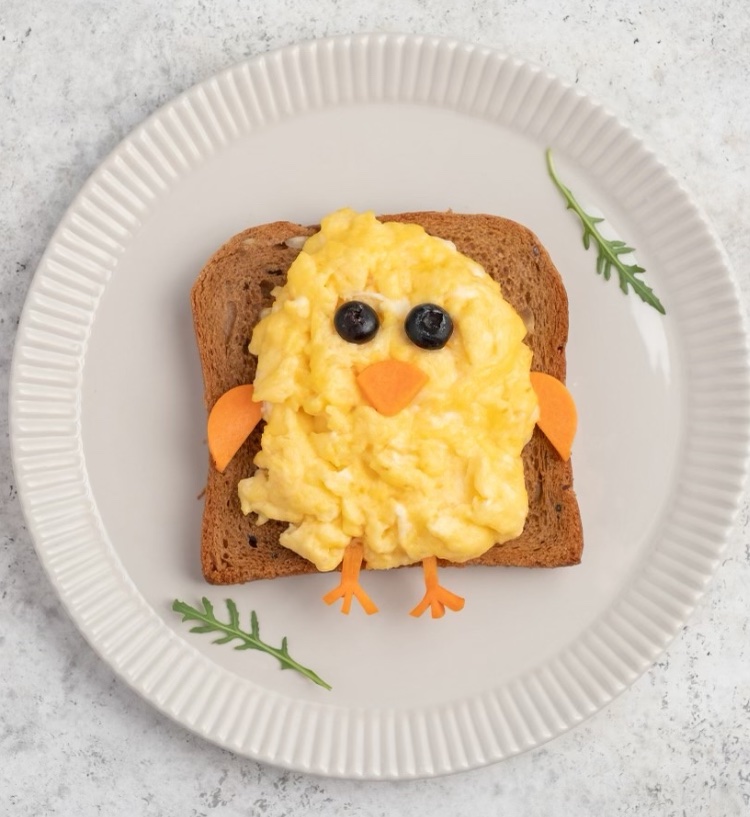 You could even make a puppy dog face with scrambled eggs as the face, avocado slices for the ears and tomatoes for the eyes. I might have to try this simple breakfast idea today because my stomach is growling just writing this post!
Looking for more? Try these Apple Slice Cookies! My kids love these and they're secretly healthy!
Try Silly Toast For Lunchtime Too!
Silly animal toast isn't just for breakfast! Try using lunch meat, veggies, cheese, hummus and even avocado toast make fun and delicious lunch sandwiches for your kids. I always have trouble getting my kids to eat sandwiches for lunch, which is so hard for me to understand because sandwiches are the BEST! Why not make lunch goofy with this fun toast idea!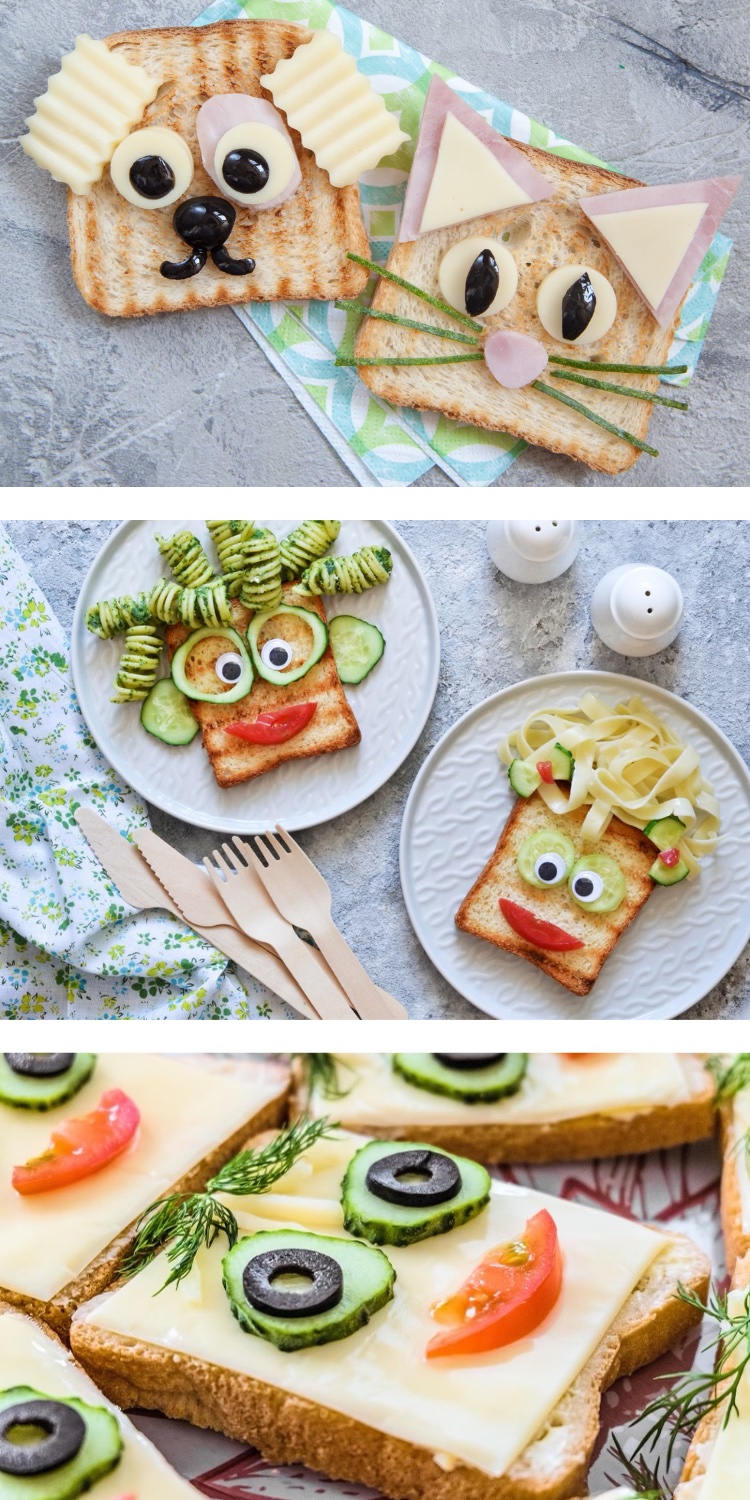 You can even get creative and use a tortilla or a piece of naan as your base instead of toast! Spread naan with hummus and top with sliced cucumbers and olives to make a cute bear. I mean YUMMMMM! 🤤 The ideas really are endless.
Print Recipe
Silly Animal Toast
Are you looking for an easy way to bring excitement back to breakfast time? Try making your kid's favorite animals on a piece of toast. I know it sounds complicated but this breakfast recipe is actually really simple. All you need is a spread like peanut butter, Nutella, or cream cheese and some sliced fruit. That's it! There are so many fun combinations of animal faces you can make for a healthy and cheap breakfast for kids.
Ingredients
2

slices

Bread toasted to your preference

2

tbsp

Your favorite spread like peanut butter, Nutella, or cream cheese

Sliced fruit like bananas, strawberries, blueberries, and apples

Nuts, raisin, seeds, and coconut
Instructions
Toast your bread to the desired browness

Spread a layer of your favorite nut butter, Nutella, or cream cheese on the toast

Decorate the toast with sliced fruit to resemble your favorite animal

Eat, enjoy and make more!
Notes
Have your kids help you make their favorite animal toast for a fun activity in the kitchen.
Substitute any type of nut butter for the peanut butter including almond, cashew, sunflower butter etc. 
You can make this a simple lunch recipe by using lunchmeat, cheese, and sliced veggies to make the silly animal faces.
If your kids don't like the crunchiness of toast, this breakfast recipe can be made on un-toasted bread as well!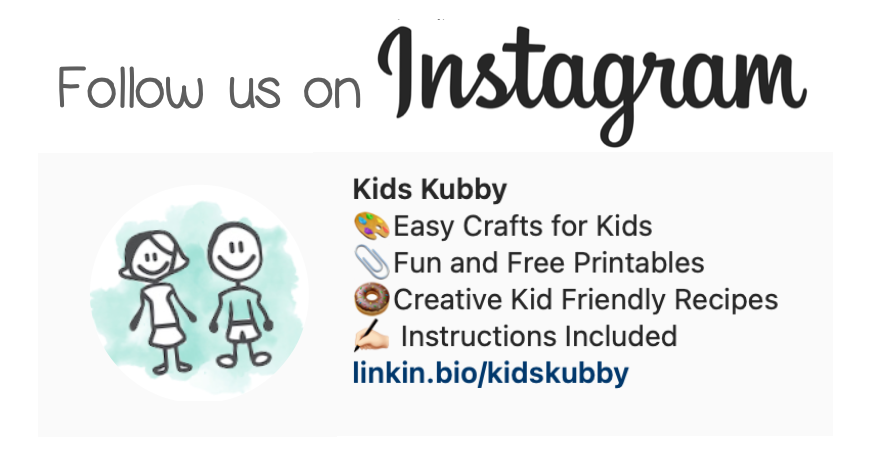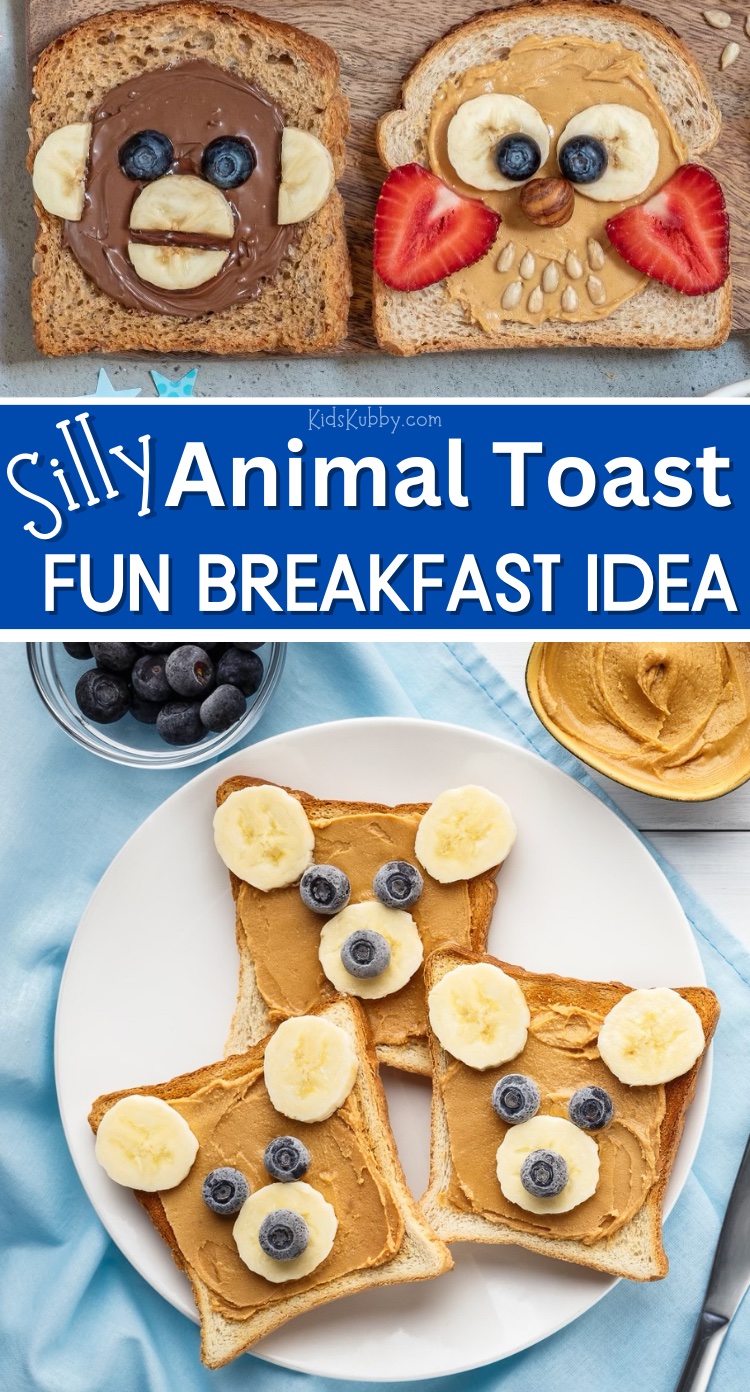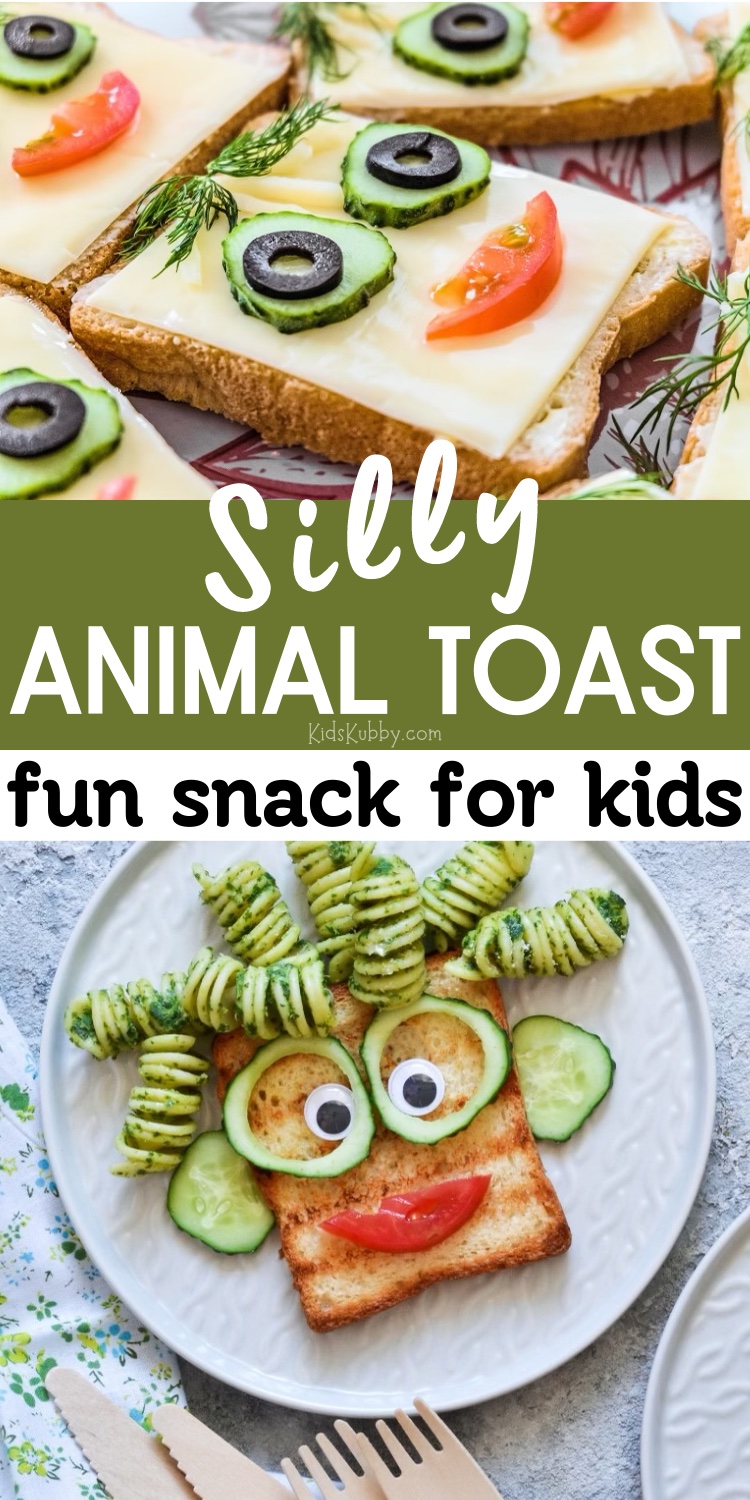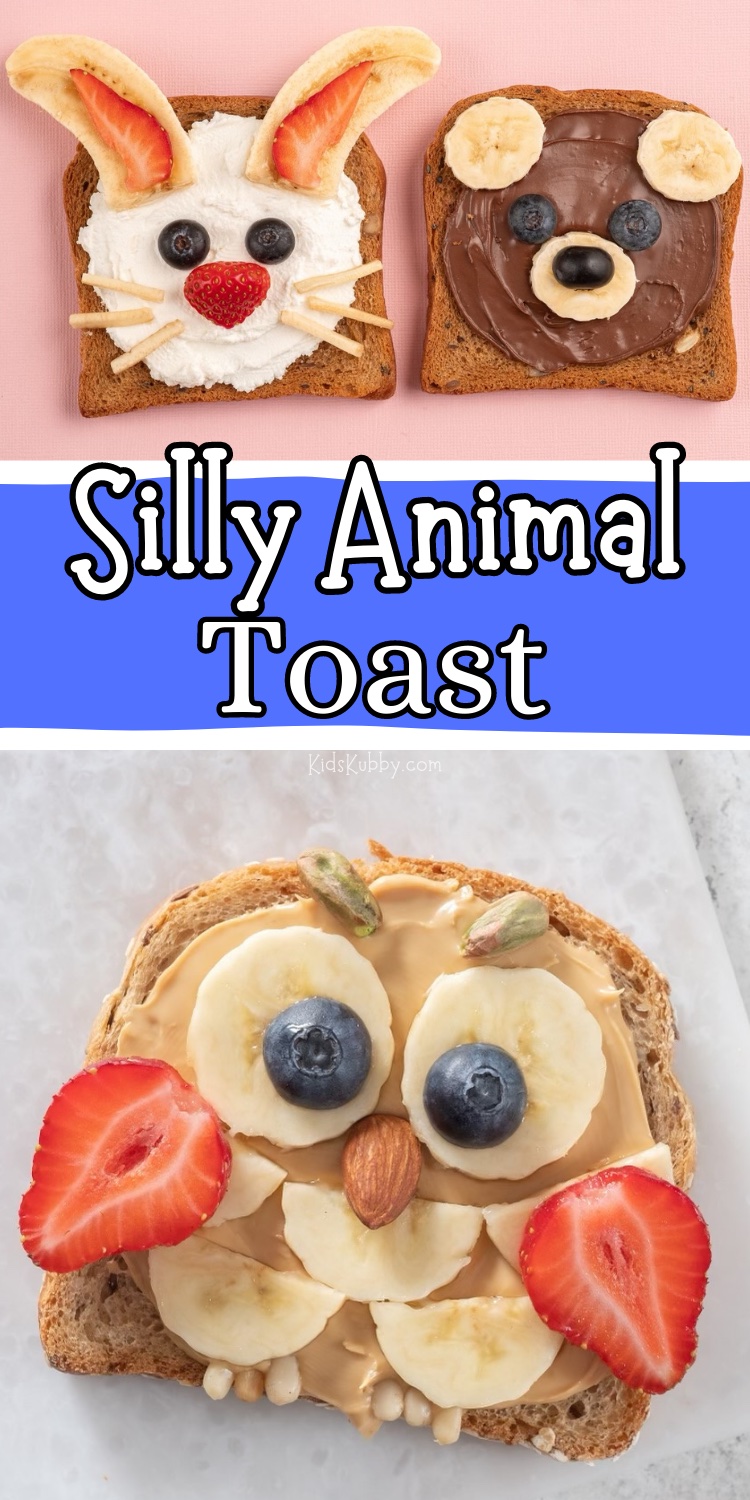 Leave a comment...