Are you looking for a fun and easy outdoor art activity for your kids? If so, I got you! Your kids are going to have so much fun with this colorful painting with cars activity!
My toddler loves cars, trucks and tractors. You can give anything with wheels and he'll usually be entertained for awhile. He also enjoys painting so this project was the perfect activity for him! We had so much fun with this action packed art activity. With supplies you likely already have at home, it makes for a cheap and easy fun project. The best part is you can take it outside and not have to worry about the paint getting all over the house!!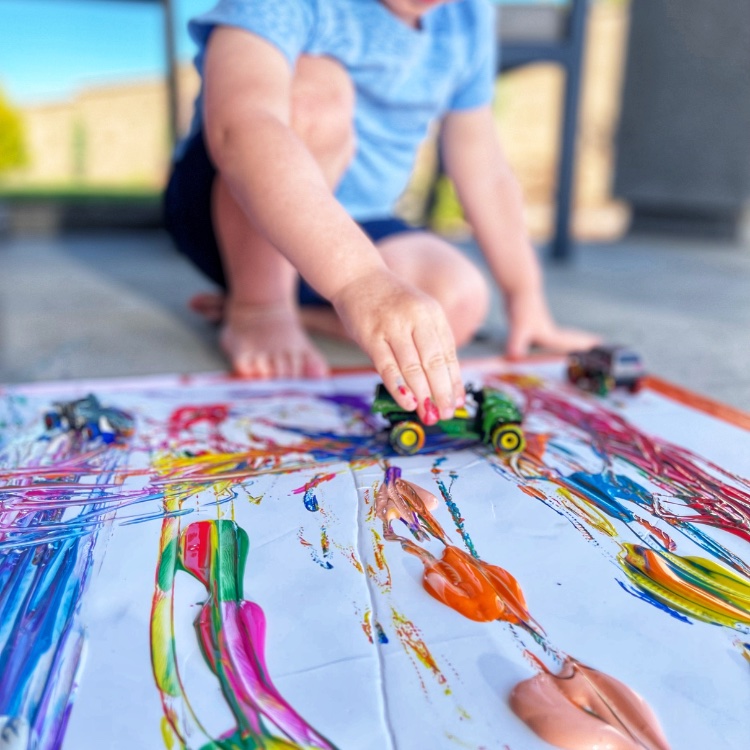 Supplies List:
Washable Paint
Poster board or cardboard
Toy Cars/Trucks
Duct tape (optional)

How to paint using cars:
Tape down poster board to prevent it from sliding around as the kids play with their cars. We did this activity outside so I taped it to the concrete, if you're doing it inside you can tape it down to a table.
Place several dots of paint onto the poster board. (Use as many colors as you like)
Let the kids have fun driving the cars in and around through the paint.
Fun Tip: If you want to create some wall art, use their favorite colors or the theme colors used in their rooms. When they're finished hang up the poster or you can even frame it….. they'll feel like a real artist!
Worried about how you're going to clean all those cars when the kids are done? Get a plastic tub, (or large bowl) fill it up with soap and water, get a sponge and BOOM! You have just created another fun activity to keep the kids busy outside.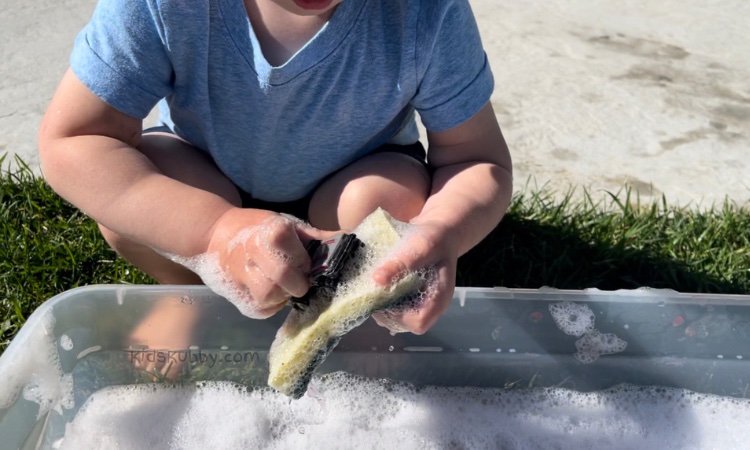 For more awesome arts and crafts your kids will love! Check out these! Pipe Cleaner Butterfly Rings | DIY Beaded Sunglasses | Painting With Marbles | DIY Flower Trees
When the weather is nice, we try to be outside as much as possible, especially before the hot summer heat gets here. When I came across this painting with cars activity I was like…. YESSS we are going to try that but we are going to move it outside so the kids can have more fun and not worry about the mess. It was such a great way to spend time outdoors and best of all it makes for an easy clean up. This activity was so simple it's now in my rotation for kids activities!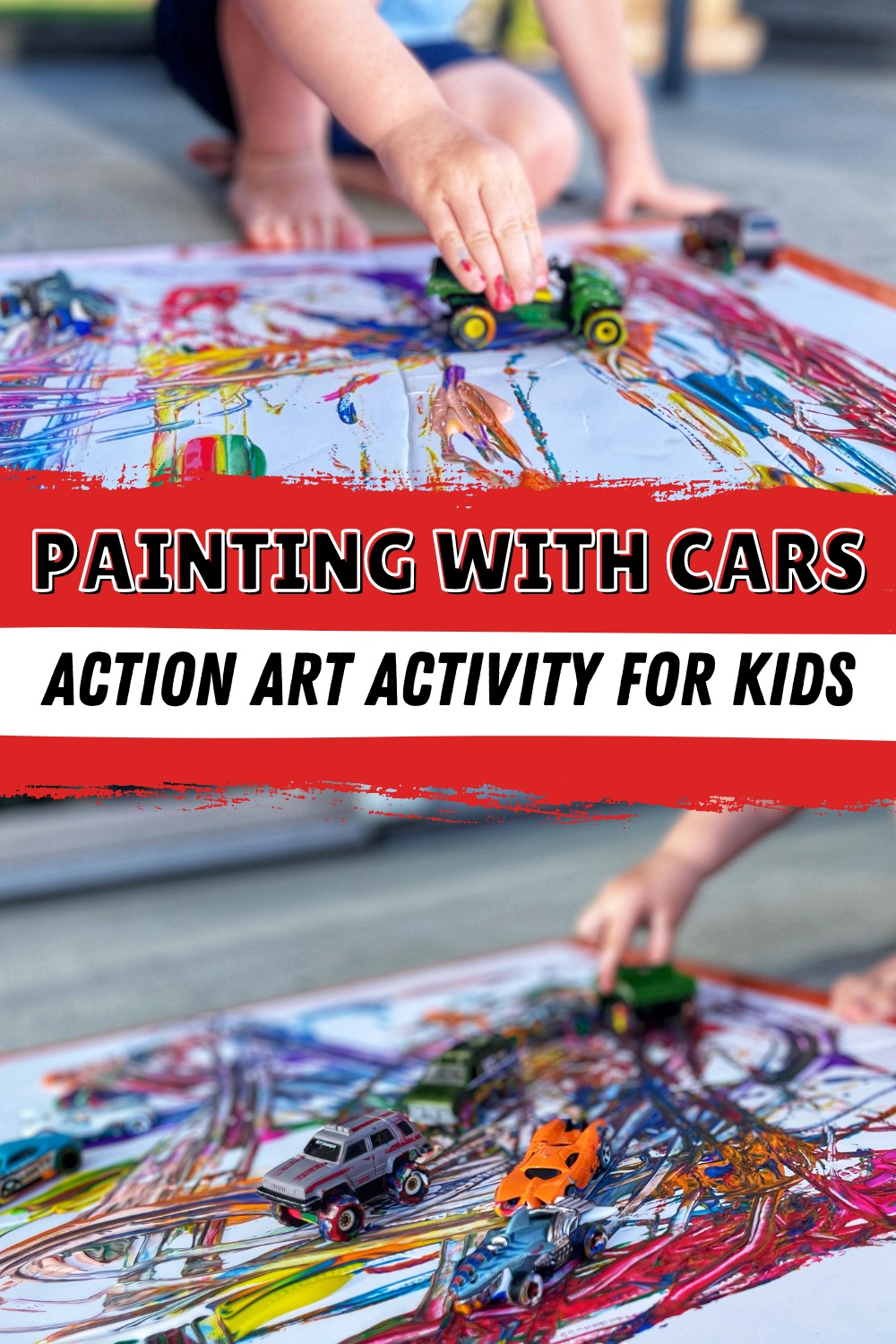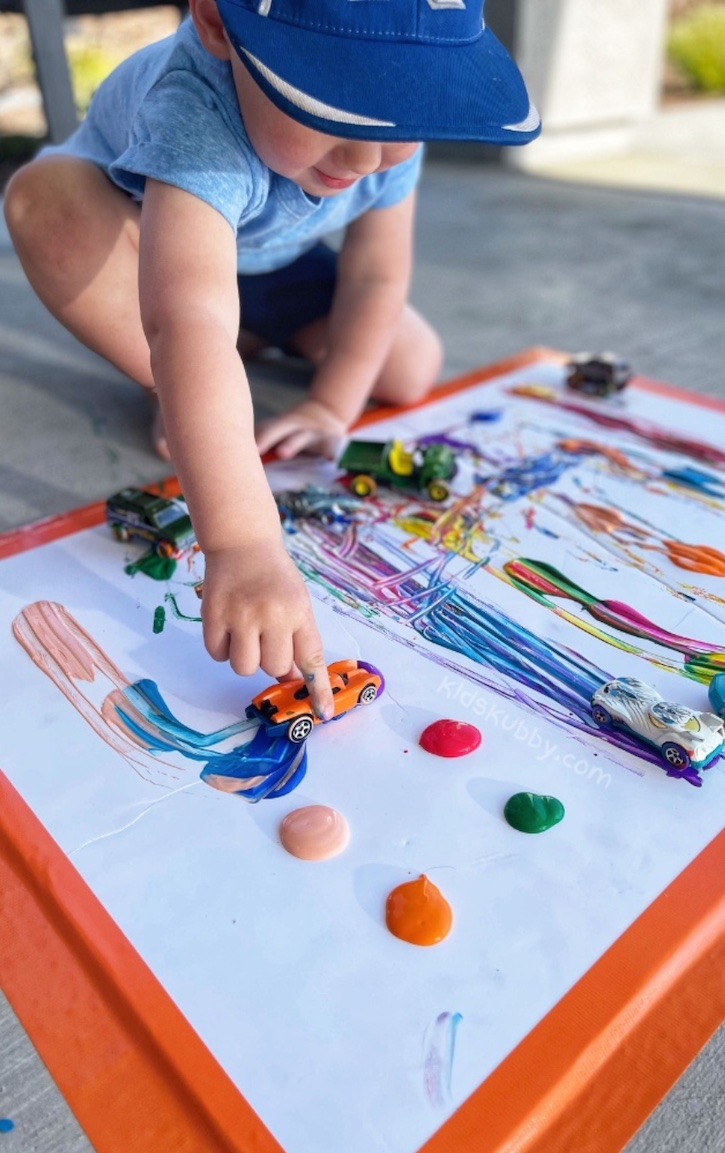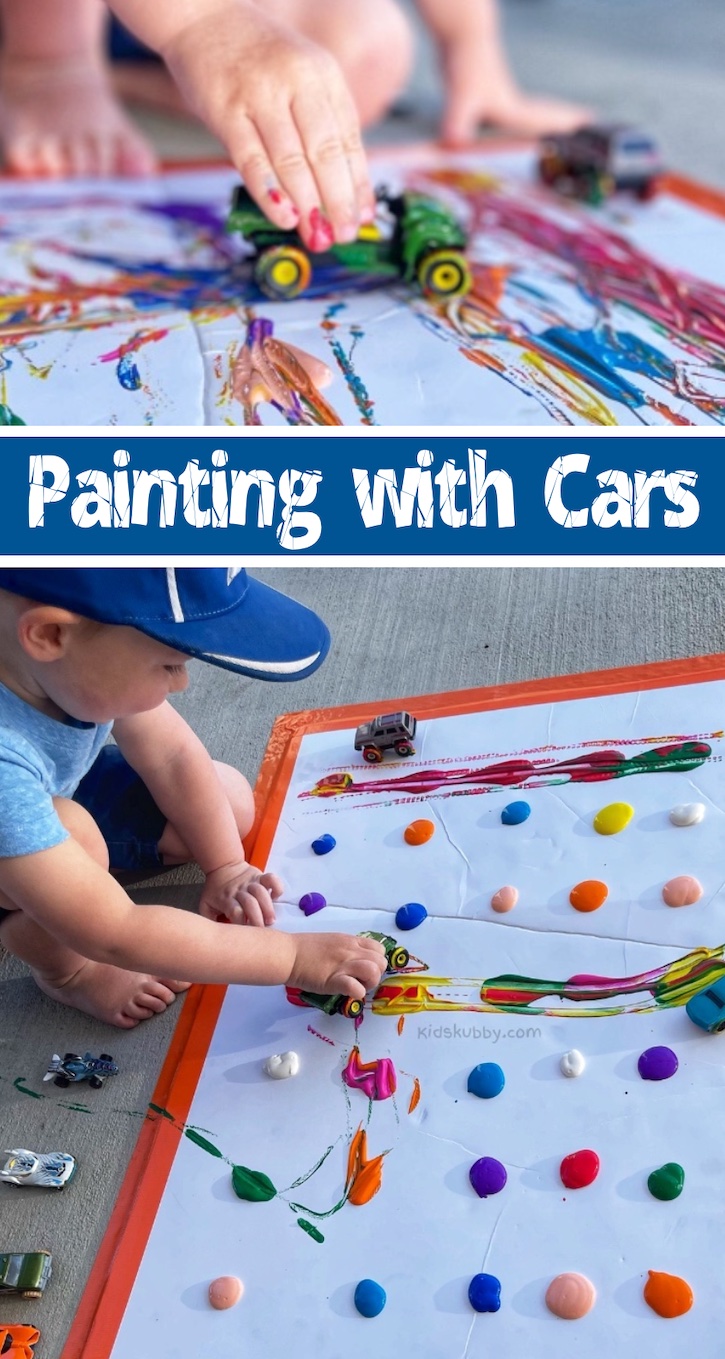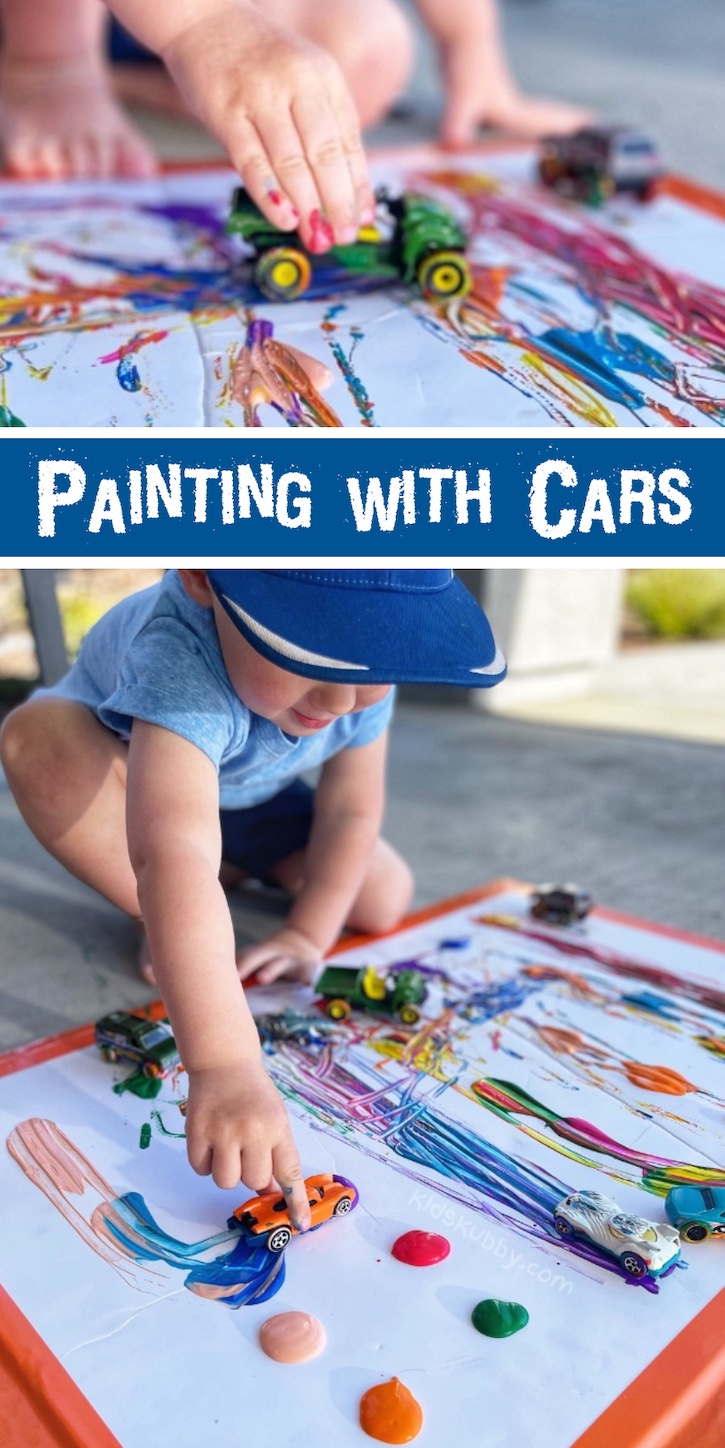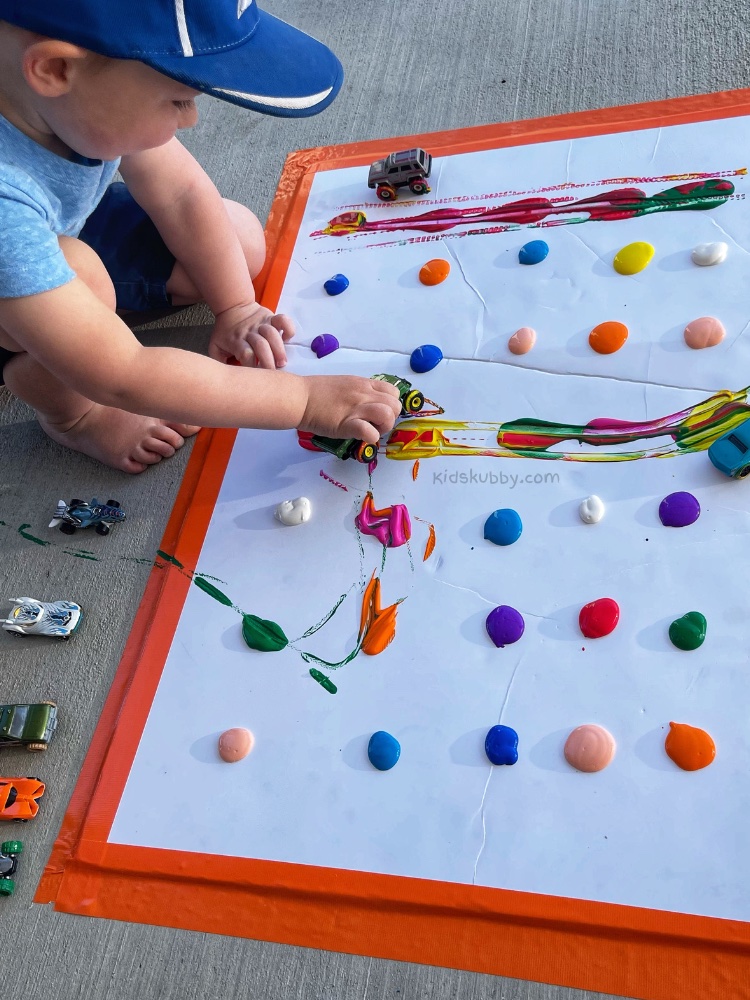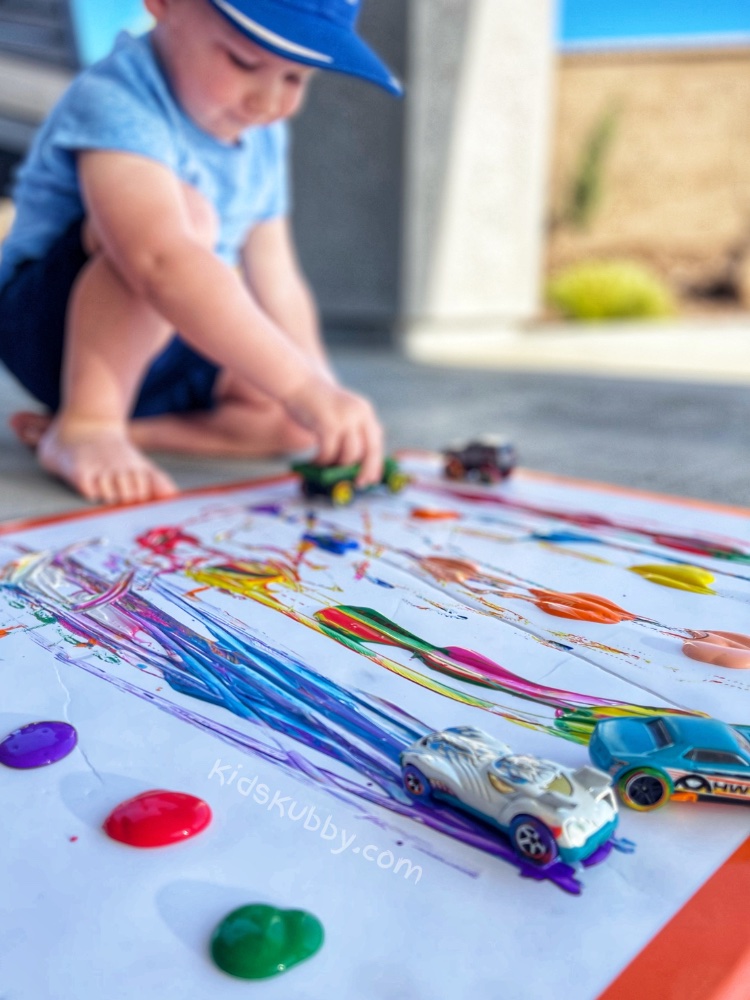 Leave a comment...