It's that awesome time of year, when we feast on glorious Thanksgiving treats and homemade snacks. I went on a little hunt for some fun thanksgiving treats for kids, and found 50 scrumptiously cute Thanksgiving treat ideas. I've stumbled upon everything from turkey cookies to acorn donuts!
These little owl cookies are one of my favorites! And, they are fitting for just about any occasion. I found this beautiful picture on Flickr but was unable to track down the actual recipe and instructions. Although, it looks rather self explanatory. Use your favorite sugar cookie recipes, adding two small circles on top for the eyes and a few notches on the bottom with a fork for the feathers, and then bake. After slightly cooling, add chocolate chips on the eye area and an almond for the beak.
Thanksgiving Cookie Recipes
Cookies are easy Thanksgiving treats because there are so many different ways to dress them up. I love the candy corn turkey cookies and pilgrim hat made out of a mini Reese's Peanut Butter cup. Not only are they adorable, but they look quite yummy, too! For an easier alternative, consider using thanksgiving shaped cookie cutters in a variety of shapes–fall leaves, acorns, pumpkins, turkeys, etc. Top your sugar cookies off with a colorful icing, and garnish them with the toppings of your choice.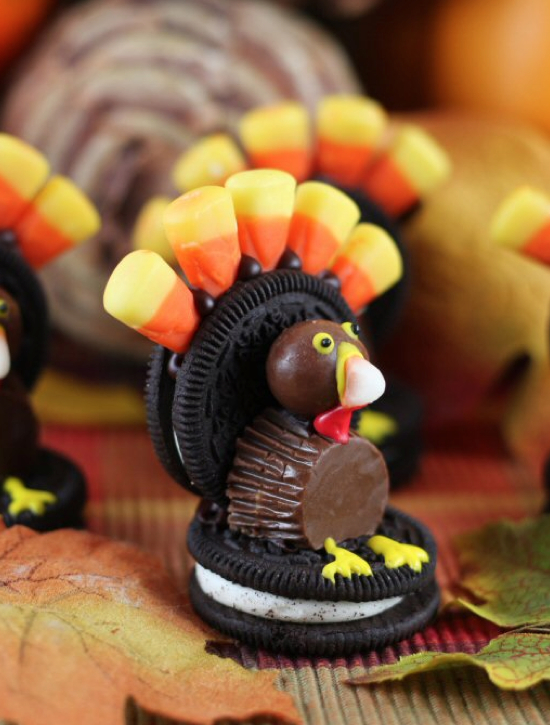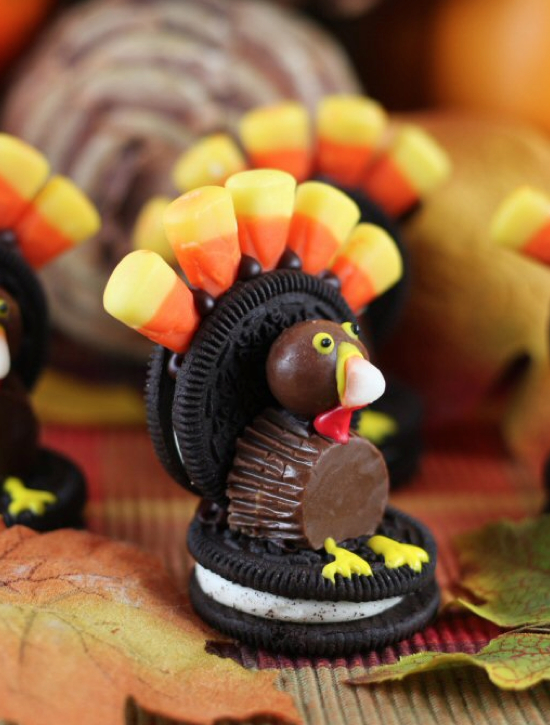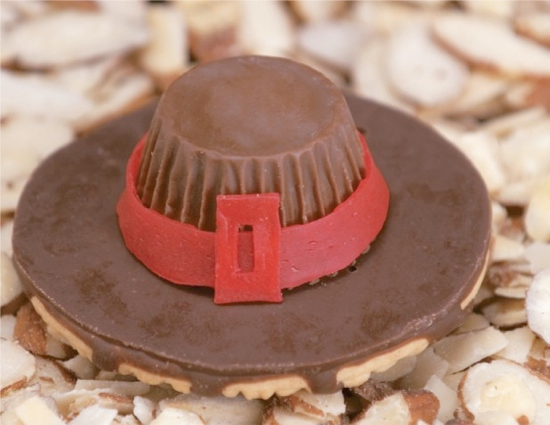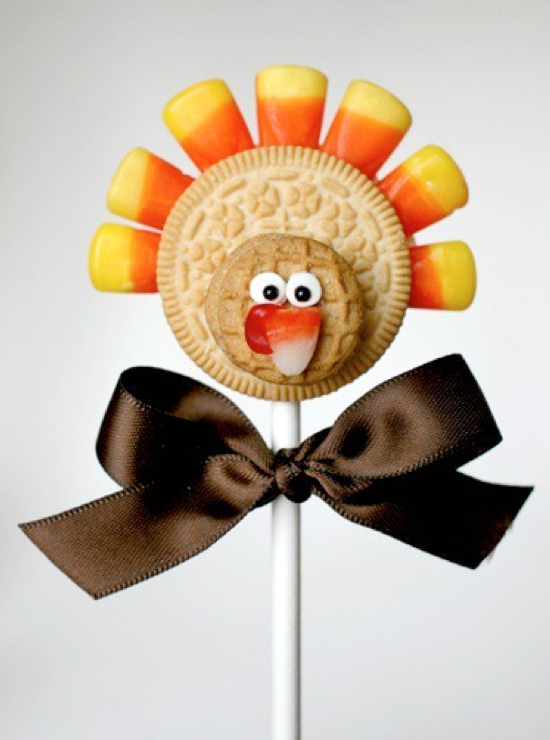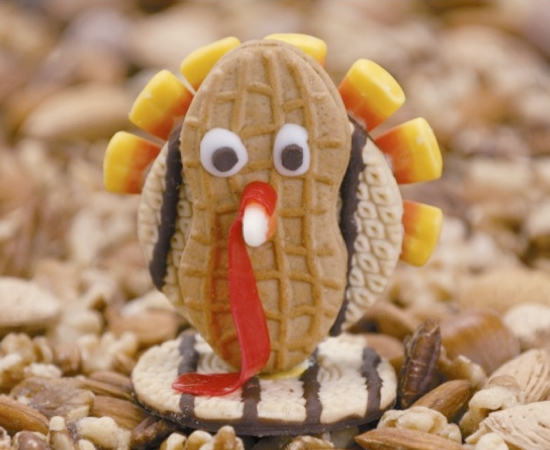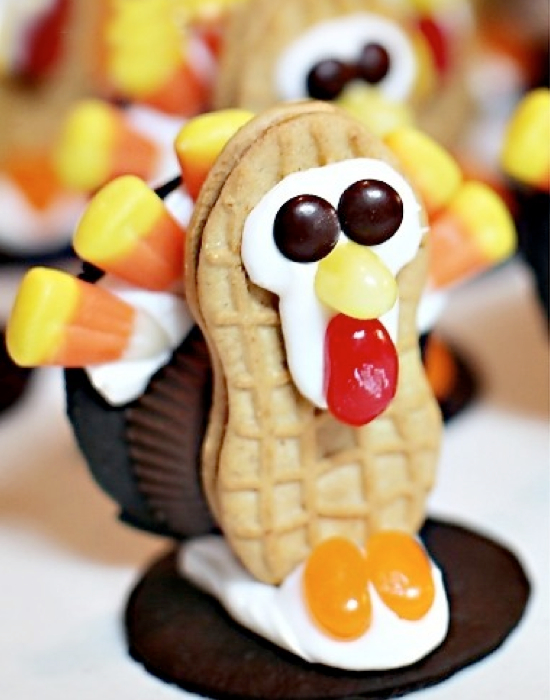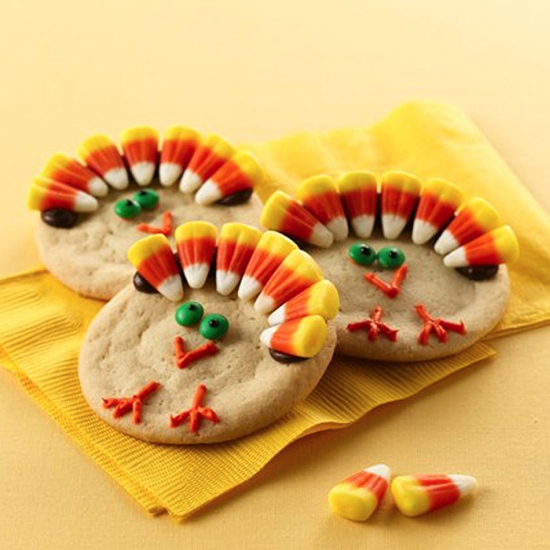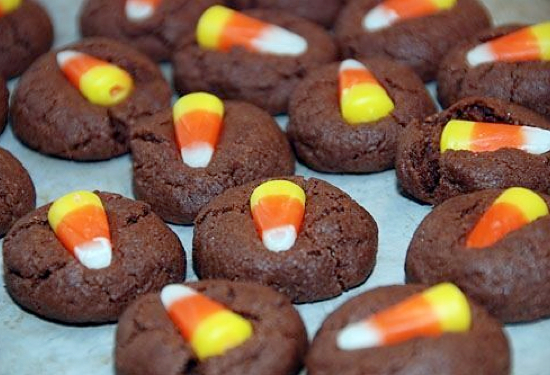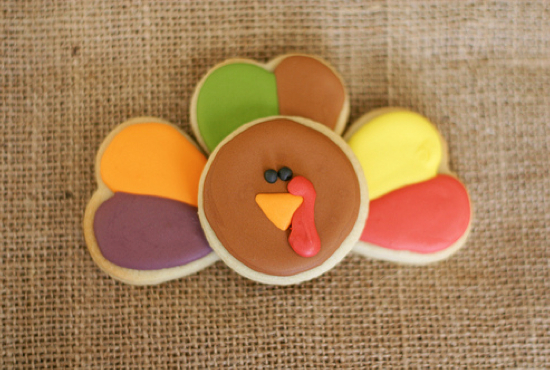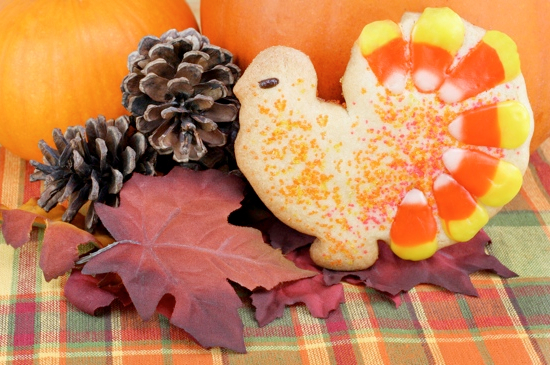 Thanksgiving Rice Krispie Treats
Rice Krispie Thanksgiving treats are the most versatile of all. You can mold them into any shape you can possibly imagine, and then decorate with icing and other fun holiday sweets.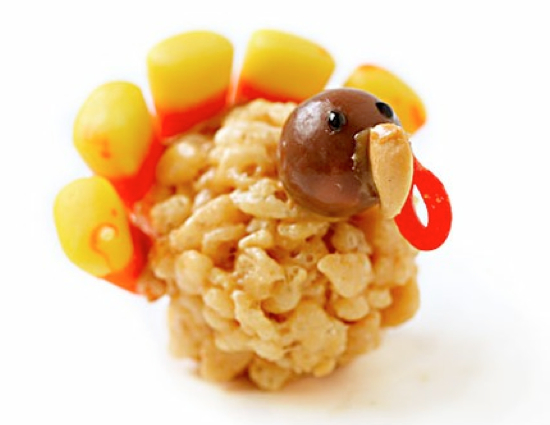 Thanksgiving Acorn Treats
This is one of my favorites; little acorn thanksgiving treats made out of donuts and Hershey's kisses. This one would be fun for a holiday party or placed in a gift basket for friends and family.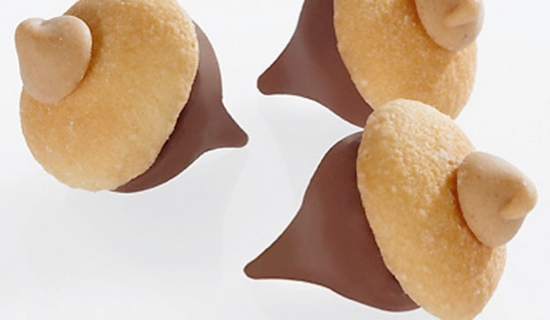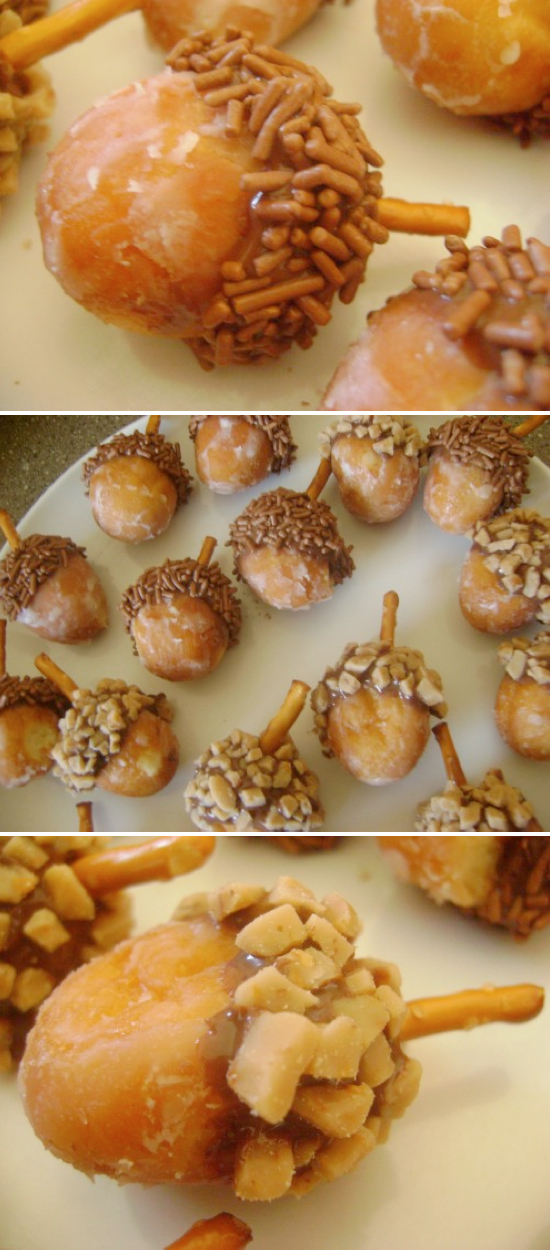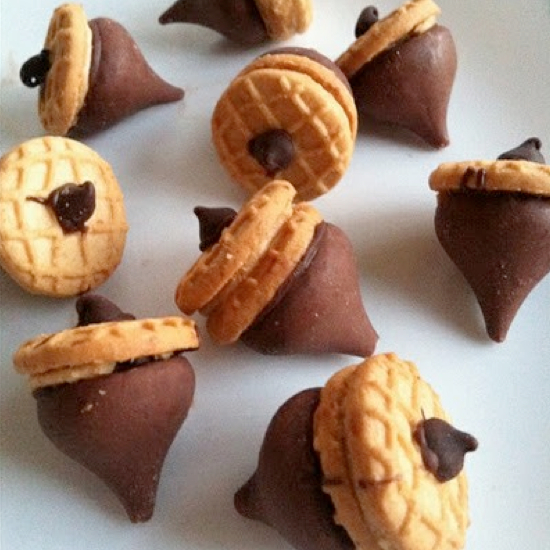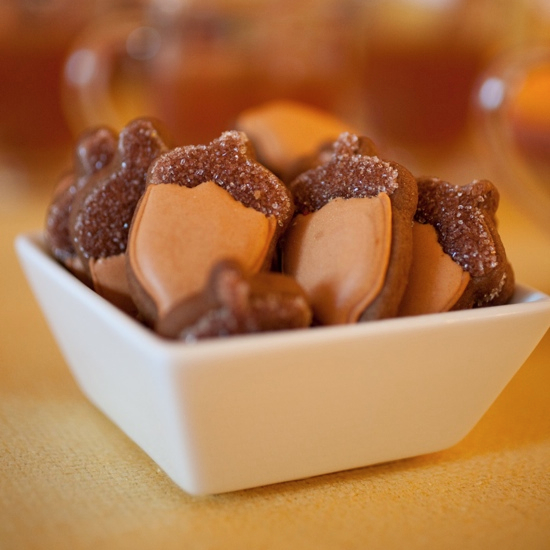 Thanksgiving Cornucopia Treats
The cornucopia is know as the symbol for abundance and nourishment. They are very commonly associated with the Thanksgiving holiday as a home decoration. Sugar cones resemble the look and shape of a cornucopia, and can be filled with a trail mix or a candy assortment. These would be cute on the place settings at the "kid's table".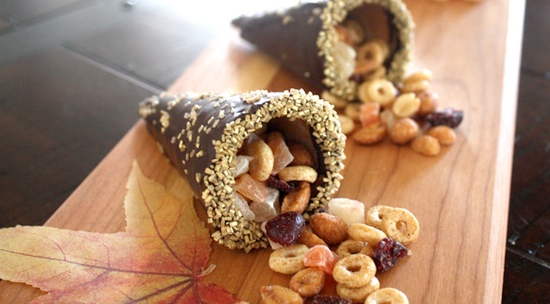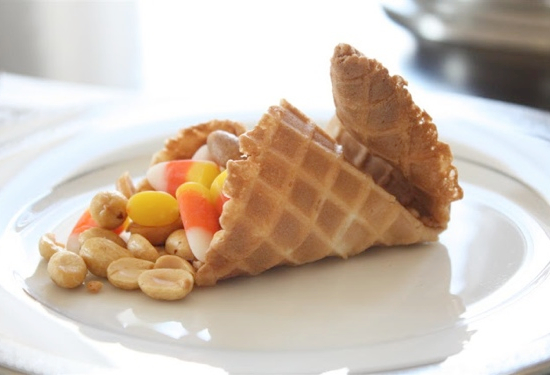 Indian Corn Candy Recipes
Indian corn seems to be everywhere during the Thanksgiving season. This colorful corn is a staple in holiday decor; everything from table centerpieces to wreaths. How cute are these cute indian corn recipes?! Use fruit leather as the husk to surround your own colorful creation. Wrap it around a cookie topped with M&M's or a Rice Krispie treat mix.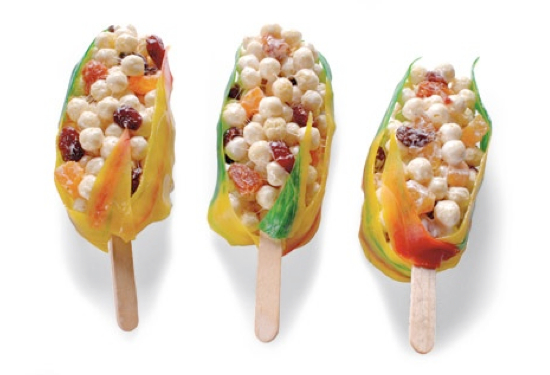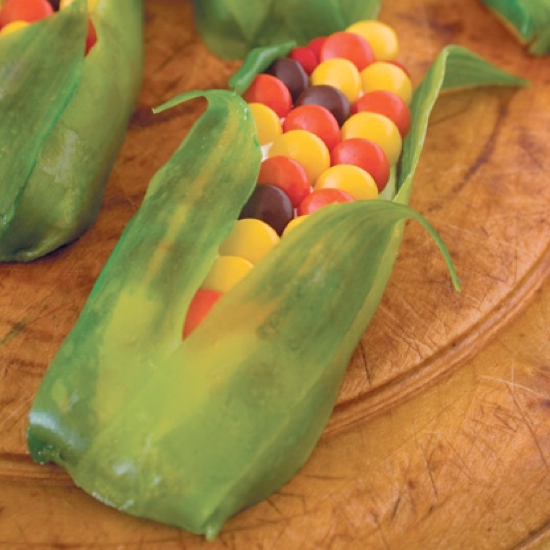 Thanksgiving TeePee Treats
The sugar cone comes in handy, once again. These adorable edible teepees were actually baked filled with a cake mix, dipped in chocolate and sprinkles, and then topped with mini pretzel sticks. So creative!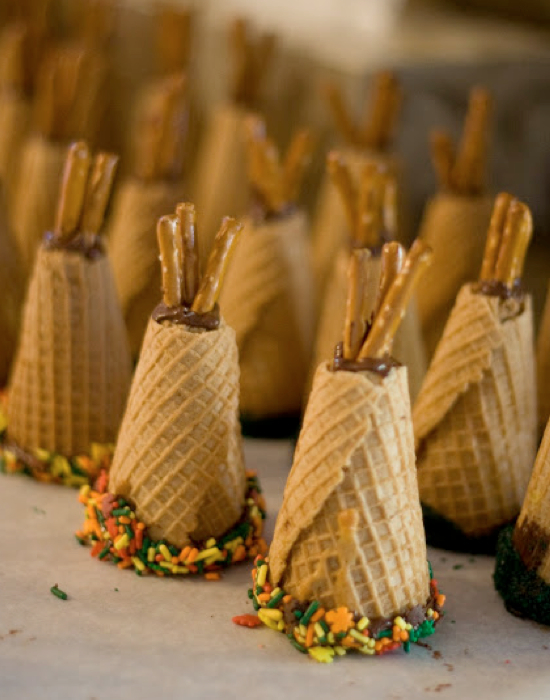 Thanksgiving Cupcake Ideas
Everybody loves a good cupcake, and Thanksgiving is no exception. They are little pieces of heaven. With a little bit of imagination you can create some really cool Thanksgiving themed cupcakes. You could even top them with an acorn or fall leaf shaped cookie! Or, perhaps a little holiday flag.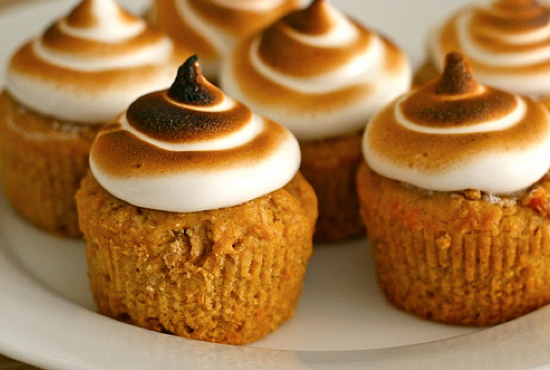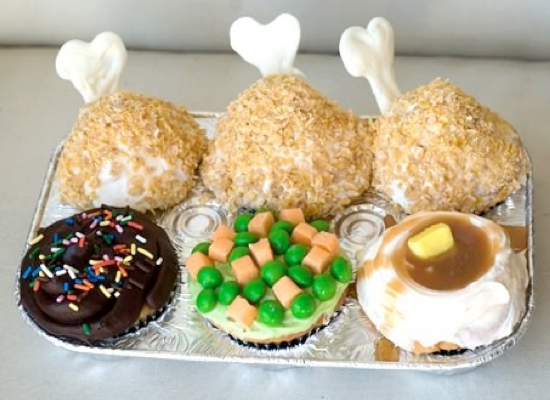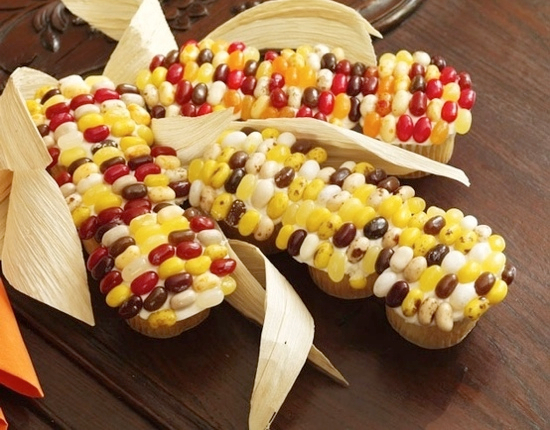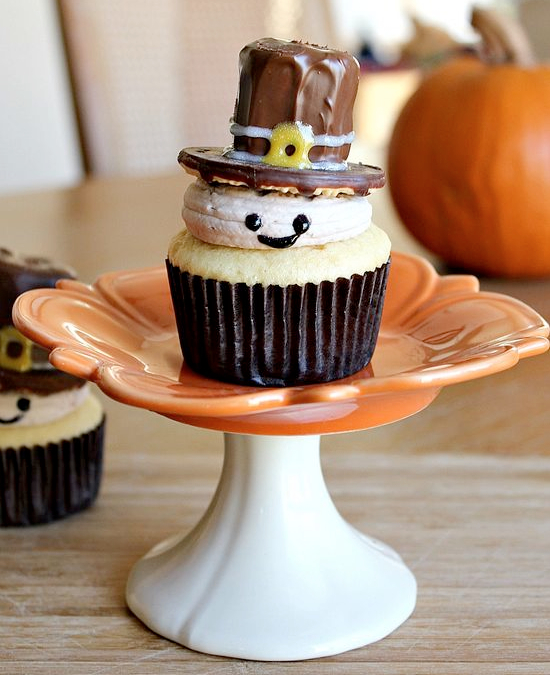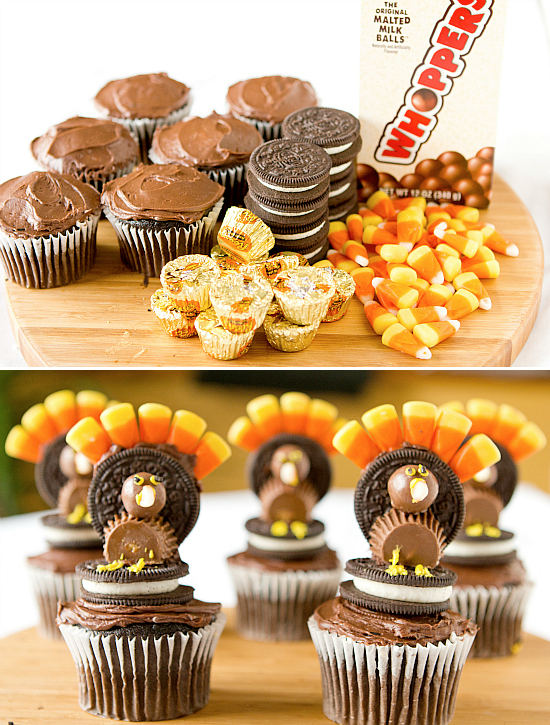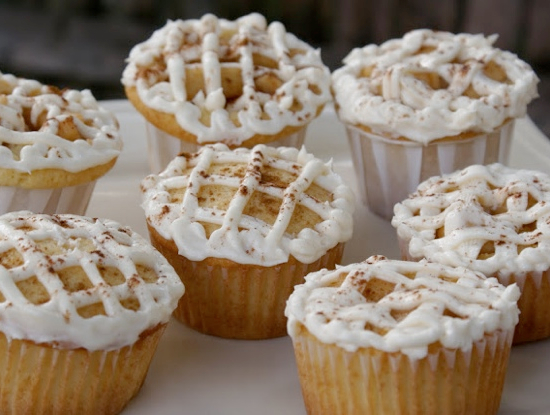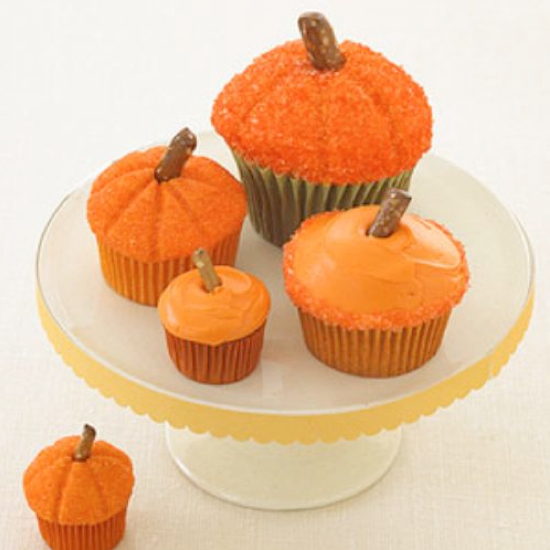 Healthy Thanksgiving Treats For Kids
With Thanksgiving so close to Halloween, sometimes we still have bowls full of candy stock piled in the kitchen cabinets. It's nice to offer some healthier snack options the week of Thanksgiving; fresh fruit, popcorn, whole wheat turkey bread, pumpkin pie almonds. Wait, did I say healthy? What I meant was– kind of nutritious. : )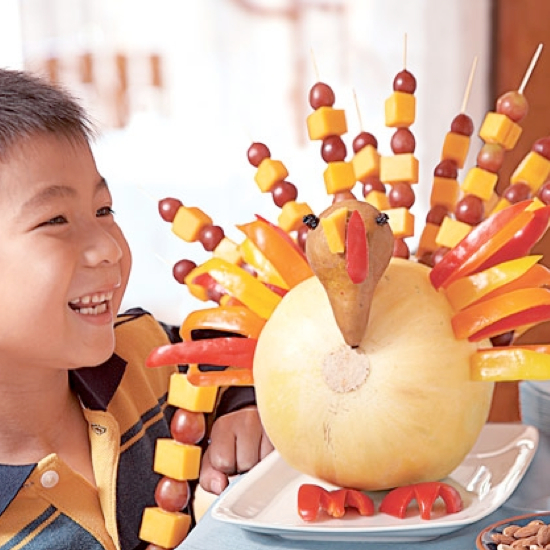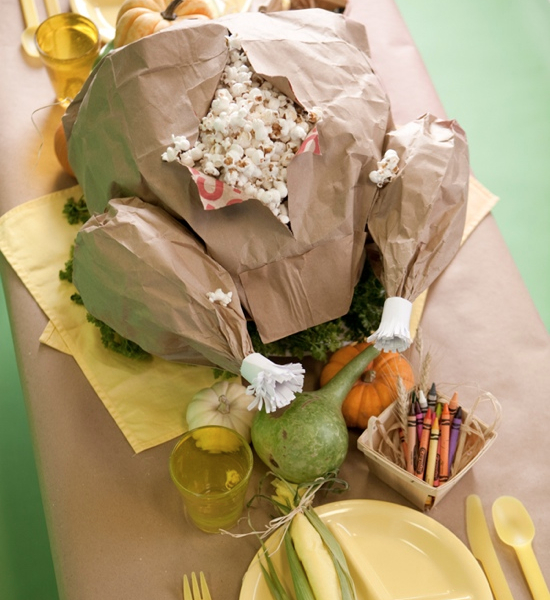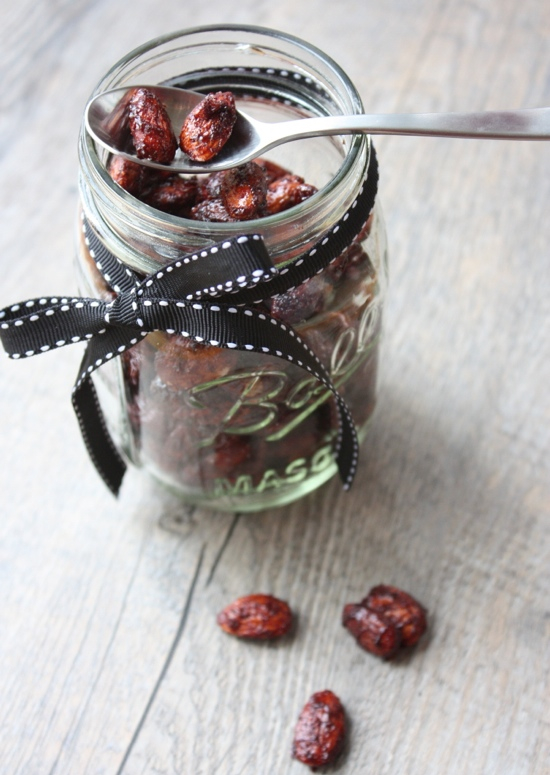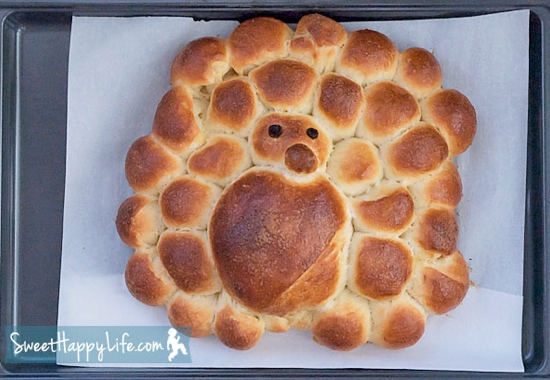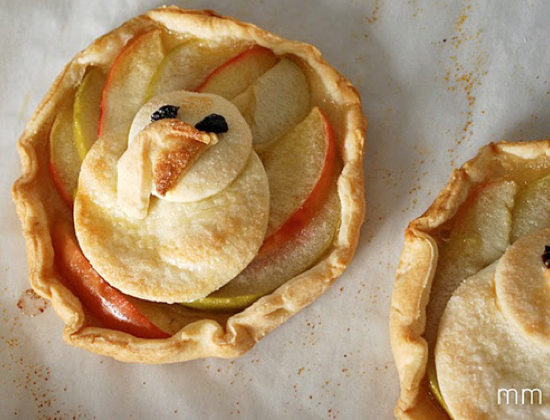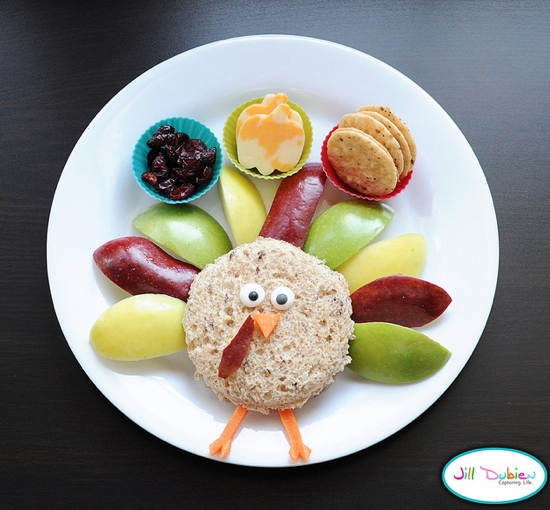 Thanksgiving Treat Bags & Party Favors
If you have a large family, or simply want to send your kids off to school with little gifts for their friends before the Holiday break, consider some of these cute Thanksgiving treat bag ideas. These are great Thanksgiving treats for teachers, too.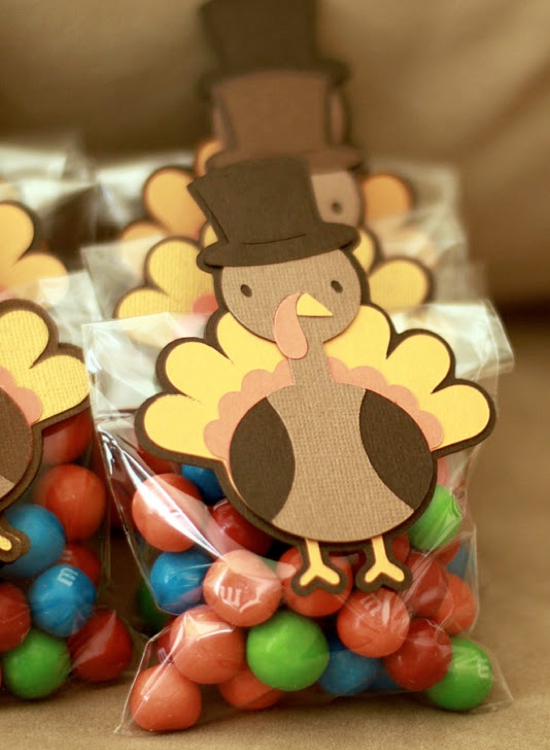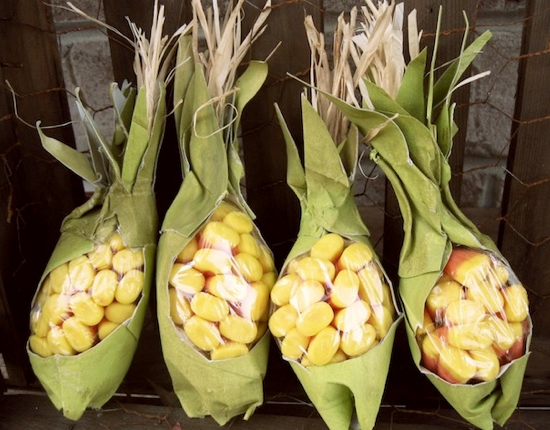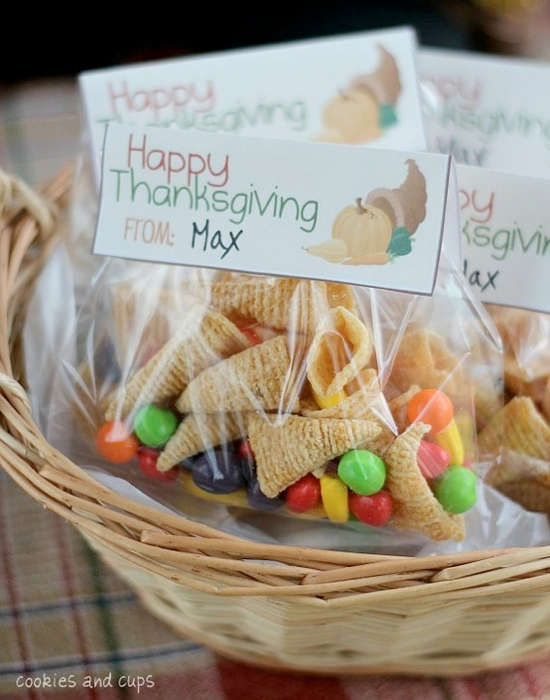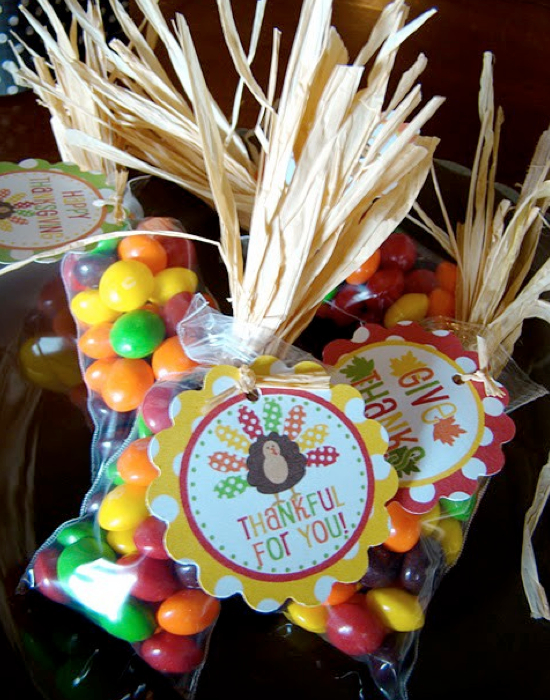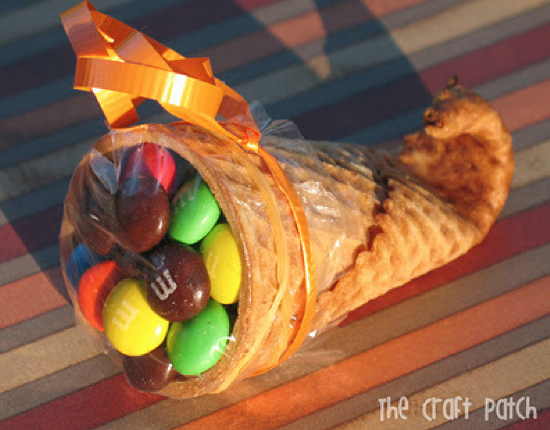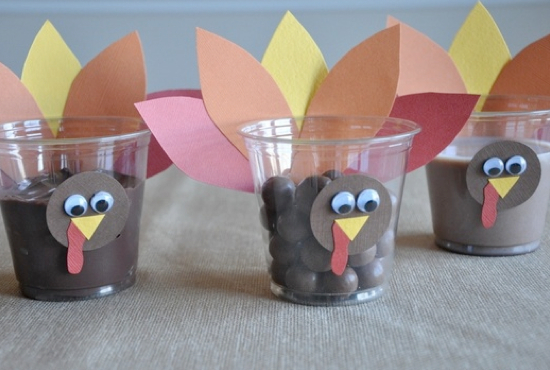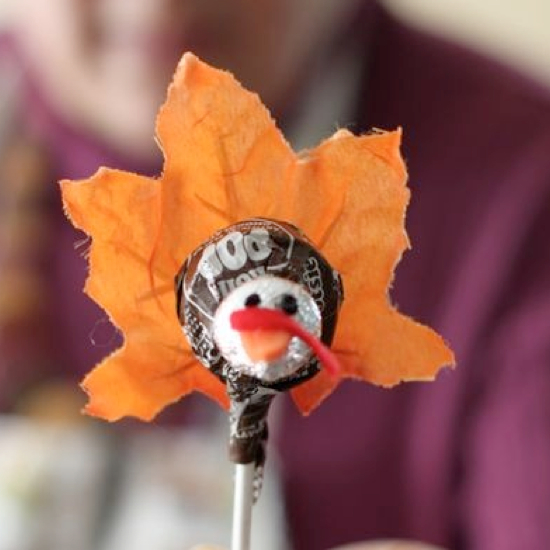 Leave a comment...