DIY Lamp Shade Ideas
Lamp shades are an easy way to spruce up and personalize any room, and with a little bit of creativity, they make for fun little DIY projects. You can add a punch of color and texture to your already existing lamp shades, or makeover an old retired shade that's in need of a little love. Here are some cute lamp shade ideas to get you inspired.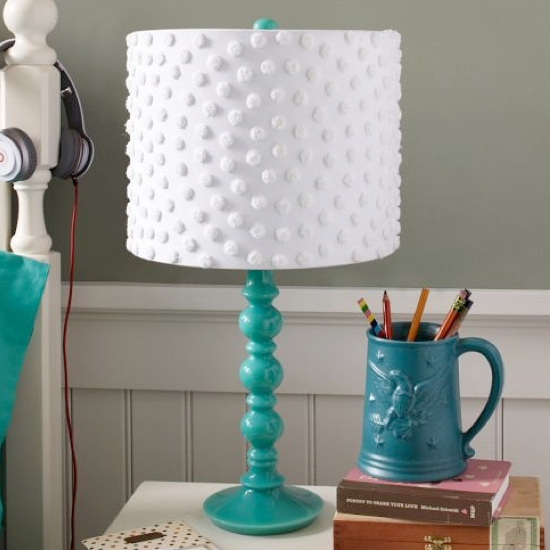 Stencils
This is one of my favorite lamp shade makeovers using a quote or saying cut out of card stock, and then using it as a silhouette. It has a fairy tale feel about it when lit up, and would be adorable for any room of the house.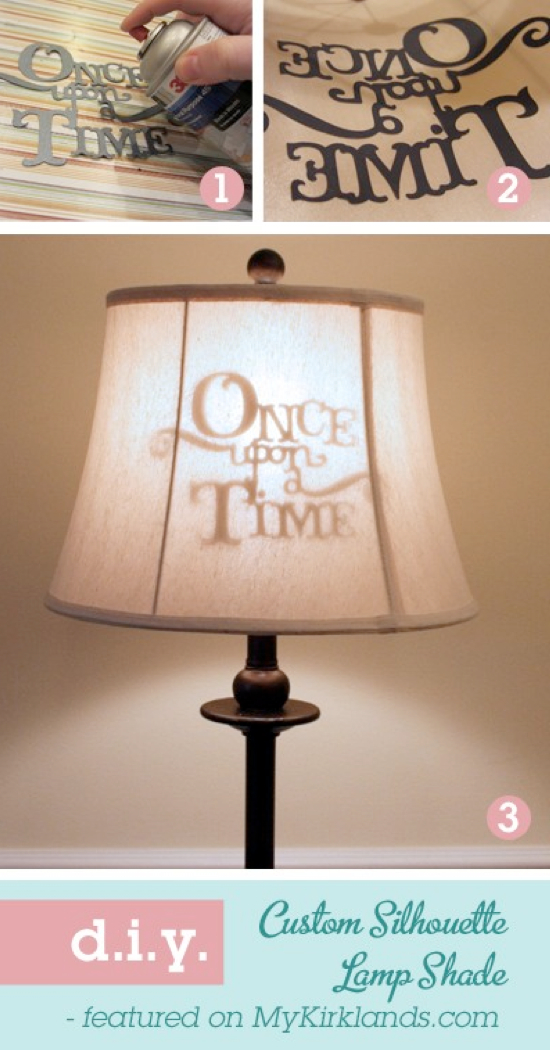 Flowers
Flowers are an easy way to add a feminine touch to any shade, whether with homemade paper or fabric flowers, or silk flowers purchased from your local craft store. Any little girl would love a DIY flower lamp shade added to her decor.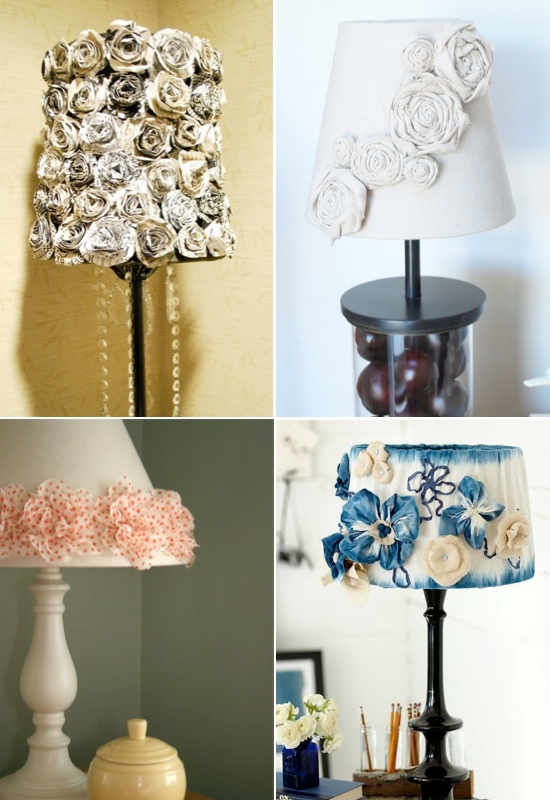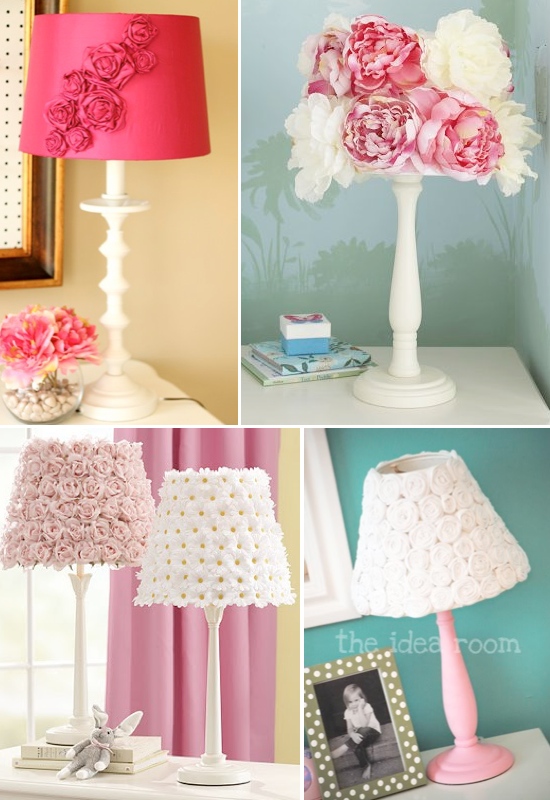 Buttons
If you're anything like me, you've got dozens upon dozens of buttons laying around waiting to be used for a project. Why not attach them to a lamp shade? What a unique idea that creates such a cool looking shade!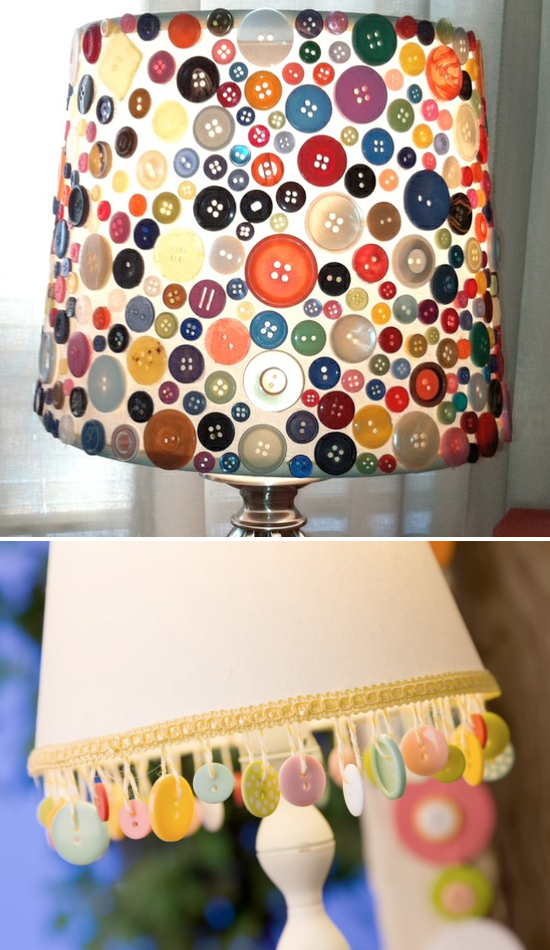 Feathers
Customize a feather lamp shade to fit any decor with sophisticated colors like the ones shown below. Or, you could even wrap a hot pink boa around a shade for a more girly touch. I like how the feathers add a lot of texture, and are also transparent; highlighting the different colors and characters in the feathers when the lamp is lit up.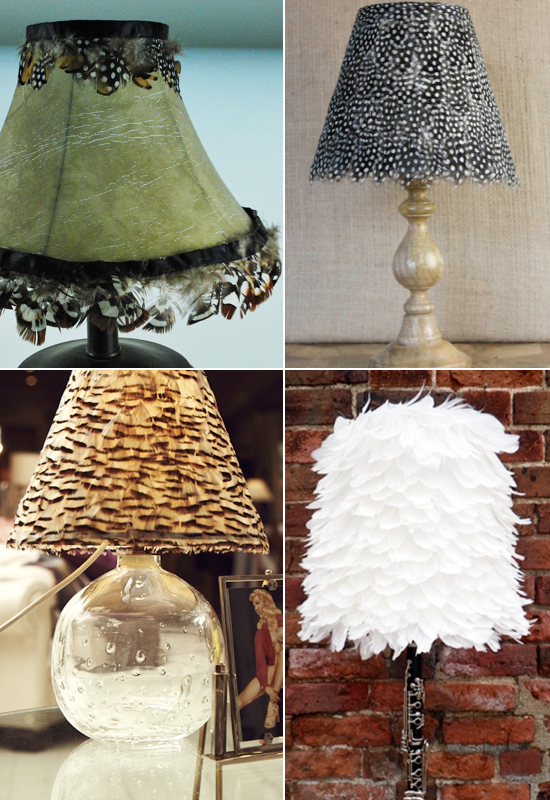 Ruffles
Ruffles are a hot new trend and really easy to create if you have a sewing machine, but you can also buy ruffle trim from any craft or fabric store, and then simply glue it in layers to your shade. I'd even consider using several different shades of the same color to create an ombre effect.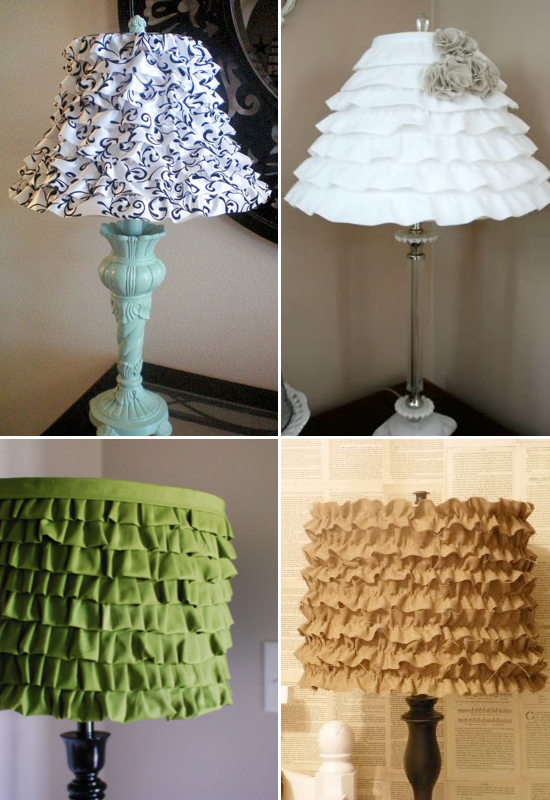 Lace
Lace is by far my favorite fabric with all of it's intricacy and feminine qualities. You can easily use it as a stencil to create a lace looking lamp shade using paint and any lace fabric. Doilies are also a great way to upgrade your shades.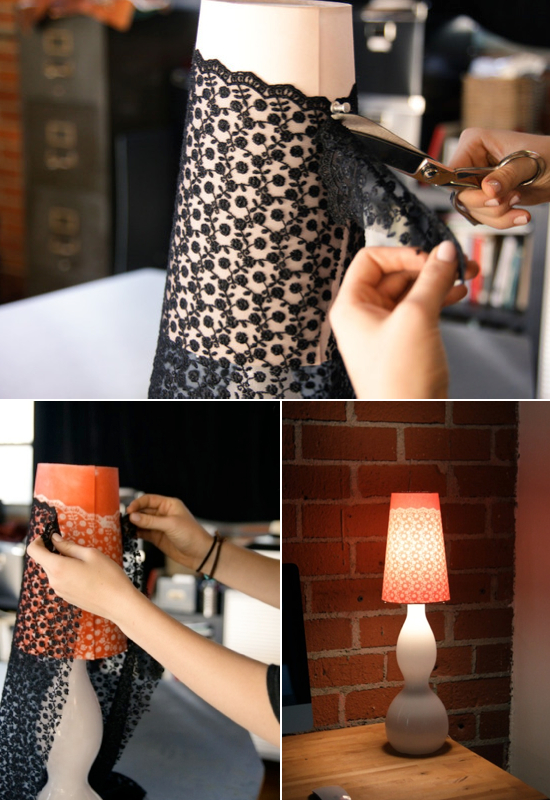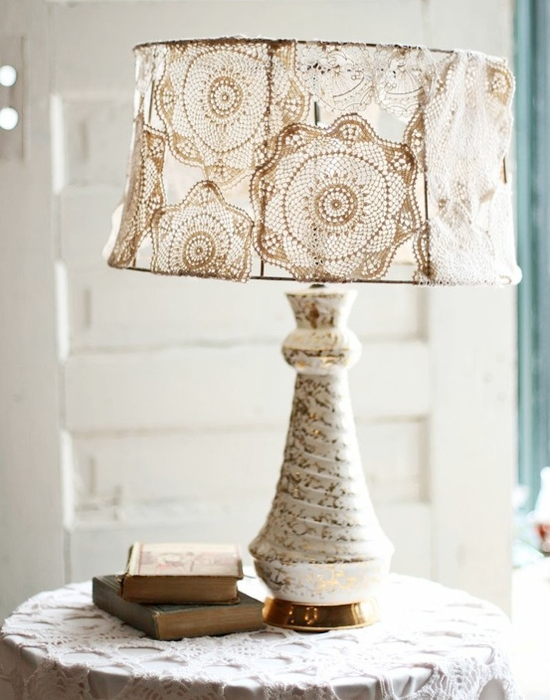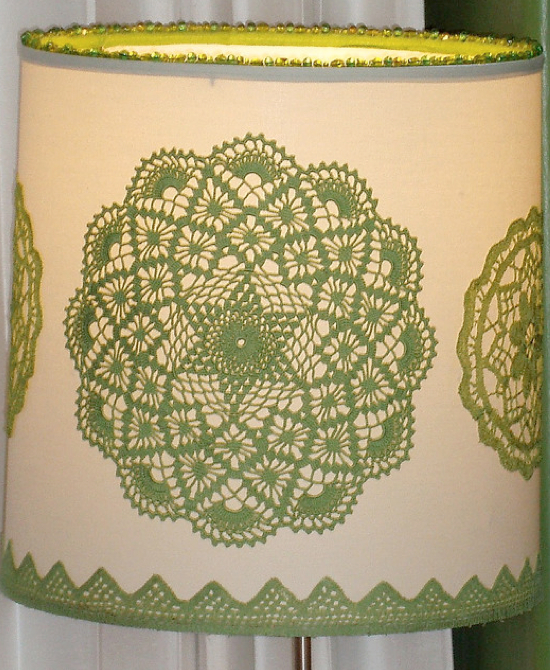 Maps
Get your geography on with a DIY map lamp shade! Pick one of your favorite global spots and attach the depiction to your lamp with rubber cement or permanent spray adhesive. You can outline the rims of the lamp with ribbon to finish it off.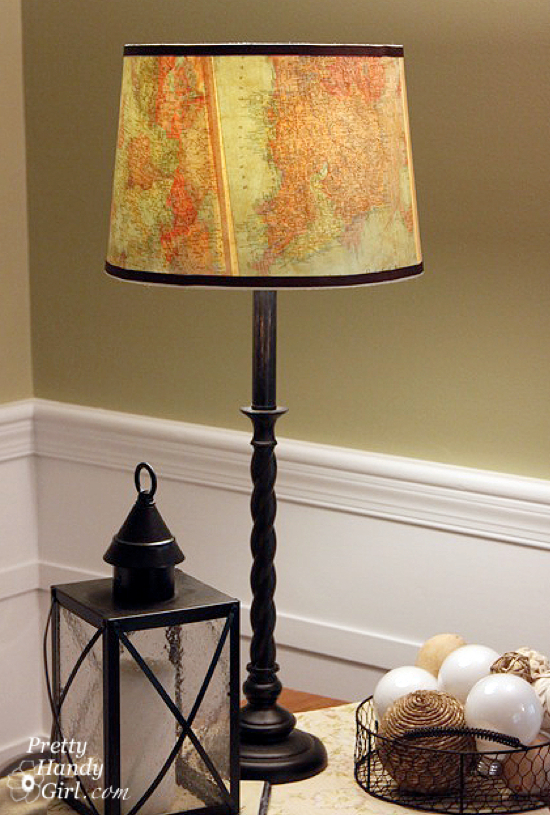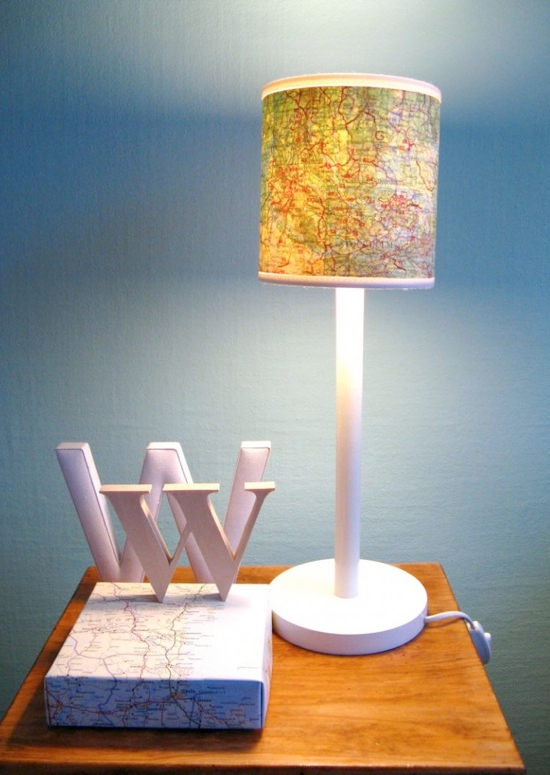 Kids' Drawings
This is a fun lamp shade craft for kids using parchment paper and spray adhesive. Let them creative their own designs on the parchment paper using crayons, markers or paint, cut them out, and use the adhesive to attach the designs to the lamp. Easy and fun! Now their artwork can actually be displayed in a big way.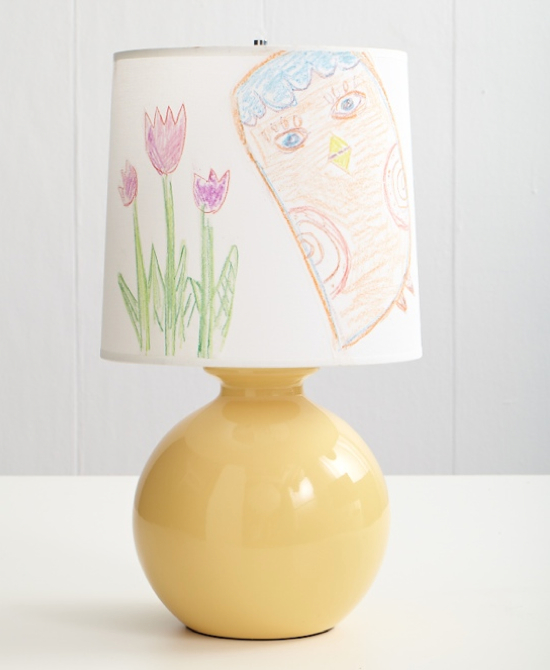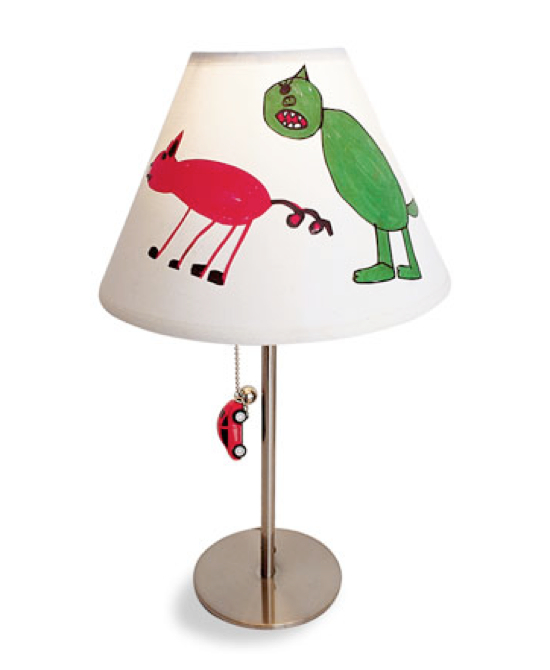 Ombre
An ombre affect (graduating colors of the same shade from light to dark) is a creative way to use paint and dyes. Or, the second shade down was created using yarn! It definitely has a clean and contemporary look to it.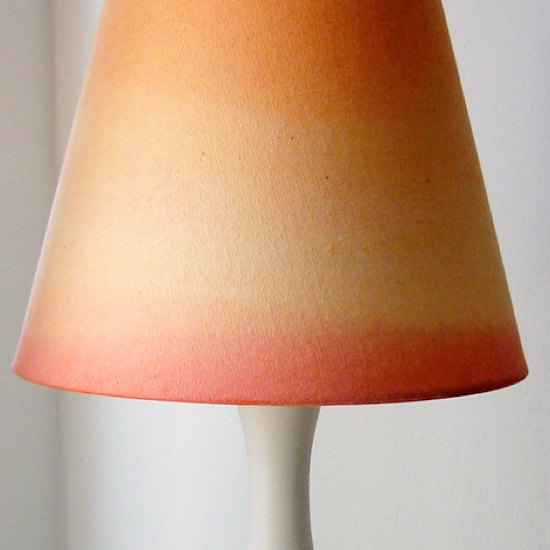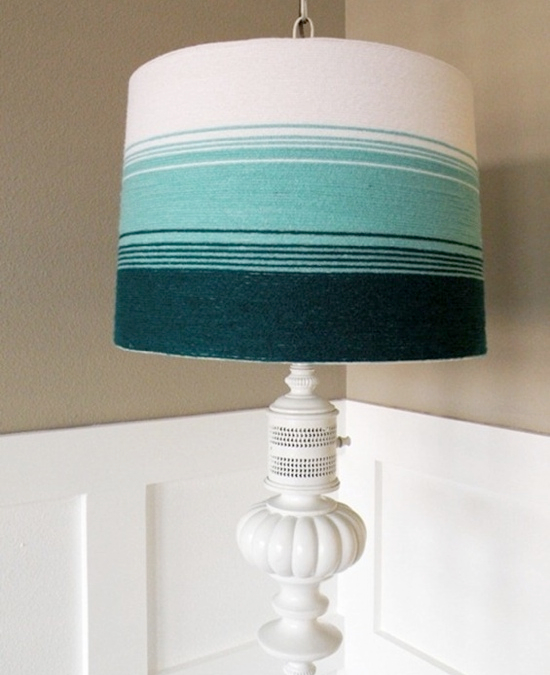 Hand Written Messages
Ok, I've saved the easiest one for last! Use a Sharpie or other permeant marker to create hand written messages. This would make for a great gift with a personal message, and has a elegant vintage look.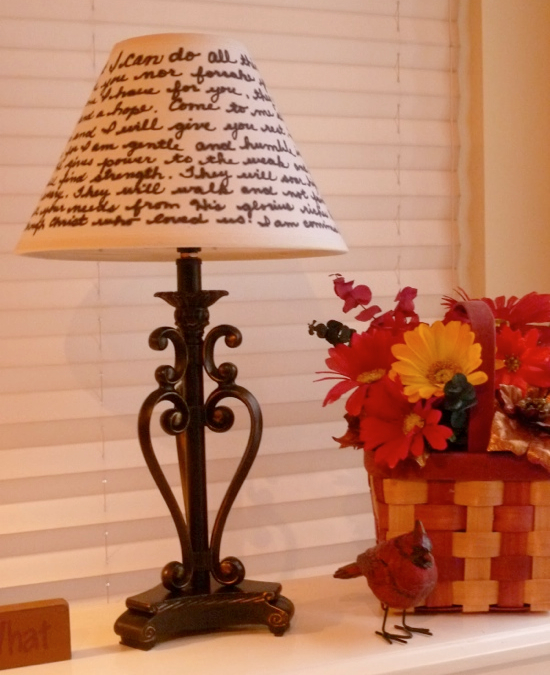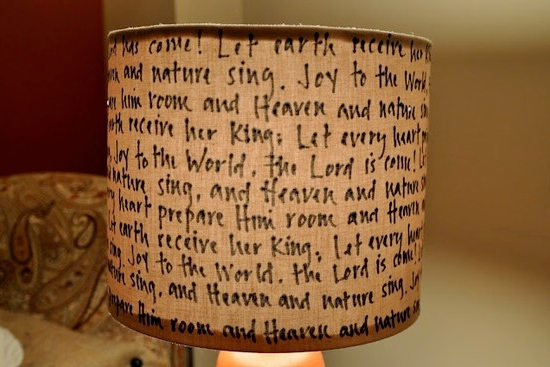 Leave a comment...