The Perfect Christmas Tree Craft for Toddlers and Preschoolers
Searching for an easy Christmas craft idea for kids- here is a fast prep Christmas tree art project that is perfect for toddlers and preschoolers. This contact paper Christmas craft makes great homemade decorations and you can even turn it into a sun catcher!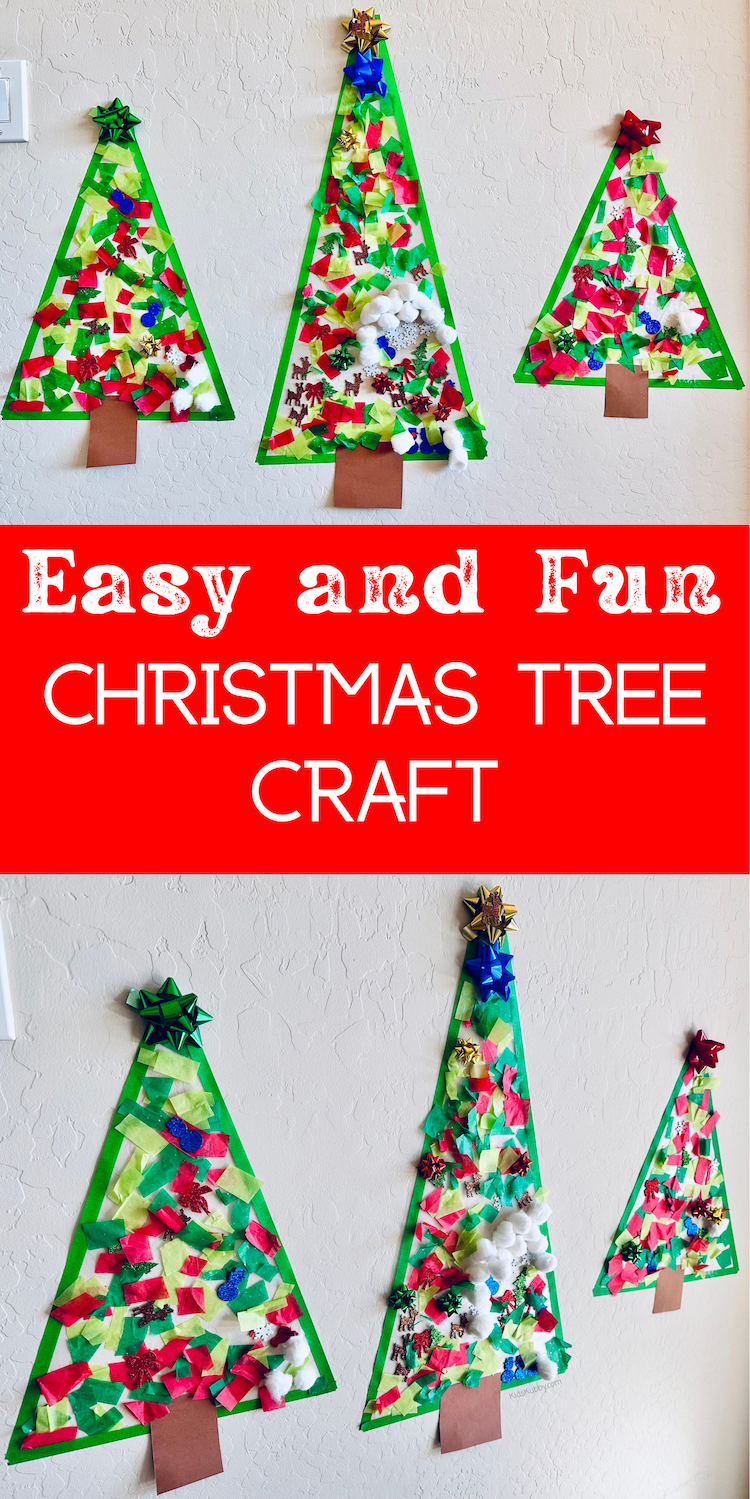 Why Did I Choose This Christmas Art Project?
It was the day after Thanksgiving and our family has a great tradition of staying in our PJs all day. A full day of laziness sounds amazing but it's not always practical when you have 2 kids to entertain. So I was surveying my arts and craft supplies trying to come up with a lazy Christmas craft and came across tissue paper, clear contact paper, Christmas stickers and a few other things that I knew I could whip up into an easy Christmas craft for kids.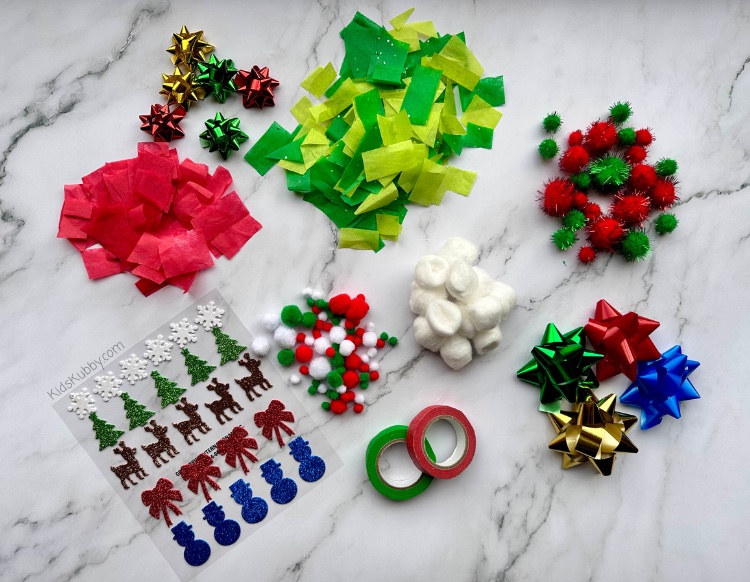 Supplies
Clear Contact Paper
Tissue paper – shades of green and some red for a pop of Christmas color
Brown Construction paper – for the tree trunk
Gift Wrap Bows in various sizes – as our tree topper
Masking Tape – to tape the contact paper to your walls or table with NO damage
Optional Supplies
Christmas Stickers
Red, Green, and White Pom-poms
Cotton Balls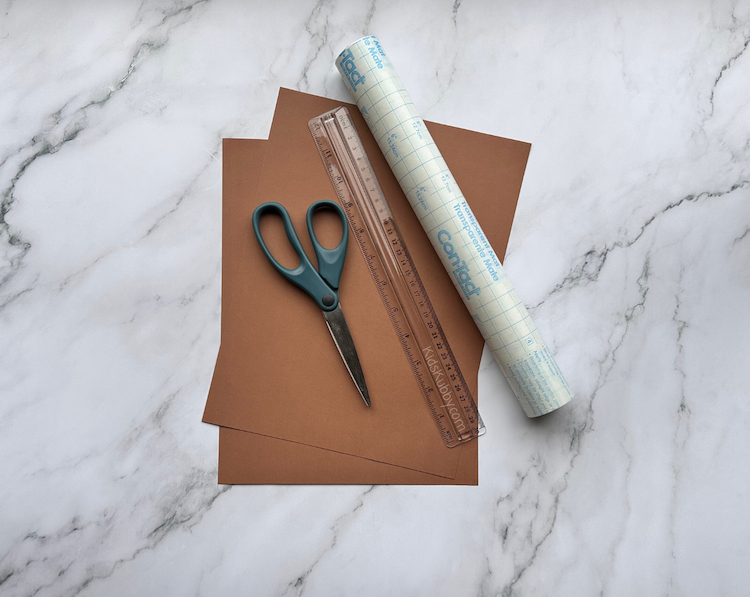 How to Set Up the Christmas Tree Craft for Kids
Step 1
Cut your tissue paper into small pieces. There is no need to be precise, you can even tear the tissue paper if you don't feel like cutting it! I started by cutting the tissue paper into strips, then stacking the strips and cutting each stack into smaller square/rectangle pieces. I used one sheet of dark green, light green and red tissue paper and it was plenty to cover 3 large trees with leftovers.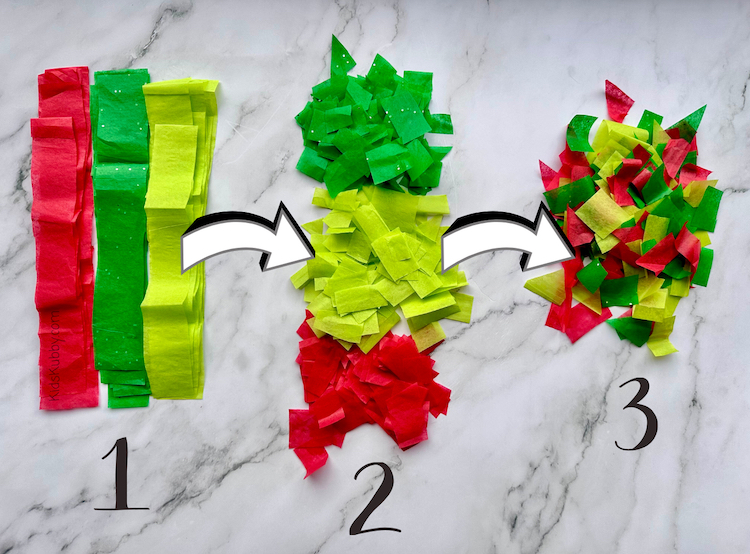 Step 2
Unwrap any stickers, cotton balls or pom-poms you're planning to use. I found it easiest to split my supplies into 2 different containers so each kid would have their own craft bin. Always looking for ways to eliminate sibling battles before it arises!! Fill your bins will all the stickers, pom-poms, cotton balls, tissue paper, gift bows etc.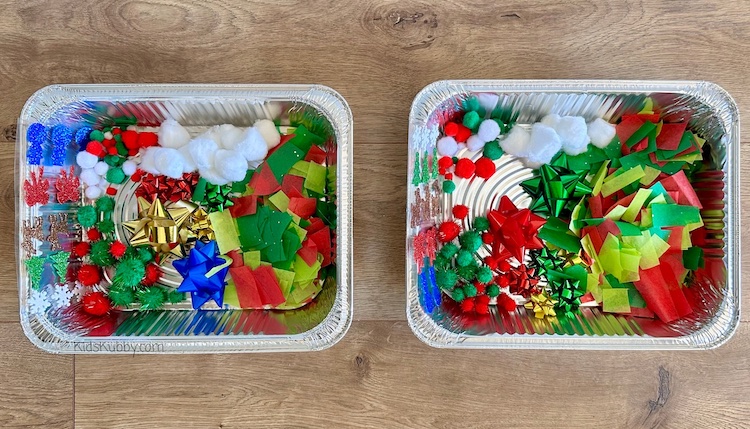 Step 3
Cut contact paper into triangles. This can be a bit tricky. Decide how tall you want your contact paper Christmas tree and cut along the lines on the back of the contact paper. Next fold your cut paper in half long ways (hotdog style if you remember from school!) with the back of the contact paper facing outward. Make a diagonal line from the outside bottom corner of your folded paper to the center fold at the top. I like to use a ruler or yard stick depending on the length of my paper. Cut along this line. Now you have a triangle. This is your contact paper Christmas tree!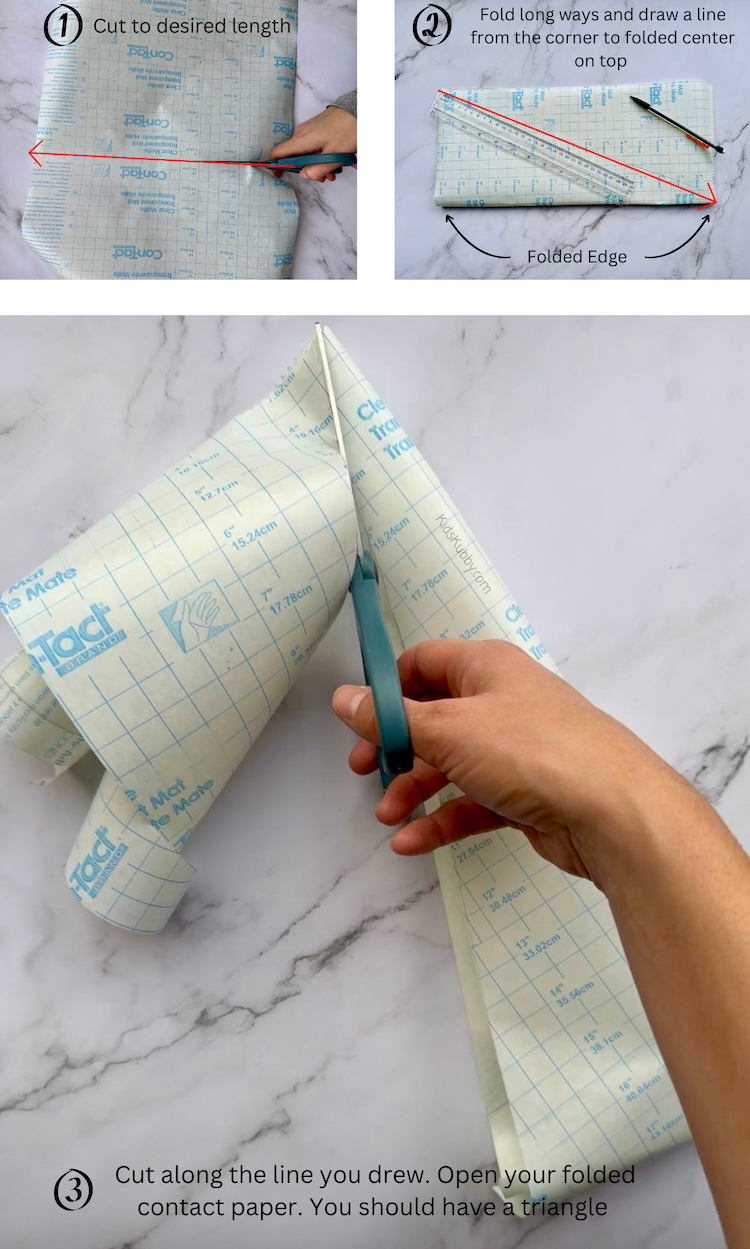 Step 4
Next cut a tree trunk out of brown construction paper. I just eye-balled this. Make a rectangle large enough that it looks proportional with your contact paper triangle.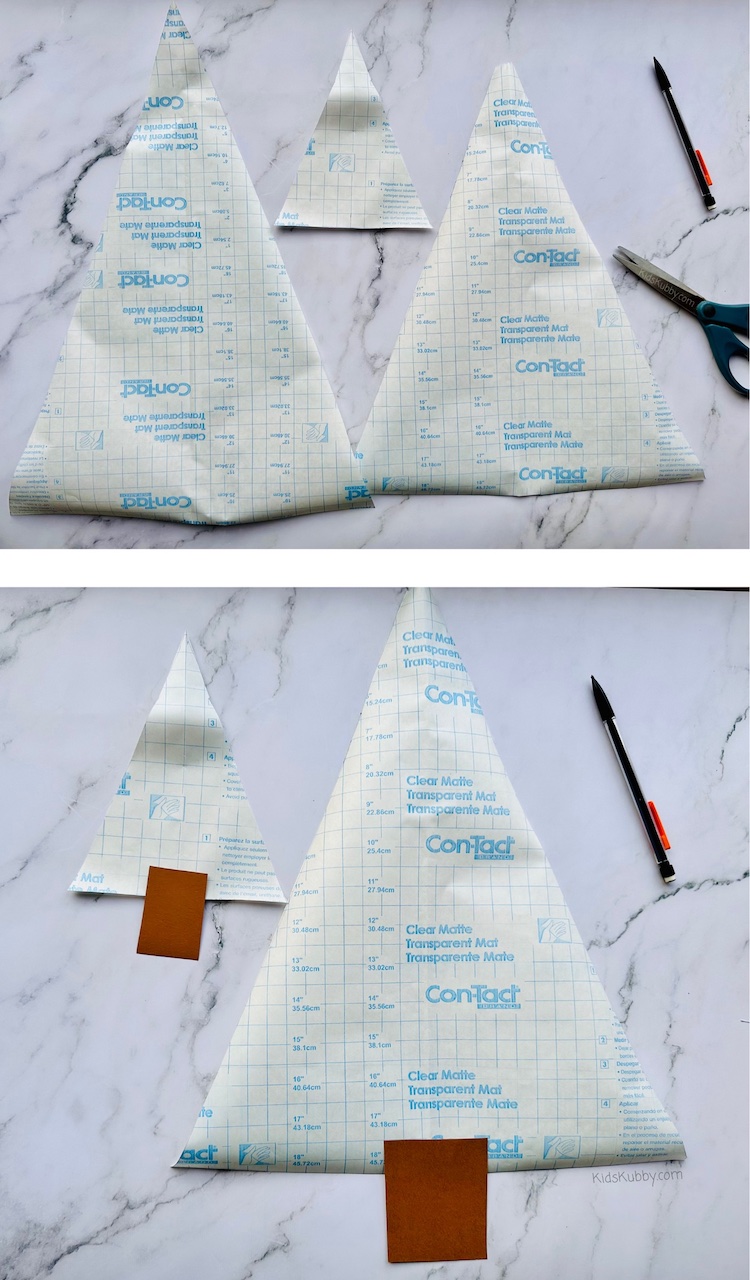 Step 5
Now it's time to tape your Christmas tree craft to the wall. You can also tape it to a table or window if you don't want tape on your walls. I used masking tape and there was NO damage to my walls! I would suggest NOT taping anything to a freshly painted wall! Use your best judgement.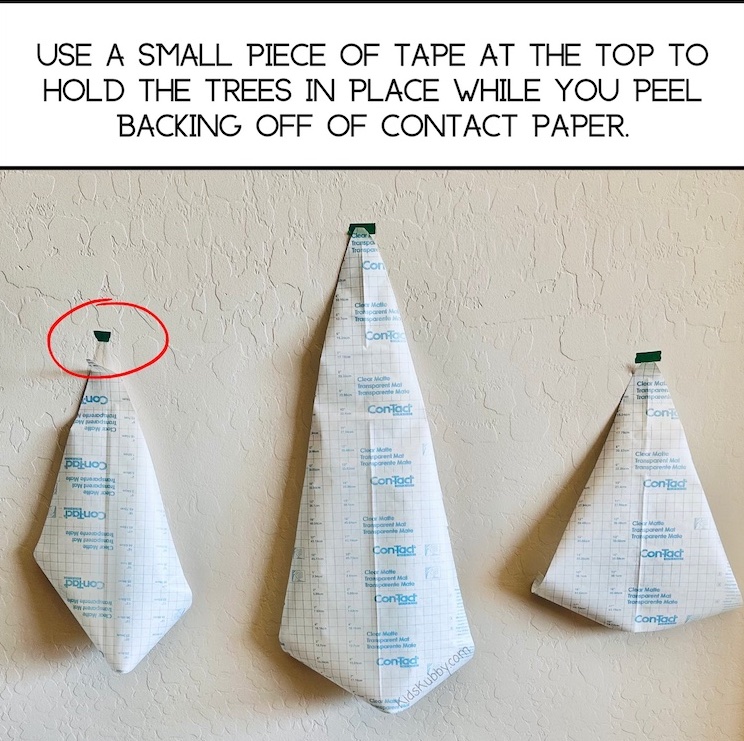 I found it easiest to peel about an inch of the backing off the top of the triangle and tape it to the wall before pulling the rest of the backing off. This prevented the contact paper from rolling onto itself. Make sure the sticky side of the contact paper is facing out – away from the wall. It's also a great time to make sure you like the placement of your craft. The good thing about masking tape is it super easy to remove and retape to anything WITHOUT DAMAGE!
Tape all the edges of the triangle to the wall or table. I used green masking tape to make it extra festive! Place the brown tree trunks at the bottom of your triangle. They will stick to the contact paper.
Step 6
Time to play! This Christmas tree craft is easy and fun for kids of all ages. My toddler and 1st grader both loved it! I gave a one sentence instruction "Cover the Christmas tree with anything you like from your craft bin". That's it. This is an amazing craft for imagination. Try not to hover but instead sit back and watch how much fun your kids are having!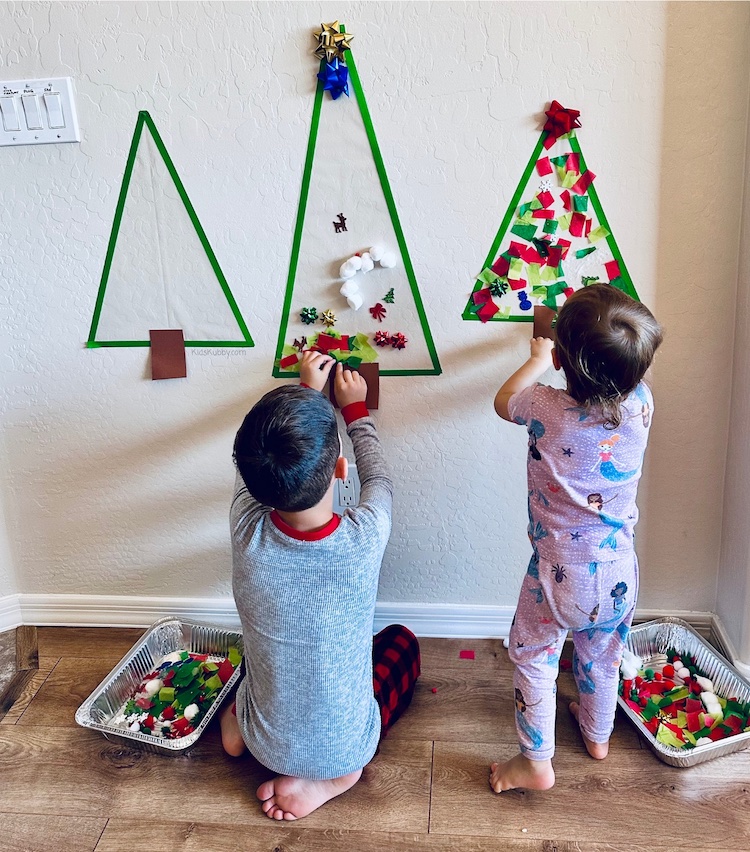 Have left over supplies? Scroll to the bottom of the post to find out what to do with them!
What Should You Do With These Fabulous Christmas Tree Crafts?
Use as Christmas decorations around your house!
You can cover the front side of your Christmas tree with another sheet of contact paper to "seal" in all the decorations. This way you can save this sweet Christmas craft for years to come.
Place on a window to make a super pretty sun catcher (see next section for more details)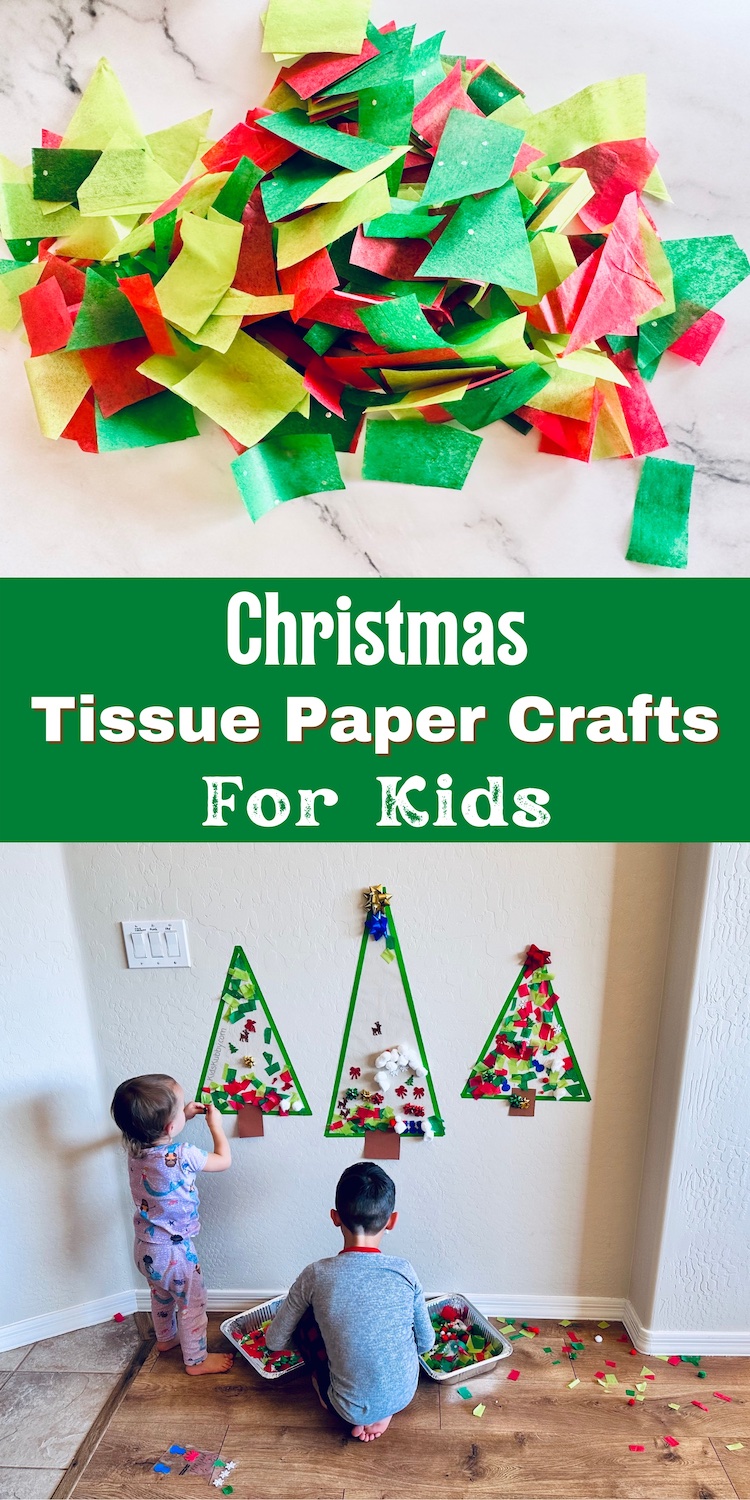 What To Do With The Left Over Christmas Craft Supplies
Create mini versions of these cute Christmas tree crafts and hang in the window as sun catchers. I had a bunch of contact paper scraps from cutting out the bigger trees. I cut a few squares, rectangles, and a smaller triangle out of the scrapes and created "presents" for the kids to decorate. We hung these on the windows, and they were very pretty Christmas sun catchers.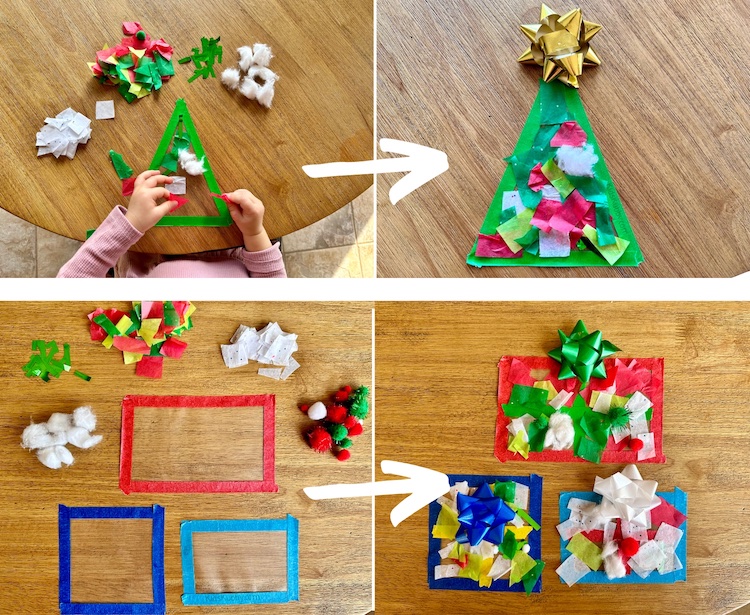 The best thing about this Christmas tree contact paper craft is that toddlers, preschoolers, and older kids have a blast creating fun Christmas decorations and you get a few minutes of quiet time! My 6-year-old has been asking all week when we can do more tree and present crafts. He can't get enough. This is also a great time to talk about why we celebrate Christmas. Have an open dialog with your kids while they decorate this tree by asking what they think Christmas is all about. Their answers might surprise you!
🌟Helpful Tips🌟
There are so many projects that can be created with clear contact paper! Always keep some on hand.
The Dollar Store is a great place to find holiday stickers, bows, gift wrap etc. for CHEAP! No reason to overspend on fun Christmas crafts when you can get everything you need for under $10 at the dollar store.
If you don't have any Gift Wrap Bows, use stars cut out of yellow construction paper for the top of your Christmas Tree craft.
I found an 8 pack of rainbow masking tape on Amazon for $7. This Contact Paper Christmas Tree Craft only uses a little tape so there is plenty left over for future projects.
Self-Seal laminating sheets are a great alternative to contact paper if you are looking to make smaller Christmas tree crafts!
Merry Christmas!
Leave a comment...