Because I'm always looking for fun Holiday treats, I figured I'd whip up some cute Christmas cupcake recipes this year. I usually only go as far as using festive cupcake liners and toppers (because I'm super lazy), but decided instead to go on a hunt for some easy and creative Christmas cupcake ideas that were fun for the kids to eat and make!
Here is a round up of some of my favorite cupcake ideas for Christmas. Most of them are really simple to make with just a handful of ingredients. In fact, you could just buy plain cupcakes at the store for a lot of these, and then decorate them yourself with these fun holiday ideas.
Santa Hat Cupcakes
Santa hat cupcakes are easy! Cut off the stem end of strawberries and place them upside down on white frosted cupcakes. Top them off with a little extra icing or whipped cream.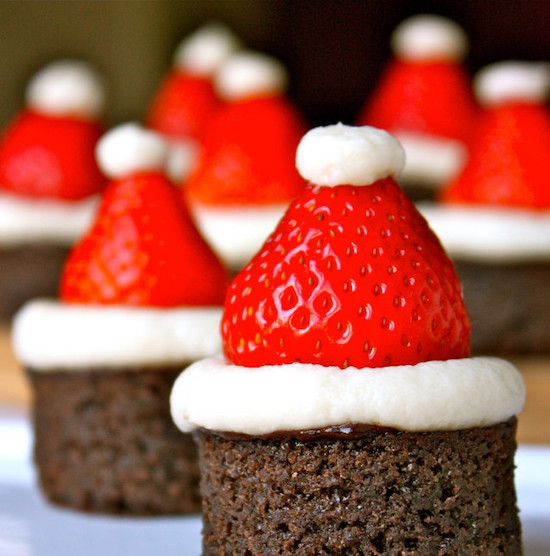 Christmas Tree Cupcakes
Stack green frosting to create cute little Christmas tree cupcakes. To minimize the amount of frosting, consider placing something in the center of your cupcakes to build around, such as a cookie, strawberry, or piece of candy (tootsie roll, mini snickers, etc.). Let the kids decorate the trees with sprinkles, M&M's, or other small pieces of candy.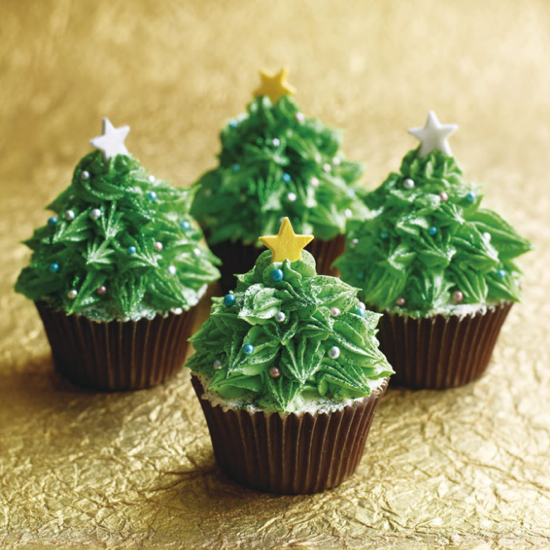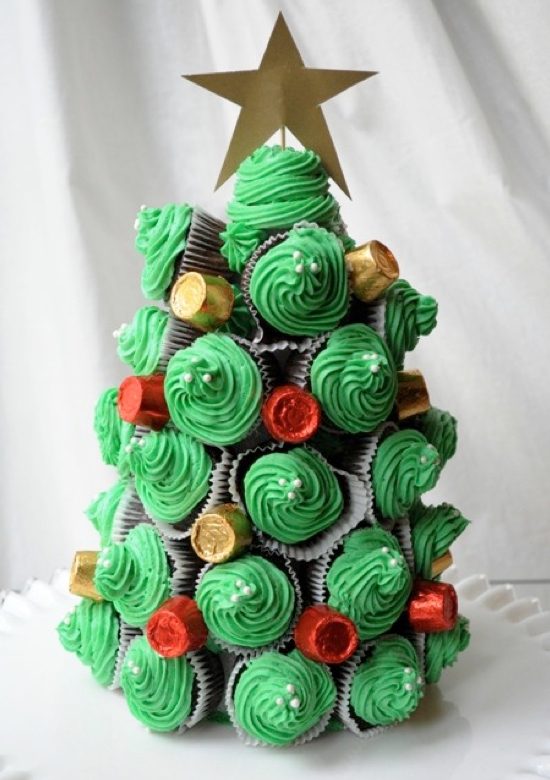 Easy Christmas Wreath Cupcakes
This holly wreath cupcake was made simply by the creative placement of red and green M&M's. Easy Christmas cupcakes! You could arrange them into other christmas themed shapes, too.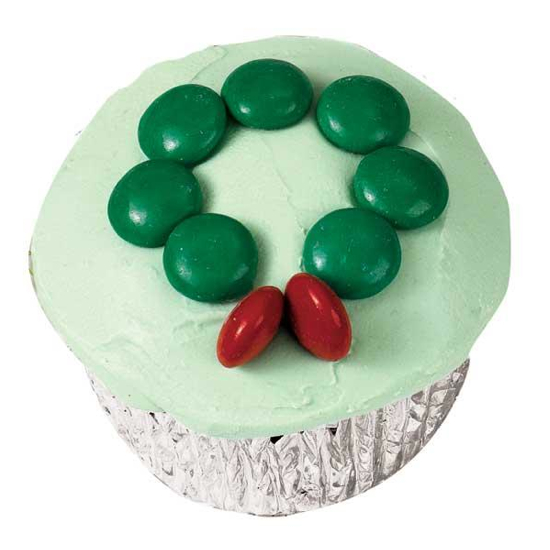 Reindeer Cupcakes
Rudolph would be proud of these awesome little chocolate reindeer cupcakes. Pretzels make for perfect edible antlers. I also like the idea of using a vanilla wafer and red piece of candy for the nose.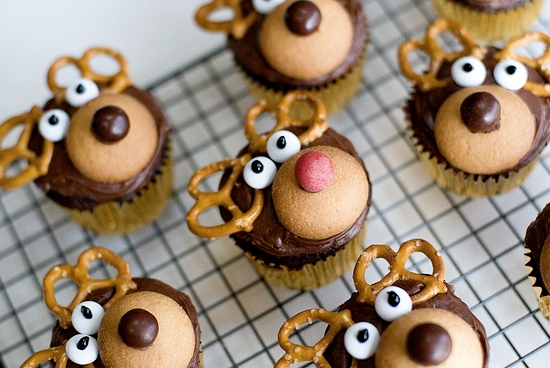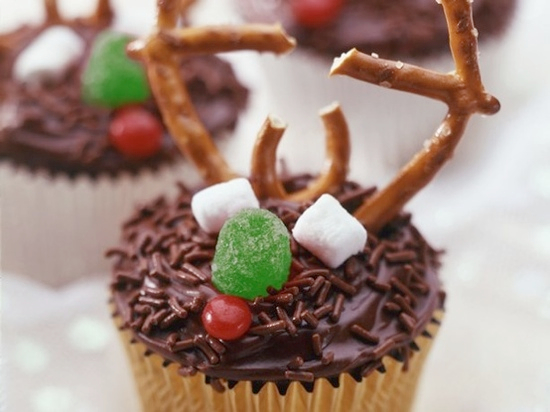 Snowman Cupcakes
Stack a large marshmallow on top of a mound of white frosting, and you've got Frosty the snowman! This is a fun Christmas cupcake idea for the kids to decorate. You can make the base and then let them garnish it with candy eyes, hats, noses, scarves, buttons, ear muffs, and so forth.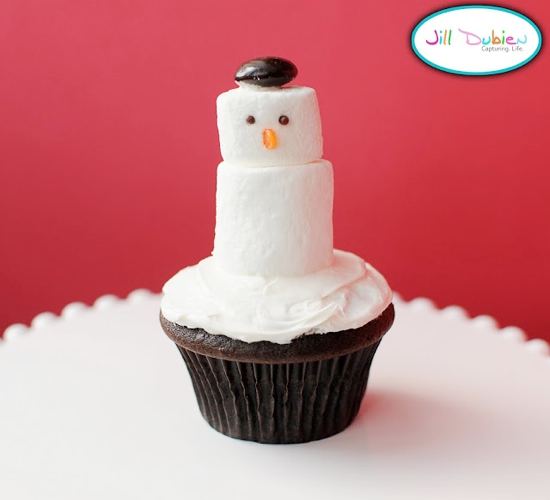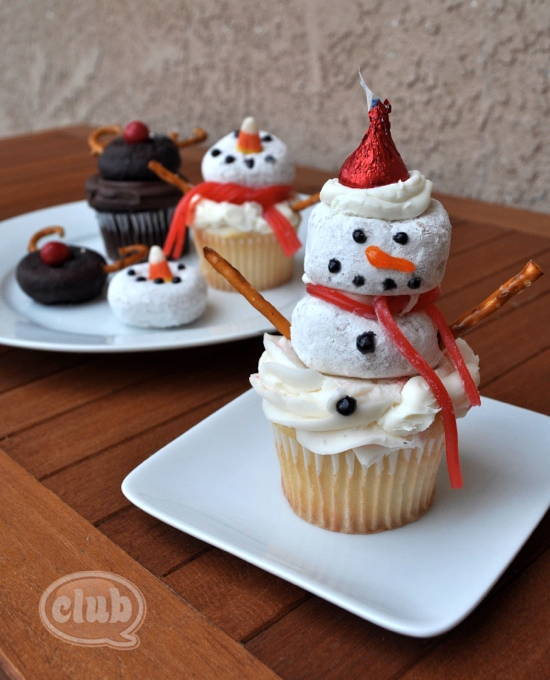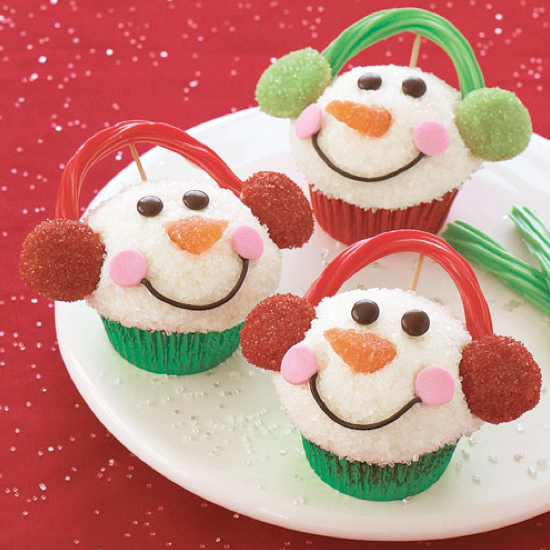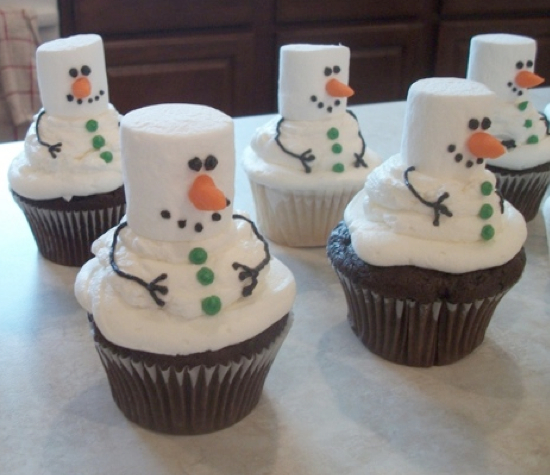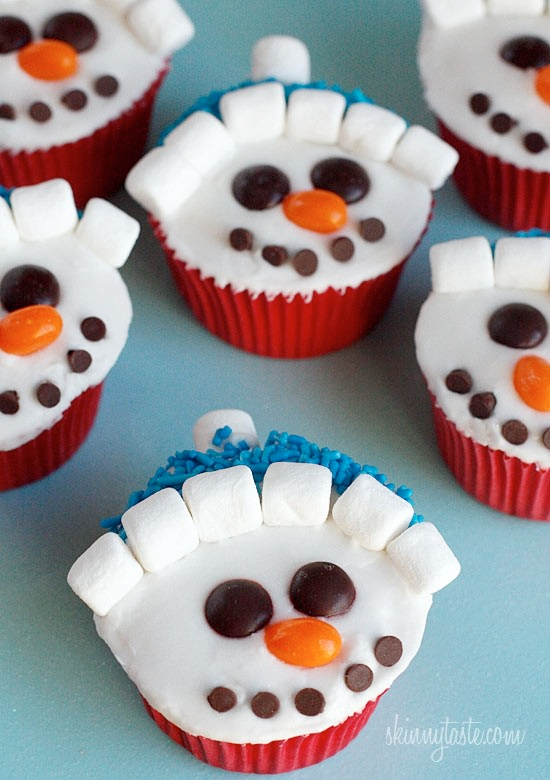 Elf Cupcakes
Don't forget about all the hard working elves! If you can make edible pointy hats & ears, you've got yourself an awesome little elf cupcake recipe. In the examples shown below, they used Fruit Roll-Ups (you could also use fruit leather) and upside down waffle cones sprayed with edible green spray dye.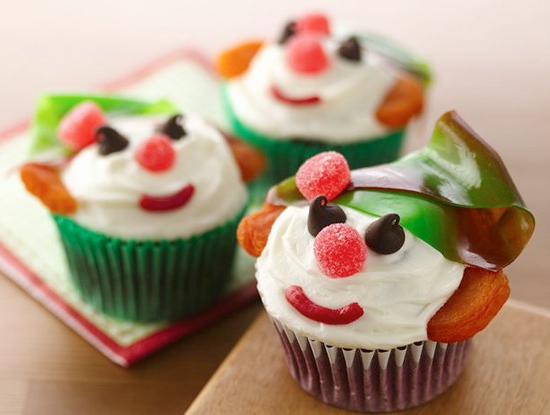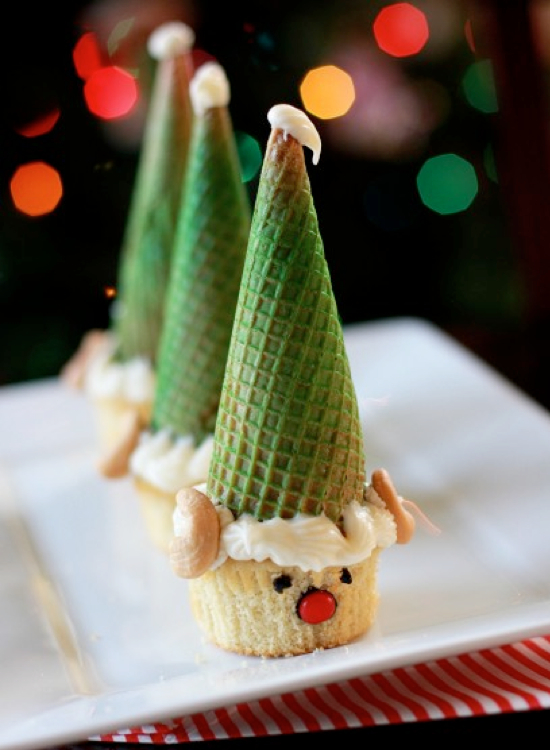 Candy Cane Cupcakes
Candy cane or peppermint is just so yummy mixed with chocolate cake! Sprinkle crushed candy cane, peppermint candy bark, or even a candy cane kiss on top of frosted cupcakes. I especially like the idea of baking a candy cane kiss in the center of your cupcakes–it's a sweet little surprise hidden inside.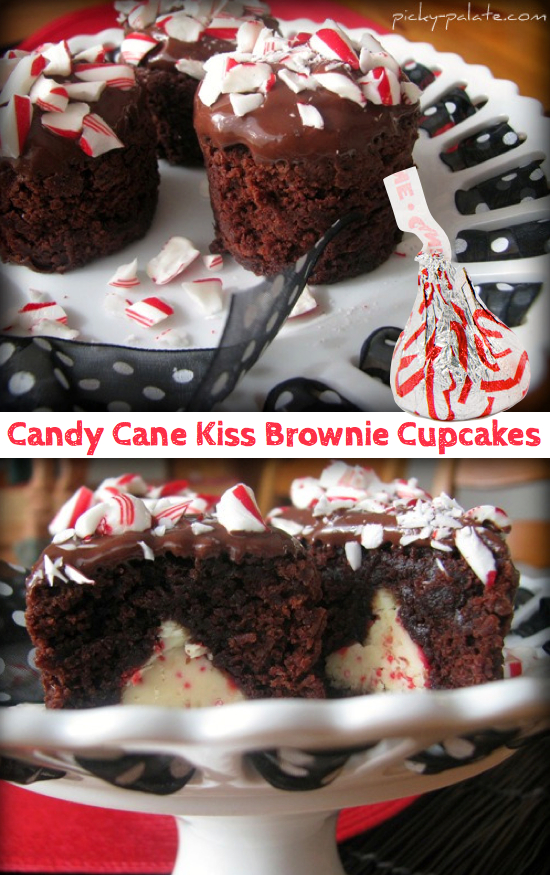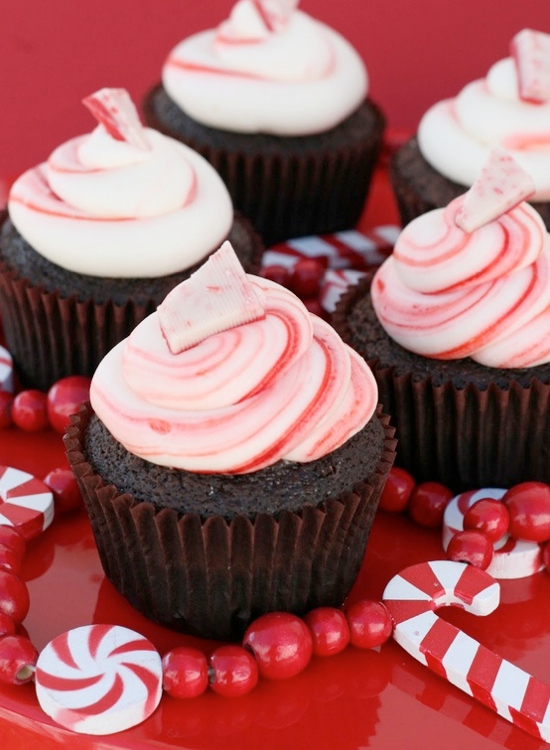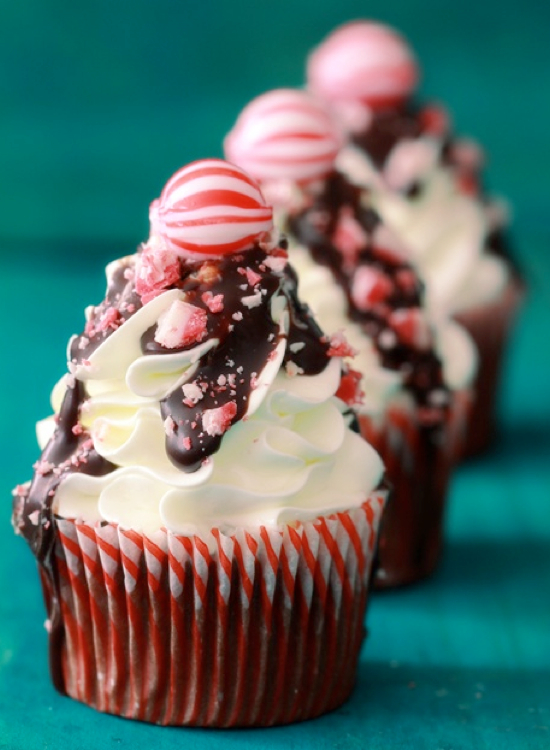 Gingerbread Cupcakes
I've always been a big fan of gingerbread and ginger snap cookies. Plop a little gingerbread man cookie on top of a cupcake, and voila! It instantly adds a Christmas feel. Check out the gingerbread man below baked inside of a cupcake! That is just too cool.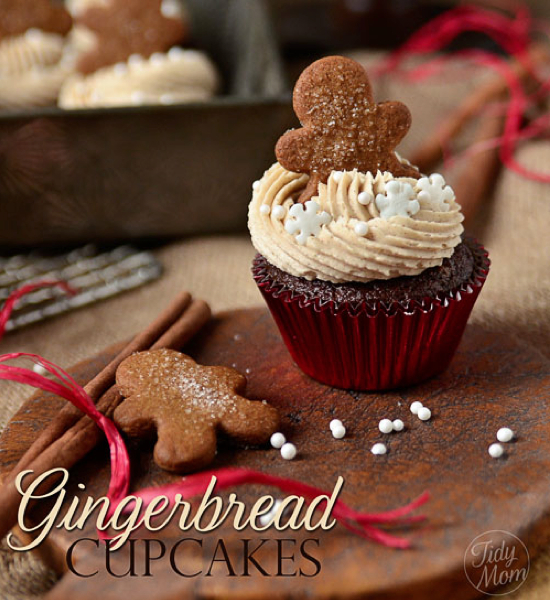 Cupcake Ice Cream Cones
What?! This is definitely the most awesome Christmas cupcake idea I've ever seen. They make for great gifts, too! The cone makes it easy to eat. You can fill each one with different ingredients and Christmas cupcake flavors, making each one unique.

Leave a comment...