Simple DIY Rainbow Craft With Construction Paper That Helps Kids Match Colors And Strengthen Hand Coordination
Make your own rainbow indoors! This torn paper rainbow craft is perfect for a fun indoor art project that also helps kids learn their colors! This easy construction paper craft idea is great for preschoolers on a rainy day. It's so easy to set up and this rainbow craft always comes out so pretty! Torn paper crafts are so fun because they aren't perfect or symmetrical. Each rainbow will be as unique as your child!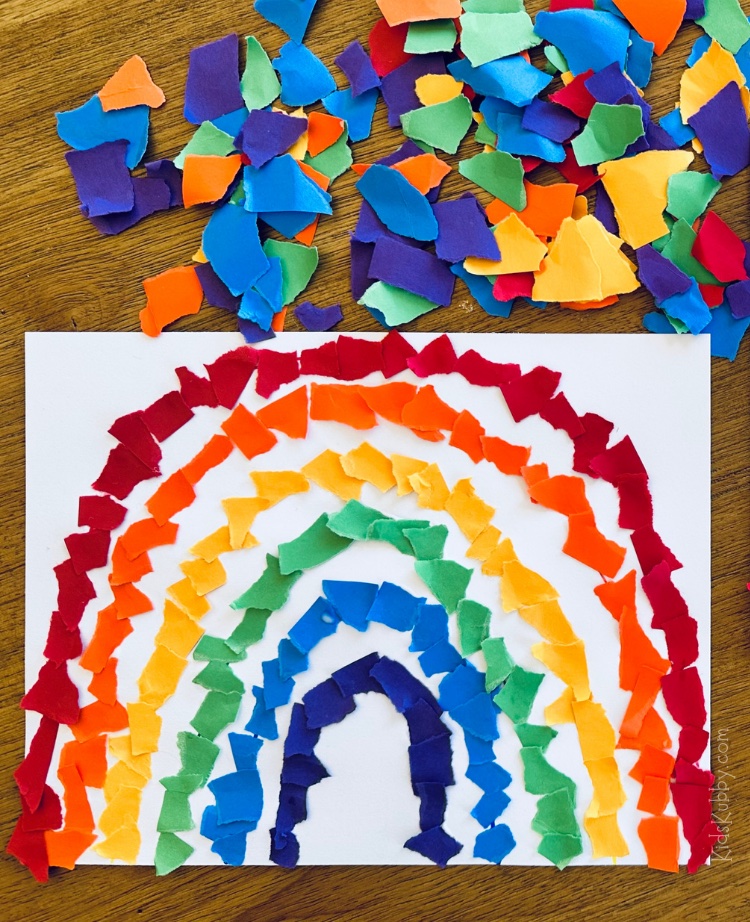 I'm always looking for a cheap art projects to keep my kids entertained and this rainbow craft is so perfect! Rainbow crafts always bring a smile to my face because they are just so pretty. This budget friendly craft uses only contruction paper, glue and markers. That's it!! My kids love tearing the colorful constriction paper into small pieces too. Shhh don't tell them, but this simple craft idea also helps strengthen those fine motor skills. Who doesn't love an activity with a 1 – 2 learning punch! Learn colors, work on fine motor skills, and have fun all at the same time!
Like this rainbow craft? Try these other fun crafts for kids!

Pipe Cleaner Butterfly Rings | Painting With Cars | Borax Pipe Cleaner Crystals
Supply List – Construction Paper Rainbow Craft
Construction paper (red, orange, yellow, green, blue, purple)
Markers in the same colors as the construction paper
Glue (stick or liquid)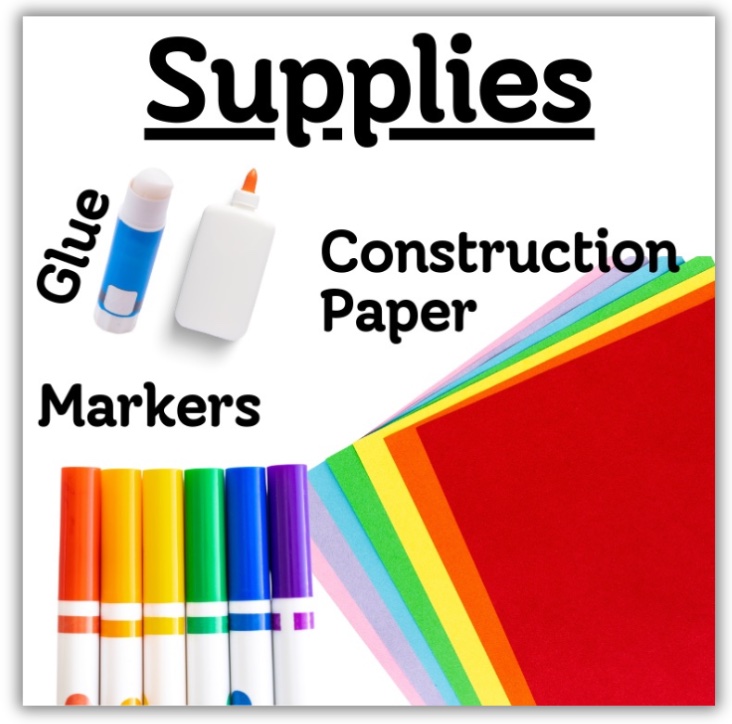 How To Make Torn Paper Rainbows
This rainbow craft is super simple and only takes a couple of minutes to set up. Start by drawing a rainbow on a white piece of paper with markers. Try to follow ROYGBIV when drawing your rainbow (red, orange, yellow, green, blue, purple).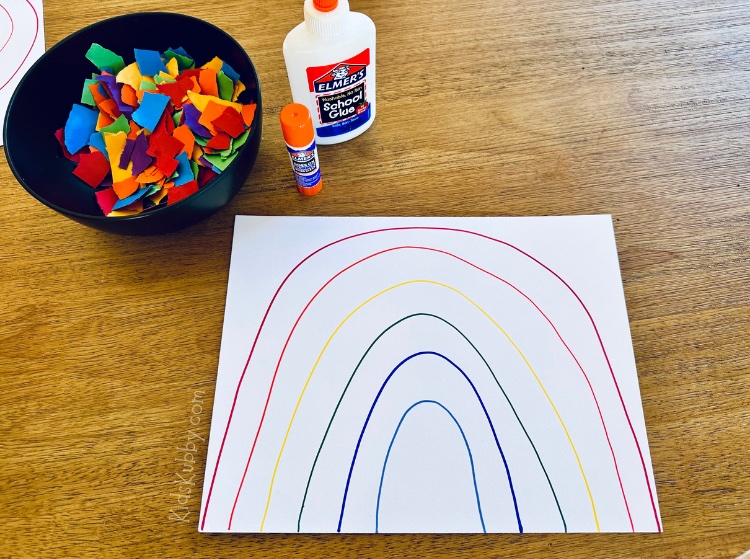 Next, tear colorful construction paper into small pieces. These paper pieces should be small, about the size of a nickel or dime. The colors of the construction paper pieces should match the marker colors. Have your kids glue the torn paper pieces on the corresponding color line on the rainbow!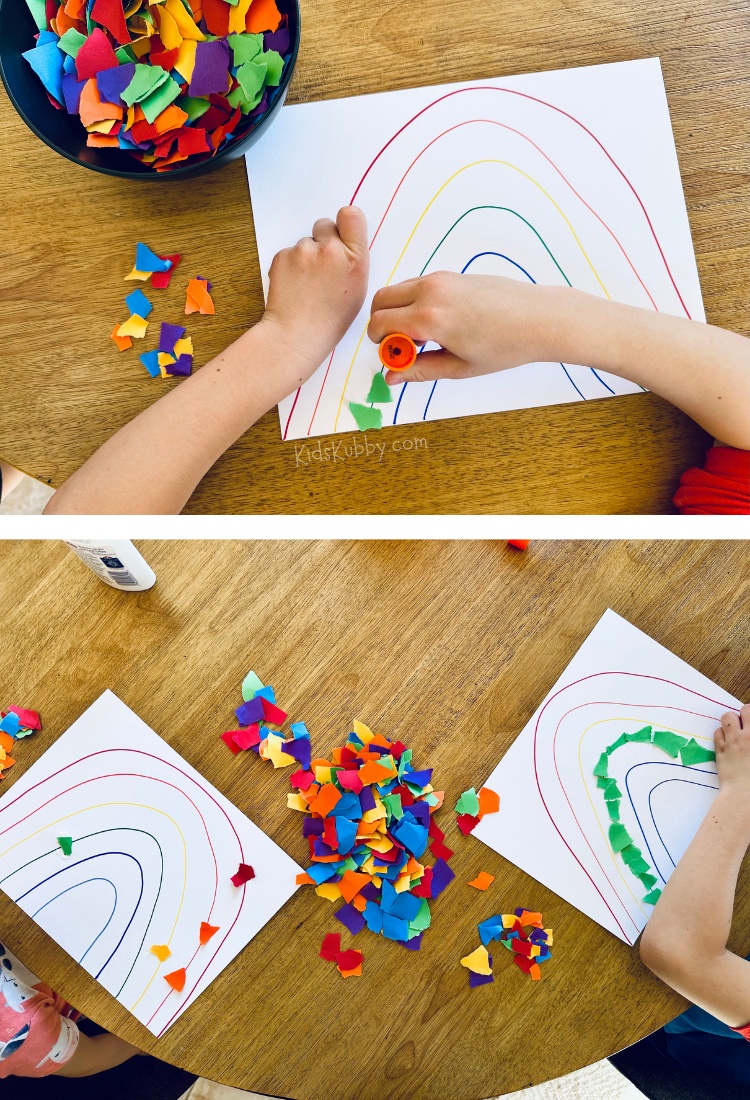 It really is that easy! I love this craft because it not only teaches kids to match colors but gluing the small pieces of paper improves fine motor skills! A great learning activity for kids!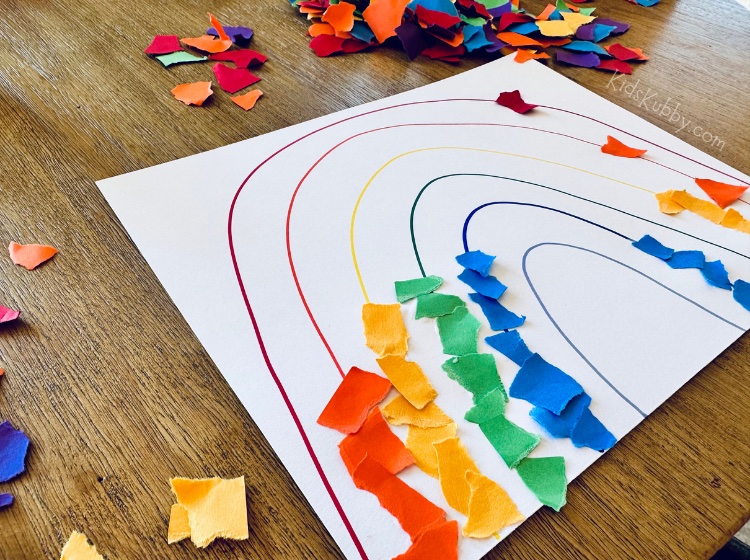 This rainbow craft is perfect for preschoolers. My toddler also did this art project with us but she needed a little more assistance with the glue. If you happen to be doing to craft with toddlers, try using liquid glue to draw a line on each color one at at time. Have your toddler complete one color of the rainbow before moving on to the next. I continually asked my kids which color they were doing next, which helped to reinforce their knowledge of the name of each color!
Happy crafting and if you're looking for more ways to teach color recognition to kids – check out this color sorting activities post. It contains 10 easy and fun color sorting activities for kids of all ages!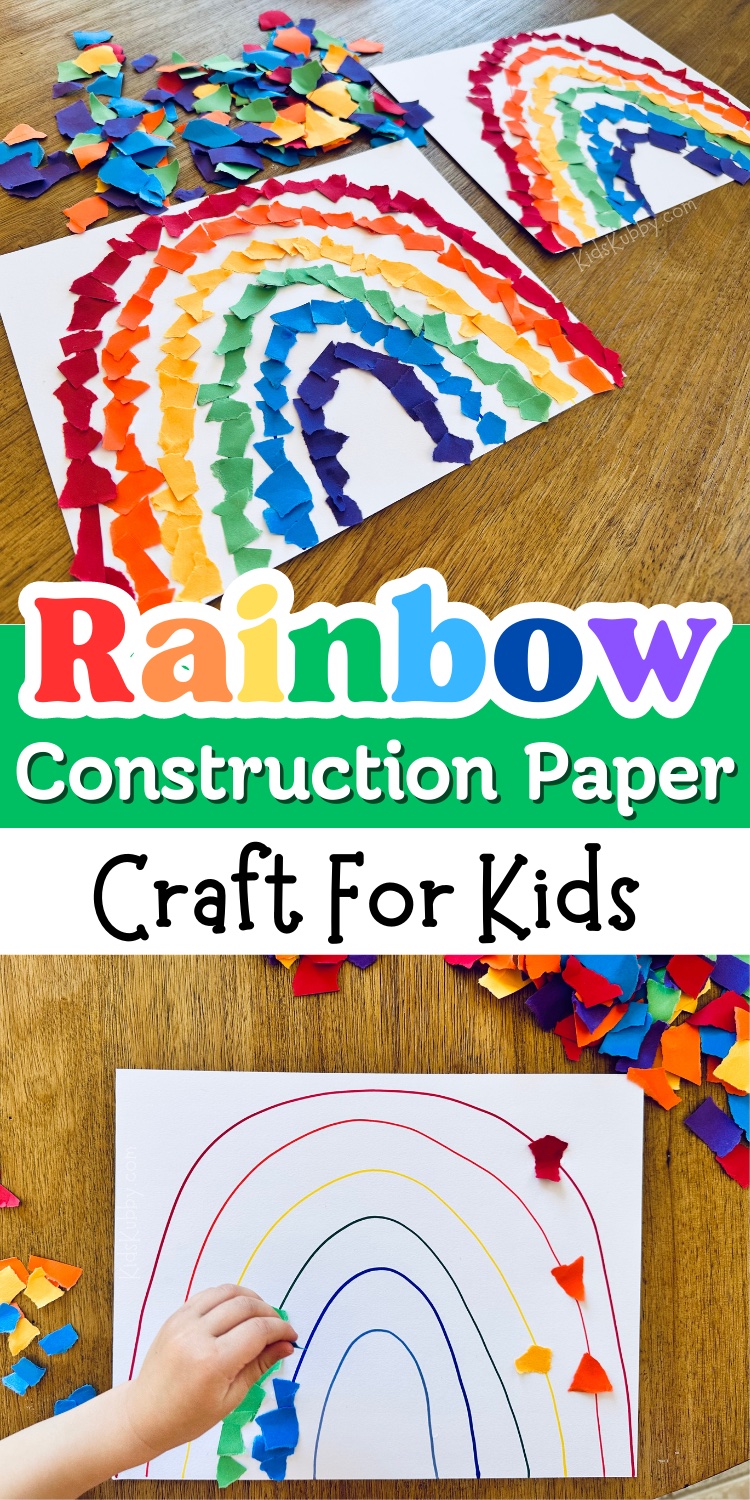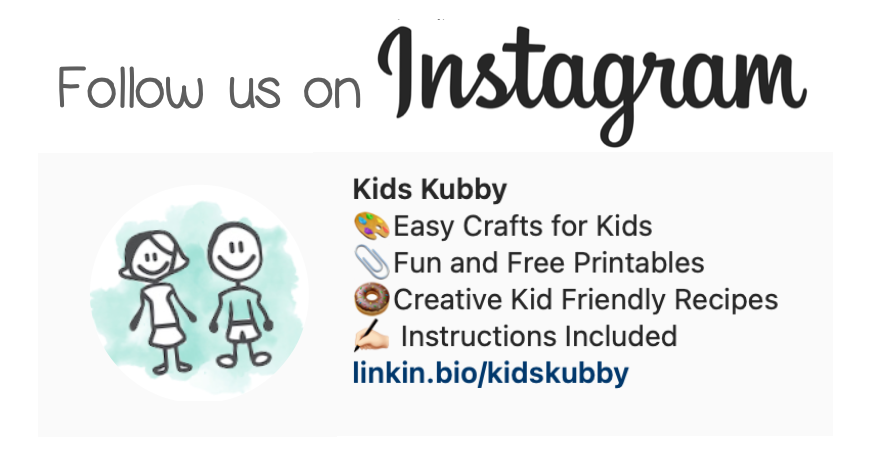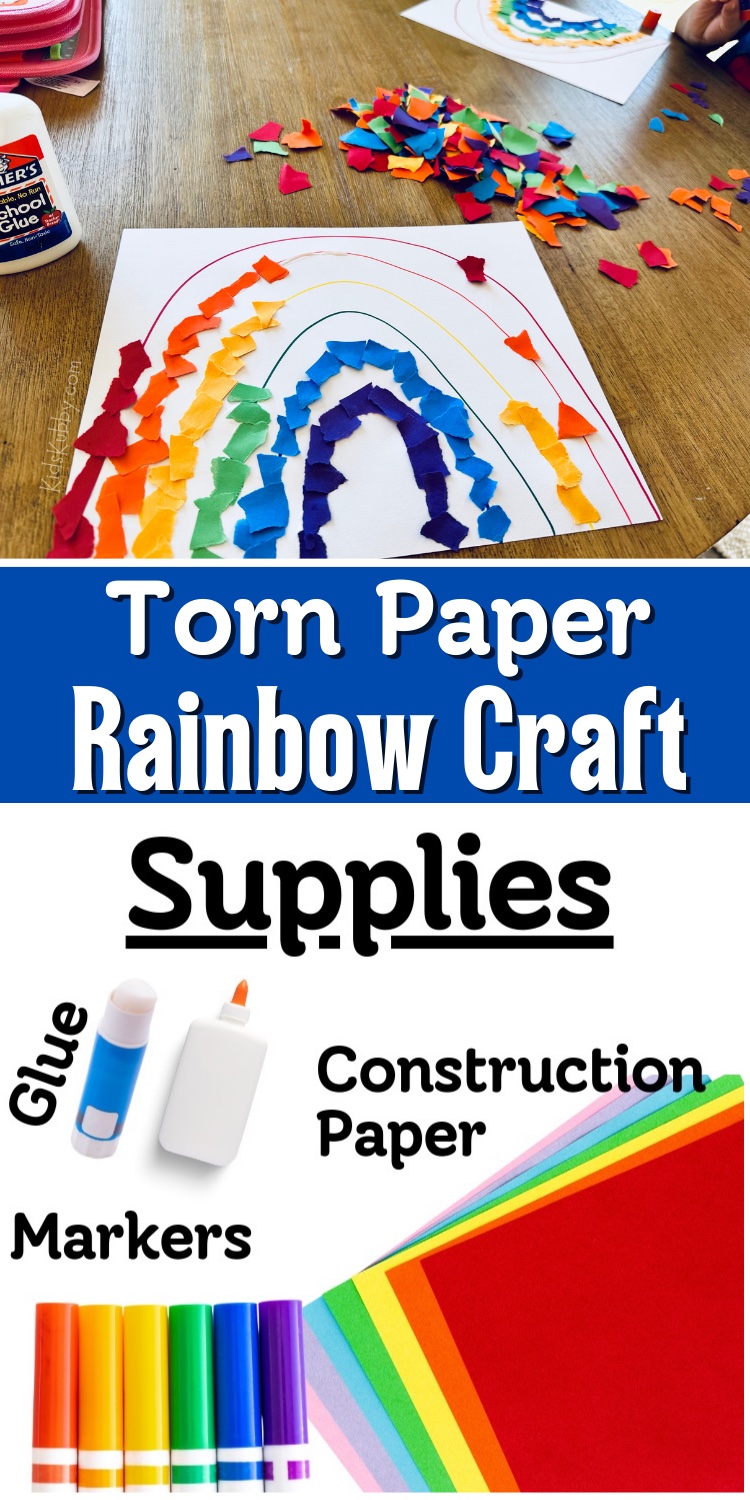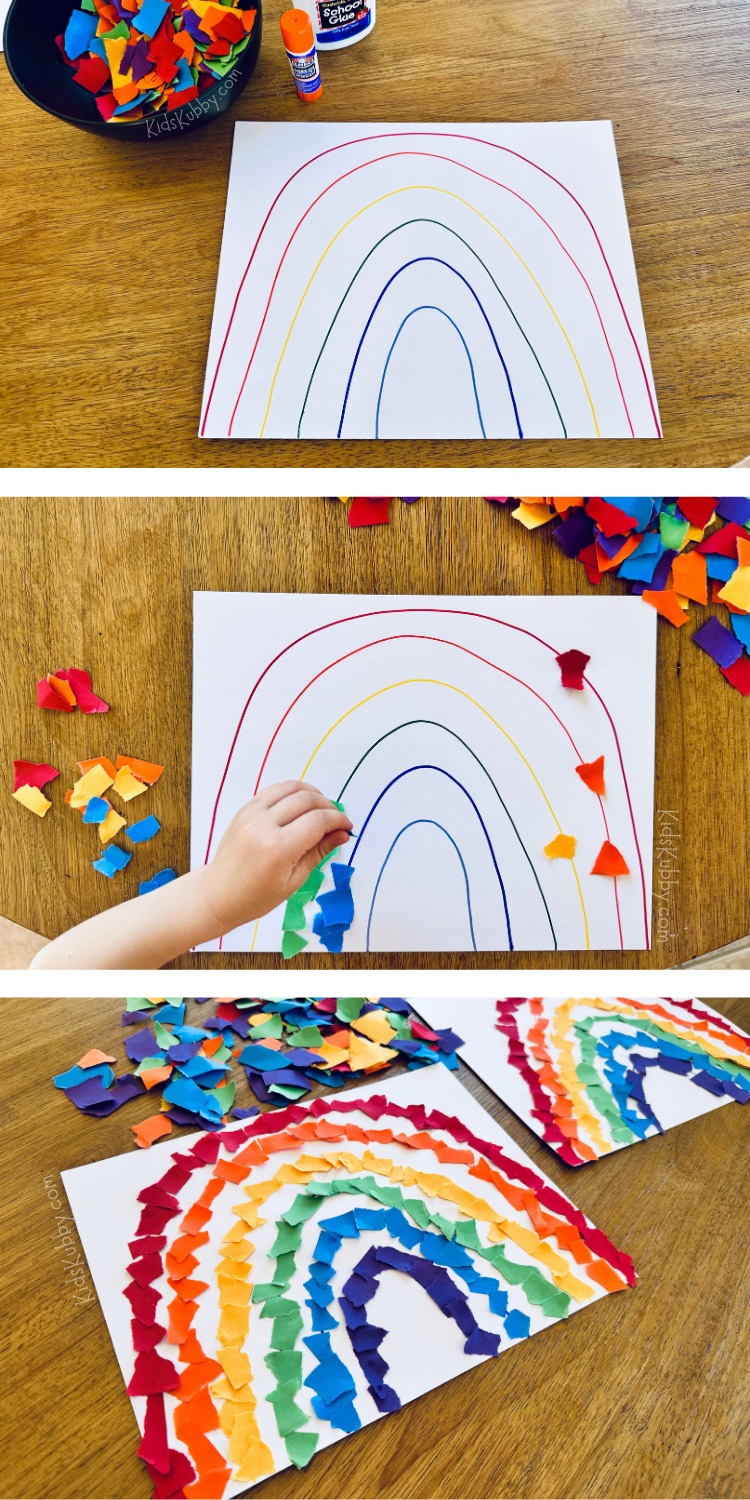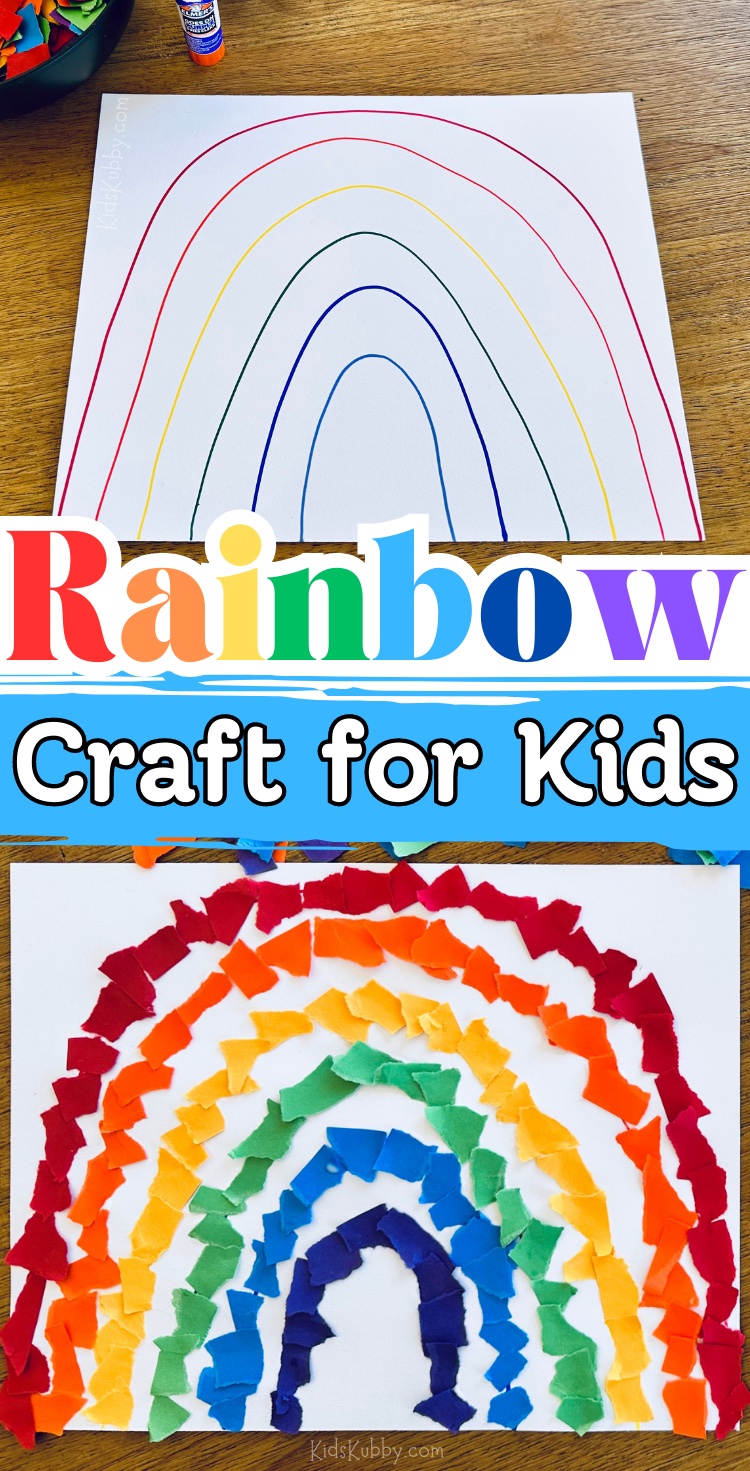 Leave a comment...