I have to admit, I've never been one to put much time, care or thought into my wrapping paper. There have been times when I've even been tempted to wrap a birthday present with the only gift wrap I have handy: Holiday paper. Although I've never been in that much of a bind, I went on a hunt for some unique wrapping paper ideas. I found some pretty creative wrapping paper that can be purchased, as well as some really cute and budget friendly DIY wrapping paper ideas.
I would have never thought that you could make such pretty gift paper out of newspaper, paper bags, atlas paper, and sheet music! Now I don't have any excuses for my lame wrapping jobs. As long as I've got Scotch tape, I think I can pull off something pretty cute.
Plain Paper & Print Outs (Or Stickers)
I love these unique designs by Swedish designers, Happy F&B. I figure you could also do this with large stickers. Buy an assortment of facial features at your local craft store and use them to give your gifts a little personality! You could also print out facial features and then glue them on.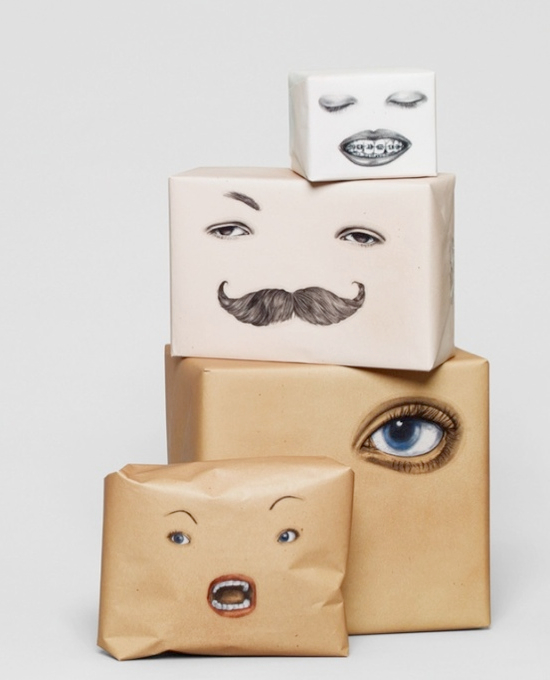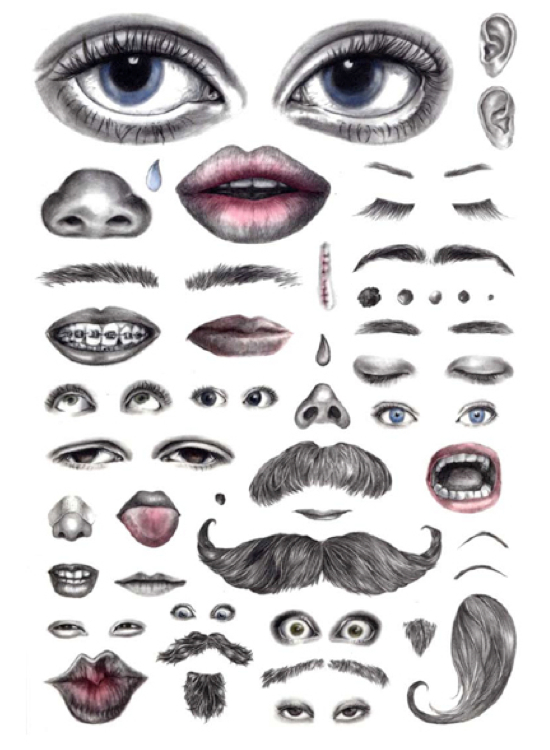 Stackable Cheeseburger Wrapping Paper
This cheeseburger wrapping paper set looks realistic enough to eat! Each sheet represents the individual ingredients; the bun, patty, lettuce, cheese, and tomato. Just stack them up to resemble a classic looking cheeseburger. This would be awesome wrapping paper for Father's day, or any burger lover's birthday.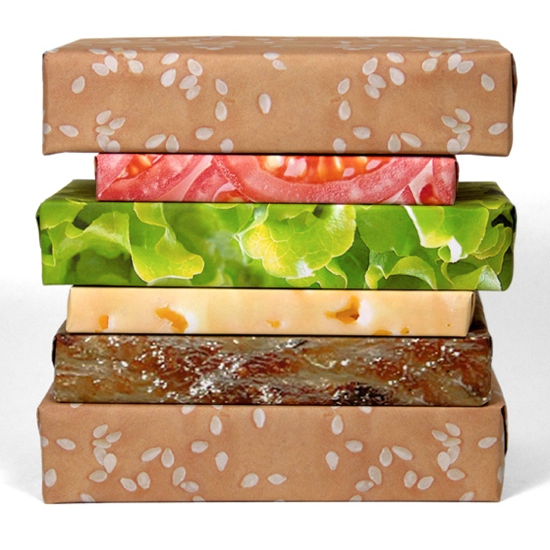 Word Search Wrapping Paper
This word search wrapping paper is genius! Circle the words that apply to the gift; whether it's a birthday, a holiday, a congratulations, Valentine's Day, or a simple "I love you".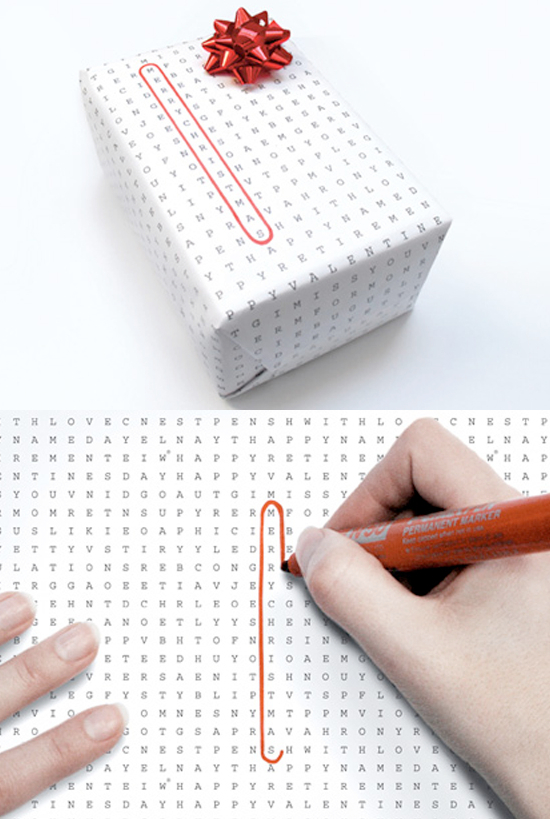 Fabric Wrap
This is actually an ancient Japanese tradition — placing thin fabric around a gift and then tying the corners together. What a unique and useful way to protect and decorate a gift! You could even use a pretty handkerchief. Go check it out over at My Own Labels.

Wrap a gift with an old map or atlas
I think most unique wrapping paper ideas come from getting crafty with recycled materials. Do you have an old Atlas taking up space on your book shelf? Don't toss it. Use it to wrap gifts!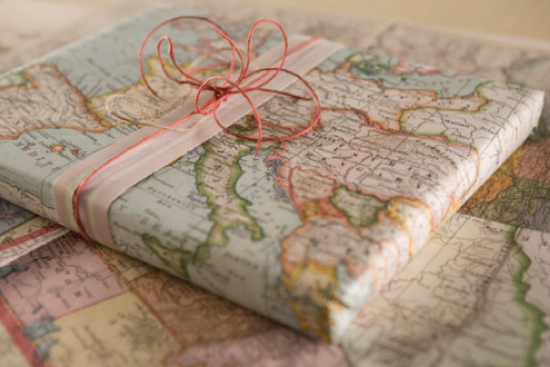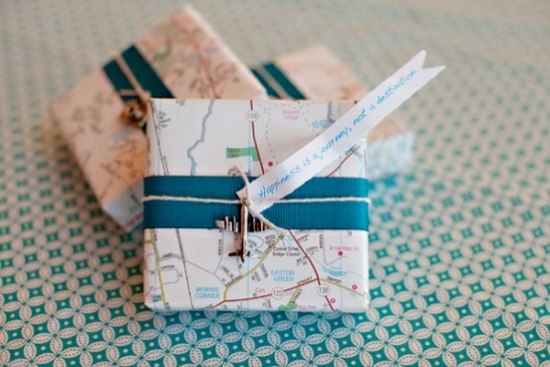 DIY Newspaper Gift Wrap
Newspaper wrapped gifts may seem like the easy way out, but with a little bit of creativity, you can create something pretty amazing. You could even top them off with DIY newspaper bows or flowers! Add a few embellishments, and you've got yourself a gift that's too pretty to unwrap.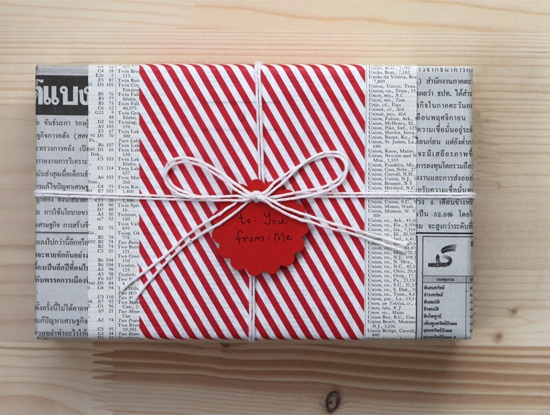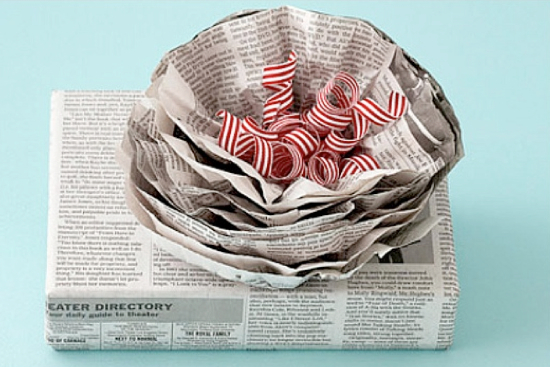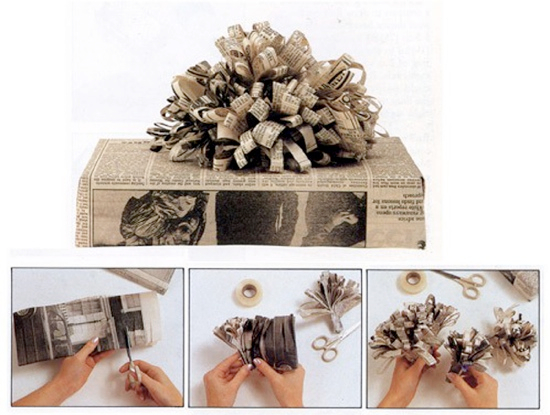 Denim Gift Wrap
Denim gift wrap! Now that is a unique idea. Use a pair of old jeans to create denim wrapping paper, bows, and my favorite: little denim gift pockets. Use the pocket to add a gift tag, candy, pencils, or anything else that correlates with your gift.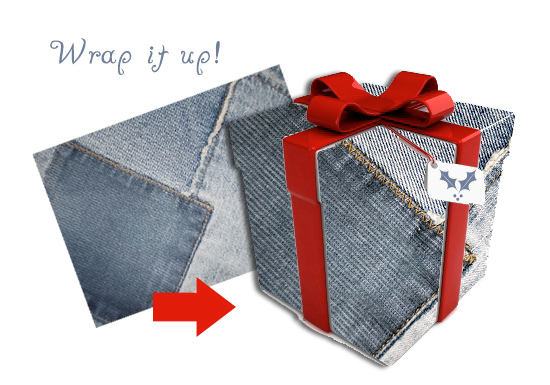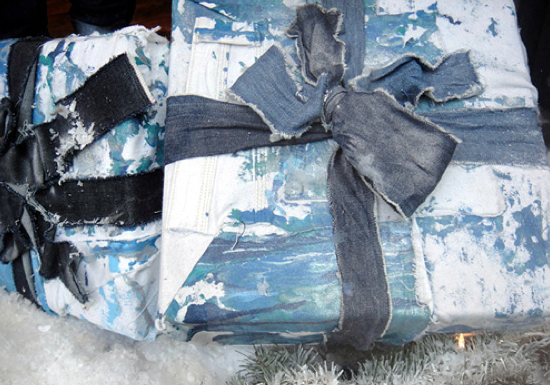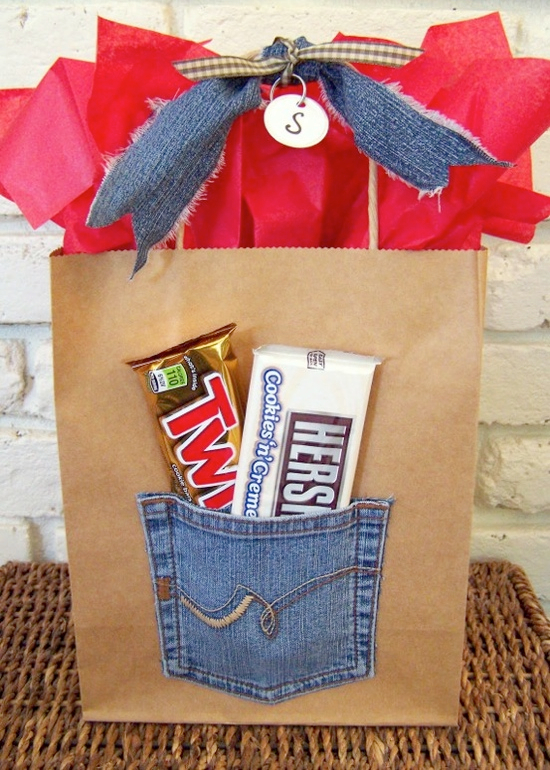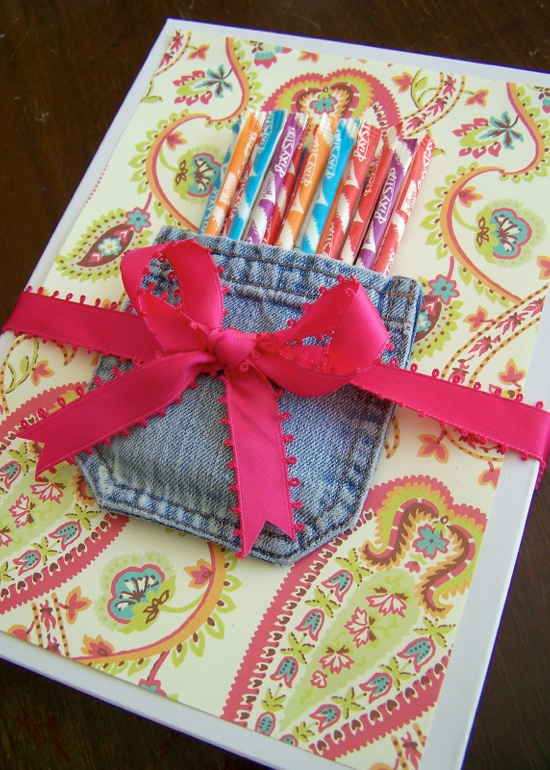 Music Sheet Wrapping Paper
Here is another recycled wrapping paper idea: sheet music wrapping paper. If you've got anyone in the family that plays music, you might have some extra music sheets laying around. They work nicely for smaller gifts, such as books or candy boxes. Perfect for the holidays!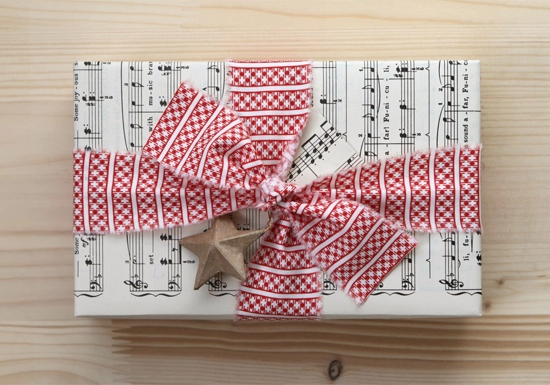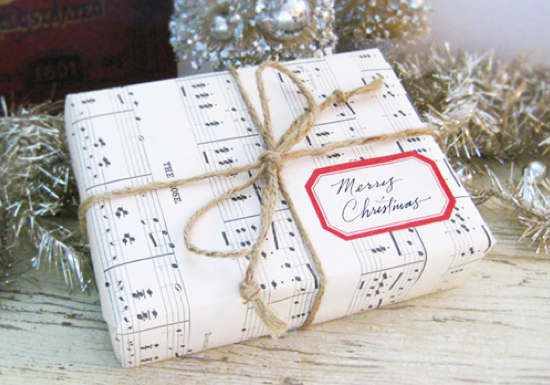 Paper Bag Gift Wrap
Now here is the budget savvy gift giver's dream wrapping paper: paper bags. Yes, paper bags! This reminds me of the book covers we use to make in high school. With the right finishing touches, they can give your gift wrap a rustic, earthy feel. Use stamps, leaves, washi tape, hemp string, lace, ribbon, Sharpies, and anything else you can think of to decorate your paper bag wrapping paper.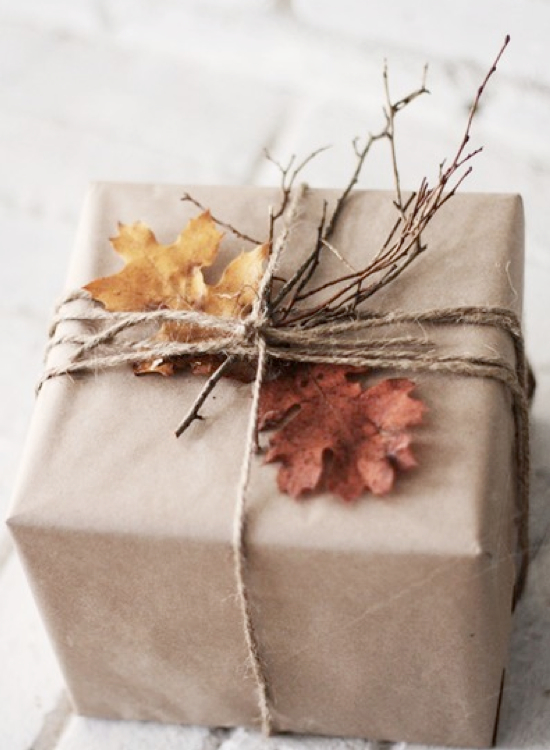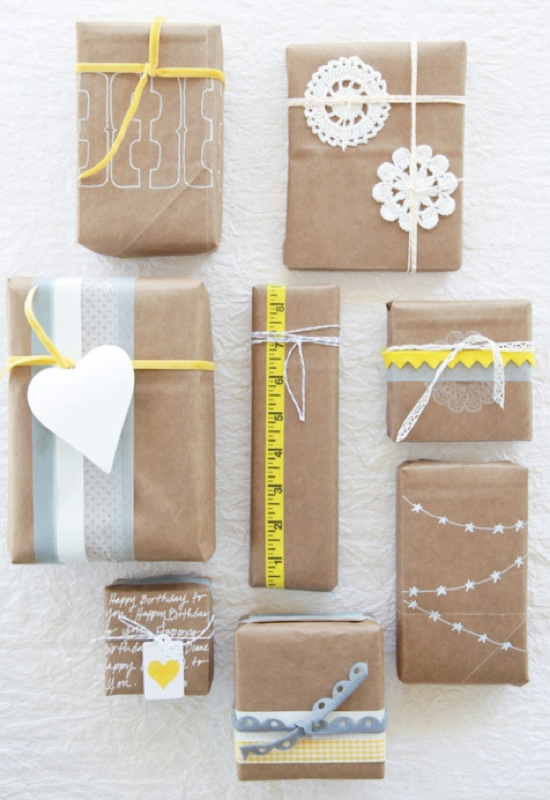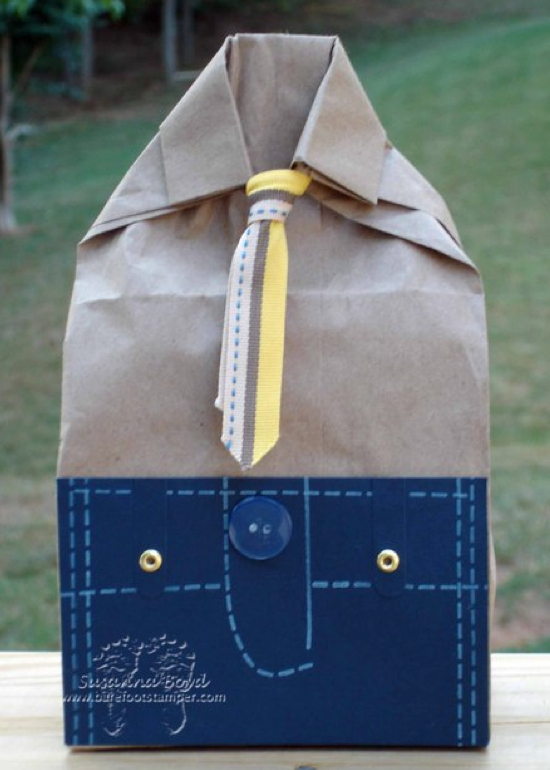 Chalkboard Wrapping Paper
This chalkboard wrapping paper is awesome! Now, this doesn't mean you have to actually use chalk paper and chalk to get this look. You can also use black matte wrapping paper and a chalk marker (available at most craft stores) to get your desired look. It's a lot less messy, too. But, if you have the time and patience, you can roll chalkboard paint on brown shipping paper for a more authentic looking chalkboard gift wrap.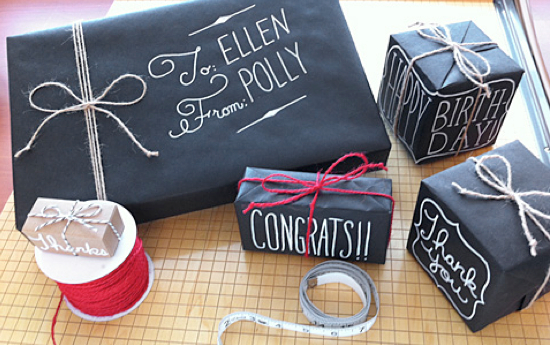 Cringe – Aluminum Foil Gift Wrap?
Yes, this is aluminum foil wrapping paper. I had to include this one because I think you can create fun wrapping paper in a bind with a household item that can be found in your cupboard. I would certainly get a kick out of this.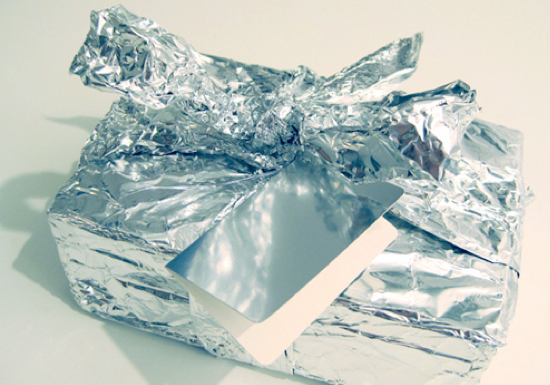 Leave a comment...