Looking for a healthy snack for kids? Fruit skewers make eating fruit so fun and this cream cheese fruit dip is seriously delicious. What a great healthy snack idea for kids!
Fruit skewers are a healthy snack option for kids that are both delicious and fun to make. They're also a great way to sneak in some vitamins to your picky eater. It's even fun to have your kids make these fruit skewers themselves so that they are excited about eating their fruit! Adding in this seriously yummy fruit dip and you can't go wrong. With cream cheese, marshmallow fluff, and a dash of vanilla you can make the best fruit dip ever!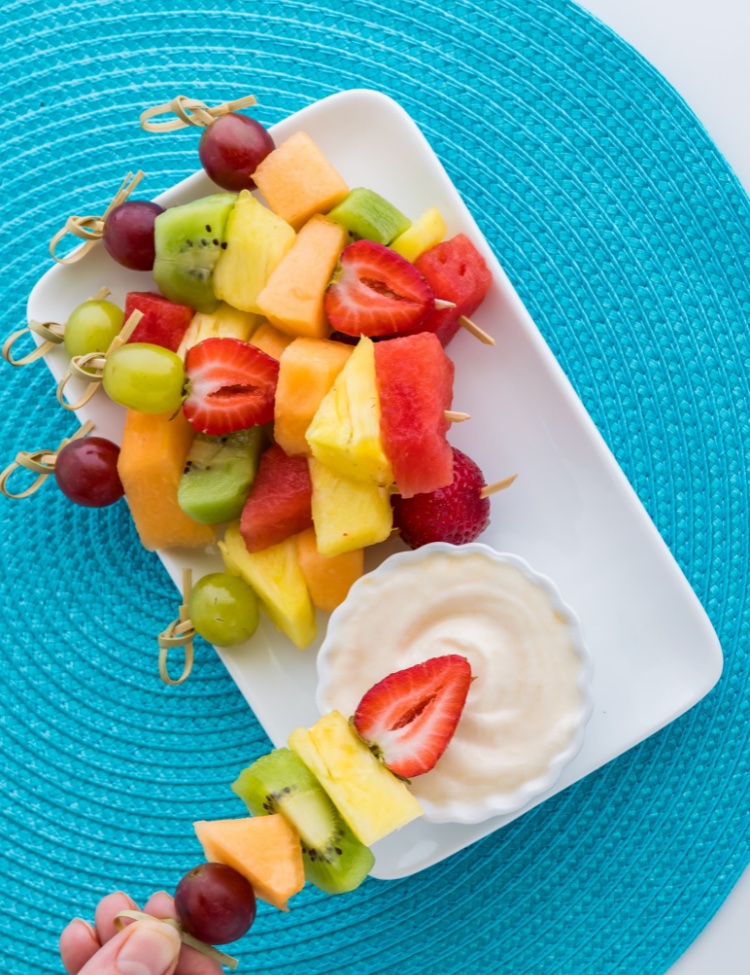 Ingredients For The Best Fruit Dip Ever
8 oz soften cream cheese
7 oz jar of marshmallow creme
1/2 teaspoon vanilla
You also need assorted fruit (cut into small chunks) and wooden skewers.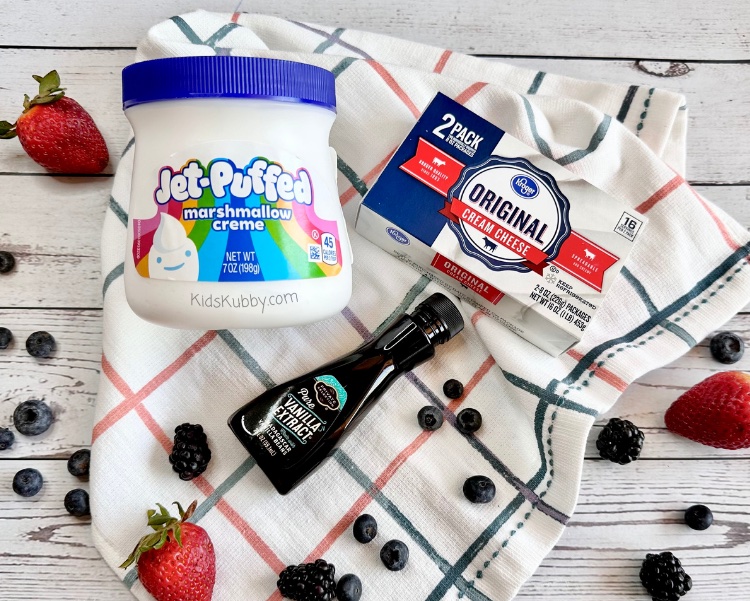 How To Make This Delicious Fruit Dip
This fruit dip is not only delicious but it's so simple to make. Simply mix all the ingredients with a hand mixer or stand mixer until smooth and you're ready to eat! I bet you can even use a blender to mix everything if you're in a pinch.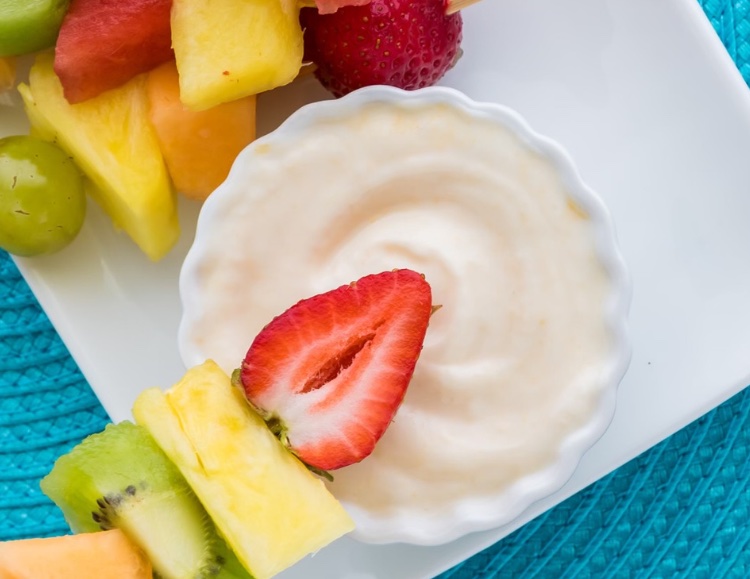 I love that this snack idea is perfect for all ages and can be customized with you favorite fruit. Older kids can help mix all the ingredients for the dip while younger kids can help skewer all the fruit. Let your kids decide what kind of fruit they want on each skewer. The more they are involved in making this healthy snack, the more likely they will want to eat it all!
Fruit Skewers are the perfect healthy snack for busy parents! Make this amazing fruit dip ahead of time to make snack time even faster.

Fruit Skewer Ideas
Strawberries, banana, grapes, pineapple, kiwi, raspberries, apple slices, oranges, OH MY. The possibilities are truly endless. I suggest letting your kids pick their favorite fruit combinations. Remember if it is their choice, they are more likely to eat it! If they want to make a yummy fruit skewer that is all strawberries, let them! At the end of the day any fruit is better then chips or cookies, right?! I absolutely love that this after school snack can be ready in 5 minutes.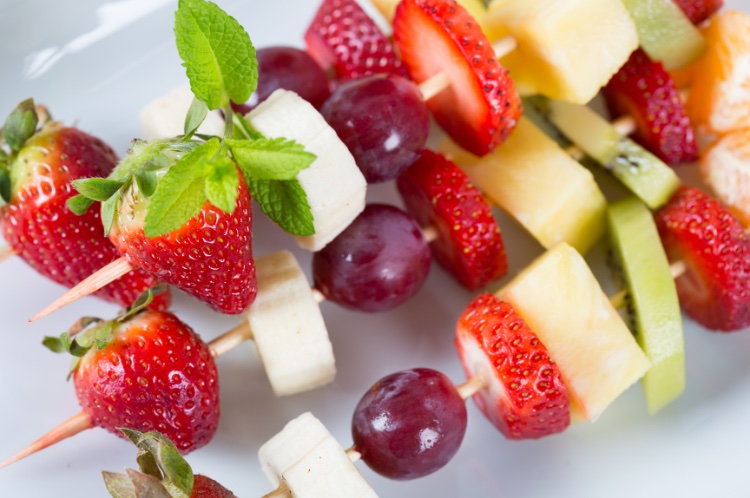 Best Way To Store Fruit Dip
This best ever fruit dip can be made ahead of time and stored in an air tight container in the refrigerator for 3-5 days. You can even freeze this creamy dip if you make too much or just can't finish it within 5 days. Simply store in an air tight container or freezer baggie (with all the air squeezed out) for up to 1 month in the freezer.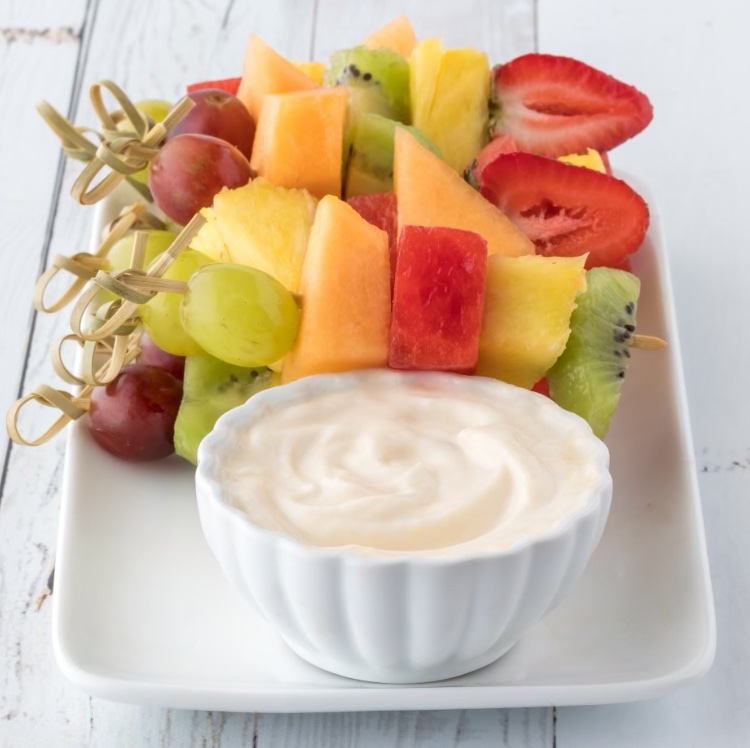 These yummy fruit skewers and fruit dip are the perfect way to get your little ones excited about eating their plants and sneak in a little extra nutrition to help them grow. Give this recipe a try today and watch as your kids eat it right up!
If you're looking for more healthy, kid friendly snack ideas check out these Apple Slice Cookies and Chocolate Chip Peanut Butter Energy Balls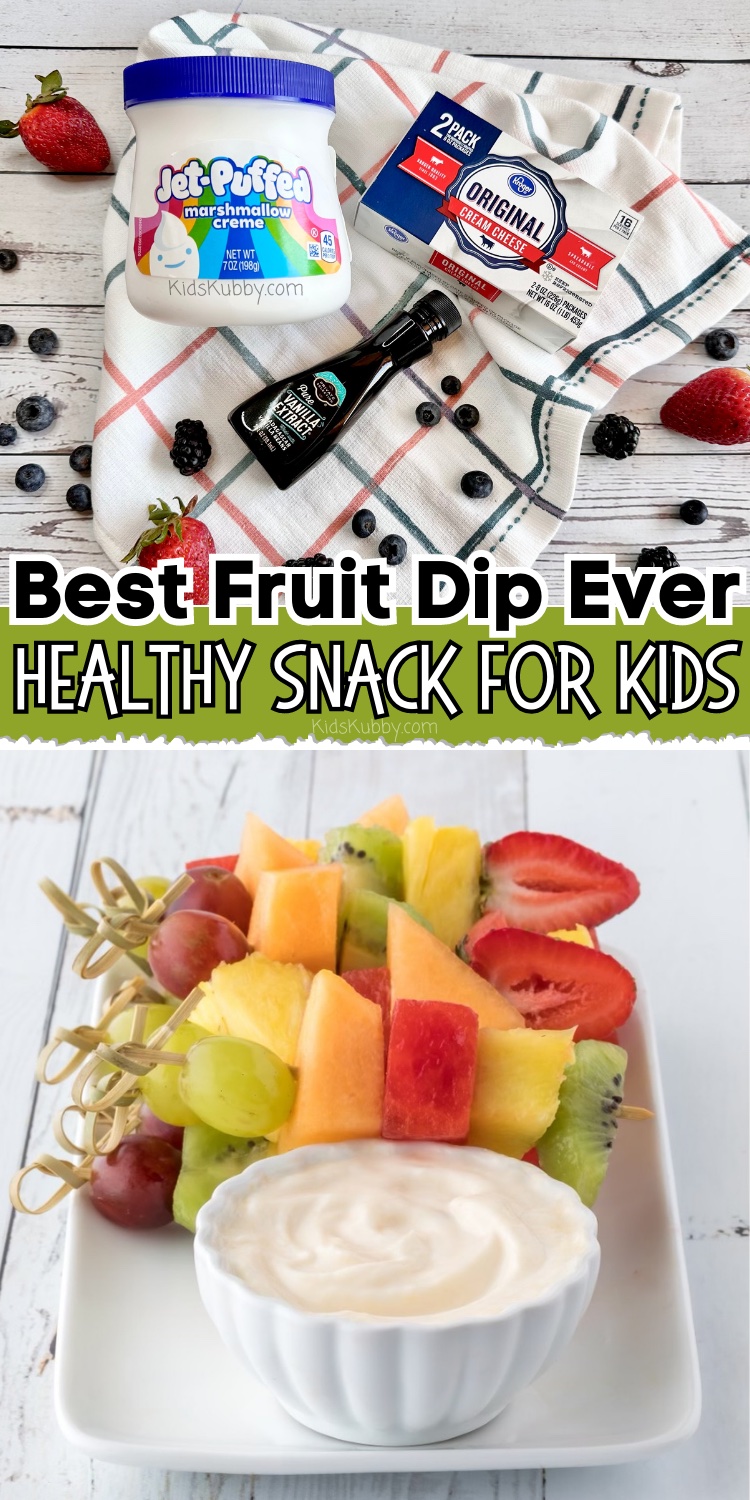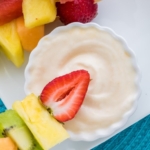 Print Recipe
Cream Cheese Fruit Dip and Fruit Skewers
If you're looking for a yummy and healthy snack, this Cream Cheese Fruit Dip and Fruit Skewers are the perfect choice. This is a fun and healthy way to get key nutrients into your picky eaters plus fruit skewers are just so fun. Let your kids pick their favorite fruits, cut them into chunks, and slide on a wooden skewer. Then dip in the most delicious cream cheese fruit dip that you've ever tasted.
Ingredients
8

oz

Soften Cream Cheese

7

oz

Marshmallow Creme

½

tsp

Vanilla Extract

Assorted Fruit

Wooden Skewers
Instructions
Combine cream cheese, marshmallow creme, and vanilla in a bowl and mix together. It's best to use an electric mixer but you can simply use a spoon and some serious muscle. Once combined, this yummy fruit dip is ready to eat.

Cut assorted fruit into bite size pieces and slide onto a wooden skewer in any order. This is a fun activity for kids to do!

Dip your Fruit Skewers in this amazing Cream Cheese Fruit Dip and enjoy!
Notes
Save your cream cheese fruit dip in an air tight container for 3-5 days in the refrigerator or up to a month in the freezer. To thaw, simple let sit in refrigerator overnight!
Let younger kids make the fruit skewers while older kids mix up the fruit dip for an interactive after school activity.
Leave a comment...