October is the only month that allows us to get creative with gross Halloween food ideas. I come across a new disgusting Halloween snack every year that gets added to my recipe book. Gross Halloween recipes are fun for parties, especially as an addition to a spooky buffet table. I get such a reaction out of the kids that I also like to make easy but gross Halloween snacks for after school. Here are 8 of my favorite gross Halloween food ideas.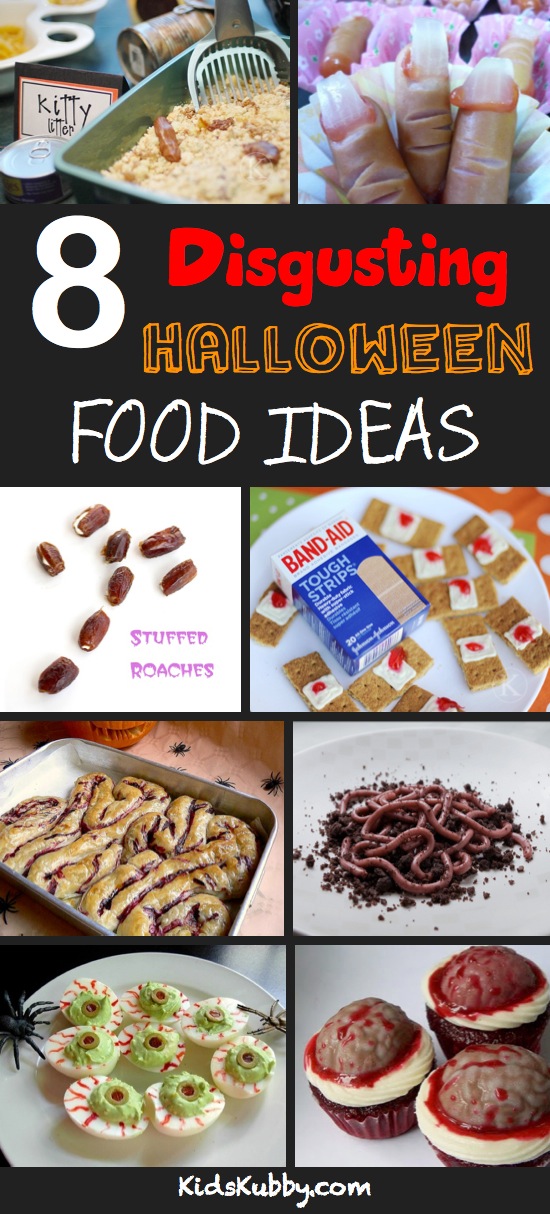 1. Bloody Bandage Cookies
This one is so simple, it's not even a recipe. Break Graham crackers into eight small section, spread white frosting or cream cheese in the middle (resembling as close to a small square as you can get), and top with red decorator's gel or strawberry jelly. To really get the bloody Band-Aid feel, use real bandage wrappers to garnish your plate.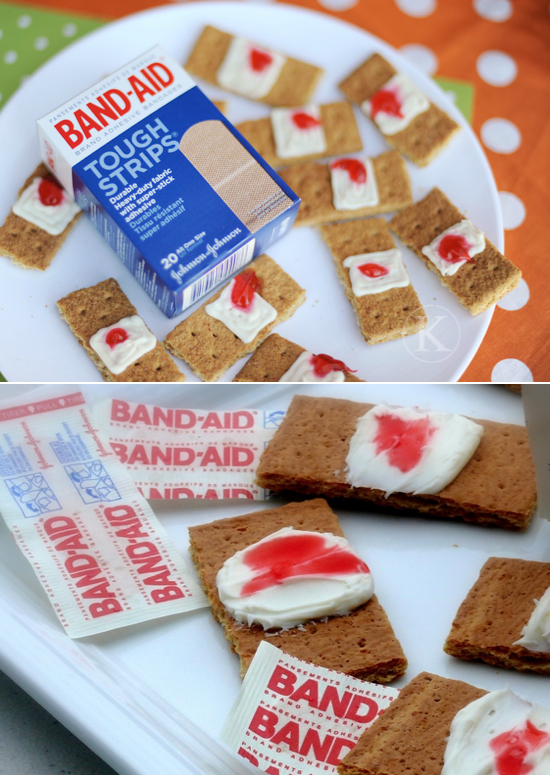 2. Kitty Litter Cake
This has got to be the most disgusting Halloween food that I've seen. I'm not sure if I could stomach the idea of actually eating it! But the concept is horrendously awesome. There are a couple of ways to do this.
First, you will need to purchase a NEW small kitty litter box and scooper. Bake a white and chocolate cake, and let cool. Crumble the cakes together along with crumbled vanilla sandwich cookies, and place the ingredients in your new litter box. Melt tootsie rolls in the microwave for just a few seconds to allow them to soften enough to mold into the right shape. You get the idea. Or, even easier. Bake brownies, let cool, and then form them into little log shapes. Next, mix with finely chopped nuts. Hungry?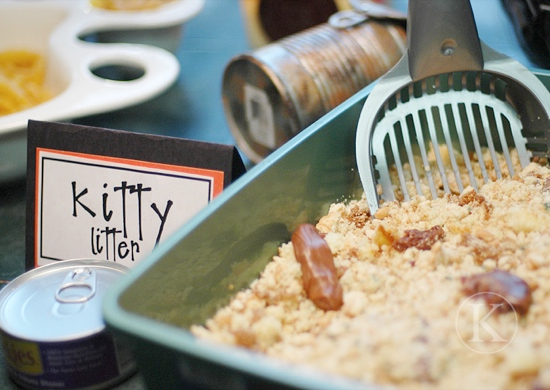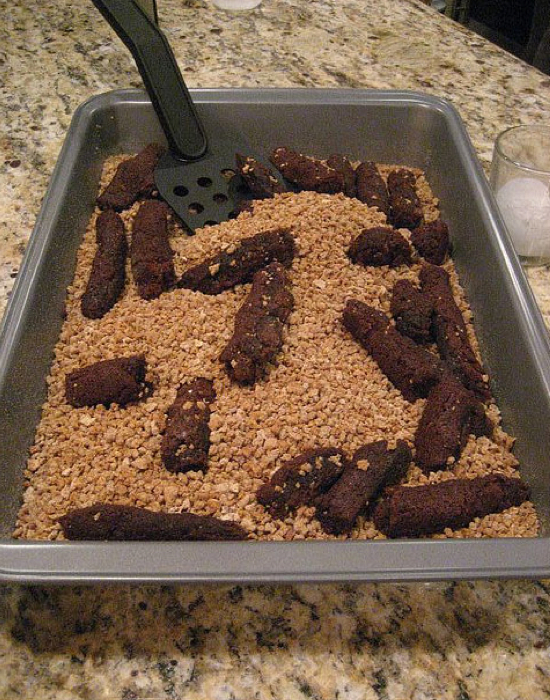 3. Stuffed Roaches
These little Halloween bite size appetizers are actually quite delicious! The recipe is very simple: Pitted dates, softened cream cheese, and finely minced walnuts. fill your dates with the cream cheese walnut mixture (you will have to split or cut the dates down the side a bit). Surround with rubber roaches, or even place a small sign that reads "Stuffed Roaches" to really add to the creepy level.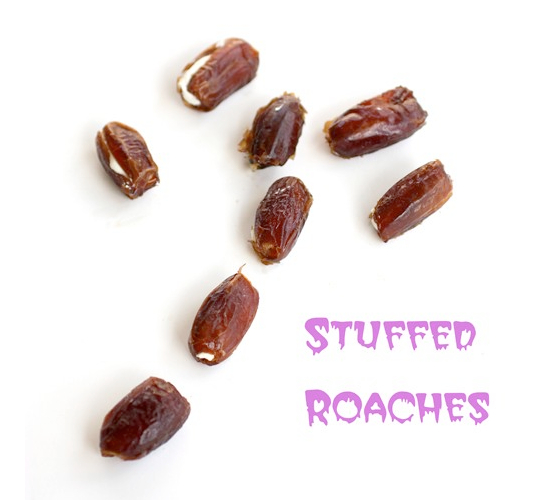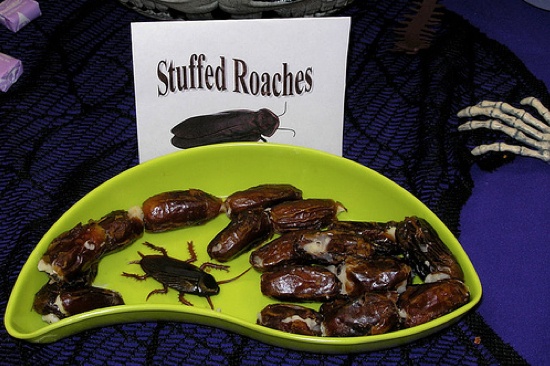 4. Worms in Dirt
They look so real! If you haven't already seen this one on Pinterest, it's flexible straws that give the gelatin such an authentic earthworm look. Place them on top of crushed Oreos for the ultimate creepy worm dessert.
5. Hotdog Fingers
Kids love hotdogs, and this Halloween Recipe is so easy, you can't pass it up. This could be fun for an after school snack or a Saturday at home with friends. Slice a small section off the top of each hotdog, and carve slices where the knuckles should go. Boil and douse with ketchup.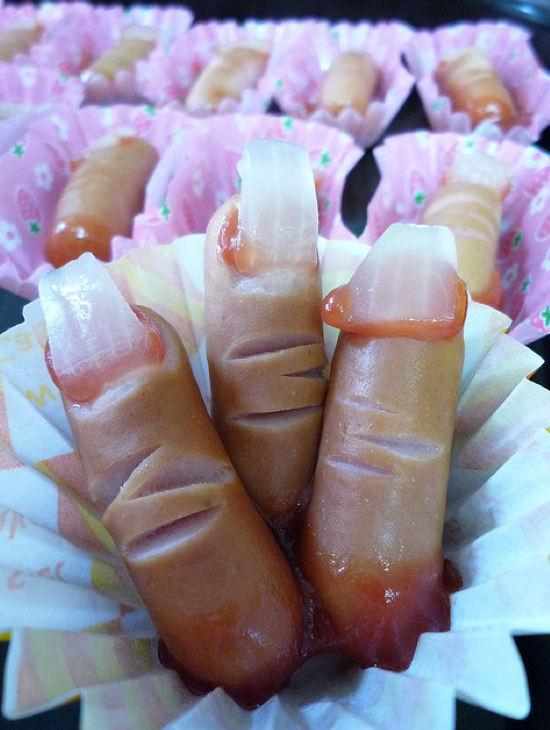 6. Zombie Intestines
This may look pretty scary, but it's actually a yummy pastry dessert using frozen puff pastry, filling, and red food coloring. Again, labeling your gross Halloween food makes a big difference in the scare factor, so don't forget your "Zombie Intestines" place card.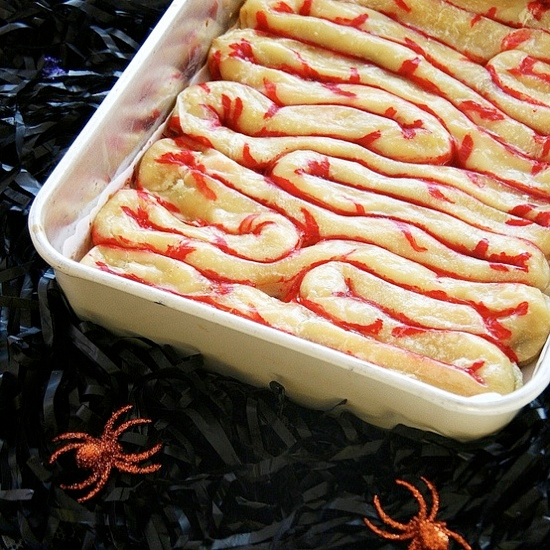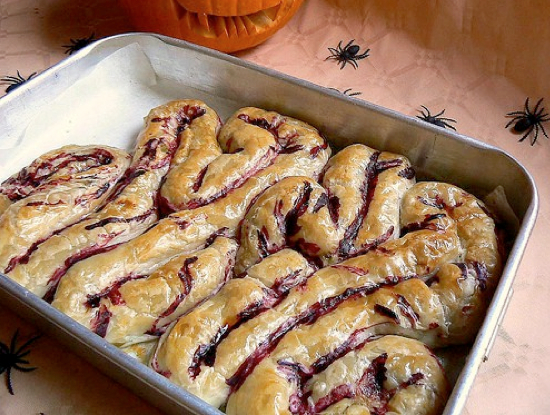 7. Brain Cupcakes
These look absolutely disturbing, which is why I've got to include these in this year's Halloween party food ideas. The first one uses red velvet cake, cream cheese frosting, a chocolate brain, and red decorator's gel. The brain clot cupcakes are stuffed with a canned cherry pie filling, and decorated with a colored buttercream icing to resemble the brain.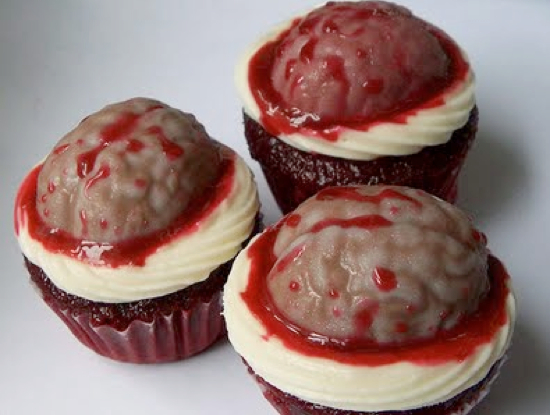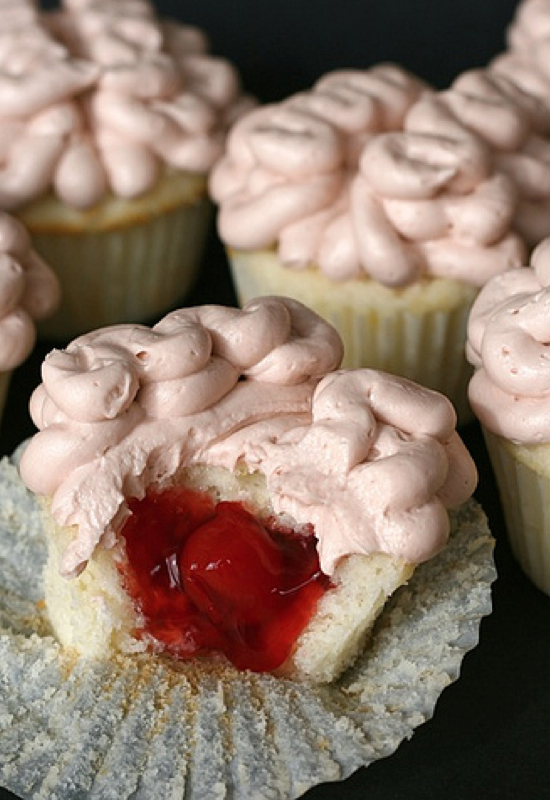 8. Eerie Eyeball Deviled Eggs
Deviled eggs are always my go-to when it comes to parties and potlucks, so these easy eyeball egg recipes have gotten me excited about this Halloween. The only addition you'll need to your traditional deviled eggs are olives. Use carefully placed paprika or ketchup to give you the blood shot eye effect.You can also use a red food coloring pen, but the paprika adds to the flavor, and is probably a bit more handy.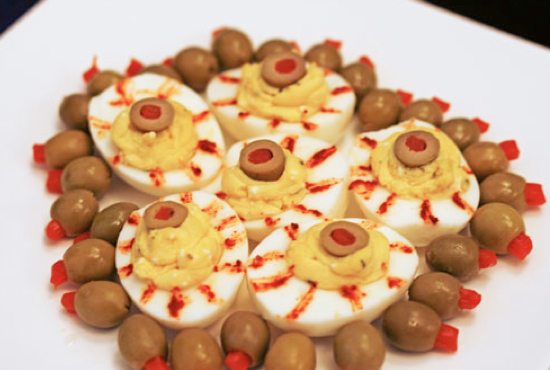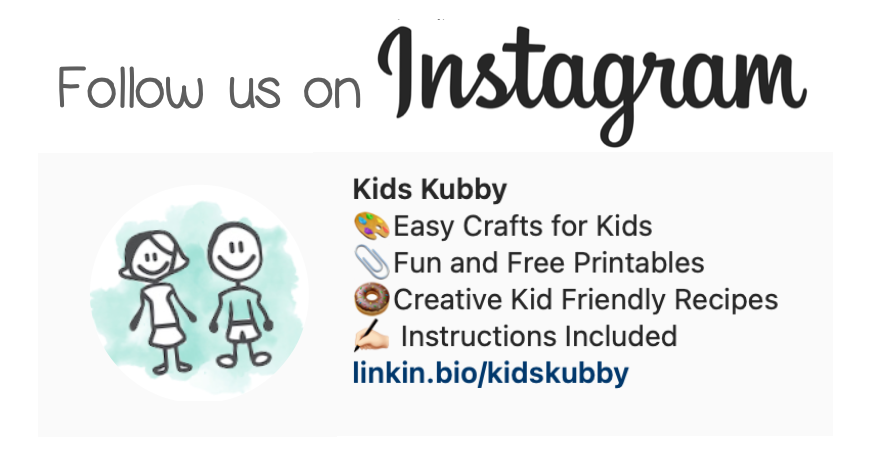 Leave a comment...