Featured
DIY Pencil Toppers - a unique gift alternative to cards on Valentine's Day. This project is fun for kids of all ages and doesn't require much time or effort. Materials Needed: Pencils, pipe cleaners, foam paper, scissors, and permanent markers. Instructions: 1. Cut out 1 to 2 inch heart shapes from foam … [Read More...]
Cool Stuff
With their varying shapes and lovely hues of orange, pumpkins have always been the biggest symbol of fall. Jack-o-lanterns are a popular tradition, but it's not only messy, but sometimes not very kid friendly. My kids like to dig the guts out, but the actual carving is
Based out of South Carolina, Neve Inspired is a husband and wife team that designs unique handmade clothing for girls and boys. With two little ones of their own, each piece is designed with love and inspired by their own lifestyles. Working out of what use to be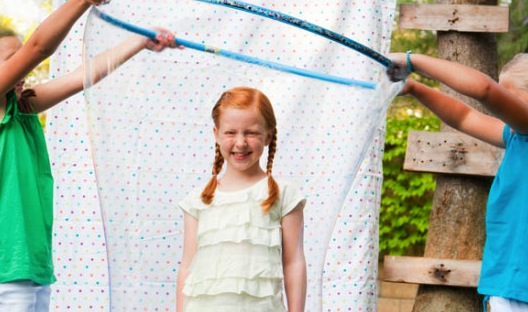 Bubbles are an economical way to keep your kids entertained for hours. They're great for play outside, and even better for parties! They're the perfect kid's activity, especially on a budget. Here are some awesome bubble ideas for kids:  Consider a bubble refill
Crafts
Turning trash into treasure: We all use toilet paper, well, most of us anyway. Don't let those rolls go to waste! There are so many fun projects to do with them. It's recycling at it's best.
I'm in love with these paper ballerina snowflakes! Maybe it's because I have a girl who would adore these hanging in her bedroom. It's also the perfect time of year for these snowflake ballerinas to hang from the Christmas tree. These DIY ballerina snowflakes are a
What a creative yet cheap way to turn a container that will probably end up in the trash into something useful--a cute headband organizer. Cover it in fabric, and voila! Keep the lid to store other hair accessories such as hair bows and clips. You could also glue it
Food
That cute little Pilsbury Doughboy has got it made! Crescent rolls are one of the easiest and yummiest comfort foods on the planet. There are hundreds (maybe even thousands?) of ways to prepare them. They just make a meal so much better!
These teddy bear cookies are just too easy to pass up! Bonus: Vanilla & chocolate in one. Simply use a rolling pin over wax paper to flatten your dough, and use a round cookie cutter in 2 sizes (small & large) for your teddy bear head, nose and ears. Connect the ears and nose by […]
Pancakes! Kids love them, and mom and dad love how quick and easy they are to make. I've been doing a little bit of experimenting lately, creating cool pancakes for just about every occasion. I was inspired by this squeeze bottle idea, and have been hooked ever since. Doughnuts and fruit are also easy to […]
These bacon cups are the most exciting food idea I've seen in a long time. Because bacon is the yummiest thing on the planet, I don't see why we shouldn't be using it as an edible serving dish. This genius idea is from Megan over at Not Martha. Check it out! She used an upside […]
Yep, that's right. A grilled peanut butter banana bacon sandwich. If you don't think this is a good idea, then you haven't tried it. It's got a little bit of creamy, crunchy and crazy all mixed into one awesome sandwich. Even better; butter the outside of your bread, sprinkle with a little cinnamon and sugar, […]